CASPER, Wyo. — Fall and winter is the most common time of the year for people, and especially children, to contract respiratory illnesses such as the common cold or flu.
Registered Nurse Caitlin Dixon, the Wyoming Medical Center's pediatric education coordinator, calls this time of the year "respiratory season."
"It affects everyone but it is harder on kids," Dixon said on Wednesday, Sept. 18. "They have smaller airways."
48 WMC nurses, doctors, emergency medical technicians and respiratory therapists received training from Children's Hospital Colorado over the past two days.
"They are all really eager to learn," Registered Nurse Nicki Shonka, professional development specialist for Children's Colorado said of these Casper-based health professionals.
Children's Colorado and the WMC entered into a new "Care Alliance" last year. Having medical experts from the Colorado hospital provide training to WMC professionals is part of that alliance.
Shonka says that lectures and skill practice sessions have been offered at this training. On Wednesday, attendees were practicing the following skills:
suctioning: removing mucus build-up from a child's airways
oxygen delivery: oxygen levels can dip when a child has a respiratory illness
intravenous access: IV fluids can help hydrate kids with illnesses
nasogastric tubes: "NG" tubes are another way to deliver fluids to a sick patient
"It is important to practice those skill sets to maintain competency," Shonka says.
Dixon says that one thing that stood out to her during the training were the dolls used to practice suctioning. Instructors used the dolls along with fake mucus to give attendees pointers on how to conduct safe and effective suctioning to remove the mucus.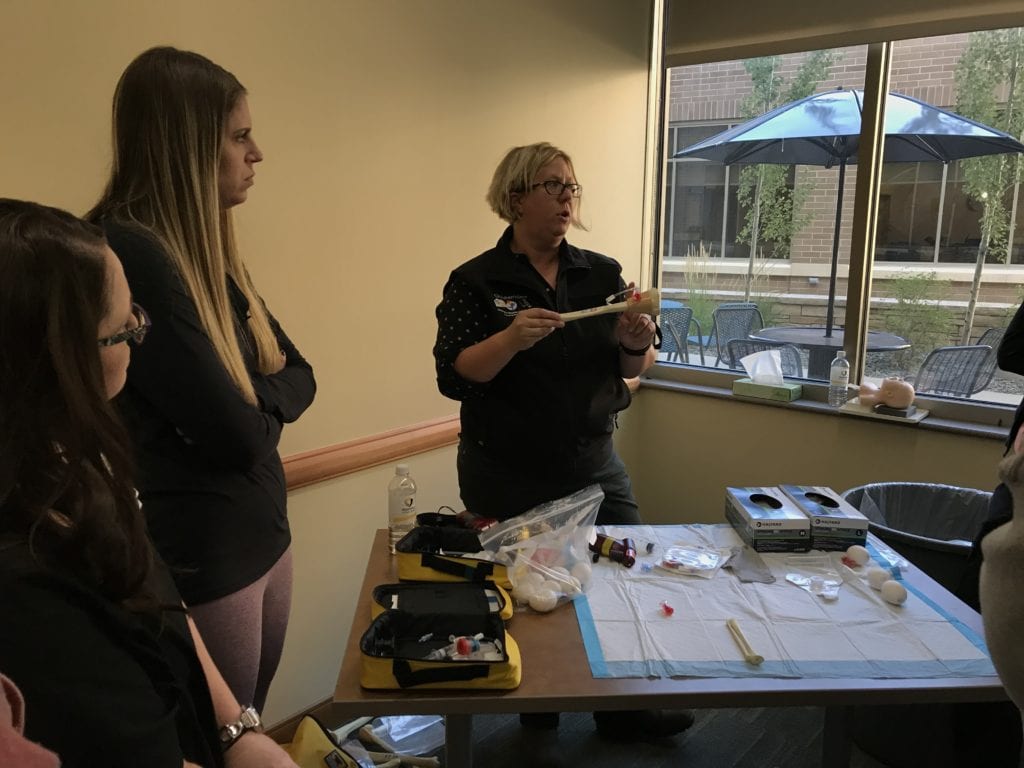 "We try to bring them up once a year," Dixon said of the Children's Colorado training team.
She adds that the WMC also sends staff down to Colorado to conduct training with the hospital there throughout the year.
"It is great to partner with them and learn with them," Shonka said.