CASPER, Wyo. — Firearms big and small were visibly present surrounding George Floyd demonstrations during the first week of June in downtown Casper. Scores of citizens with handguns, long guns, shotguns and semi-automatic rifles came for a number of reasons.
"Some reported being there to prevent vandalism and looting from occurring," Casper Police Chief Keith McPheeters said in a June 9 statement to Oil City. "Others reported being there to support and protect those gathered to demand change in the wake of Mr. Floyd's death. Yet others reported they were just exercising their own constitutional right to bear arms. Several of those who gathered on behalf of Mr. Floyd were also armed with openly carried weapons."
While hundreds came downtown Wednesday and Friday, the police department discouraged anyone not participating in the demonstrations to remain home.
Some businesses closed their doors and others had customers say they were staying home for their own safety or the safety of their children. One downtown business owner who asked to remain anonymous had a customer cancel an appointment. The customer didn't give a specific reason, but said he planned to lock himself in his basement for a few days until the whole thing blew over.
Though no violence was reported, there were some tense moments surrounding the demonstrations, particularly during the afternoon on June 3.
Police officers "intervened between different groups of citizens when arguments flared and frustrations began to overflow" but were able to calm tensions and restore peace in each instance, according to McPheeters.
Well after protesters had gone home, armed citizens patrolled throughout the evening and into the night on Wednesday and Friday.
Some rode around in the backs of pick-up trucks brandishing weapons or sat and chatted in lawn chairs or on the concrete walls of raised garden beds. At one point, a retired military vehicle was met with cheers as it drove down Second Street. An aging Toyota sedan with a Confederate flag proudly displayed made the rounds. Some people slowed or stopped to take photos of the scene. Many cheered their approval from passing vehicles.
Downtown business owners described the evening atmosphere as similar to a party, a circus, a regular weekend car cruise event, or "like art walk with guns."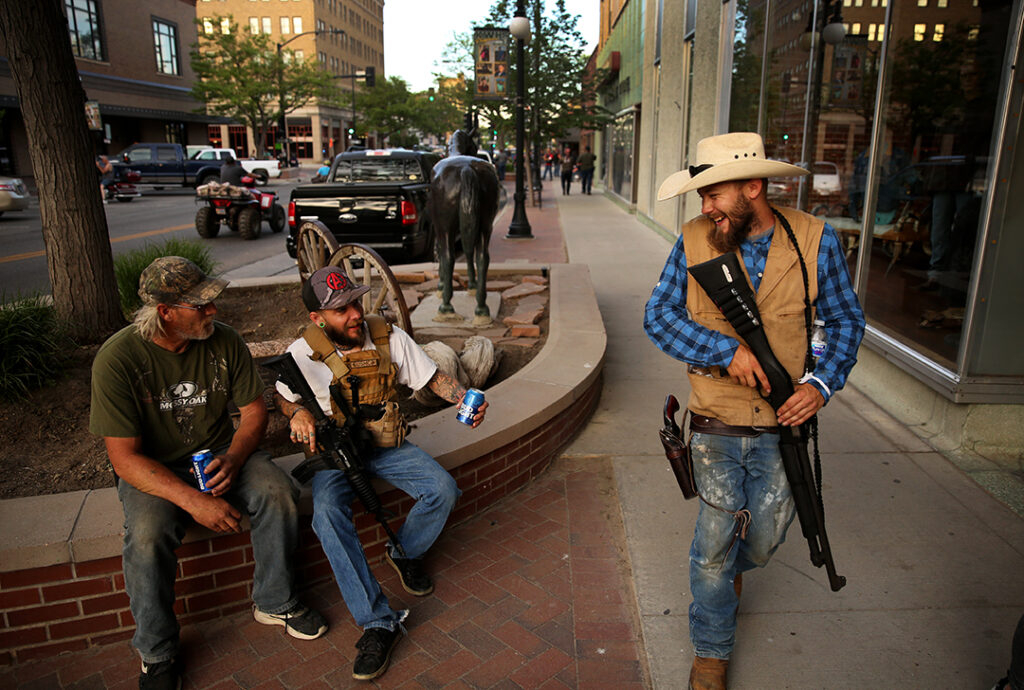 Casper isn't the only place that has seen armed citizens show up at George Floyd demonstrations. That has also happened in Laramie, and National Public Radio reports that armed citizens have shown up to protests in other states, including Montana, Minnesota and Pennsylvania, in response to social media rumors that activists looking to stir trouble would be bussed in to their communities.
"On social media, Twitter has confirmed at least one white nationalist group created a fake antifa account to spread false rumors," NPR reported on June 10. "Activists suspect there are several more."
While the Casper Police Department and other law enforcement agencies in the area, including the Douglas, Glenrock and Gillette Police Departments tried to discredit false rumors spread on social media, some business and property owners in Casper were grateful for the presence of citizen patrols.
"I think I'm probably one of the largest multi-tenant property owners downtown," said Bob Ide, whose properties include the Petroleum Building on the corner of Second and Center Street. "I was there until 11 p.m. [on Wednesday night]. There were a lot of young guys canvassing the streets on the core area of downtown with nothing to gain other than pride of our city."
"For the most part I think the business owners and property owners, they were glad to see that somebody was there in case law enforcement [wasn't]. I don't know how you can argue against that if you believe in the Second Amendment and the Constitution and the right to protect yourself, your family and your property," Ide said.
A man wearing a kilt with a military camouflage pattern and carrying a sidearm marched in the Friday vigil. Afterword he stood with other armed citizens on Second Street into the evening. He declined to give his name, but said he lived within walking distance of downtown.
"I was a medic in the Army, and after seeing the instigators trying to agitate the protesters on Wednesday, I saw that and said, 'No, absolutely not,'" he told a reporter after Friday's march and vigil. "I took an oath to defend the Constitution, and these people are trying to cause this to become an un-peaceful protest. I didn't throw on an AR (ArmaLite rifle)."
Reflecting on recent events that brought protests against police violence nationally, he believes American police aren't trained well and long enough for many of the difficult and stressful situations they experience.
"If there's a situation where they're nervous, they will overreact for their protection. That's natural, and the only way to solve that is to train them."
Josh Tinnell, owner of downtown coffee shop the Bourgeois Pig, supports the Second Amendment and knows friends who carried concealed handguns during the demonstrations. However, he thinks those carrying large weapons, particularly those with semi-automatics in one-hand and megaphones in the other, did that out of a sense of machismo, or to intimidate and antagonize demonstrators.
"It was like the counter protesters got to have their own little parade for the day," Tinnell said. "They got to pull out all their heavy armament and be toy soldiers. And as obscene as it was, and as much as I couldn't believe what I was seeing in the United States, it's like, alright, fine."
Tinnell hoped to encourage peace between differing groups and promote safety by handing out water and face coverings in front of his shop to anyone who wanted them.
Tensions rose on Friday evening after the vigil when Tinnell says, in frustration, he called out an armed citizen across the street for what he saw as dangerously undisciplined gun handling.
Tinnell's shouting drew the attention of other armed citizens in the area who ran toward him. Police quickly arrived and de-escalated the situation, but the experience left Tennell shaken.
"I've been in a lot of crisis situations," he said. "I've never had a situation happen so fast. It was nuts."
Mills resident Leah Juarez, who has announced she is running for District 59's seat in the Wyoming House of Representatives, often carries a gun in her purse for safety. She has reviewed photos from media coverage of Wednesday and Friday's demonstrations and, as a gun owner herself, noticed some armed citizens were clearly practicing basic gun safety protocols while others were not.
"It's pretty easy to identify when you're gun savvy yourself," she said. "I just know that [those with military experience] are very strict on how they handle themselves. There's a thing called trigger safety. Whenever you handle a gun, you always want to treat it as if it's live and it can go off."
"So when you look at a lot of those pictures and those guys are just holding them awkwardly or pointing them, I guess, lackadaisically in the air, it's very irresponsible," she said.
While some expressed shock at seeing armed citizens posted atop business rooftops and the parking garage on David Street, Juarez said that in her view, that's actually a more appropriate place for those with rifles looking to provide protection, while handguns are a more appropriate weapon at close range.
When asked whether police observed any unsafe gun handling during the week of demonstrations and whether officers encouraged citizens to change the way they held their weapons, the police department deflected.
"The Casper Police Department supports responsible gun ownership and exercising of Second Amendment rights," Public Information Officer Rebekah Ladd wrote in response to such questions. "We encourage all gun owners to practice firearm safety when exercising their Second Amendment rights."
Some expressed concern about who armed citizens are accountable to when they take on the role of "protectors," particularly given that the George Floyd protests are specifically about police reform and accountability.
While some businesses asked their friends and family to come guard against looting or rioting, others didn't want strangers protecting their businesses and said they'd prefer that police handle such situations should they arise.
Unlike official law enforcement, armed citizens aren't required to wear a badge or identify themselves to other citizens. While they may have military training or hunting experience, they haven't necessarily undergone training on how to keep the peace.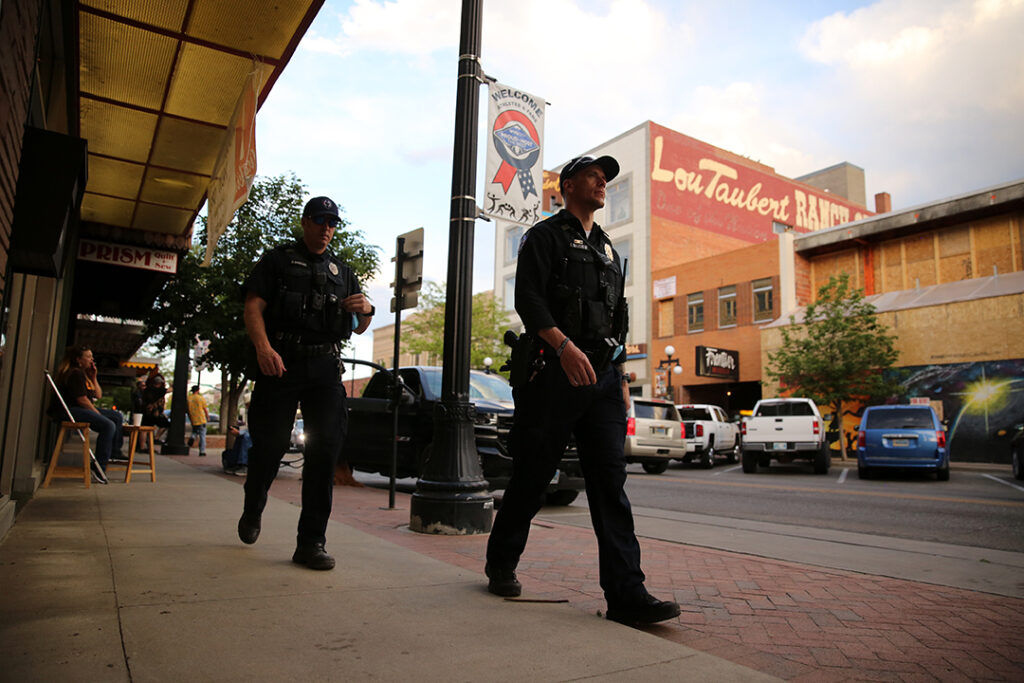 After Friday's march and vigil, a reporter asked a man who was carrying a semi-automatic rifle in an alleyway between First and Second Street under what circumstances he would fire his weapon. The man preferred to remain anonymous, but said he would not fire if someone threw a brick through a window or got into a fist fight with another person.
He said he would shoot if another person pulled a gun on him. If someone pulled out a knife and looked to attack another person, the man said he would shoot them in the leg.
McPheeters said that Casper Police officers undergo extensive training throughout their careers on the lawful use of force.
"A major part of that training is devoted to de-escalating incidents without the use of force," he wrote. "These de-escalation techniques were employed multiple times during this event."
While violence in some large cities followed the death of George Floyd while in the custody of arresting police officers in Minneapolis last month, the vast majority of protests that continue to this day have been peaceful.
In that regard, Casper was no exception.
Michelle Webb, owner of Pink Lion Design Company in the Atrium Plaza, was inside her business as her father and husband kept watch on Friday evening. Her father handed out watermelon slices to people outside.
She described the atmosphere downtown as "very tense" on Wednesday, but by Friday night she felt comfortable.
"Today's been no big deal, it's been normal," she said.
"I'm glad people are keeping their heads cool on both sides."