CASPER, Wyo — Citizens of Casper marked the nineteenth anniversary of 9/11 terrorist attacks that killed more than 3,000 people in New York City with a display of patriotism that included strong symbols of support for President Donald Trump and first responders, among other symbols.
"This is happening all over the US today," said Jackie Henrickson, who attended with husband Jamie and their children.
Mikayla Olson headed up the local rally as part of a national initiative by social media groups like American Citizen to mark the event in honor first responders.
"We have our blue flags up for them," Olson said.
A joint resolution by Congress and the White House designated September 11 Patriot Day in December 2001.
"I was very young but I remember walking into the kitchen and my mom in tears watching this little box TV, and it was probably one of the most traumatizing things I've ever watched," Olson said.
Tiffany, 34, said, "It's just as raw today as it was then. I've been been emotional, crying, all day…. We just watched the news all day long. I think it was my first taste that there really is evil in the world. I think it did strip me of that innocence of living this naive life that everything is happy all the time."
She added that the lesson for today times came on September 12, 2001, when, she said, the country was the most unified it ever had been, and continued to be for some time.
"Regardless of what side of the fence you're on, everyone was just an American at that point. That's what I think people have lost sight of over the last 19 years."
"I think that was last time," said Jackie of the striking unity on September 12.
When asked whether something could instill that unity today without a tragic event, Tiffany said, "It sure would be nice, wouldn't it."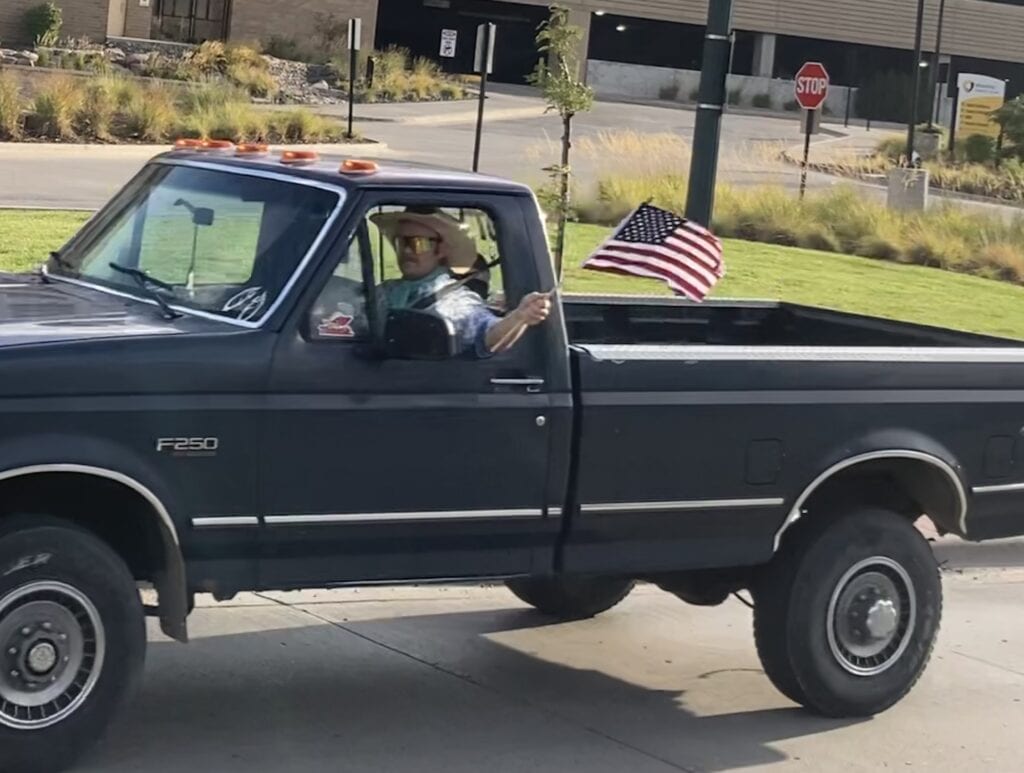 Jamie, 36, recalled being sent home from school in Riverton and some of his enlisted friends shipping out to Afghanistan a month after the attack. The costly and protracted War on Terror, which was extended into Iraq from 2003-2011, was America's longest war, and cost nearly 4,500 American lives.
Jackie, 27, said she felt America was more secure today. Jamie agreed, and credits President Trump with rebuilding the military and said he was making a good effort to foster peace in the Middle East.
The Henricksons brought their children to the rally, and Jackie said she explained 9/11 to them as "a really, really bad day…. a lot of people died that day."
Jamie said there were lessons to be had from 9/11 because "it showed us our weaknesses and vulnerabilities. It kind of opened everyone's eyes that anything is possible. We might be the United States of America but there are people that, if they want to come hurt us, they will find a way."
Jamie added that it was amazing to see the support of people coming out.
"We need the positivity right now because the world is just losing their minds," Jackie said.