CASPER, Wyo — When Kevin Hawley, executive director of Downtown Development Authority, saw architect Lyle Murtha and engineer Bob Lower's designs for a "frozen pond" skating rink around a Christmas Tree at David Street Station, he was giddy.
"I was thinking: 'this was going to be the coolest things in the world, like a Hallmark movie," Hawley told Oil City News Tuesday. "Casper is going to be so famous because this is the coolest idea ever to skate around a Christmas Tree."
Though an internet search later revealed that other communities had done the same thing, his enthusiasm was not diminished.
That enthusiasm was shared by those who kicked off the 2020 holiday season in earnest Saturday, Nov. 28 with the fourth-annual lighting of the Community Tree at David Street Station. Even more watched it live.
Attendance was down this year in deference to COVID-19 surging in the community, but Hawley said a "majority" of the attendees we wearing masks.
"I was proud of those that were in attendance that were respectful of their neighbors," Hawley said. Wyoming's latest health orders limiting public gatherings provide exemptions for parades.
"I know it probably made half the population angry and the other half happy," Hawley said. "But it's one of those tough things; what do you do?" He added that many had told him they were appreciative of the opportunity for community engagement and holiday spirit.
About the tree
Hawley said the trees that become David Street Station's seasonal centerpieces are selected because they are slated to come down for another reason.
This year's tree comes courtesy of Rhonda and Lyle Knudson. Rhonda told Oil City News that their tree, though "beautiful, full, and well-shaped," was problematic on the property because it blocked the view of sidewalk pedestrians when backing out of the driveway.
Winning David Street Station's contest (after submitting the application on the last possible day) was a "win-win," Knudson said.
"I couldn't cut it down without something positive coming out of it. And they got a beautiful tree."
Volunteer effort
The 2-day process in harvesting and setting up the tree is all done through volunteer labor. Hawley estimates the value of the work is about $15,000.
Rodolph Brothers Landscaping first determined that the tree was appropriate for harvest and brought it down. Black Hills Trucking provided the cranes to assist in the falling and subsequent setup at David Street Station.
Total Oilfields Solutions provided the flatbed to haul it off. Ahern Rentals provided the booms and Galles Greenhouse strung the ornaments and attached the guy wires to hold it up.
Each of the names read off before the lighting on Saturday have an unspecified bulb on the tree designated in their honor by donors. Pete and Amber Fazio, owners of Eggington's restaurant, sponsored $1,000 so that other could name bulbs, Hawley said.
The fundraising bid helps support David Street Station's winter operating costs, Hawley said.
Hawley said he and his staff are working on ideas for what to do with the trees after the holiday season. One idea is to have a local mill process it into construction materials for nonprofits.
Stocking Stuffers
Last year's tree was a "behemoth" Hawley said, and the subject of some derision for its lopsidedness.
Hawley said he'd been "incredibly nervous" in the past about the trees' ability to withstand Casper's wind.
"There were times at 2:00 in the morning that the house is shaking in the wind and I'd get up to check the [security camera] feed and it's still there doing its thing."
Stateline No. 7 architect Lyle Murtha told Oil City News Tuesday, "It's not going to fall, that's for sure."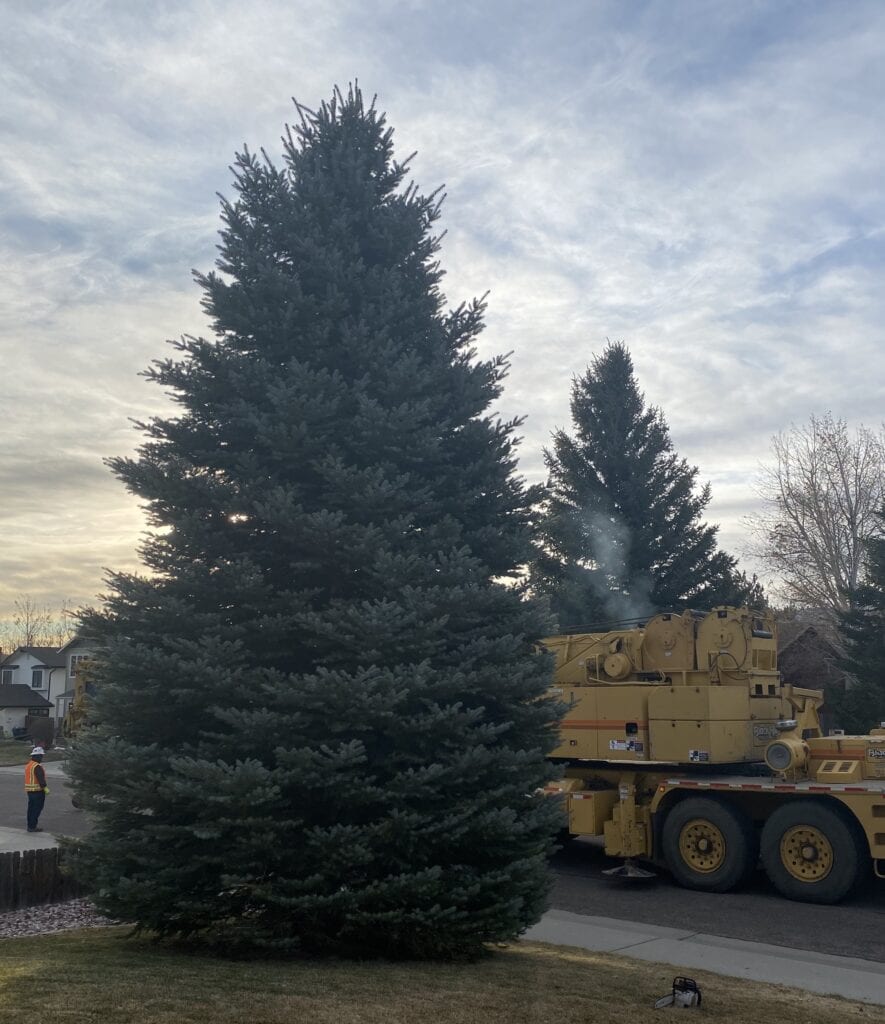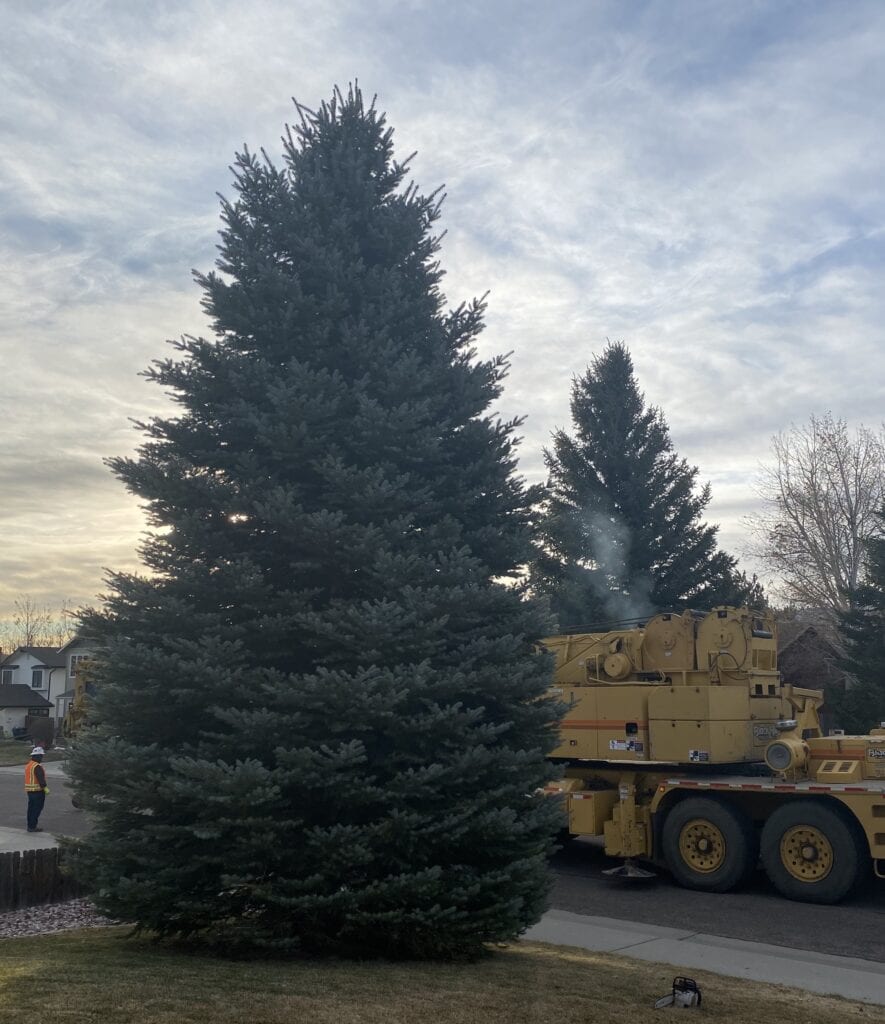 Note: A previous version incorrectly identified Rodolph Brothers Inc. Oil City regrets the error.