CASPER, Wyo — The creators of a gallery installation at the Bourgeois Pig coffee shop that aims to promote equality and throw a spotlight on rape culture acknowledge that the society they hope for is probably a little ways off.
"It's still a pretty big thing to see someone topless on the street," said Tatiana Parkhurst, the lead model of the series. "These are the tough first steps."
Seven women and photographer Doug Tunison gathered in downtown alley between Second Street and Midwest last August for a photoshoot in which the models were topless.
Tatiana said the goal was to present the female body in "non-sexualized" way promote gender equality.
"We're usually trying to provoke some conversation with our shoots," Tatiana said of her collaborations with Tunison. "With this one, I think a lot of the models had their own purpose. I think it was a safe way for us to all stand for our rights and show other women that you can be safe and choose to do this."
Tatiana said there were some passerby who were were obviously shocked: "They weren't yelling at us or shaming us or telling us we couldn't be there. They just blushed and walked away."
None inquired about their purpose.
A few women have continued the activism with topless park gatherings on Sundays.
It still doesn't feel quite natural, Tatiana said, and the group aspect is essential to creating a feeling of safety. She added that during these heady early stages in the long game of normalizing female toplessness, it's reassuring to have Tunison present.
A 10th Circuit Court of Appeals decision in 2019 ruled against a ban on female toplessness stemming from a case in Fort Collins, CO. The decision applied to 5 states, including Wyoming.
One of the models was Heidi Russell, whom the others referred to as the "OG" of this type of activism.
"She was the one with the mindset about it originally," said Tatiana.
"Having her encouragement made such a difference," said model K. Rayne. "And it's not just being topless. She wants you to be you, whatever it is: topless, barefoot, covered in oil… she wants you to be rocking your stuff."
"What we're trying to represent, I think she really lives it," Tatiyana said.
Russell caused a stir in Casper for her public topless appearances, including on a moped, in celebration of the court decision. She said her topless jaunts earned her just as many nasty remarks from women as from men, some of which set her back.
While out topless in the world, Russell said "I get lots of horn-honking, lots of clapping, I get lots of people going 'thumbs-up.' I hardly ever hear any negative complaints face-to-face."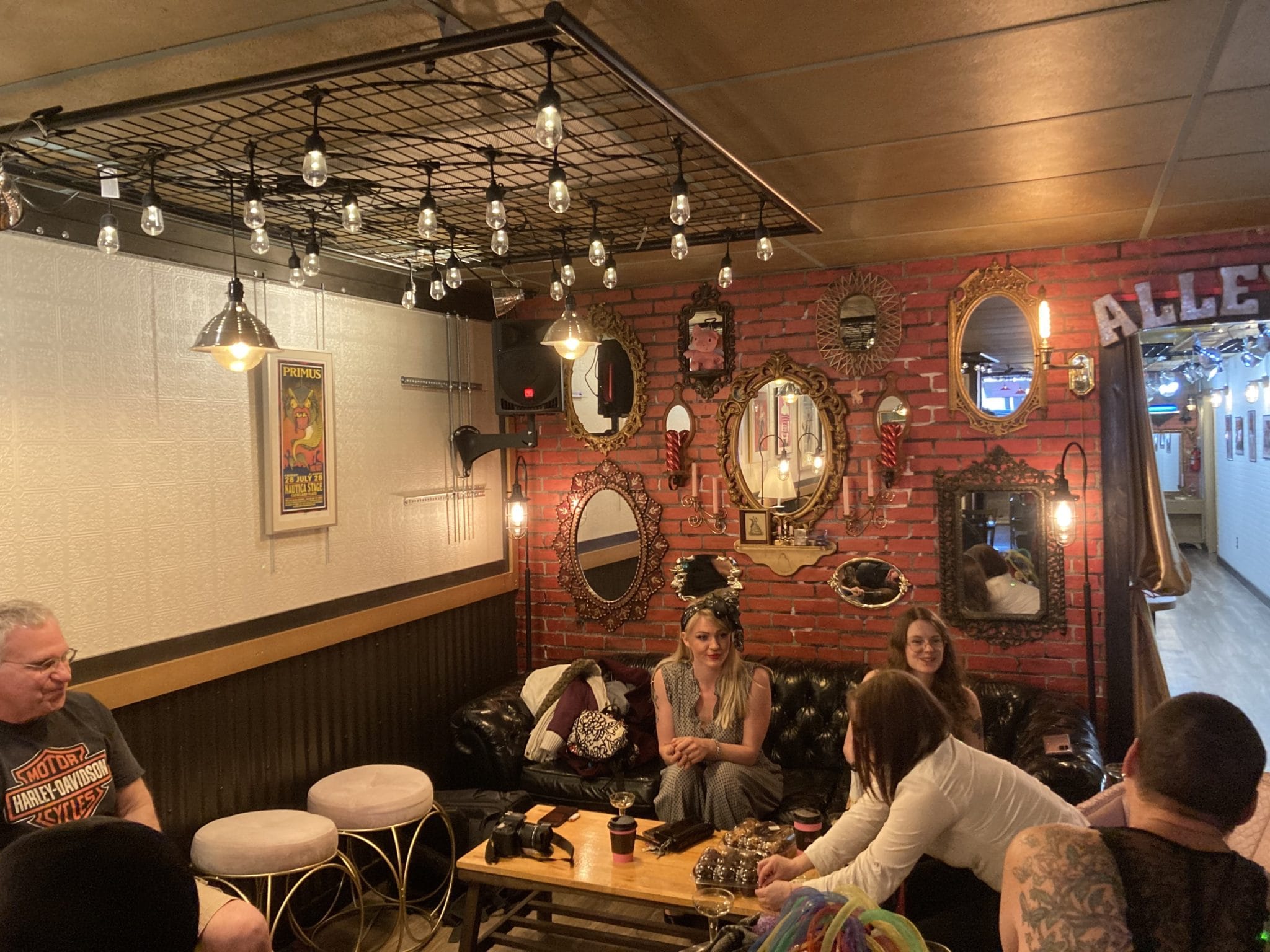 Almost all of that comes from Facebook, she said. Some men said that only women with perfect breasts should be out showing them off.
What made Russell's "heart hurt," she said, was comments from women who said they'd be joining her in topless activism if only their breasts were up to a certain standard.
"To hear these women body-shaming themselves, that hurt me… A lot of women, I think, go out of their way to be the perfect woman, and end up disappointing themselves because they get insulted by [a certain] group of people. I think they should just be happy with what they have."
The write-up posted in the gallery cites the high rate per capita of rape in Casper, which is double or triple other major cities, and represents only reported cases.
Model Kimberly Lynn said the outsized role of the oil and gas industries in Wyoming likely had a lot to do with the prevalence of toxic, "raunchy" male attitudes. She said she experienced this first hand herself working in the industry as a crude hauler.
Not all sexism is so overt, Tatiana said.
She also wants to get rid of permissive attitudes, such as the phrase "boys will be boys,' used "to write off behavior that was never appropriate in the first place." Feminism was also about abolishing false notions of the toxic, aggressive masculine and the passive, submissive feminine.
Being an active bystander and speaking out against sexist culture is something people can do in their everyday lives, Tatiana said. The group says the topic is too often dismissed or ignored.
"You don't want to be the bad guy, right?" Tunison said.
There are varying levels of optimism in the group about how long it might take to achieve "topless equality," in settings like the beach, where it's normal for a man to be shirtless.
Tatiana said it could happen in five years. Tunison said it would take a generation. Russell said, "Not in my generation." K. Rayne's guess: 497 years.
Some of the personal breakthroughs, however, are immediate.
"I feel damn proud," Tatiana said.