CASPER, Wyo —Well over 100 firefighters from across the nation arrived in Casper this weekend for the first ever High Plains Fire Conference, organized by Garrett Crotty, Adam Maiers, Micah Rush, of Casper.
Crotty said the idea behind the conference is to provide local firefighters "national level training without having to travel nationally."
Friday featured lectures on mindset, prioritizing fire attack, and the importance of maintaining fitness and running drills. Retired New York City Fire Department Kevin Shea spoke Friday on the latter point, 30 years to the day after he was lowered from the roof of a burning New York highrise to rescue a second victim from a window several floors below.
Article continues below...
"You think I thought I was going to be doing that? No, it just comes." Shea said, stressing the importance not skimping on training and drills.
He added that before even getting to the roof during the high-rise rope rescue, his company had run up 13 flights of stairs and had to force open a heavy, industrial door. They also had to manage the dead weight when the first victim jumped out of the window and grabbed onto the first rescuer.
"Try and keep the enthusiasm for training," Shea told Oil City News Saturday, on his advice for firefighters. His message is directed especially at departments outside of big cities.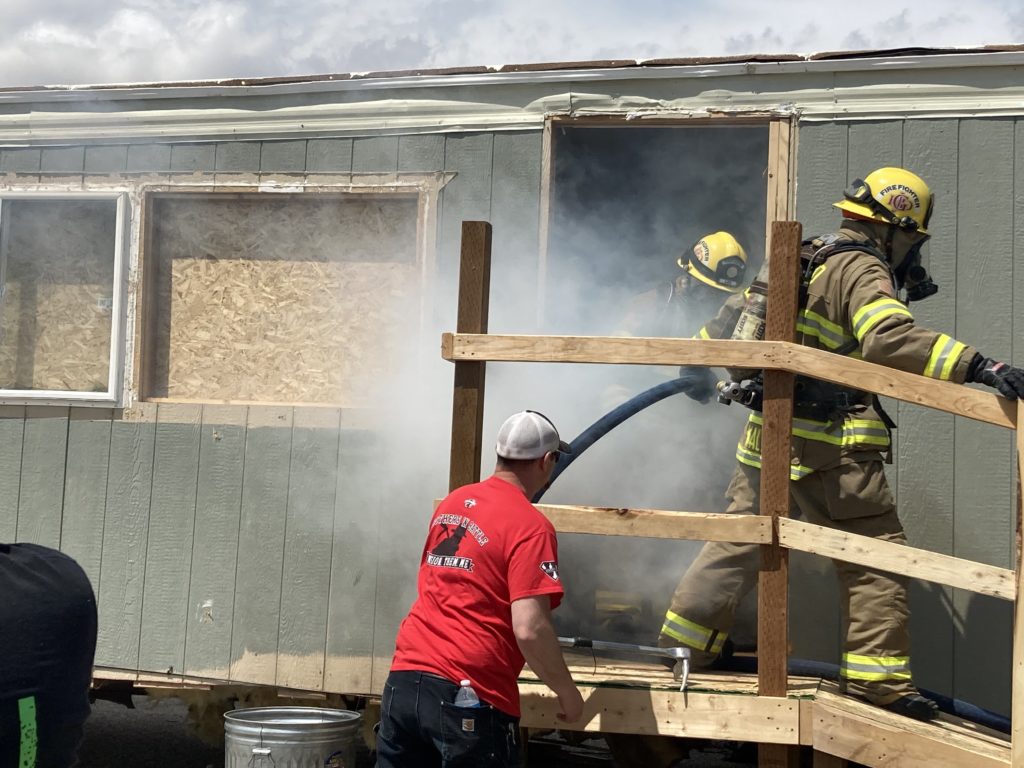 "Just because something hasn't happened in a while, doesn't mean it's not about to happen…. A catastrophe doesn't say, 'Let's take it easy on these guy because it's a small department," Shea said.
To that effect, firefighters at the city training facility Saturday interspersed ladder and forcible entry drills with all-out sessions on  stationary bikes, in full bunkers.
Maiers is part of "Brothers in Battle"  a training cadre that travels nationwide teaching search and forcible entry. High Plains Fire Conference secured two trailers slated for the dump to serve as training grounds for the weekend.
The drills focused on the problems the first engine on the scene of a burning structure might face.  Their first priority is to evacuate civilians, and there is always an assumption that someone may be inside, Maiers said.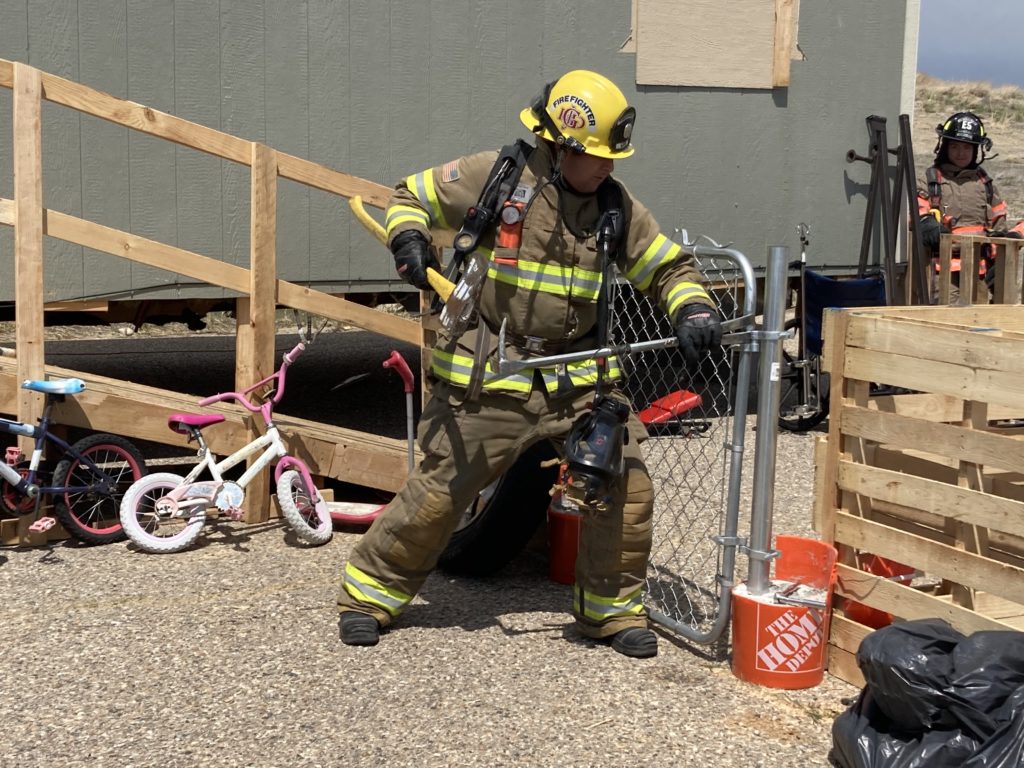 Problems they might face that aren't necessarily part of academy training might include gates that are chained shut, locked doors, and fences that firefighters must wind the hose around: "pinch point" management.
"We teach experienced-based stuff," said Matt Doney, a "Brothers in Battle" instructor from North Central Fire in Fresno, California
"We're basically trying to give them a lot of stuff to where, when they show up in the real world in the field and they encounter these things, their mind clicks and they say, 'Hey, I've been here, I know what to do here," he said.
This is where individual practical skills are put to the test. In Doney's scenario, firefighters also have to remove the front door, because when it is opened, it blocks a hallway to a bedroom.
"If you don't get that simple, one-second reach behind the door you won't identify that, and if the environment is dirty, and it's lights-out conditions inside, you will move across the entire building and miss the access to bedrooms, victims, all kinds of stuff."
Doney said stressful elements are added to each "evolution" of the scenario. By the end, instructors will play the role of frantic victims who might try to reenter the burning building or pass a child through a window.
"It's night-and-day to see the skill levels from in the morning when we first start to the end of the day," Doney said.  "We get emails and social media messages constantly from people that were successfully able to rescue civilians and do certain things on the job after taking our class."
"That's what makes it worth our while," Doney said.