CASPER, Wyo. – The last few hours of a multi-day auction on a new cabin "got hot," according to Pathways Innovation Center's Core Construction Class instructor Rob Hill.
"Tons of people were watching on Facebook and texting," hill recalls. "It was really exciting."
The auction ended with a $103,000 bid from Wyoming rancher Stirling Moore, who plans to install the sleek one-room, roughly 800 square foot cabin on her property outside of Casper.
It's the seventh cabin the Core Construction Class has built from scratch, using design contributions from students at Pathways, Casper College and Natrona County High School. And with its alluring modern-meets-rustic design and state-of-the-art amenities, it's easily the most ambitious of them all.
"During the course of this, it takes three semesters," said Hill. Because of the COVID-19 pandemic, the team lost much of last year when in-school learning was stopped. "When we came back in the fall, we we had to retrain a new group of students so that they could come in here and work on it," he said.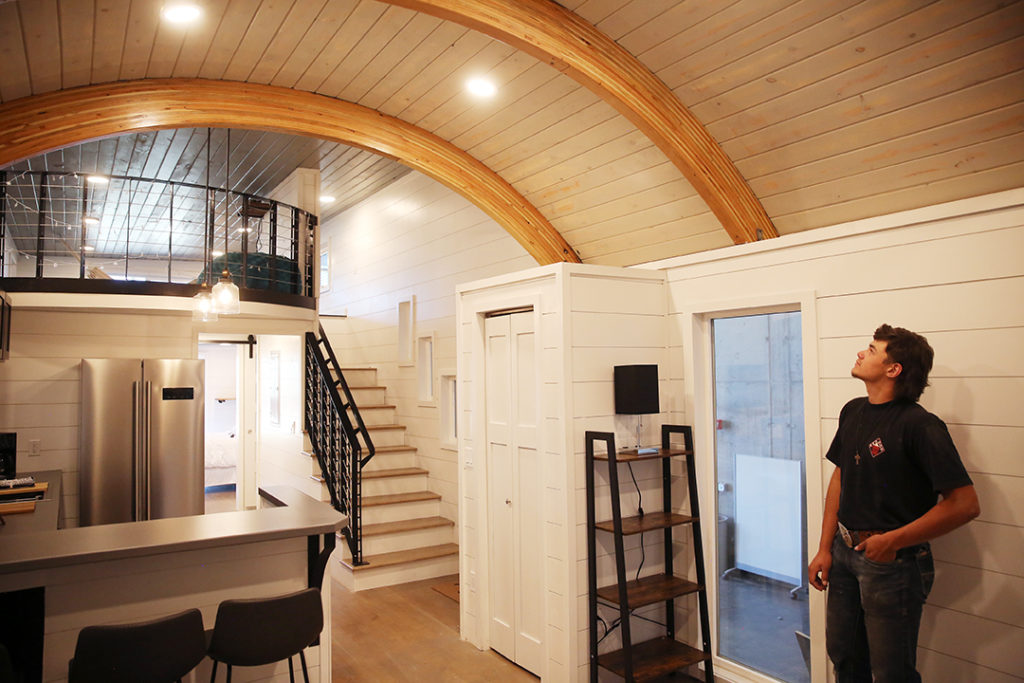 Some 150 students were involved in some way with the construction. Among them was Pathways junior Lathan Ross, who says the cabin was roughly 60 percent complete by the time he came on board.
"I knew about the cabin, and I felt like the experiences I could gain from working on it and being a part of it would be pretty valuable for future job opportunities," said Ross.
"I'd say a lot of the attention to detail that went into this cabin, I've never really put into any of my personal projects," he said.
Hill says one of the more valuable aspects of the cabin projects are the opportunities for students to learn multiple skills and trades.
"Some kids gravitate towards doing hardwood floors, or another group likes cabinets or a lot of framing, siding and roofing," he said. "Some kids love to be up with a harness on the roof doing production work, and other students really understand the detail and the work that goes into the trim."
"If you want to produce a good product, you need to make it look good," added Ross, "and that involves both basic construction and the attention to detail I mentioned earlier."
The finished product will be moved from Pathways to the ranch in the upcoming weeks. Hill says even as the class structures become more sophisticated over the years, they still have basic restrictions.
"We need to get it out of the garage," joked Hill, who praises the Casper businesses who donate their time to help with the project every year.
"It's really a huge compliment to our community and our contractors that come in and dedicate their time with the kids," he said. "There's a lot of learning that goes into one of these. Kids are starting very raw, so for them to complete a high-level project like this gives them marketable skills, and that's good for the community."
Ross says his feelings toward the cabin changed as the project was nearing completion.
"Once we got the interior designers in here from NCHS and they figured it out and got it furnished, that's when it was not longer just a job site," said Ross. "This is something I can be proud of, that my name is attached to it. It's going to be someone's future home."
The money earned from selling the cabins goes right back into the next cabin in a self-sustaining model, says Hill.
Next year's design is already underway, and Ross, who will be a senior, is looking forward to starting from the ground-up.
Even though he'll graduate before it's completed, he plans on coming back to the progress.
"I'm sure Mr. Hill will let me come down and visit," he said. "I'm really excited to see what we do next."