CASPER, Wyo — Over 350 kids, families in tow,  had checked in by 1:00 pm Saturday at Yesness Pond in celebration of Wyoming "Free Fishing Day," during which no license purchase is required.
The event was free to kids 14 and younger and their families. North Platte Walleyes Unlimited provided fishing poles to any kid who needed one, free and for keeps.
The Wyoming Game and Fish Department stocked the pond beforehand with about 1,500 trout, most from the Speas Fish Hatchery. Catfish were also stocked, which Game and Fish gets from hatchery in Arkansas in exchange for trout — Wyoming waters are too cold to raise catfish, Game and Fish said.
Among them are some choice specimens. Wyoming Game and Fish public information officer Janet Milek told Oil City News that an estimated 13-inch catfish was included in the stock, along with a trout that could be anywhere from 14-20 inches, "depending which fisherman you ask," she said.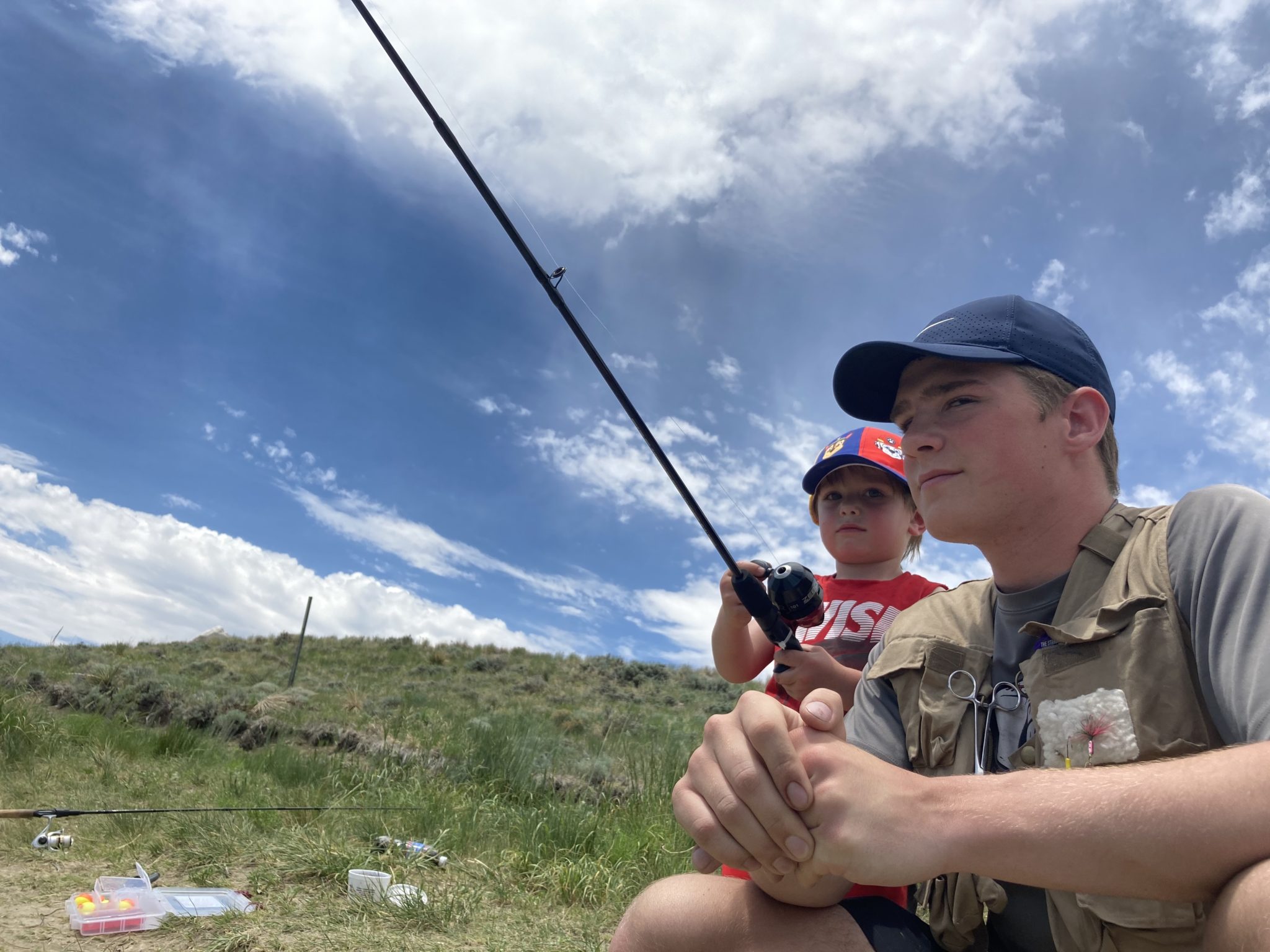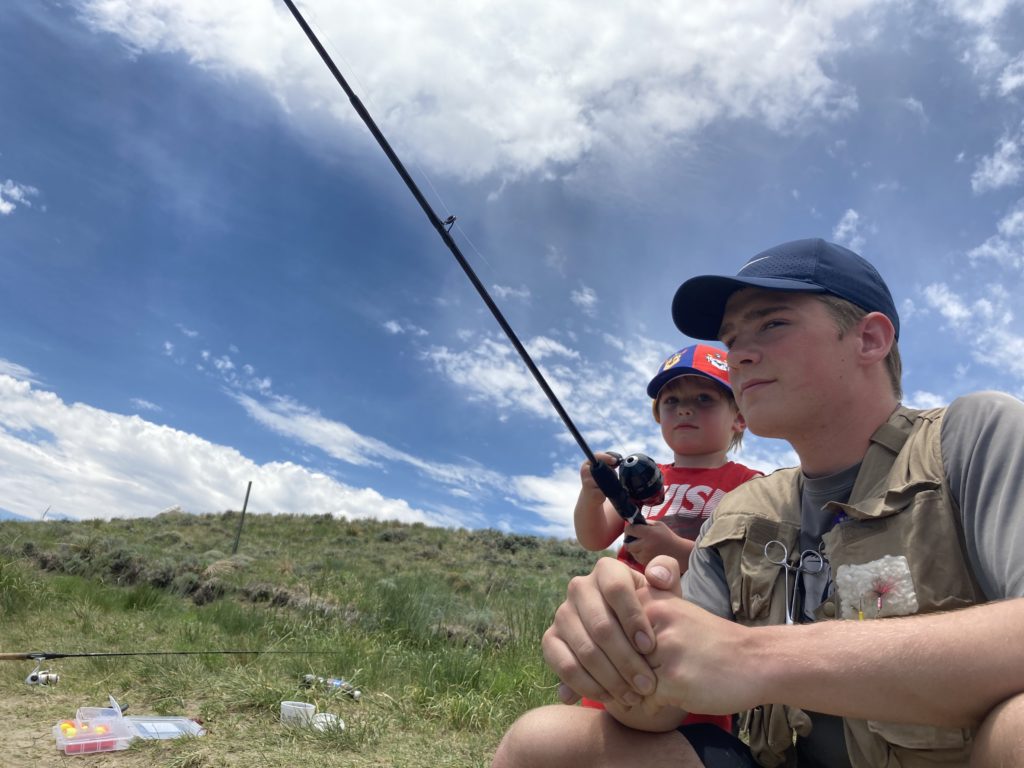 Yesness is one of many community fisheries across the state, and is stocked anywhere from 5-10 times per year, Milek said.
"It's here all year for everyone," Milek said. "The idea behind it is kids can walk or bike from their house, or ride five minutes, and be fishing."
Parents Eliza and Samuel, with daughters Myra and Layla inherited a spot on a concrete piling, and were out fishing for the first time this year.
Both girls had caught a few fish already, and they'd spotted a garter snake in the pond. Samuel lifted and jiggled the rod when the line got hung up in the grass.
"Ah, the joys of fishing," he said. "What do you do about it, but try to get it unstuck?"
Right after freeing the line, there was a bite. Layla had hooked a catfish. With to box to keep it in, it was freed.
Colin McKee  brought his little brother Decklyn on his first fishing experience and began teaching him the basics. The first thing he taught him was "patience," Colin said.
The key to casting "is just timing; knowing when to let off," Colin said.
Colin said his lifelong dream job is to fish professionally, preferably for bass down south. He said he learned about fishing from his grandfather, including where they are likely to be.
"Catfish, they like to sit on the bottom. Compared to trout, when it's gets hotter they move deep, when it's cold they move shallow for extra warmth."
Colin said he's not bothered when some time goes by without catching anything. "I like getting outside with nature and other people; the friendships and the memories you make."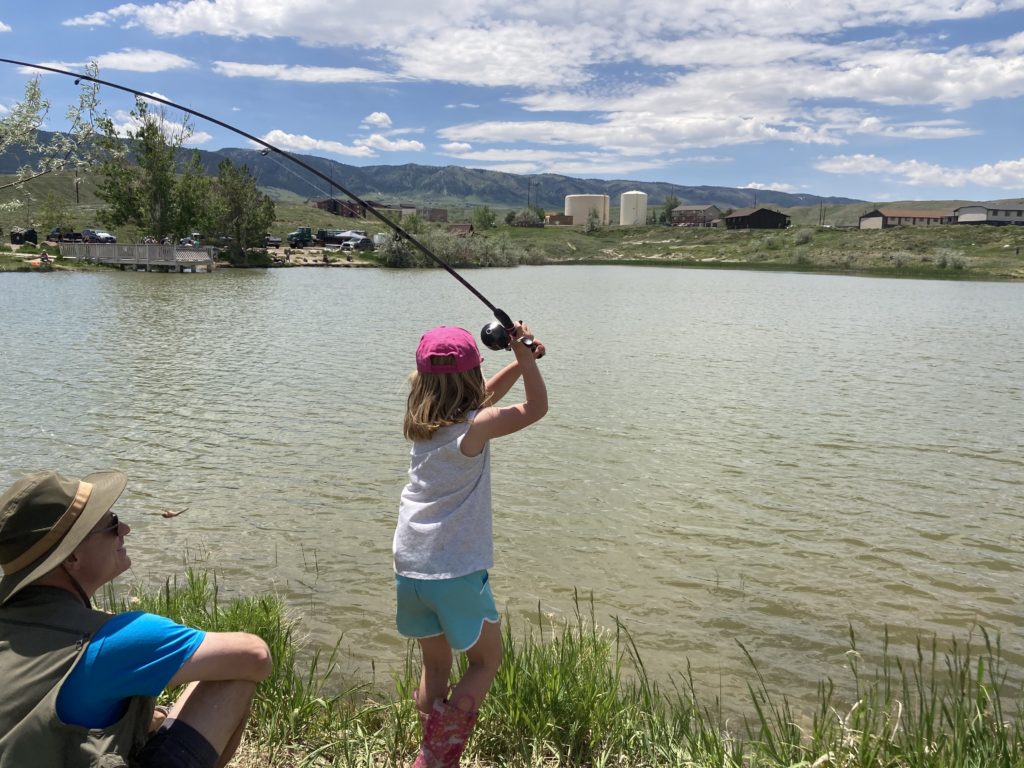 Rick was out with grandson Aros for the boy's first fishing outing. Aros mused about catching a great white shark. Rick said he learned about fishing from his own grandfather. Rick's recipe for when the fish aren't biting is to "drink another beer and go on about your business."