CASPER, Wyo. — The rifles and array of deer elk, badger, mink, raccoon, and beaver pelts on display at the National Historic Trails Interpretive Center's fur trading camp re-creation "seem to be the crowd-getter today," according to volunteer Nick Skaliscky. Curiously, the edible portions of the demonstrations were less popular.
"We haven't had anybody brave enough to try our winter stores of jerky," Skaliscky said. "We've been munching on it all day and we're just fine."
Part of the demonstration included the salt-and-sun method of curing strips of meat, good for mountain men in hostile territory.
Article continues below...
The Trails Center's living historians set up camp outside a trading post for the June 12-13 weekend, with demonstrations at 9 a.m., 11 a.m., 1 p.m. and 3 p.m.
Skaliscky said the heyday of fur trapping was from the 1820s-1840s. A drop in beaver populations and changing fashions in Europe dampened the viability of the trade, and the westward expansion via the Oregon, Mormon, and California trails further encroached on their way of life.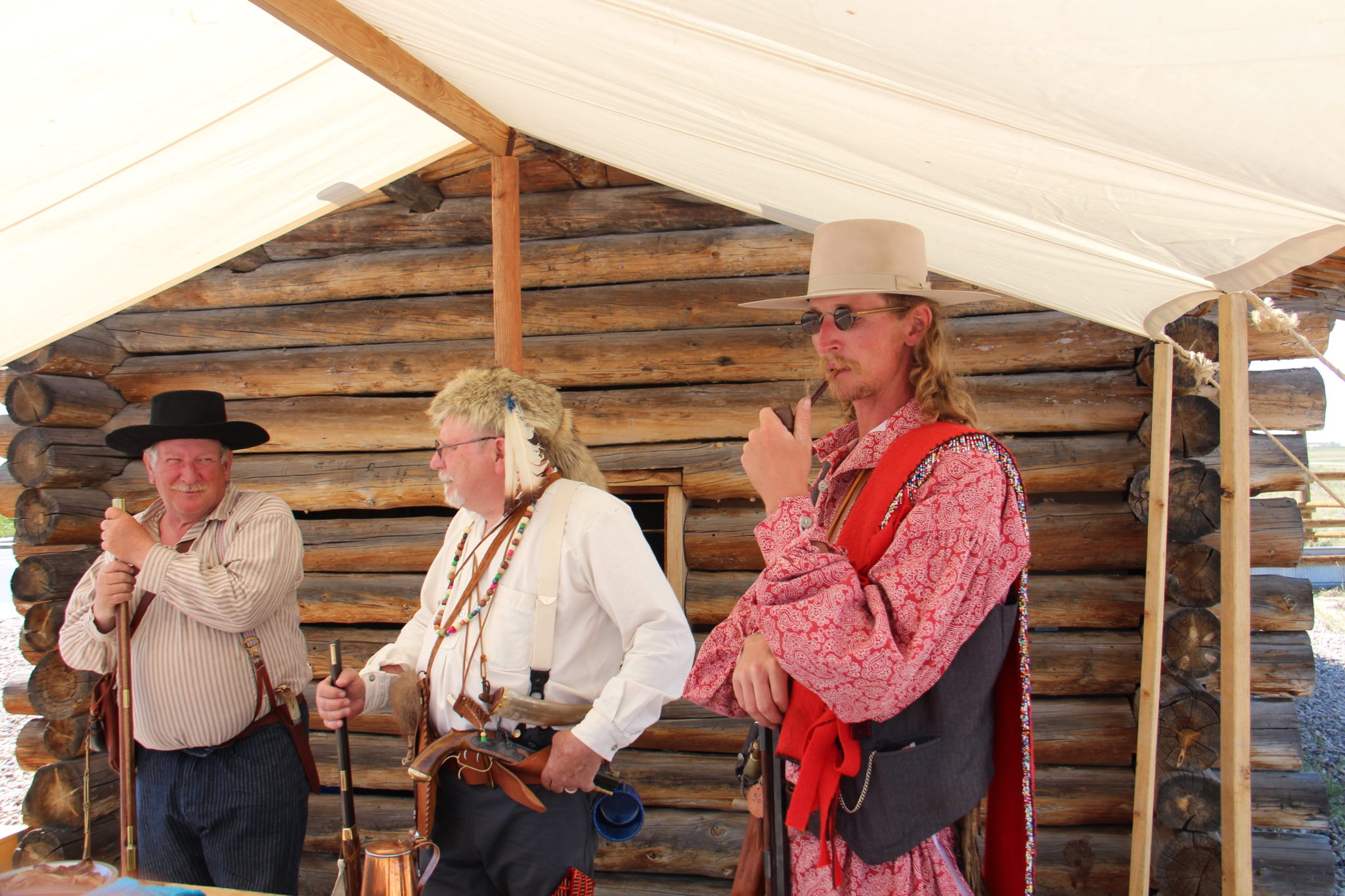 "There was no place to get away," said volunteer Levi Henderson. "The solitude of this life is what they loved."
Former trappers ended up scouting for the army, working as wagon train masters for the westward expansion, or settling down to live quiet lives in the mountains… "if they made it through their time trapping," Skaliscky added.
"As the junior man on the crew, I've gotten in the bad habit of keeping the rifle more than an arm's length away, and that was a death sentence for the time."
Another rookie mistake would be not properly stopping up a powder horn and subsequently losing the powder to a river or fire, Scaliscky said.
According to Russ Gilroy, the living historians built their personas based on the journals and hand-drawn maps of trappers like Russell Osbourne.  
"These men came through here, intermingled with the tribes, took what they needed to, sent it back East, and otherwise left no visible trace of their presence," Henderson said. He added that the lifestyle embodied an appreciation for nature: "You don't take more than you can use, and you give back what you can."
Due to the isolation, storytelling was a big part of the culture among small, loose groups of trappers. Skaliscky's demonstrations include anecdotes from Osbourne's journal, such as an attack by a bear that took nine shots to take down and the successful takedown of a 12-by-4 elk: "nowadays, 6-by-6 is damn good."
Not all encounters were friendly, but Robinson said there was a general kinship with Native Americans. Many trappers took Native wives, and were taught about edible and medicinal plants.
"There was a culture that intermingled without being abrasive and abusive," Robinson said. "They got along there for a little while."
Robinson added that the mutual respect of cultures was a lesson for modern times. Over the weekend, he was disheartened to hear from a man who felt the country was so divided that there was talk about another Civil War.
"We do not need another Civil War," Robinson said. "If you study the first war, it was bad enough. Your retirement is going to be gone, your homes are going to be gone, kids that are gone, grandkids that are gone… We cannot afford that; the cost is too high. It's just a bad, bad way of history."
"It's better for all of us if we learn to work together," Robinson said.