CASPER, Wyo. — They came out on Wednesday, they came out on Thursday, they came out on Friday. Then they came out again on Saturday. And again on Sunday.
Five days of events surrounding Casper Pride: Reimagined again and again brought people out to celebrate all things queer, community-oriented and kind.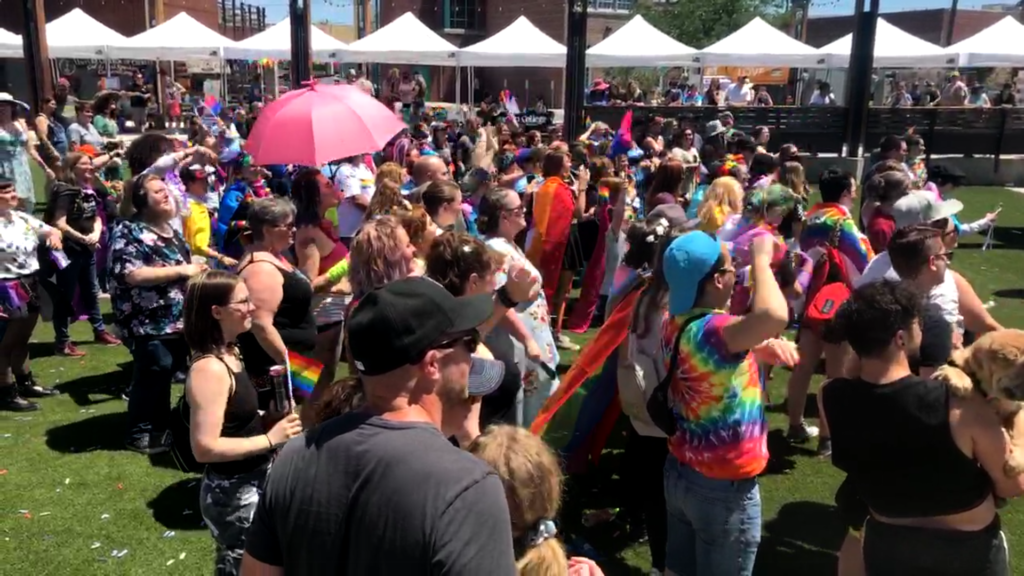 "We saw record numbers this year," Casper Pride Chair Mallory Pollock said Monday. All the ticketed events sold out and organizers estimate 800 people came out to "Pride at David Street Station" on Saturday. About 200 people came to the "Rainbow Collective" and "Art After Dark" events at Art 321 on Friday evening.
Article continues below...
Around 90 people showed up to an Open Mic Night on Thursday organized by Casper PFLAG (Parents, Families and Friends of Lesbians and Gays). People claimed all the tickets for the "Taste the Rainbow" dinner organized by United Church of Christ-Casper at the Good Food Hub that kicked off this year's Pride festivities on Wednesday. Other sold out events included the "Pride Drag Show and Co" event at Backwards Distilling Company's Mills location on Saturday night and the Drag Church Brunch at Occasions By Cory on Sunday.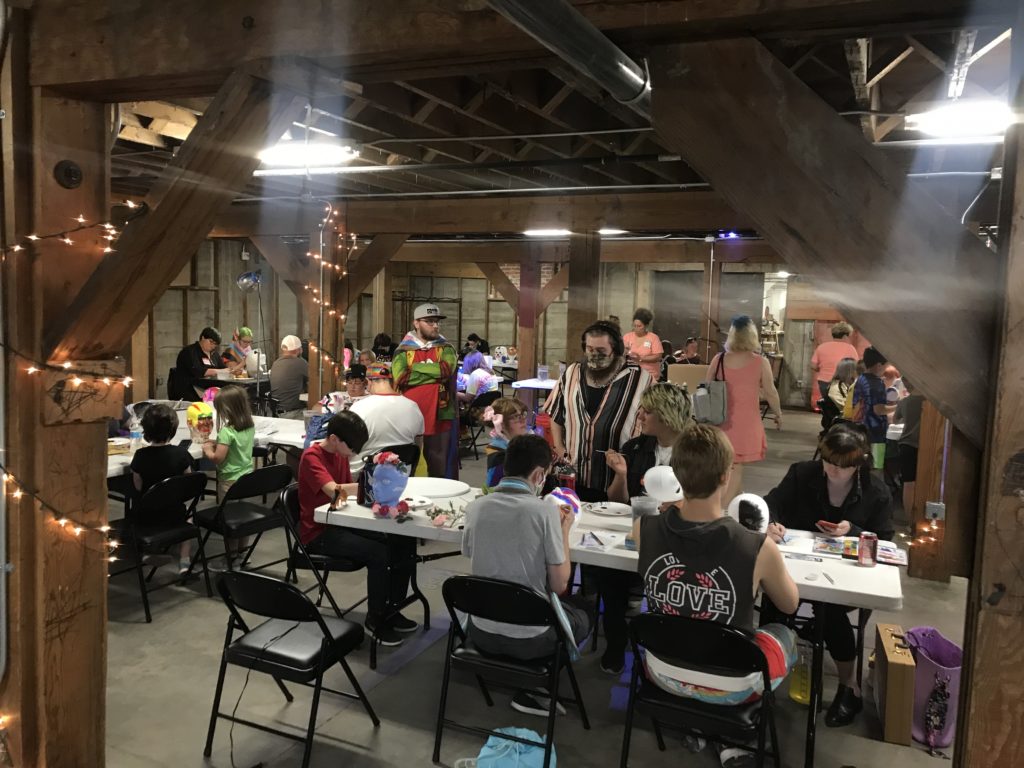 The Pride Dance on Saturday evening drew a promising number of teenagers in particular and even events not organized by the Casper Pride Committee, such as a burlesque show put on by Keyhole Peepshow billed as the "Pride After Party" packed local businesses like the Bourgeois Pig.
The final event of Casper Pride: Remagined was called "The Future is Queer" and drew about 75 people to the Healing Park at Conwell across from the Wyoming Medical Center on Sunday where people participated in breakout groups to discuss how to keep the momentum going from the five days of events and ensure there is a more regular, safe, fun and inviting presence for people in the LGBT community throughout the year.
It wasn't just the number of people attending the events that grew this year.
"Our vendors doubled from 2019," Pollock said of Saturday's celebration at David Street Station. "Our sponsorships were probably doubled as well."
For the first time ever, Casper Pride had a presenting sponsor in Clean Slate Body Studio, who will be a full service laser studio offering services such as tattoo and hair removal along with other skin treatments when they open later this year.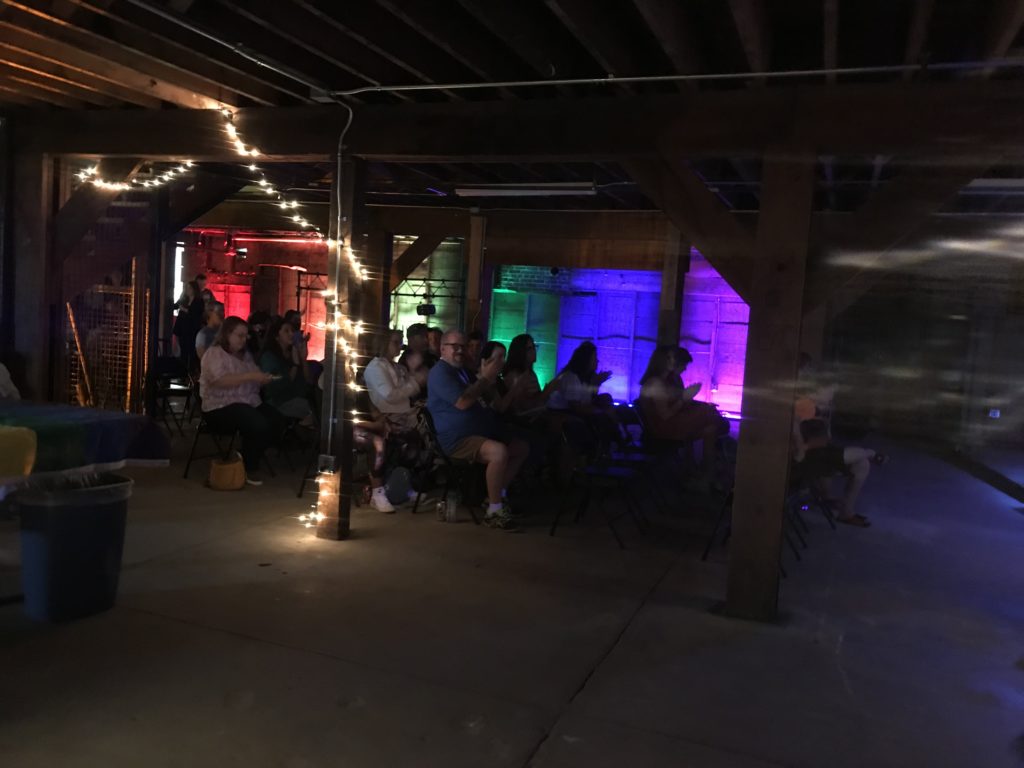 Pollock said that is a big deal because in the past, donors have been hesitant to publically support Casper Pride: "Only six years ago, people were saying 'I'll give cash but don't put my name on it.'"
Amanda with Clean Slate Body Studio attended many of the Casper Pride: Reimagined events this year, including the opening "Taste the Rainbow" dinner at the Good Food Hub.
"I think that showing a strong presence in the community shows kids it is okay to be who they want to be," she said during that dinner on Wednesday.
Amanda shares Casper Pride's interest in building off the momentum from Pride and having more places to go and things to do for people in the LGBT community in Casper throughout the year.
"I would like to see something bigger for Thanksgiving, Christmas….maybe something just monthly," she said. "People really need human interaction."
Sitting at the table with Amanda was Jennifer, who said that as the parent of an LGBT child in the Casper area: "It has been hard."
"My child has been very isolated," Jennifer said. "She is blossoming now that she has some safe spaces to be herself in."
"As a parent it's so good to see your child be who they are and happy and at ease. We're just really excited to see the community come together like this."
Jennifer said that Art 321's weekly "Rainbow Collective" gatherings at Art 321, which meets from 6-8 pm every Friday, have been huge for her child.
"She's been one of those kids who waits every year for this (Casper Pride celebration," Jennifer said, adding that it would be nice to see more things year-round.
Amanda said that one of the things Clean Slate Body Studio aims to do is provide not only their services, but also space for LGBT people to come and gather.
She said she's also working with "Theater of the Poor" to try to get people involved in their production of the musical "Hair."
"I think it is time to realize we don't have to give up our dreams," Amanda said. "We need a lot of events. We need to know that we belong."
Amanda said that in general, the broader community in Casper has been safe.
"I worked at the Beacon Club from to 90s to about 2010….no one ever treated me different out there," she said.
Amanda said that 2014 was the "first time I ever felt threatened in this town about who I was…I think we have an amazing community but there are some instances [of discrimination]."
While many in the LGBT community agree that it is time to have a more visibility in the community, some say that with increased visibility there is a certain amount of increased risk.
"As we've become more visible, the backlash has increased also," PFLAG President Rob Johnston said during the "Taste the Rainbow" dinner.
Johnston said during the opening dinner he was hopeful there wouldn't be any instances of hate or discrimination: "I'm always concerned about that."
Overall, there was a relaxed atmosphere during the five days of events. The Casper Police Department said Monday the only documented interaction they had during any of the events was at around 2:40 pm on Saturday at David Street Station. Reporters on scene witnessed members of a religious organization "protesting" the event.
Organizers asked them to stay off of David Street Station, which is private property, as they had not obtained a vendor permit to participate. Casper PD officers "did not witness any illegal activity" or any physical or verbal assaults, according to a Monday statement from Casper PD Public Information Officer Rebekah Ladd.
Officers remained on scene for "several minutes before seeing that both groups were dispersing peacefully. No other documented interactions happened with CPD regarding Pride events this weekend."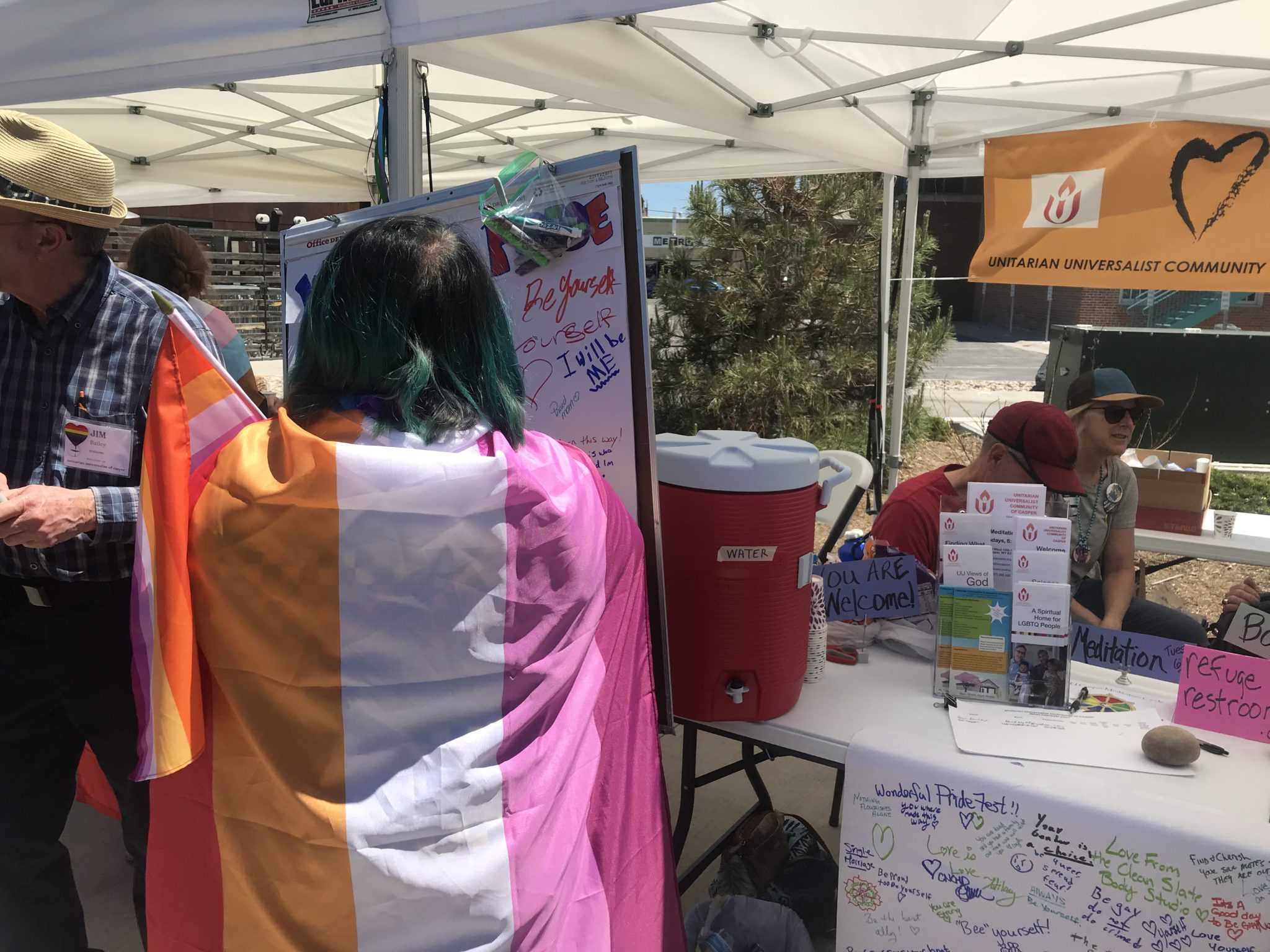 Rev. Dee Lundberg with the United Church of Christ Casper helped organize the "Taste the Rainbow" community dinner and also the "Drag Church Brunch" on Sunday. She said on Wednesday at the Good Food Hub that it is important for members of their church to support the LGBT community.
"I've got a ton of volunteers from the church," Lundberg said. "Some of us have kids in the community."
For others in the United Church of Christ Casper, supporting the LGBT community is a simple matter of theology.
"Theologically for us, the God we know and understand is one that affirms everybody as they are and doesn't try to tell them who they are or need to be but just loves them where they are at," Lundberg said at the Good Food Hub.
Lundberg did her dissertation on hospitality and spirituality and said that hosting a dinner is a simple but powerful way to encourage community building.
"Feeding people is always a good thing," she said. "Hospitality is everything. I actually did my dissertation on hospitality and spirituality. With a lot of folks in this community they just need TLC (tender-loving care) and a sense of home and family, and food just plays into that. It is probably the most important thing we do."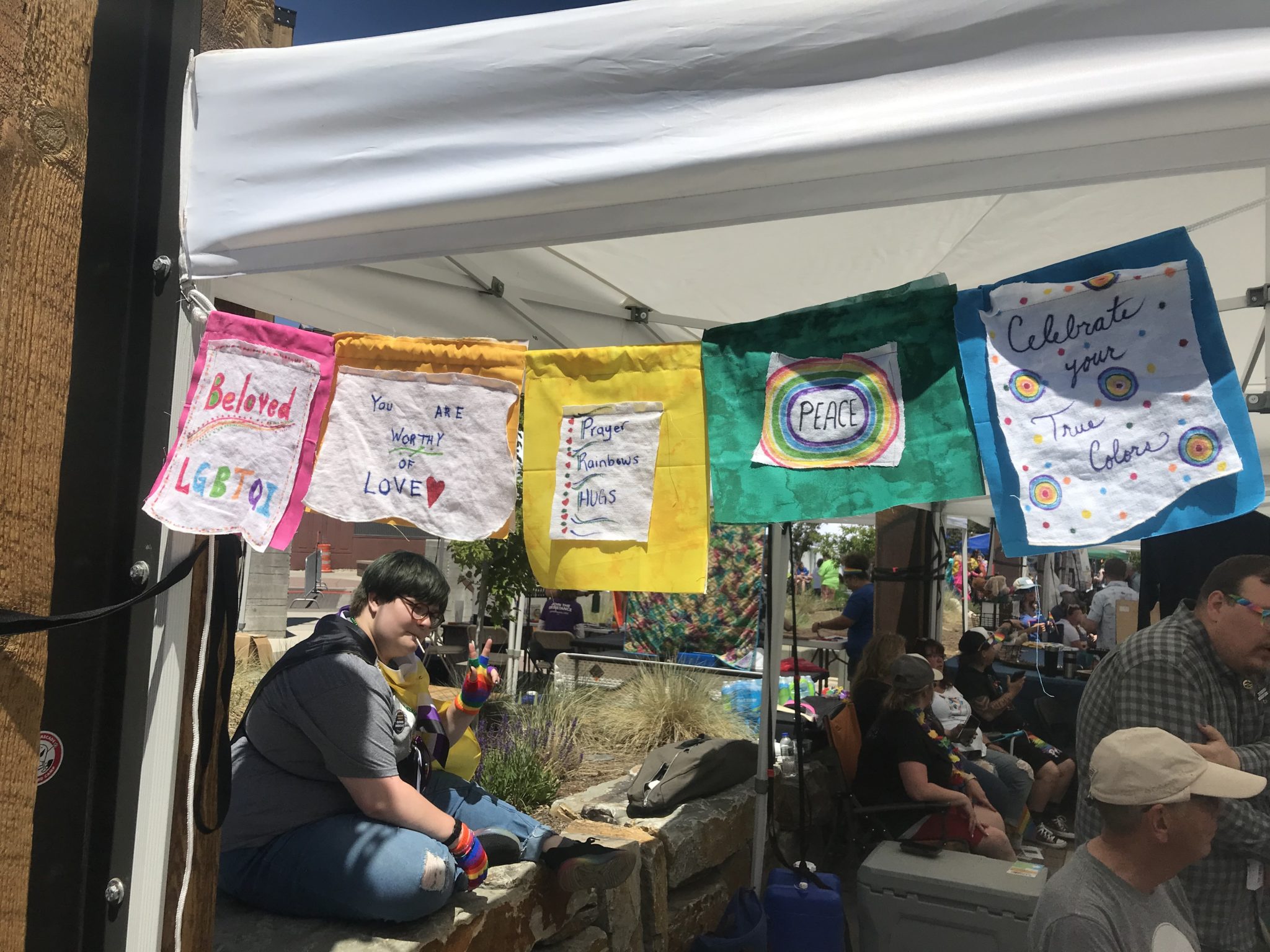 Lundberg said that getting together to share a meal and working to provide a meal to someone is a way to show "not just tolerance, not just acceptance even, but affirmation."
"You have a family," she said to the LGBT community. "You have a home. We've got you're back, we're here."
Lundberg noted that the reason the "Taste the Rainbow" dinner was held at the Good Food Hub was because Wyoming Food for Thought also wanted to give their support. They provided the Good Food Hub space for free and provided greens for the salads and pasta. Another business that made the dinner possible was Albertson's who donated cupcakes.
"We want folks to support businesses in town that support us," Lundberg said of the Casper Pride Committee's hopes. "It is building community across lines with allies and businesses and otherwise."
She added that what makes simple events really have impact is an attention to detail.
"Just little things that say you care," Lundberg said. "You make the room warm and inviting. All of those little things make the difference. People notice when you take the time to make things nice."
Johnston said during the opening dinner that PLFAG was putting on the Open Mic Night on Thursday at Art 321, noting that this was an event that happened at Racca's Pizzeria two years ago. In 2021, Pollock noted that Racca's also supported Casper Pride, offering a special drink menu with $1 from each purchase being donated to Casper Pride.
Johnston said that the 2019 Open Mic event drew a "really diverse room." That proved to be true on Thursday, with the event drawing about 90 people. Some sang songs, some played guitar, some recited poetry or otherwise opened their hearts about their experiences in Casper. Several mentioned Wyoming's lack of hate crime legislation and their view that such legislation is long overdue in the "Equality State."
On Wednesday, while he had expressed concern about backlash that may occur as the LGBT community becomes more visible, Johnston also said that he thinks the LGBT community in Casper is "a lot of small groups" and that Pride "is the one event that brings everybody together."
"How do we keep this going throughout the year?" Johnston said. "That is what Sunday afternoon will be. How do we re-imagine ourselves as a community and what are we moving toward?"
One thing he'd like to see more of is support for people that are just coming out. He said that people who are thinking about coming out can consider contacting Casper Pride or Casper PFLAG who can help provide them with resources or simply offer safe conversation. Johnston said PFLAG sometimes get calls from people who might only feel comfortable getting together for coffee and that this is okay. Bottom line is they need to know support is available.
Amanda said she knows how it feels when someone is still closeted and not quite ready to come out.
"I know exactly what that is like," she said. "You have friends here. You have so many friends here."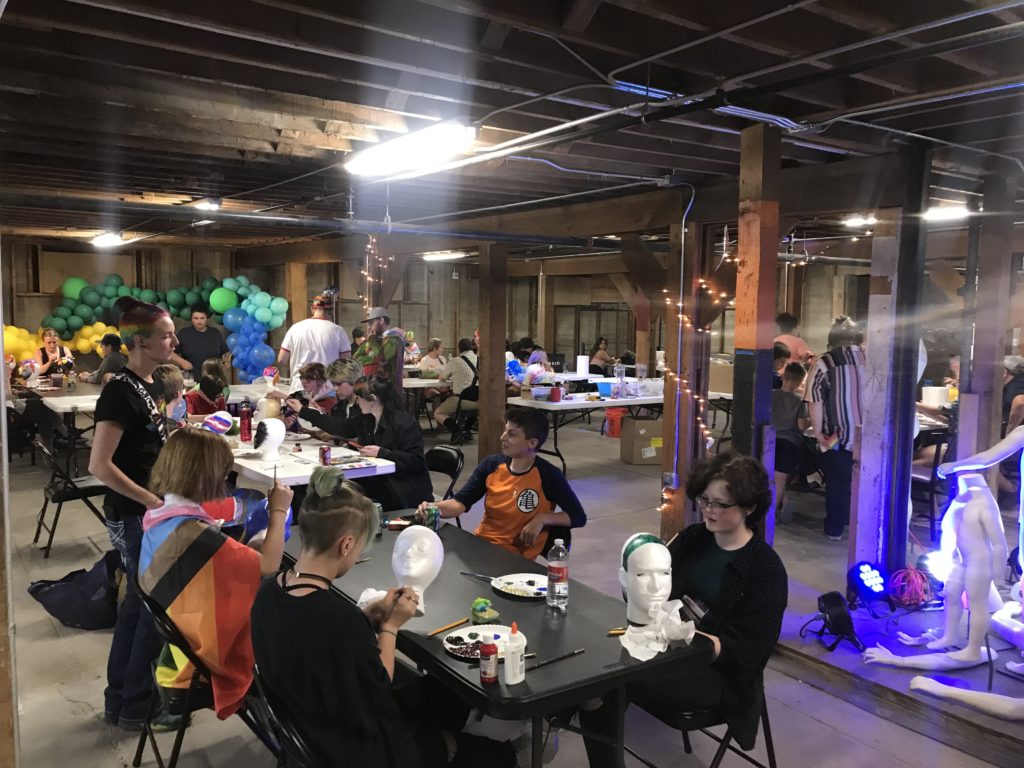 She said community gatherings such as Pride at David Street Station are a good option for people looking for community who aren't ready to come out. Gage Williams with Casper Pride agrees.
He said Wednesday that Casper Pride events draw "so many allies" and that the majority of the 800 people at David Street Station on Saturday were likely allies rather than themselves identifying as LGBTQ.
"You can just come and enjoy things just because you want to," Williams said. "The cool thing that comes with doing these events…there is still that anonymous feeling."
Pride events can be for anyone supportive of the community. Rob Tate said during the "Taste the Rainbow" event that he was there with a friend who is newly out: "I'm excited to bring my friend. It is her first time."
Tate said he loved the turnout at the "Taste the Rainbow" dinner and that he's glad to see "Casper is evolving and we are getting more things like this."
"This is important," Tate added. "We have a lot of youth and I think this is really going to benefit people of different generations."
Tate said he'd also like to see some more year-round community events for the LGBT community, such as some gay bars, more regular drag queen bingo events or LGBT dating events. But the momentum is heading in the right direction.
"I think every year it is getting better and better," Tate said. "I'm really pleased to see where it has come even in the last five years."
That sense for capturing some momentum did not escape the notice of organizers this year or supporting venues. Art 321 Executive Director Tyler Cessor said on Wednesday that "it was really incredible to see the volume of folks that were out."
Whether it was the Open Mic Night, the over 200 people who showed up on Friday night or the crowd again on Saturday night for the dance, Cessor said Art 321 is realizing there is definitely a community they can support.
In addition to their weekly Rainbow Collective events, Cessor said Art 321 will be looking to do more: "One of the ways we're going to do that, Wyoming Equality and Casper Pride are asking us to hold a youth queer space."
Cessor spoke during the Sunday culminating "The Future is Queer" event at Casper Healing Park at Conwell and asked people to close their eyes and imagine three moments of queer joy they had witnessed throughout the five days.
For him, there were moments during the dance, at the Art After Dark event, and at the park on Sunday that all fit the bill. Another example was people attending Rainbow Collective events easily and simply referring to one another with non-binary pronouns they prefer: "It is hard to get people to use those pronouns if they are not doing it regularly," Cessor said.
"I just think it was a beautiful year," he added.
Cessor led a breakout group on Sunday focused on what allies can do to support the LGBT community. He said one of the things he wants people to think about is how they can get in the way of people or things that could prevent those instances of "queer joy" that they imagined from happening.
Williams said that is is striking how many people Casper Pride was able to reach this year. One moment that stuck out was the "Pride Drive" on Sunday when people decked out their cars in Pride-style and met at City Park. This was an event that Casper Pride carried over from 2020 when in-person celebrations were not possible due to COVID-19.
"Friday night was probably my favorite night," Williams added, pointing to the 200 people who showed up at Art 321's Art After Dark to paint and do other art together.
Williams said he thinks events which give people something to do and a space to meet without being overly structured may have the most impact. Those kind of events give people a place to come hang out and do some activity if they want or just hang out and chat or listen without pressure.
"I personally didn't feel any pressure," Williams said of the Pride events this year.
He said that he understands that the move to David Street Station "definitely put us in a spotlight that some of our community isn't ready for." But Williams said he thinks this is necessary if the goal is to make people feel safer in the broader community year-round.
Such events help build people's confidence that "we can live our authentic lives and not worry about the what-ifs." Williams said he has the sense that Casper is moving in the right direction of becoming a community where people can feel safe to be themselves whoever they are.
He added that Casper Pride can connect people with resources, whether that is to help ease them in the process of coming out, or whether that is other resources they need such as mental health or other health support.
Williams said he'd also like to see more partnerships grow with businesses in the community and that it was great to see Clean Slate Body Studio come on as a presenting sponsor, particularly because Wyoming may not have a lot of LGBT owned businesses.
"I think as we grow and as acceptance grows, I think our sponsors are more willing to name themselves," Williams added. "We're getting more sponsors and more sponsors willing to name themselves and that is nice."
Williams said that a more visible presence year-round is something that Casper Pride can support, but not something that they can do alone. Individuals, groups, businesses or organizations can think about ways they can support the community, whether that is a book club at the library or a gym that wants to support LGBT fitness classes or outings.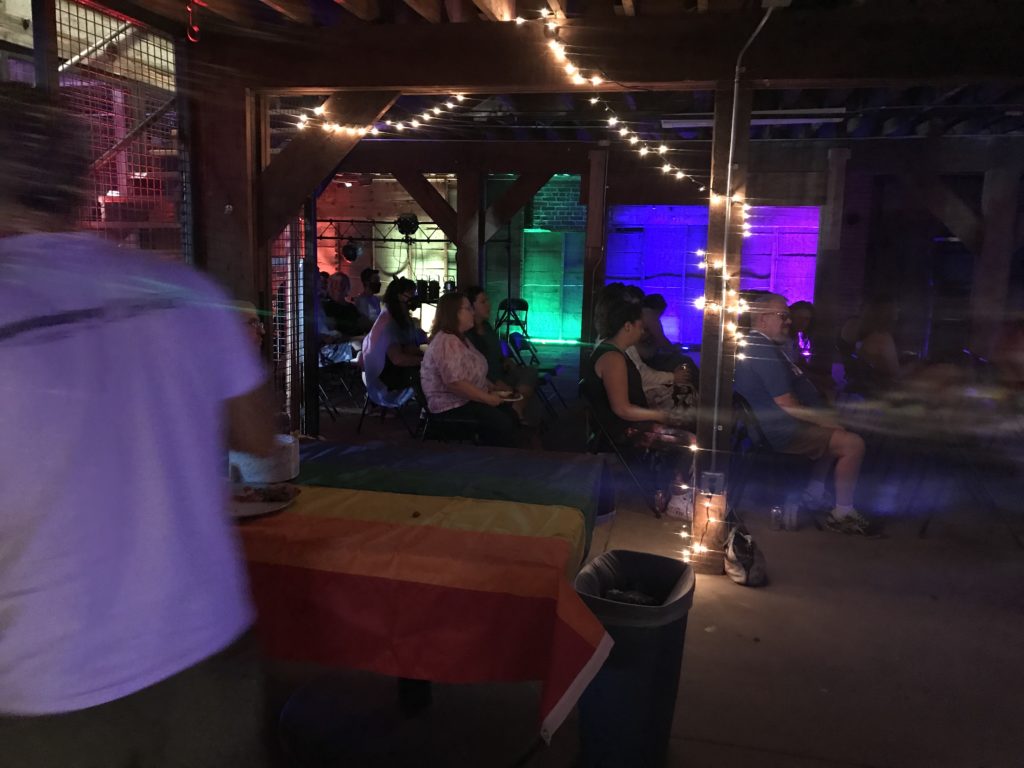 Casper Pride's role can be to help such organizations find resources they need, Williams said. He's seeing positive steps happening at Casper College and at places like the University of Wyoming Family Practice Clinic who are focusing on LGBT family issues. Pollock noted Wednesday that UW Family Practice will also be offering PrEP, a medicine that helps protect against the risk of HIV.
Williams said that overall, he thinks Casper Pride: Reimagined was a big success. Becoming more visible is a move he think needs to happen: "We are just as much a part of the community as anybody else..it is a move for safety."
Casper City Council member Amber Pollock said something similar on Wednesday about Casper Pride: Reimagined: "It was really powerful to me…these types of affirming and supportive environments save lives."
"It just really is a demonstration of the types of things folks need all the time," Amber added, noting that people living in isolation can struggle with mental health issues.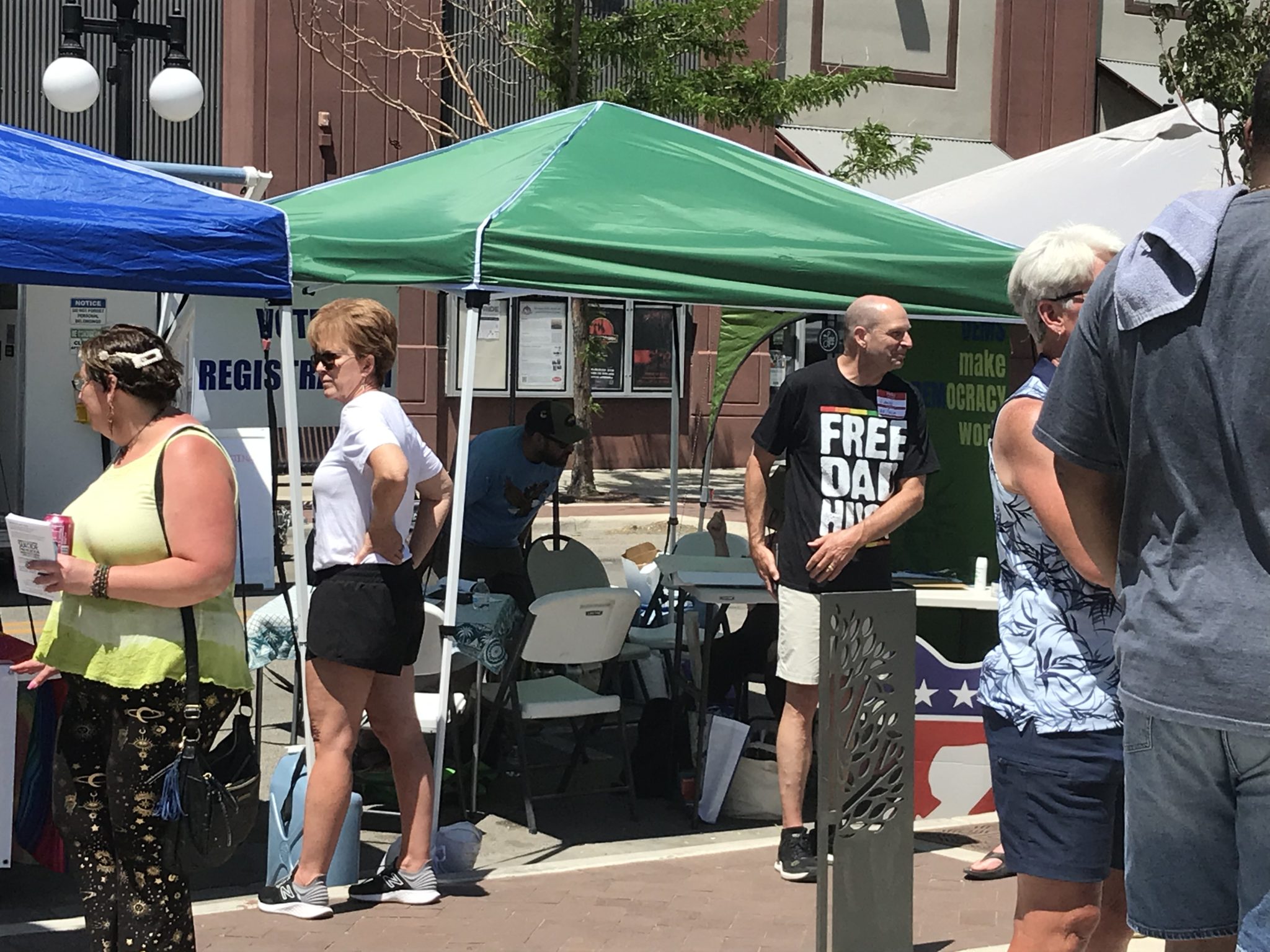 Mallory Pollock said that the Drag Show Brunch was an event that she thought turned out really well in giving people an exposure to a religious perspective that accepts them when many may have had negative experiences surrounding some religious perspectives in their pasts: "It was really neat to see so many people there…it brought a really nice outlook to religion."
Like Williams, Mallory said that this year Casper Pride "really took a step in being visible this year" and that while some in the community might not feel ready for this step, the turnout shows that many people are indeed ready.
"The more we get out there, the more people find us and we find them," Mallory said. "We all find each other."
People in the community not ready for the increasing visibility can still tune into what is going on and can consider joining some of the less public-facing events such as Open Mic Nights or simply by checking in on what is happening via Casper Pride's social media presence.
Mallory said Casper Pride is also seeing an interest from businesses and organizations that are looking for training or guidance and that people like Williams have been able to offer some of that.
When it comes to organizations wanting to be supportive, she said one key is that the organization is doing that out of a genuine sense of support and not just to capitalize on the the LGBT community: "I think just make sure you are not just slapping a rainbow on something to get someone's business."
Mallory said that it was great to see a number of businesses do things that coincided with Casper Pride which they organized themselves, such as Scarlow's, Racca's, the Bourgeois Pig or Grant Street Grocery who made an "LGBT" sandwich speical as a twist on the "BLT."
Another group that Casper Pride just became aware of this year is a local chapter of "Free Mom Hugs" an organization that provides resources including for parents and families with LGBT children.
"No one knew of them," Mallory said. "That was really exciting to find out."
The people organizing the local chapter of "Free Mom Hugs" own Casper General Surgery, an organization which Casper Pride identified through assessments that are part of a project to put together a resource guide of health services that are supportive and safe for LGBTQ people in the area.
Mallory said that another good thing to see this year were Pride organizations from Sheridan and from the Black Hills set up at David Street Station. She said that Casper Pride was able to help Black Hills Pride connect with Starbucks who have sponsored Casper Pride events for years.
Casper Pride, which was formed six years ago, has been able to help support efforts to launch Pride organizations in other Wyoming communities and Mallory said that is something they can continue to do for anyone who reaches out: "I know we've lent our by-laws to the group in Laramie to kind of work through when they were forming…We've been around for six years and I think we've learned a good amount."
Another thing Casper Pride is offering is their TransProject Fund which launched March 31. That is a project which provides funding to people, trans or otherwise, who have a project that can support the trans community in some way. The first project the Casper Pride TransProject Fund supported was the creation of a document guiding people through the process of how to legally get their name changed.
"I would love to see people apply for that," Mallory said. "Ultimately, we have a lot going on."
Casper Pride is thinking about creating a staff position so that they have someone that can fully dedicate time and energy to all that the organization wants to do and support.
In order to support that position, Casper Pride has been focused on building momentum and having projects in place that would actually need the full-time attention of a staff member. The aim of Casper Pride: Reimagined was to plant a seed and see if not only Casper Pride as an organization, but also the community as a whole, can cultivate a way to include the LGBT community in a visible, supportive way year-round.