CASPER, Wyo. — The average price of a regular gallon of gasoline in Wyoming has risen about 8 cents in the past week, according to AAA.
Wyoming drivers are paying an average of $3.242 per gallon for regular gasoline at the pumps on Monday as the country prepares for the upcoming Independence Day weekend.
Gas prices Monday were up $1.13 compared with a year ago. Gas prices were lower last year due to a combination of factors, including fewer drivers on the road due to the COVID-19 pandemic and an oil price war between Russia and Saudi Arabia. The average price of regular gas in Wyoming at this time in 2020 was $2.112 per gallon.
In Casper, gas prices are lower than the statewide average, with drivers paying an average of $3.125 at the pump for a regular gallon of gasoline on Monday, according to AAA. That is an increase of about six cents compared with a week ago.
Prices in Cheyenne are tracking closer to the statewide average, with drivers paying an average of $3.223 per gallon of regular gas as of Monday.
Wyomingites in general are paying higher than most customers across the country, according to AAA data. The average price of a gallon of regular gas across the country was $3.099 per gallon. That is up about two cents from last week and up from the average of $2.178 per gallon a year ago.
AAA said in a Monday release that gas prices are likely to continue to increase in the lead up to the Independence Day holiday. They are forecasting "a record-breaking 43.6 million Americans will hit the road for a holiday getaway." AAA is defining the Independence Day holiday as July 1-5.
AAA shared average gas prices for the Independence Day holiday in recent years as follows:
| | |
| --- | --- |
| Independence Day Holiday Weekend | Gas Price Average |
| July 2 – 6, 2014 | $3.66 |
| July 1 – 5, 2015 | $2.76 |
| June 30 – July 4, 2016 | $2.27 |
| June 30 – July 4, 2017 | $2.23 |
| July 3 – 8, 2018 | $2.86 |
| July 3 – 7, 2019 | $2.75 |
| July 1 – 5, 2020 | $2.17 |
| June 28, 2021 | $3.09 |
(AAA)
AAA added that crude oil prices sold at about $74 a barrel last week which was the highest price "in nearly three years."
"In January 2020, after seeing a customary decline due to business shutdowns for the Chinese New Year celebration, oil demand from China continued to fall because of economy-wide pandemic-related closures," the U.S. Bureau of Labor Statistics said in an Oct. 2020 article. "Demand for oil decreased by 3 million barrels per day, which represents approximately 20 percent of the country's overall oil consumption."
"As the COVID-19 pandemic continued to spread across the world, Saudi Arabia, the world's second-largest oil producer behind the United States, urged fellow Organization of the Petroleum Exporting Countries (OPEC) members and Russia to cut production. Having formed a 2016 alliance with OPEC to control the price of oil through production cuts, Russia, the world's third-largest oil producer, now resisted the call for further reductions in response to the pandemic. Russia sought to gain market share in anticipation that the U.S. shale industry's profitability and output would fall in the face of lower prices."
After Russia and OPEC failed to find agreement, OPEC started ramping up production.
"By the beginning of April, OPEC had raised output by 1.7 million barrels per day up to a level of 30.4 million barrels per day, the largest production jump since September 1990," the U.S. Bureau of Labor Statistics said. "The production boom coincided with an International Energy Agency (IEA) estimate that global demand for oil was down by almost 30 million barrels per day because of the shutdowns in response to the COVID-19 pandemic. With demand down, the addition of petroleum to an already saturated market led to a near-record level of 535.2 million barrels of crude petroleum stockpiles in the United States on May 1."
The pandemic, price war and cyberattack are a few examples that show the complex nature of fuel prices across the planet. Historic data shows that while gasoline prices in the U.S. are higher this spring than in recent years, prices tend to increase in spring and summer each year: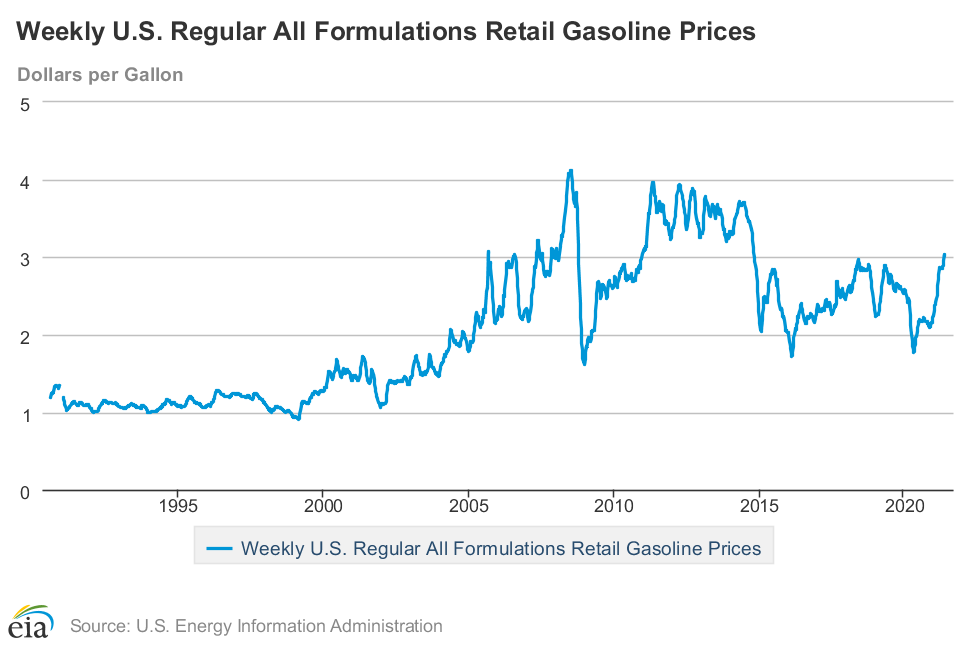 AAA says the highest recorded average price of gasoline in Wyoming was $4.123 per gallon back on July 17, 2008.