CASPER, Wyo. — Happy Monday out there everyone, and hopefully you had a great Fourth of July!
Some Casper City Council members have been calling for a more public health approach to crime reduction. In this week's edition of Oil City Speaks! we take a look at that question. We've gathered some stand-out comments readers submitted in response to our coverage over the last week and explore how everything from civil asset seizures to a new adult kickball league to Jeffree Star hanging out with yaks might be worth thinking about surrounding the topic of public health.
In Casper, people are much more likely to be arrested on marijuana related charges than for methamphetamine or other illegal substances. The Casper Police Department's 2020 annual report shows that 53.8% of adult and juvenile drug arrests were marijuana-related:
Article continues below...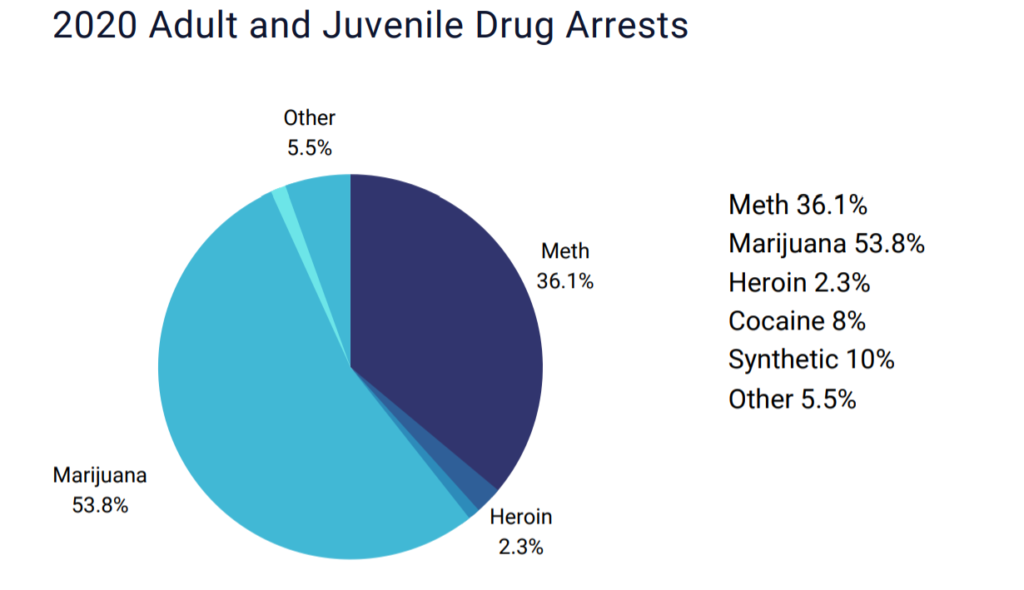 There is a ballot initiative effort underway to put the question before Wyoming voters in 2022 whether to legalize medical marijuana and/or decriminalize user-possession of cannabis. Dustin's comment suggests that law enforcement efforts to crack down on marijuana users may not be the best policy to ensure a safer community.
Casper City Council member Kyle Gamroth noted during a June review of the Casper PD's use of a DEA "Cannabis Suppression/Eradication Program" grant that methamphetamine-related crime is up even as incarceration rates have climbed in Wyoming. Wyoming's incarceration rate in 2018 was 842 per 100,000 people, above the national rate of 698 per 100,000 people, according to the Prison Policy Initiative.
Wyoming's incarceration rate has increased significantly in recent decades. In the year 2000, there were less than 200 people incarcerated per 100,000 in Wyoming. The Wyoming Legislative Service Office said in 2019 that the cost of housing one inmate at the Wyoming State Penitentiary in 2018 was about $128.63 per day, or about $46,950 annually. The approximate cost at the Wyoming Women's Center was about $39,862 annually.
While incarceration rates are up, a 2020 report funded by an Office of National Drug Control Policy grant found that methamphetamine prevalence in Wyoming has simultaneously been on the rise:
Gamroth suggested that if incarcerations are on the rise but meth-related crimes are also rising, it may be time to rethink whether law enforcement strategies are actually effective: "The metrics don't seem to indicate success."

Civil forfeiture laws create the possibility for people to have cash, vehicles, guns or other assets seized if law enforcement suspects these have a link to a crime. However, people could see such assets seized even if they are never charged with a crime.
During a March 29-30 "drug interdiction operation" which was supported by about $10,000 of the $35,000 DEA grant provided to the Casper PD, drug-sniffing dogs were deployed 49 times out of 381 traffic stops. The operation resulted in 23 total arrests, 13 of which were drug related. This suggests that for the majority of instances in which drug-sniffing dogs were deployed during the high visibility traffic operation, no drugs were found.
The Casper PD used about one-third of the DEA grant during the March operation. The 49 drug-sniffing dog deployments equals about one-third of the vehicle sniffs the Casper PD reported for all of 2020. 151 vehicle sniffs were conducted last year, according to the PD's annual report.
While studies suggest drug-sniffing dogs are highly reliable in training environments, they may frequently give false alerts in the field, as explained in this article.
In addition to any asset seizures made during high visibility traffic operations, police also issue citations, which is another way that revenue can be generated for the government.
That doesn't necessarily mean that the traffic operations are conducted with the express purpose of generating money for local governments, even if that is a side effect of the operations. Speeding citations may help encourage drivers to travel at safer rates of speed. Seizing assets suspected of being purchased with drug money may be a way to discourage the trafficking of illicit substances.
But what restrictions should apply to such asset seizures? Should it be possible for a seizure to occur even if law enforcement doesn't proceed with formal criminal charges against a suspect? Should any revenue from seizures be directed to a fund controlled by someone other than a law enforcement agency? Are you concerned that the lack of such restrictions creates the incentive for law enforcement to police for profit?
While Wyoming, unlike a state like New Mexico, hasn't abolished civil asset forfeiture and hasn't eliminated the loophole allowing local law enforcement to bypass state law in order to lean on the more lax federal asset seizure laws, that doesn't necessarily say all areas of Wyoming's justice policy are weak. That's what Shawn suggests in this thought-provoking comment:
While Wyoming's incarceration rates have been rising in recent decades, Shawn suggests that the state is doing something right in terms of recognizing good behavior once someone has been incarcerated.
People might disagree about why someone should be put in prison and might disagree on whether or not justice in the country should move to a more public health approach. They might disagree about how policing should occur and how we should measure whether law enforcement strategies are effective. What do you think is the best method?
There have been a number of instances in recent weeks of vehicles crashing into buildings and even gas meters in Casper. In Thursday's incident, no one was injured and firefighters helped check on the structural integrity of the building and found the damage appeared to be mainly cosmetic.
Whether it is vehicles crashing into buildings, human- or natural-caused wildfires, instances of violence or any other emergency situation you can imagine, that is probably going to require some form of response from either firefighters, medical personnel and/or police.
Responders are, by definition, in a reactive position where they can only really address a problem after it has occurred and there may be a myriad of different methods they could use to address problems. Beau suggests that people generally may be in a position to prevent problems. How can a community work together to limit instances of emergencies?
David Street Station also implemented a policy limiting public access on Thursday evenings in summer 2020 in response to reports of juveniles brawling.
Why have teenagers been gathering in large groups, with some of them reportedly fighting downtown, over the past two summers? Are they simply bored and need more opportunities for something to do in Casper? Are they mimicking behaviors their parents display at home or in other settings? Are their parents aware of what their children are doing? Are they exploring their aggressive energies in a more or less "natural" way? Are they showing off and trying to be cool?
There is probably a complex answer to why teenagers would be gathering in large groups and getting into fights. Some might say it is up to parents to deal with this problem. Others might say law enforcement should have an increased presence during times when these gatherings are expected to happen. Jane suggests an interesting alternative. Aggression and the instinct to fight might be natural, but it could potentially lead to serious injuries for the teens themselves or people in the downtown area disrupted by the behavior.
If they need to get their aggression out, Jane suggests this could be done in a controlled setting. Perhaps their parents could encourage them to visit the Casper Boxing Club or take a martial arts class. What do you think of Jane's suggestion? What other ideas do you have for why this keeps happening in downtown Casper and what, if anything, should be done about it?
Perhaps creating a safer community, meaning a community in which there is less risk of uncontrolled violence, means creating a community where there are more fun things to do.
Maybe people having a lot of different recreational opportunities helps keep stress levels down and helps people form enriching relationships with one another. Aaron's comment is interesting because he suggests people coming together at existing recreational spaces could work together to push to expand the set of recreational opportunities available across the community.
What do you think? Casper City Council member Kyle Gamroth said he'd like to see a more public health approach to reducing drug-related crime in the community. While he didn't say anything about whether that approach might include creating more fun things for people to do, perhaps that would fit under the umbrella of a public health approach to crime reduction.
What do you think? Is a lack of recreational opportunities in the Casper area an important factor in why people abuse legal and illegal substances here? Are people bored? Is boredom an important piece of that puzzle or do you think there are other, more pressing factors that contribute to something like the abuse of methamphetamine in Casper? Does that have to do with access to the drug, therefore being better addressed by law enforcement cracking down on access to the substance? Or does that relate more to whether or not someone can find a job in the area? Does it relate to what kind of job they have? Do people in some jobs abuse substances because of the demands of those jobs?
It is heart-warming to see that the new kickball league, which seems like a simple and fun concept, appears to be exciting people and giving them a way to get together and meet new people.
Kaitlyn's comment might also be something worth contemplating when it comes to a question about how to approach community safety from a public health perspective. When she says her "skills can finally be used," that might be something the community can think about. How can the community find a way to ensure that everyone can find a place where their skills are valuable? In this case, that might be something as simple as offering a sport which is fairly accessible to a large group of people. Are there other areas where Casper doesn't have opportunities for people to show off or hone the skills that they have?
Kickball may offer some physical health benefits. Perhaps it is worth thinking about how a kickball league might offer other health benefits, such as companionship and working with a team. It may also improve public health in other ways. Someone playing kickball won't be driving into any buildings around Casper, at least not for the duration of the game. Do you think something like this fits into Gamroth's vision for a public health approach to crime reduction?

Bobo is aspiring to become a fishing guide, according to the Wyoming Game and Fish Department. Angella's heart-warming comment is supportive of both his impressive catch and his dream of becoming a fishing guide.
Perhaps like the kickball league, encouraging others around the community is a small part of ensuring a safer community. It is that possibility which leads us to highlight Angella's comment in this edition of Oil City Speaks!
Here's another example of something going on in Casper which might give people more to do. Peggy's heart-warming comment about Fort Caspar Museum's efforts to expand and showcase a collection of artifacts from the downtown's former Tripeny's Drug and Jewelry Store might also have some thought-provoking aspects as well:

The museum's plans to expand and showcase downtown Casper's history would offer people something else to do around town. But perhaps collecting this history is another factor in thinking about an approach to public health.
If the community doesn't know where it has been in the past, do you think that limits its ability to take authorship of its own future? Part of the Tripeny collection includes antique medicine bottles, many of them filled with dubious elixirs by modern medical standards.
Maybe that serves as food for thought in regard to Casper and the country's current relationship to legal and illegal substances which have health altering effects. How has the use of medicine changed over the years? Have we as a society moved entirely away from the prescription of dubious medications? Or do some of the eyebrow-raising elixirs used in the past foreshadow the problems associated with modern prescription of addictive, yet legal, substances like opioid-based medications?
How else might people look to history when thinking about what public health could mean in contemporary times?
While Casper and Wyoming might have a lot of things going on, do you ever have the sense that awareness of all of these opportunities is lacking? Do you ever get the sense that Casper is similar to a collection of various islands that seem slightly out of touch with one another? Here's a comment that came in response to a story about Jeffree Star posing with yaks on his ranch near Casper:
Yaks aren't new to Wyoming, but people might not have known they are being raised here. It might also be worth noting that when Star shared the photo with the yaks, he said on Twitter that he feels "truly at mental peace out here on my ranch."
This string of comments might offer another piece of the puzzle of what can improve public health in a community. Have you ever eaten yak? Do you think about what food you are eating? How about when you eat? When is the last time you drank a glass of water?
Should this be the first question a police officer asks when pulling someone over: "Have you had any water today?" And if the person says no, offer them a bottle of water before proceeding with whatever other interaction they need to have with the driver?
Whatever you think of Star, it may be worth noting that Wyoming can offer people a sense of mental peace. Is that something people need to find and create for themselves? Or can Casper as a community do more to ensure everyone can find a bit of mental peace?
That's all from Oil City Speaks for now! Disagree with anything we said? Great! Feel free to get involved with discussion about what's happening in our community by commenting on stories posted to Oil City's Facebook page. Have a great day!
---
Why are we putting together this Oil City Speaks story?
Oil City News is all about offering coverage of the people, places and events that shape the community we love. We strive to provide informative stories for our readers and value dialogue about the Casper area community and the Cowboy State.
What makes for a valuable online discussion? It is no secret that readers are sometimes wary about the "dreaded" comments section (on stories posted to Oil City's Facebook page). While comments may seem frustrating at times, they can also allow people to voice their perspectives, add more information for readers to consider, or give people a way to celebrate their community together.
That's why we're bringing you Oil City Speaks, a selection of noteworthy reader comments from our local coverage. We appreciate that you care about your community and we want to take the time to recognize comments that stand out to us. We'll also offer some fact-checking on comments.
We're not here to police your comments or your views. Comment Guideline: We welcome comments expressing all points of views on our posts—positive and negative—but reserve the right to remove posts that contain inappropriate language, links to items for sale, hate speech, personal attacks, threats, or off-topic matters.