CASPER, Wyo. — One of the first things Catherine Johnson Morris learned about building sandcastles is that you have to make your own tools.
"Those little buckets that you buy that are in the shape of a sand castle — that's a scam," she told Oil City News. "You will never get a sand castle out of those."
Morris, a Casper teacher for the blind, is the lady behind the sandcastles that have been popping up around town. She also teaching lessons under the name Just Dig It.
Article continues below...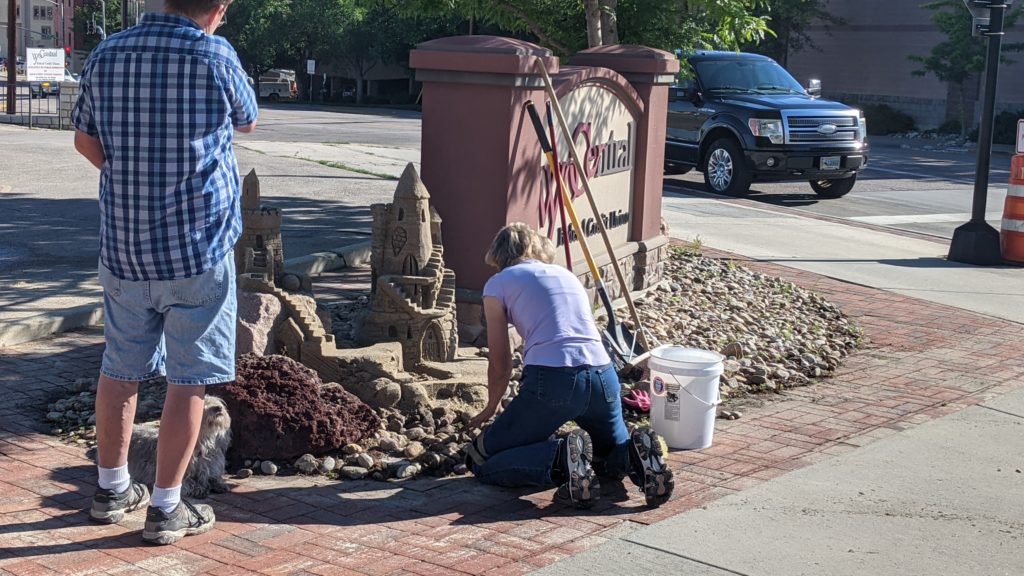 The next lesson is this: "You add sand to water." If done the other way, adding water to sand, "you end up with dry pockets in the sand."
Morris uses 5-gallon buckets with the bottoms cut out. If gravity is not enough to compact the sand in the form once the water is drained out, Morris does the "sand dance" upon it.
Morris's work has appeared at WyoCentral Federal Credit Union, Art 321, and the fire station on 15th and Carriage. Those structures have withstood many rainstorms and were built under less-than-ideal circumstances.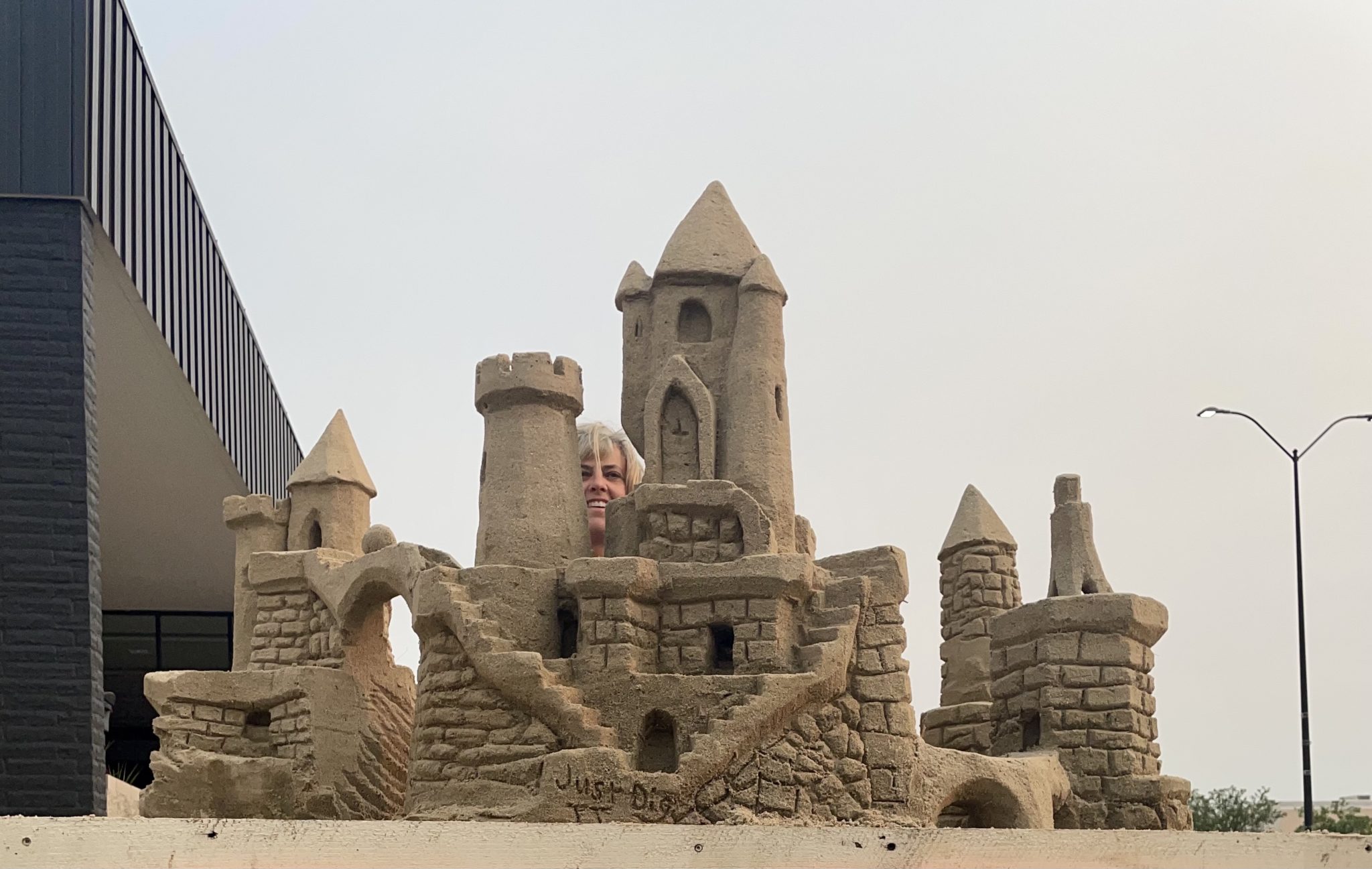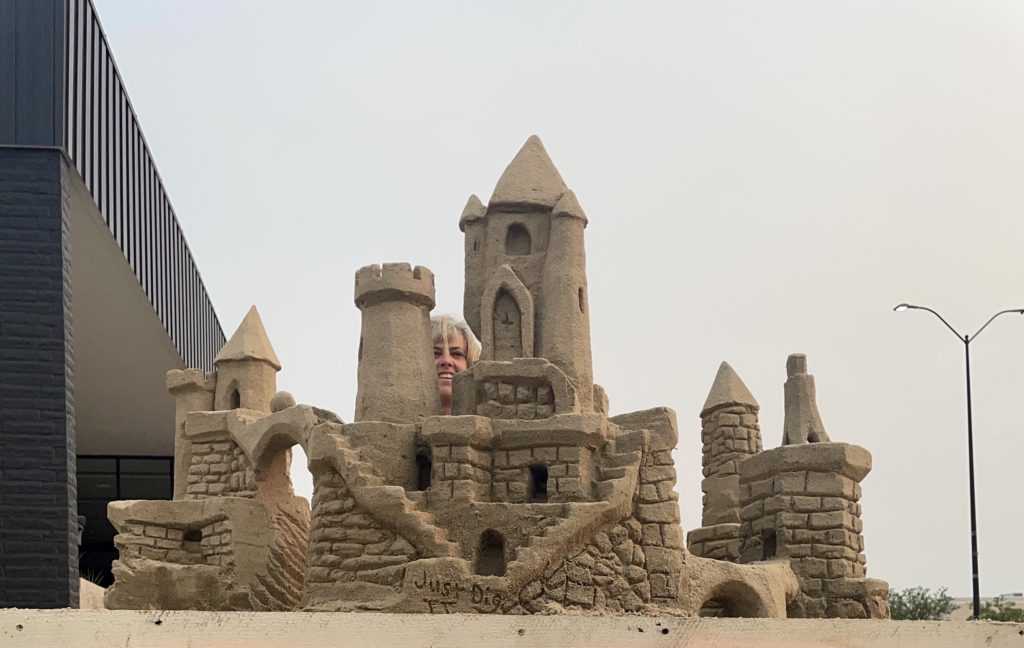 On one of her first building demonstrations outside A1 Tire during Rock the Block, "it rained buckets," she said.  It also rained during a demo outside the Gaslight Social during a concert.
For the credit union build, it was "a torrent." She and her family waited in the car for 45 minutes until the rain subsided to a drizzle. "I finished, because I'm stubborn," she said.
At her build for the Mermaid World event at River of Life Church, "It did not rain — it was 100 degrees," she said. "Mother Nature, she's got a sick sense of humor."
The sand she acquires for these demos is also less than ideal (though she appreciates that Gordon Rents hauls it for her). The sand donated by Knife River was designed for concrete, and wouldn't pack. The sand she got from the landfill was full of trash.
Alcova Beach has much better sand. Glendo Reservoir has the best, she said.
These locations are also ideal for her lessons on the art and science of sand castling. There's plenty of physics to be learned, she said, particularly on the topics of surface tension, friction, and particle structure.
People can sign up by contacting her on Facebook. The price is $45 for a three-hour session, but parents who are just helping out won't be charged, she said.
Morris said it takes her about six hours to build a complete castle.
She said she took to the craft while on a family vacation on the Emerald Coast of Florida in 2019. For a long time, she's had a love of baking "extreme cakes" with elaborate fondant decorations. While on the beach, she found that the skills translated.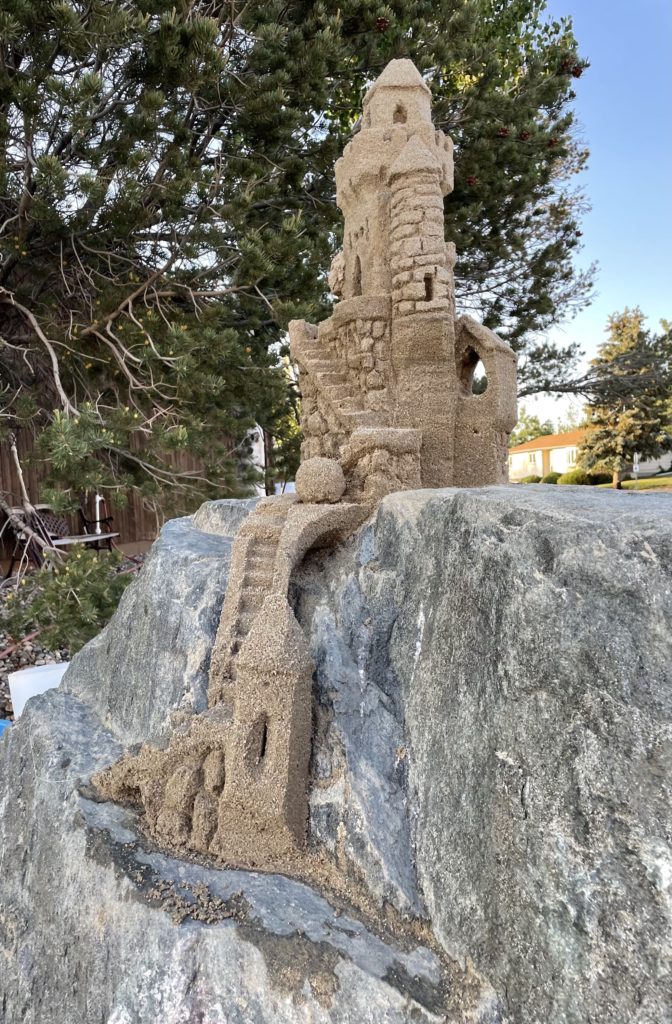 "I realized if you ran [sand] through a bottle that had a hole in its lid, that you can pipe it like icing… I was so intrigued, I was addicted to it."
In the time since, she began doing research and has refined her approach. After the form is lifted, she uses tools to carve away the sand she doesn't want. Those include frosting spatulas, concrete trowels, melon-ballers, and mechanical pencils and straws (for blowing sand out from between bricks).
"I won't kid you: it is a lot of work, because I've shoveled thousands and thousands of pounds of sand this summer," Morris said.
However, it's good exercise, relaxing, and a chance to engage artful and creative problem-solving. "I love shaving the sand off … I love forming the shapes and looking at the light and shadows and stuff."
"Your mind just clears; you're not thinking of much else."
The most challenging techniques she's pulled off so far are arches and the beveled towers that project out from the main structure, suspended in the air. Her next ambition is to pull off two arches. She'd also like to build a sand Buffalo.
She's also hoping to pick up some trade secrets at the Kites and Castles sand castling competition at Lake McConaughey in Nebraska at the end of July. 
Morris said people sometimes find it odd that once the work is done, she just takes off. "You can't take it with you," she said.
She says at Alcova, she'll turn around and see families taking pictures with her work. "Just watching people enjoy it is enjoyable," she said.