CASPER, Wyo. — The Casper LGBTQ Advisory had a presence at Casper Pride events this summer and have been working on recommendations for the Casper City Council's consideration.
Committee member Kody Allen-Sambrano told the city council on Tuesday that 100 different businesses have pledged their support for the LGBTQ community in Casper.
The Casper LGBTQ Advisory Committee presented two recommendations to the city council on Tuesday. One would be to pass a non-discrimination ordinance to accompany non-discrimination resolutions passed in 2018.
The second recommendation is to implement a Casper Safe Place Program which Allen-Sambrano said would have the goal of increasing reporting of biased crimes against not only LGBTQ people in the community but also individuals from other groups which may feel uncomfortable reporting biased crimes perpetrated against them.
Allen-Sambrano said that Seattle implemented a Safe Place Program in 2015 which initially aimed to improve the relationship between the police department and the LGBTQ community but quickly evolved into a program touching also on race, gender and disability-related crime.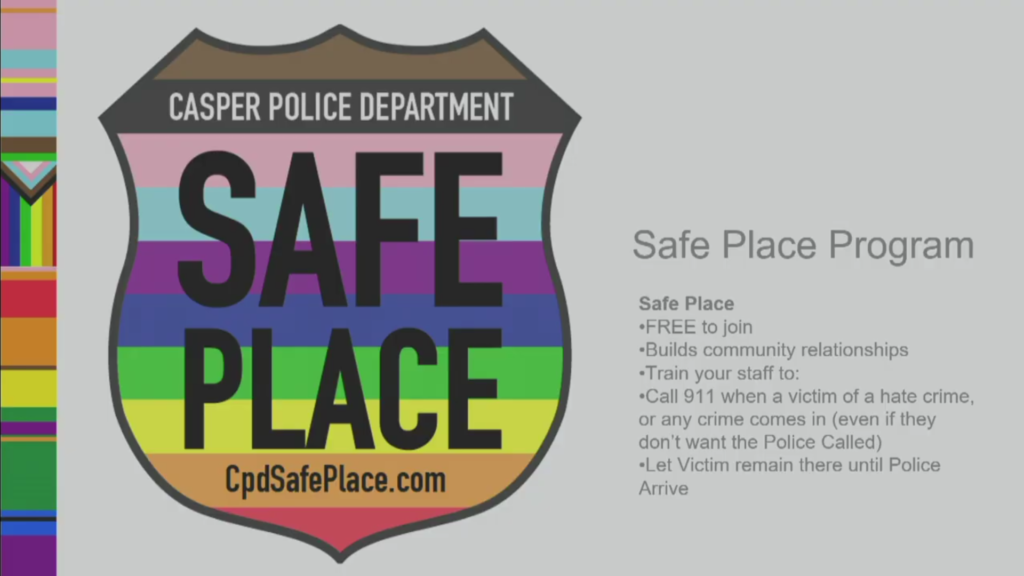 The Seattle Police Department says their Safe Place Program is "a law enforcement sponsored and overseen initiative that was born out of a need to address low reporting of anti-LGBTQ+ crimes and school bullying incidents by increasing public trust in law enforcement and feelings of safety in the community. The program was expanded in 2018 to include anyone who may have been a victim of a bias crime."
Allen-Sambrano said implementing a similar program would be relatively simple in Casper. First, someone with the police department would work with the LGBTQ Advisory Committee to check whether the city's definitions of bias crimes are up to date.
Next, the program would work with businesses and schools wanting to participate.
"All they have to do is let the victim stay in the business and call 911 to report the crime," Allen-Sambrano said of the concept.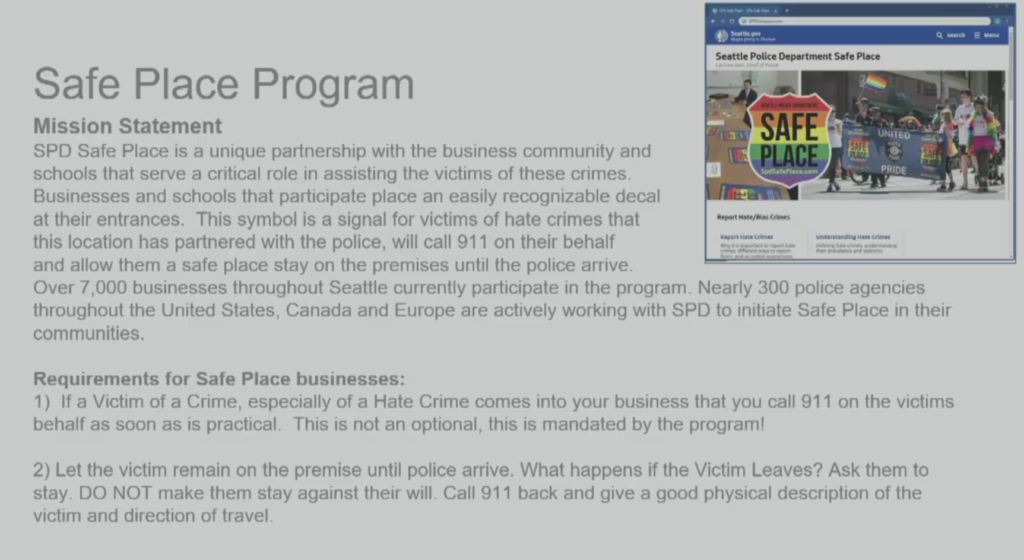 These businesses would receive a sticker to put up in their window showing that they are part of the Casper Safe Place Program. He said this would only cost about $3 per sticker.
Allen-Sambrano said that over 300 North American and European cities have adopted the Safe Place Program, some in small communities with only a handful of police officers.
He said that the program would be a way to encourage reported of bias crimes in Casper even while Wyoming remains one of only three states without a hate crimes law on the books.
The lack of a hate crimes law in Wyoming "leaves many bias crimes to go unreported within the city and the state," Allen-Sambrano said.
Federal hate crimes law under the Matthew Shepard and James Byrd, Jr. Hate Crimes Prevention Act of 2009 allows federal criminal prosecution of "hate crimes motivated by the victim's actual or perceived sexual orientation or gender identity," according to the U.S. Justice Department.
"The Act makes it a federal crime to willfully cause bodily injury, or attempt to do so using a dangerous weapon, because of the victim's actual or perceived race, color, religion, or national origin," the Justice Department says. "The Act also covers crimes committed because of the actual or perceived religion, national origin, sexual orientation, gender, gender identity, or disability of any person, if the crime affected interstate or foreign commerce or occurred within federal special maritime or territorial jurisdiction."
Wyoming lacks hate crimes law protecting people against crimes motivated by any of the following identity categories, according to the Justice Department:
race/color
national origin
religion
sexual orientation
gender/sex
gender identity
Without any state level hate crimes law, Wyoming also lacks data collection requirements on hate crimes. Federal law requires states to report hate crimes data but Wyoming doesn't require law enforcement agencies to collect such data.
"Data provides better transparency into crimes that are occurring and can help states allocate support and resources to communities in greatest need," the Justice Department says.
Casper Vice Mayor Ray Pacheco said he would like to see action happen on the state level to enact protections against hate crimes.
"We're one of three states in the entire union that does not have a hate crimes bill and Matthew Shepherd died in this state," he said. "It is an embarrassment that we do not have a hate crimes bill in this state."
Council member Amber Pollock said that while she agrees it would be good to see the state take some action, the city council can also act to do something on a local level.
"Let's not wait for the state to do what is necessary," Pollock said. "Let's be leaders here in our own community."
Allen-Sambrano said that the Casper LGBTQ Advisory Committee heard from people during Casper Pride and elsewhere that members of the LGBTQ community express feeling unsafe at times simply walking down the street in Casper and "sometimes they feel as though they can't even trust their own police force."
He said the Safe Places Program would be "a step in the right direction to ensure that no violent crime goes unreported in the city limits of Casper."
Allen-Sambrano added that the program would help show that the Casper Police Department takes crimes motivated by someone's identity seriously. Showing LGBTQ people that Casper takes such things seriously could encourage more people "to live, purchase and work here in the state."
He said that the Seattle Safe Place Program has led to an increase in the number of bias crimes against LGBTQ and other groups being reported.
Allen-Sambarano said that in 2014, a year before the program was implemented, eight violent crimes reportedly occurred during Seattle Pride events, but that these were not reported immediately and the reports resulted in no convictions.
A year later, eight biased crimes were reported during Seattle Pride and seven resulted in convictions, including one conviction on the federal level.
He said that in 2014 overall, there were 26 biased crimes reported in Seattle. That number grew to 156 by 2020. Allen-Sambraon said the program has resulted in a "huge increase in trust between marginalized groups" and law enforcement.

City Manager Carter Napier said that if the council is interested in implementing a similar program in Casper, the next step would be to work toward a resolution to formally enact such a program. He said that some further research would be needed to see what the city needs to do to make it happen.
The council indicated unanimously that they would like to move forward with drafting such a resolution for formal consideration during a future meeting. Council member Shawn Johnson was absent during Tuesday's work session.