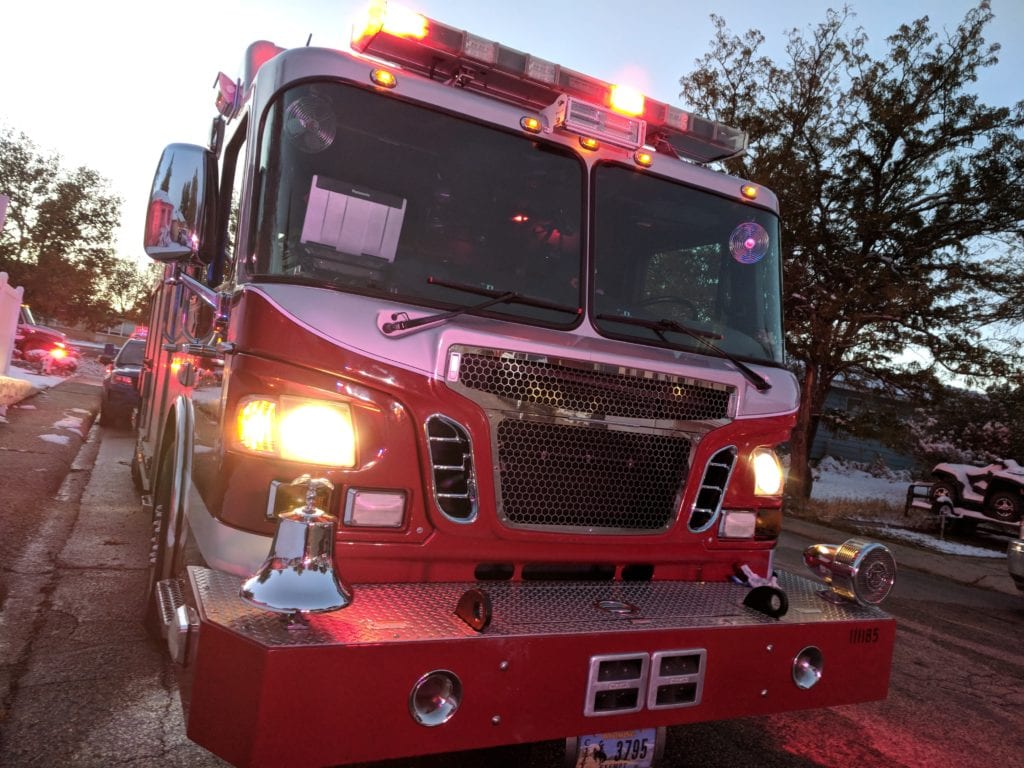 CASPER, Wyo. — The Casper Fire-EMS Department has recently been seeing multiple emergency service calls come in at overlapping times about 47% of the time, Engineer and Public Information Officer Andrew Sundell said during a Wednesday morning briefing.
He said that with a significant amount of emergency calls coming in at overlapping times, the fire department's layered response plan is important to ensure first responders arrive on scene as quickly as possible.
Sundell said that the department's goal is to respond to calls no matter where they originate in the city within four minutes of being dispatched.
Article continues below...
When multiple calls come in at overlapping times, responding within that four-minute window isn't always possible, but Sundell said that the department's layered response plan ensures that rapid response still occurs.
He said that the department has divided up the city into multiple zones. Each zone has a primary engine assigned to it. If that engine has already been dispatched to another emergency call, a secondary engine attached to that zone will be dispatched.
If both the primary and secondary engines attached to the zone are already on a call, a third engine attached to the zone will be dispatched to an emergency call.
"There are layers of safety there," Sundell said.
He said that no matter what, people calling for emergency fire or medical service will have a fire engine dispatched to their location.
Sundell said that on Tuesday, July 27, A Platoon crews responded to a total of 23 calls for emergency service. None of these calls were what the department considers "most significant incidents" (MSIs), which are calls that aren't routinely seen on a day-to-day basis.
During the second day of their 48-hour shift, Sundell said A Platoon crews continued to conduct inspections to make sure that local business have things like appropriate fire extinguishers and exit signs.
One firefighter completed an annual stress test. Sundell said that with cardiac arrest being the leading cause of death among firefighters, the annual stress tests help ensure firefighters are not at risk of cardiac problems.
Firefighters also conducted some Relief Driver and Fire Officer 1 training. Sundell explained that every member of the department is required to train up to be able to carry out the duties of the position above their rank.
That is done in case a person in the rank above them is sick or on vacation.
Sundell noted that as an engineer, his primary job is to drive a fire truck. He is responsible for the equipment on the apparatus and for ensuring crews get to incidents safely and stay hydrated.
However, if his crew's captain is sick or on vacation, Sundell has to be ready to fill those shoes. He therefore has to have training and certification to be an active company officer, training which the department offers in-house.
Sundell explained that some of the newer firefighters with the department completed relief driver training on Tuesday, meaning they would be able to drive an engine in the event that is needed.
The Community Risk Reduction Division on Tuesday conducted testing of a standpipe, which is a type of rigid water piping built into multi-story buildings, and sprinkler system located in Casper. This testing was done to ensure the systems were operational and to ensure that the department can provide all crews with accurate information regarding the systems in the event that information is needed during an emergency response.
Sundell said that on Tuesday, the Station 1 crew had a walk-in of a couple that locked their keys in their car. While the department generally offers lockout service in time-sensitive situations such as a child or pet being inadvertently locked in a hot vehicle, firefighters were able to help the couple get into their vehicle.
With hot temperatures during the summer, Sundell also took the opportunity to remind people to check their rear seats when exiting their vehicle to ensure they haven't accidently locked a pet or young child in the back.
He said this is particularly important in hot weather conditions since the temperature inside of a closed vehicle can far exceed the outside ambient air temperature and can pose serious health risks.
Sundell also noted that the annual "Guns n' Hoses" blood drive competition between the Casper Fire-EMS Department, the Casper Police Department and the Natrona County Sheriff's Office is scheduled for August 3-7.
People are asked to donate blood to Vitalant Casper and can vote for one of the first responder agencies, which will get bragging rights.
"I know the Sheriff's Department has taken the trophy the last couple years," Sundell said. "Let's see if we can get that trophy back in our hands."
The Wednesday morning briefing can be accessed via the City of Casper Fire-EMS Department's Facebook page: