CASPER, Wyo. — Happy Friday! What do you think of the water restrictions impacting the Casper area? Who gets to decide what it means to be a "real" conservative? Do you think dockless scooters will cause problems in Casper? Should Wyoming restrict the number of bar and grill liquor licenses?
We've gathered reader comments in response to our coverage this week relating to all that and more. Check out those hot takes, thought-provoking views and heart-warming comments in the latest edition of Oil City Speaks!
What do you think of growing green grass in the high plains of Wyoming? Scientific American said in a 2017 article that inedible green grass lawns are the most widely grown crop in the United States.
Article continues below...
Landscape irrigation accounts for about one-third of all residential water use in the United States, according to the U.S. Environmental Protection Agency. About nine billion gallons of water per day is used for landscape irrigation.
While some of the country's founding fathers like George Washington and Thomas Jefferson emulated wealthy European practices of growing large, green grass spaces, front lawns remained uncommon through the Civil War, according to the Scientific American. As the country's middle class grew, lawns became increasingly prevalent.
Scientific American also notes that the federal government began to finance low-cost mortgages following World War II, leading to the development of blue-collar tract housing that often featured lawns.
Americans spend about $40 billion per year on lawn care, according to a 2019 Voice of America News article. The most common grass types in the U.S. include Kentucky bluegrass and perennial ryegrass, neither of which are native to North America.
Do you agree or disagree with Paul's sentiment that green grass lawns are overrated? The Cheyenne Botanic Gardens offers some advice on alternatives Wyomingites can consider for what to grow in the space in front or behind their houses.
Temperatures in the water at Yesness have led to some trout mortalities at the pond, accoding to Game and Fish. The temperature in the pond was 75 degrees Monday morning, which is "near the lethal temperature for trout."
Bass, on the other hand, prefer warmer water temperatures. Fish Untamed shares the preferred water temperature for a variety of fish species as follows: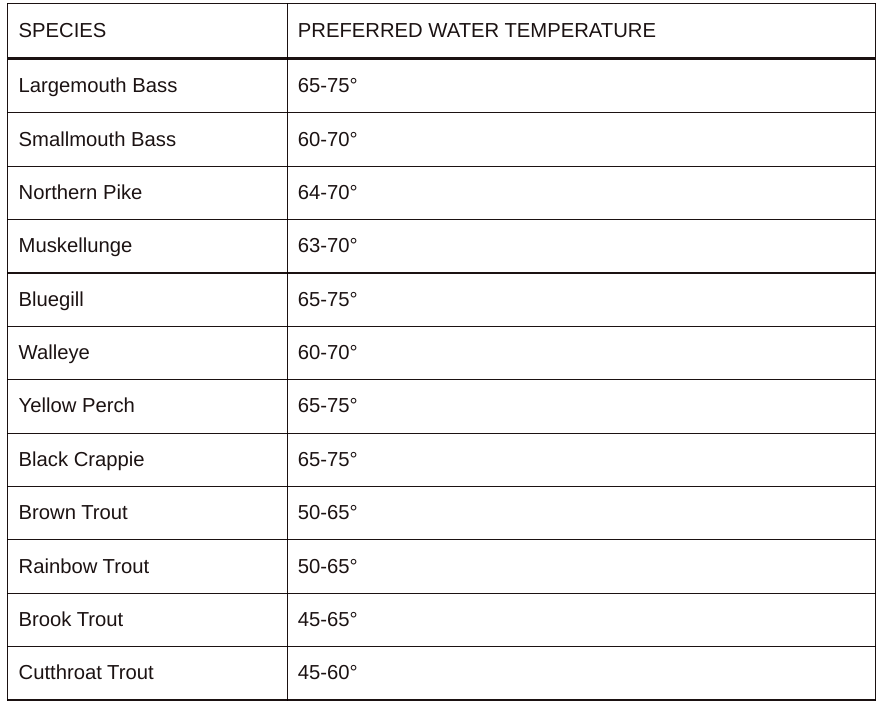 Yesness was stocked with about 1,500 "catchable sized trout" earlier this summer ahead of the June Kids Free Fishing Day. With the pond reaching near lethal temperatures for trout this summer, do you think Brian's suggestion is worth considering for the future?
One of Game and Fish's suggestions for Yesness Pond was for people to consider keeping fish they catch out of the pond for dinner rather than practicing catch-and-release. People looking for some inspiration on how to prepare fish dishes could consider trying out the new Cajun food truck in town. Check out a heart-warming comment in response to Friday's story about that food truck:
J & D's Cajun Kitchen food truck co-owner Joshua Boutte and his wife Dia moved to Casper from St. Martinville, Louisiana about seven years ago. Boutte's French ancestors migrated to Canadian territories and then to Louisiana hundreds of years ago and he has a rich understanding of Cajun history.
It is heart-warming to see that the food truck offers the chance for people like Lisa to connect with a way of cooking that connects to her own family's tradition. Do you like seeing cooking that is embedded in a long history of someone's experience? Do you think learning some things about those traditions enriches your experience of that food?
There have been a lot of new food trucks popping up around Casper in recent years and the streets of Casper may soon have a new way to zip around and find those food trucks — dockless scooters. People have some pretty different opinions about whether dockless scooters will be good for Casper. Take a look at two thought-provoking comments on that topic:
Michael suggests the scooters are going to be a lot of fun for people and notes that they will generate a little revenue for the city. The city council is working on an ordinance that would charge dockless scooter companies $90 per scooter per year to operate in Casper.
The dockless scooter company Bird has said it plans to operate at least 50 dockless scooters in Casper. That would generate about $4,500 in annual revenue for the city. While that would make up far less than 0.01% of annual revenues for the city, are you of the opinion that every little bit counts, or would you like to see a different fee structure for the scooters?
Jae suggests that the dockless scooters may cause more headache than good. People might leave them strewn all over the place and obstruct sidewalks. A Bird representative told the city council that people renting the scooters are required to take a picture showing they have properly parked the scooters after they are finished riding them. Is that enough to keep things from becoming a problem?
David suggests that limiting the number of bar and grill licenses available in each municipality in Wyoming is an anti-capitalist policy. The number of licenses available is determined based on population under Wyoming law. For towns with 15,001 to 27,500 people, four bar and grill licenses are allowed with an additional bar and grill license provided for each additional 7,500 people.
Should the Wyoming Legislature remove limitations on the number of bar and grill licenses allowed in each community, or do there need to be some limitations over safety and health concerns related to too many places serving alcohol? What about David's premise that Wyoming is "supposed to be a capitalistic society"? Do you agree with that? What is your definition of capitalism? Do you look at limiting the number of liquor licenses available as anti-capitalist?
Council member Bruce Knell said on Tuesday that he thinks Mouthful and Spotlight Lounge should get the two bar and grill licenses since he thinks Wyoming Downs could operate just fine with a restaurant liquor license. Let's look at a comment that we consider a bit of a head-scratcher:
On the one hand, Tashina seems to be making a similar point to what David said above. Limiting the number of licenses may prevent some businesses from operating how they would like to. The head-scratching aspect of her comment is that it is not an option for the city council to award bar and grill licenses to all three businesses, even if all council members wanted to do so.
That's because the restriction on the number of licenses is established by Wyoming law. If Knell wanted to convince someone that all three businesses should be able to get a bar and grill license, he'd need to persuade the Wyoming Legislature to change the law.
The limit on the number of liquor licenses is controlled by Wyoming law based on legislation originating in a state legislature that typically is dominated by Republicans. David suggests that the limit on the number of licenses is anti-capitalist. Republicans generally claim they are in favor of policies that are business friendly. These bring up some questions: who gets to define capitalism? Who gets to define what it means to be a Republican? Does "conservative" or "liberal" have a fixed meaning or does this depend on who is speaking the word? Let's look at a hot take in response to a story where these kinds of questions may be relevant:
Russ is responding to Wednesday's news that former President Donald Trump met with state Rep. Chuck Gray (Natrona County) and Cheyenne-based Attorney Darin Smith on Tuesday, two of the people looking to replace U.S. Rep. Liz Cheney as Wyoming's only representative in the U.S. House of Representatives.
Some people who claim to be conservatives have claimed that Cheney is a "Republican in Name Only" (RINO) over her criticism of Trump's role in the January 6 insurrection in which his supporters broke into the U.S. Capitol. Others like Russ claim that it is Cheney who is the true "Republican."
That's a lot of claiming. Whose claim matters? Do words like "conservative," "liberal," "Republican" or "Democrat" matter to you, or do you think people tend to focus too much on labels like these? Does it matter to you whether someone calls themselves a conservative or a liberal? Do you trust people to define their own political beliefs accurately, or do you look more at their actions than the things they say? How much do words matter? How much are they a distraction?
Connie Morgan is doing her part to keep neon signs alive. Neon tubing was was "first unveiled by Georges Claude, a French engineer, at the Paris Motor Show in 1910," according to North American Signs.
"They hit their peak popularity from the 1920s to the 1960s," Tori Homann wrote in "The Golden Age of Neon" article on North American Signs. "Streets were aglow with bright neon signs marketing business's wares and services, everything from hotdogs to designer clothing at department stores to local nightclubs. Locales like the Las Vegas Strip and Times Square come first to mind when recalling these glowing streets. One particularly famous sign is the 'Welcome to Fabulous Las Vegas' sign located on the southern end of the Strip."
Neon signs fell out of fashion in the 1960s but saw a revival in the 1980s, according to Homann. Will they see another revival in the 2020s? What do you think?
That's all from Oil City Speaks for now! Disagree with anything we said? Great! Feel free to get involved with discussion about what's happening in our community by commenting on stories posted to Oil City's Facebook page. Have a great day!
---
Why are we putting together this Oil City Speaks story?
Oil City News is all about offering coverage of the people, places and events that shape the community we love. We strive to provide informative stories for our readers and value dialogue about the Casper area community and the Cowboy State.
What makes for a valuable online discussion? It is no secret that readers are sometimes wary about the "dreaded" comments section (on stories posted to Oil City's Facebook page). While comments may seem frustrating at times, they can also allow people to voice their perspectives, add more information for readers to consider, or give people a way to celebrate their community together.
That's why we're bringing you Oil City Speaks, a selection of noteworthy reader comments from our local coverage. We appreciate that you care about your community and we want to take the time to recognize comments that stand out to us. We'll also offer some fact-checking on comments.
We're not here to police your comments or your views. Comment Guideline: We welcome comments expressing all points of views on our posts—positive and negative—but reserve the right to remove posts that contain inappropriate language, links to items for sale, hate speech, personal attacks, threats, or off-topic matters.