CASPER, Wyo. — Happy Friday everybody! What do you think of Wyoming Governor Mark Gordon's messaging this week about COVID-19 vaccines? Do you think vaccine-hesitant people are more thoughtful than some give them credit for?
Do you have suspicions that relaxing liquor laws in Wyoming is a way to keep people hooked to alcohol and off of marijuana? Are you excited for the new Spotlight Lounge coming to downtown Casper?
We explore all that and more in the latest edition of Oil City Speaks! We've gathered some hot takes, thought-provoking views and heartwarming comments readers submitted in response to our coverage this week for your consideration.
The governor on Monday said that his office will not be issuing any COVID-19-related vaccine or mask mandates, nor will he be implementing any shutdowns or lockdowns.
Gordon encouraged people to get vaccinated, but acknowledged that he thinks it is an "intensely personal choice" on whether to get one. He noted that both he and First Lady Jennie Gordon are fully vaccinated against COVID-19. He also said that he thinks full authorization of COVID-19 vaccines from the U.S. Food and Drug Administration could improve vaccination numbers in Wyoming. Full authorization "might calm fears that people have," he said.
What do you think of this messaging strategy from the governor? Do you think he's found a good way to recognize that vaccines offer good protection against serious illness and hospitalization while also acknowledging that the choice to get one may not be as simple and straightforward as some may think?
Do you have some compassion or understanding when people are vaccine hesitant? Have you had in-person conversations with such people? How much listening did you do in that conversation versus giving a diatribe on the importance of vaccines (which are, after all, recommended by the CDC as well as Wyoming and Natrona County health officials). On the other side of the coin, do you have any compassion or understanding for the difficult situation the pandemic has created for health officials in Wyoming? Do you think that maybe it is sometimes difficult to balance being both a doctor/medical expert and an impromptu public spokesperson during a complicated pandemic?
Marc and Justin suggest that some people are hesitant about the vaccines since they are, after all, new and have not received full FDA authorization. While the Pfizer, Moderna and Johnson & Johnson COVID vaccines all have "emergency use" authorization from the FDA, none of them have gained full authorization yet — though this could come within the next month or two. Terry suggests that even with full authorization, he will remain skeptical about the vaccines. He cites a more general mistrust of government as his reasoning. What do you think of that? If you trust that the vaccines are safe and effective, are there still some other things about government policies or actions that make you raise your eyebrows? What, to you, helps make certain policies more trustworthy than others? Does that make it easier for you to understand why someone might be more hesitant to get a vaccine, or do you think people are simply too suspicious on the particular issue of vaccines?
Let's look at another set of thought-provoking comments that came in response to the story about Governor Gordon's comments.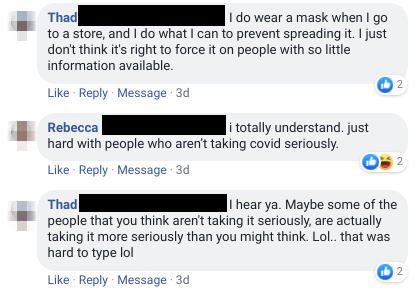 Thad suggests that people who have their doubts about vaccines or masks might be more thoughtful than some give them credit for. What do you think of that? Are there factors about the choice to getting a vaccine that might make it more complicated than your own situation?
Are the factors that are important to someone else different than the ones that were behind your decision? If you agree with getting vaccinated, do you think there is a way to still encourage your peers to consider vaccines if you think that is the best thing to do while still respecting differences of opinion? Do you think people are too dug into their position on vaccines — whichever position that may be — at this point? If you were in a leadership position, what would your messaging sound like and what evidence would you choose to provide to support it?
To conclude this post, let's take a look at a message Gordon shared on Monday: "More than 90% of those being hospitalized for COVID-19 have not been vaccinated. Think about that." What do you think of this statement?

Candice's excitement about the new addition to downtown is heartwarming to see. It sounds like she has some great memories from when the 128 East Second St. location was home to the Downtown Grill & Venue.
Do you remember seeing any shows when the facility was last open? Who would you like to go see when the Spotlight Lounge opens up? Are you planning to check out any performances at the 5150′ Festival at David Street Station or during Riverfest at Crossroads Park on Saturday? What's your favorite Wyoming band?
The "Teen Social" was organized by the Boys & Girls Clubs of Central Wyoming and other community organizations in response to reports of ongoing problematic behavior at David Street Station this summer. (Similar problems were reported in summer 2020 as well.)
Were you encouraged to see that some in the community are taking the initiative to find ways to possibly address some of the problems by giving teenagers something fun to do? Are you optimistic that such approaches will help fix these issues, or do you have some doubts about them? What methods would you use if you had to try to curb these problems?
The Casper Area Metropolitan Planning Organization is seeking feedback on a draft of a study it has had commissioned to look at the issue of street conversion.
What you do think of the concept? Do you think there could be some benefits from converting streets like Wolcott and Durbin to two-ways, or do you think that would unnecessarily rock the boat? What do you think of Stan's perspective? Do you like that he shares the experience that another community is going through? Do you think it helps to have a little outside perspective sometimes?

Wyoming saw a 2.3% population growth from 2010-2020, the seventh slowest rate in the country, according to the State of Wyoming's Economic Analysis Division. Do you see that as a good thing or a bad thing? What are some of the benefits that come with more people moving to the state? What are some of the drawbacks? Do you think one side of the "double-edge sword" outweighs the other? What do you think of the phrase "more people, more problems"?
What about if you are raising children in Wyoming? Do you want to see them live near you as they mature, or are you happy to see them go out and explore the country and world and consider settling in other places?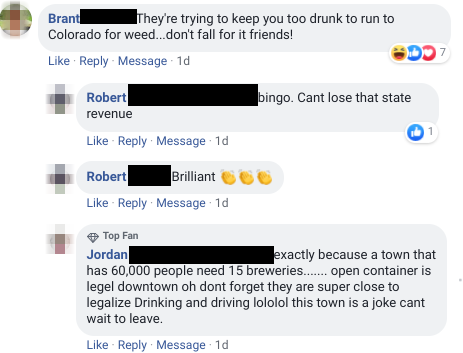 The changes in Casper are in response to more relaxed alcohol laws passed by the Wyoming Legislature this spring. Do you see anything incongruous about the state relaxing restrictions on alcohol use while keeping marijuana prohibitions in place, or do you think there's a difference between the two that should be kept in mind?
Do you share any suspicions with Brant that relaxing alcohol laws may intentionally be a way to keep people hooked on liquor and off of marijuana, or do you think that relaxations on alcohol law signals that some leaders may be ready to consider rethinking policy on other substances like marijuana as well? Are you enjoying the growth of the craft brewing industry in Wyoming or do you think there's too much proliferation of alcohol availability in the state?

The Natrona County Commissioners on Tuesday tabled a decision on whether to approve of the transfer of a liquor license from CC Cowboys — known as Racks Gentleman's Club — to Monty Elliot.
While the issue is somewhat complicated, Robert's comment above is in response to an argument Elliot's attorney Steve Winship made to the commissioners while asking that they approve the transfer of ownership of the liquor license.
Winship told the commission that the license "would hopefully be sold by my client down the road," adding: "It will not be sold to a strip club, I can assure you of that."
The commissioners will consider whether to approve the transfer on September 20. When they make a decision, should Racks being a strip club influence their decision? Or do you think that should be be excluded as a factor in the decision since strip clubs are not illegal in Natrona County?

While Gordon said that he and other governors discuss supply chain issues and think about things they may be able to do to address problems, Jerry's comment suggests that even people in high leadership positions are limited in their ability to address certain types of problems. What are some benefits and drawbacks to the "checks and balances" system of government? What else might make it difficult — or make it easier — for a governor or other elected official to act in response to national and international issues?
The governor did sign an executive order in July enacting temporary emergency measures allowing drivers to make extra fuel deliveries. That order was in response to shortages of aviation fuel.
Fuel delivery delays have been impacting both small and midsize airports. CNBC stated during the last week of July that American Airlines was reportedly being impacted by fuel shortages and was considering stopping some flights. American Airlines said the shortages were due to lack of drivers, trucks and fuel supply.
Gordon took action to allow drivers to make more deliveries than they otherwise could under ordinary circumstances through August 20. Is there more that you think he could do? Have you noticed any shortage issues impacting your life, business or workplace? Do you think there have been any bright sides to product or supply shortages? Do you feel like you have a better understanding of the global supply chain due to some of the disruptions that have been happening? How often do you discuss such things with your friends?

That's all from Oil City Speaks for now! Disagree with anything we said? Great! Feel free to get involved with discussion about what's happening in our community by commenting on stories posted to Oil City's Facebook page. Have a great day!
---
Why are we putting together this Oil City Speaks story?
Oil City News is all about offering coverage of the people, places and events that shape the community we love. We strive to provide informative stories for our readers and value dialogue about the Casper area community and the Cowboy State.
What makes for a valuable online discussion? It is no secret that readers are sometimes wary about the "dreaded" comments section (on stories posted to Oil City's Facebook page). While comments may seem frustrating at times, they can also allow people to voice their perspectives, add more information for readers to consider, or give people a way to celebrate their community together.
That's why we're bringing you Oil City Speaks, a selection of noteworthy reader comments from our local coverage. We appreciate that you care about your community and we want to take the time to recognize comments that stand out to us. We'll also offer some fact-checking on comments.
We're not here to police your comments or your views. Comment Guideline: We welcome comments expressing all points of views on our posts—positive and negative—but reserve the right to remove posts that contain inappropriate language, links to items for sale, hate speech, personal attacks, threats, or off-topic matters.