CASPER, Wyo. — Participants of the Jackalope Sprint Triathlon said the water at Edness K. Wilkins State Park was warmer than it looked on a Saturday morning shortly after 7:00 a.m.
The race is a 700-yard swim in the pond followed by a 12-mile bike and 5K sprint along the trails and road in the state park.
This is the third year of the event, hosted by Paralympian and Marine Corps veteran Omar Bermejo. He competed in seven triathlons himself this summer, winning the USA Paratriathlon Development Race Series and qualifying as an alternate for the 2020 Tokyo Paralympics.
He's also making preparations for his and wife Lindsey's third child. He told Oil City News that he likes to stay busy.
There were nine individual runners and two relay teams, and Bermejo says he'd like to "grow out" the event and the sport of triathlon through his Cowboy State Triathlon brand.
"For what it is right now, it's perfect," Bermejo said.
Malachi Bennett, a former Kelly Walsh champion diver, track, and football athlete, won the men's race, edging out Wayne Stewart on the final stretch of the run. Natalie Smith lead the women.
Bennett said he did this, his first triathlon, after his CrossFit event was canceled.
Stewart spent 10 hours driving up from Utah the day before, and managed about 3 hours of sleep before the race.
"When I come back to Casper, one of the things I look forward to is working out with Omar," Stewart told Oil City News. "I learn something new every time from him."
During his time in Casper, Stewart profiled Bermejo for Visit Casper. Around the same time, he was thinking about doing a half-Ironman. However, he needed some help in the pool — he'd get gassed after every length.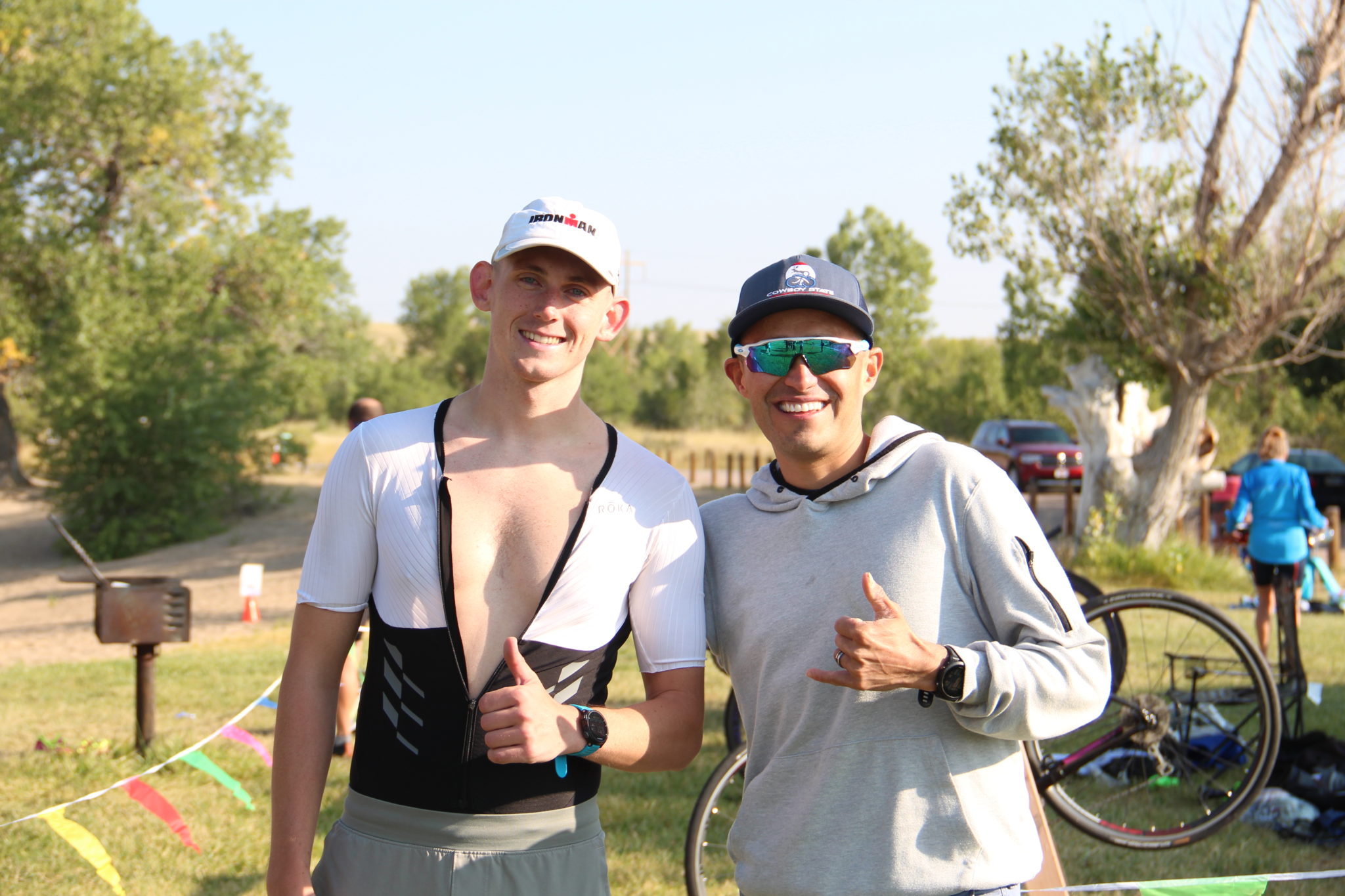 Training with Omar, he learned proper breathing technique and was introduced to pull buoys and flippers.
Stewart said the planned, structured workouts Bermejo invited him to made training exciting. Without them, Stewart added, he'd have been much more likely to put it off: "taking that mental 'out.'"
Bermejo also set Stewart up with an indoor trainer and the bike shoes that he still wears.
"He's always always willing to share what he has, work on my bike, and give advice," Stewart said. "I'll always be grateful for that."
As a trainer, Bermejo said, "the effort is 100% up to them: I just kind of guide them through." Some have all the physical capabilities, but need help with the mental game.
"Look at me: I didn't know I could do it when I started, having just one arm."
In 2008, his arm was severely damaged in a motorcycle accident and became unusable. He was still a Sergeant in the Marine Corps at the time, having done four tours in Iraq.
"For a while I was in a hole, but I was able to dig myself out," Bermejo said. After two years, he began going on long walks and he eventually ran. He decided to have his unusable arm amputated to streamline his form.
He then began training in biathlon and competed in the 2014 Sochi Paralympics. Switching to triathlon, he went on to become the U.S. Paratriathlon National Champion in 2017.
He credits his Marine Corps mentality with his success: "Adapt and overcome."
Stewart said that resilience, in addition to his generosity, is part of what is inspiring about Bermejo.
"Here's a guy who's gone through all these issues, [and he's doing] what most people would deem impossible tasks," Stewart said. "It's like, I have no excuse."