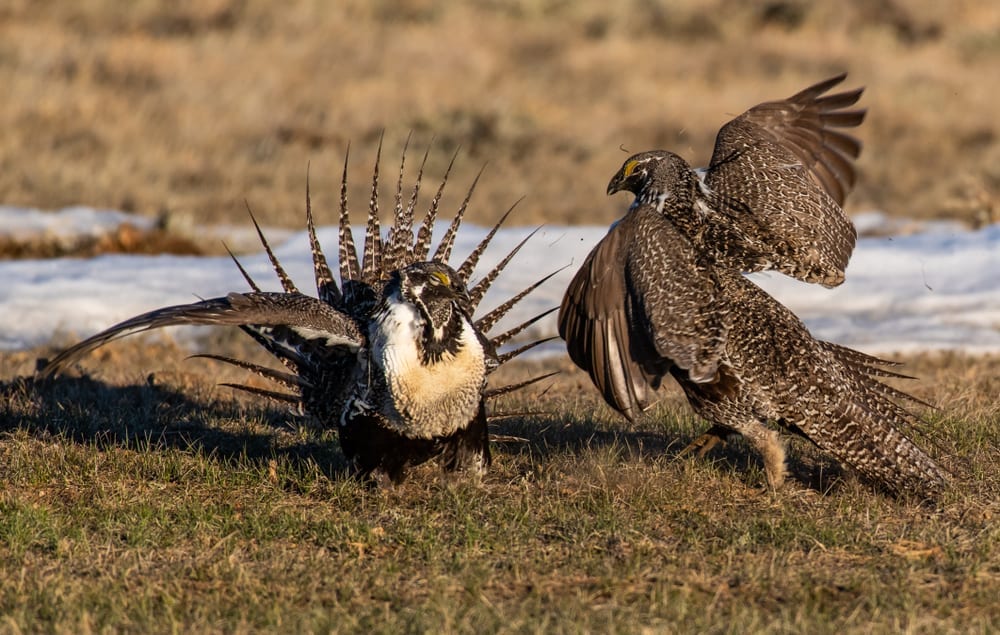 CASPER, Wyo. — The Wyoming Game and Fish Department said on Wednesday, September 8 that sage grouse lek attendance in spring 2021 was down 13% from 2020. While the lek count was down, it was still above a low point observed in 2013.
Leks are areas where sage grouse display courtship behavior. Game and Fish, Bureau of Land Management, consultants and volunteers counted an average of 16.9 male sage grouse per active lek in spring 2021. A total of over 15,800 "peak" male sage grouse were observed on 85% of known, occupied leks in the state.
Game and Fish said that the decline in lek attendance was expected due to a cyclical population trend among sage grouse and due to drought conditions in Wyoming.
Article continues below...
Amid the drought, sage grouse broods averaged only one chick surviving per hen. Game and Fish said that the 2020 hen to chick ratios were too low for sage grouse population growth.
"When considering the sage grouse's population cycle, we look at the number of chicks per hen," Game and Fish Sage Grouse/Sagebrush Biologist Leslie Schreiber said. "Game and Fish estimated an average of 1.1 chicks per hen in 2020. In order for the population to grow, the average needs to be closer to 1.5 chicks per hen."

Game and Fish added that sage grouse depend on sagebrush and impacts of the drought on the plant also impact the birds.
"Sage grouse cannot thrive if the sagebrush habitat is fragmented and in poor condition which is why Wyoming engages in significant efforts to conserve sage grouse and build resiliency in the ecosystem," Schreiber said. "Habitat projects that keep water on the landscape will be a priority in the coming years."
Game and Fish have been studying lek attendance for six decades. Sage grouse populations in the state hit a low point in the earliest 1990s, but Game and Fish says their populations appear to be cyclic.

"Sage grouse populations rise and fall," Schreiber said. "Studies indicate Wyoming's population cycles every six to eight years."
The cycle is thought to be impacted by weather and climate and impacts on food and the availability of cover.
The department manages the bird, including setting hunting rules.

"Sage grouse populations appear to be in the midst of a downward trend in their population cycle, and hunters can expect to see fewer birds on their fall pursuit," Game and Fish said.