CASPER, Wyo. — The Town of Evansville is looking to annex about 317 acres of county areas interspersed along the town's southern boundary, as well as small areas along the western boundary.
The town council approved an initial reading of the resolution at its regular meeting Monday, September 13, and set a public hearing date for October 25.
21 property owners would be affected, most of them in an urban agricultural area east of Blackmore Road. Radden said the urban agricultural zones created by the town earlier this year would preserve the existing character and use of these areas. The annexation would also take in areas owned by ConocoPhillips and Texaco Downstream Properties Inc.
Many of these areas are partially surrounded by areas already within Evansville's boundaries.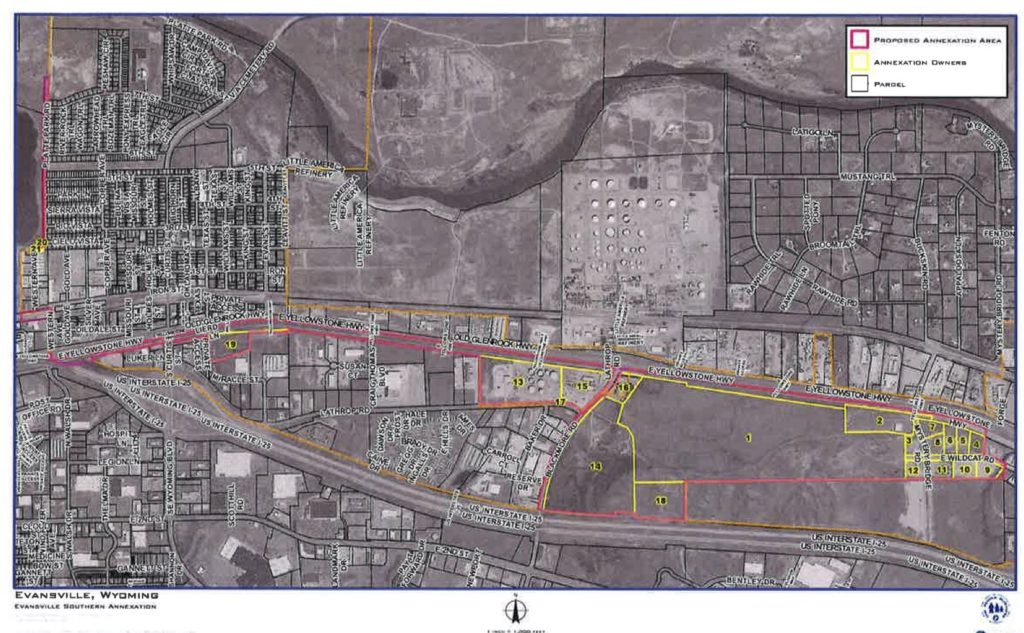 Mayor Chad Edwards said the annexation would provide a continuous boundary for the town. This would "clean up jurisdictional issues," he said, as county law enforcement currently has to cross town boundaries to access certain county areas.
Furthermore, Evansville police would have continuous jurisdiction to the east.
Evansville PD currently has to train officers "on what areas are county and which are Evansville," Radden said.
The annexation would also include small pockets along the western boundary of Platte Park Road north from Western Avenue that were not previously annexed.
Residents of the area would end up paying an additional 5 mills in property tax ($5 for every $1000 in assessed value), but town planner Scott Radden told the council that those residents would save money paying municipal rates (as opposed to "out-of-town" rates) for water, sewer, and garbage collection services.
Though the property owners will be notified by certified mail, Radden pointed out that, per state statute, they don't really have a choice.
According to Wyoming Statute 15-1-406, annexation can be stopped if 50% of the landowners owning 50% of assessed value object. However, this does not apply "[If] seventy-five percent (75%) or more of the perimeter of the area to be annexed is contiguous to the corporate limits of the annexing city or town."
Radden's report said that the extent to which Evansville surrounds the area to be annexed exceeds this threshold.
The report adds that police and fire services are already extended to most of the areas to be annexed, and that the town will not incur any additional capital costs to service the area with public works.