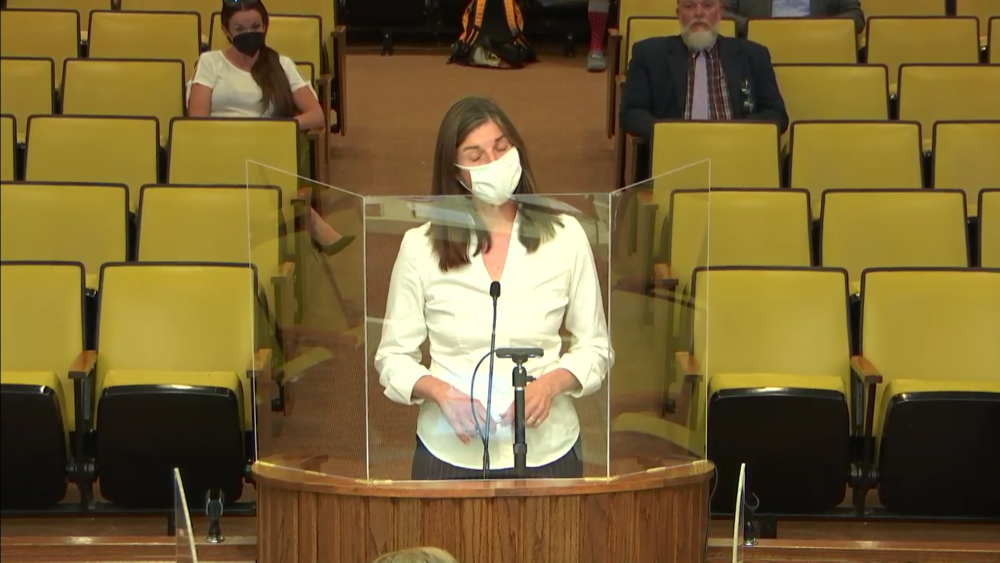 CASPER, Wyo. — The Casper City Council began to interview nine candidates to fill a vacant Ward 1 seat at 5 p.m. Tuesday.
Each candidate is being asked to address the following questions:
Explain why you want to serve on the city council.
Describe your qualifications and how they will benefit the City of Casper.
How have you been following the council's activity lately? Please explain the current issues that the city council is facing at this time.
Are you willing to run for re-election in 2022?
Tell us about your availability to serve the time commitments of council meetings and board meeting throughout the week and the month.
Candidate Kimberly Holloway, who previously served on the council from 2009-2013, said that she learned a lot during her time serving before and she would like to do so again.
Article continues below...
"Public service was probably one of the best things I did in my life so far," Holloway, who is now practicing as an attorney in Casper, said.
Holloway said that she thinks the biggest issues facing city council always have to do with money or the lack thereof.
She said that it is a trope in Casper to talk about diversifying the economy, and the role the Casper City Council could actually play in bringing about such change would be to lobby the Wyoming Legislature to enact change and embrace new technologies and industries.
Holloway said she thinks it is too early to decide whether she would run for re-election in 2022. She said that she likes seeing some new faces on the council and that she doesn't think incumbents should necessarily always win.
She said that since the vacant seat candidates are vying to fill the gap that was created by the departure of former Council member Khrystyn Lutz, she thinks the council should consider appointing another female to fill that position.
Holloway said that she thinks male members of the council should be encouraging their wives, sisters and daughters to run for elected office since she thinks there is an obvious imbalance in representation at all levels.
Holloway said she has lived in Casper for 18 years and that her youngest son was born in Casper. Her kids, like she did when she was younger, are attending the University of Wyoming. Holloway said she graduated in 2014 before going on and graduating with a law degree from the UW College of Law in 2019.
She said that working as a private practice attorney, she will have the flexibility to set her own schedule and meet council commitments. Having previously served on council, she added that serving again would not require a steep learning curve for her to get up to speed.
Holloway said she has been "thrilled with improvements I have seen in the community."
She added that she walks through her neighborhood everyday and that there are issues like storm drainages being clogged with dirt and gravel that she would like to see addressed, though she acknowledged that lack of funding could be a limiting factor.
Holloway said that she contacted city staff about the clogged drains and a street sweeper was sent the next day.
"I love that city employees always helpful, kind," she said, adding that she think city employees can have a tough job. "We should always appreciate them."
Holloway said that the city itself could potentially struggle to find quality employees if it is hurting for money, as other cities may be offering greater pay or other benefits.
The full list of the nine candidates for the vacant Ward 1 seat are as follows:
Dennis Rollins

Independent film and television producer

Works part time for FedEx
President of Stage III Community Board of Directors

Jacqueline Anderson

Former city council member

Kimberly Holloway

Former city council member from 2009-2013
Attorney at law
Volunteer at Poverty Resistance

Zarryn Hinchen

Founder of Artemisia Dining
Butcher at Brattis Meat Market
Former kitchen consultant at Wyoming Food for Thought Project

Wes Connell

Senior pastor at River of Life Church
Director of Cascade Coffee Shop
Owner of NeXus Design Group
Professional life coach

David Hulshizer
Shannon O'Quinn

Independent Contract Designer
Member of Casper LGBTQ Advisory Council

Jai-Ayla Quest

Program specialist for the Mass Violence and Atrocities Program at the Stanley Center for Peace and Security
Mother of three-year-old twins

John Minchow

Employer listed as Rocky Mountain Power – Dave Johnston Power Plant
Once the city council completes the interviews of the nine candidates, it will enter into an executive session and provisionally select a candidate to fill the vacancy. A formal vote to confirm this selection will take place on September 21.
The interim council member will be asked to serve from Sept. 21, 2021 to Jan. 3, 2023 — Lutz's remaining term.
The new council member could run for election in November 2022 if they are interested in possibly keeping a seat on the council in 2023.
The city council's work session as well as the special meeting for the candidate interviews can be streamed via the City of Casper's YouTube channel: