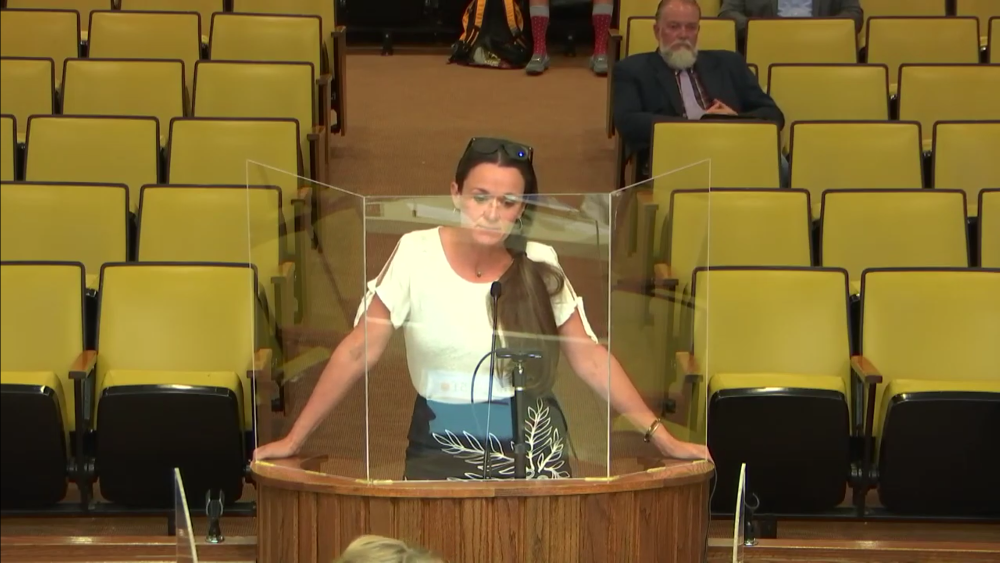 CASPER, Wyo. — The Casper City Council interviewed nine candidates to fill a vacant Ward 1 seat on Tuesday, September 15. The council selected Jai-Ayla Quest after interviewing each of the nine candidates.
Each of the candidates shared some things they think Casper needs to see. Each candidate was asked to address the following questions:
Explain why you want to serve on the city council.
Describe your qualifications and how they will benefit the City of Casper.
How have you been following the council's activity lately? Please explain the current issues that the city council is facing at this time.
Are you willing to run for re-election in 2022?
Tell us about your availability to serve the time commitments of council meetings and board meeting throughout the week and the month.
Candidate Shannon O'Quinn, an independent contract designer and member of the Casper LGBTQ Advisory Council, told the city council that while she was born in Wyoming, she has also lived in cities like Denver, Atlanta, and Washington, D.C.
Article continues below...
Working as a graphic designer for over 20 years, O'Quinn said she has had the chance to work with companies like Coca-Cola, AT&T, NBC, CNN, the Atlanta Braves, the Denver Nuggets and Solomon Skis.
She said that when her now five-year-old son was born, she had the opportunity to move.
"It was a no-brainer," O'Quinn said. "I wanted to move back to Casper. I think it old-fashioned and kind of weird. It is made up of honest and hard-working people. I love that about Casper."
However, she said that there are some things that hold Casper back. O'Quinn said that she had the opportunity to hear National LGBT Chamber of Commerce Co-Founder & President Justin Nelson, a Casper native, speak this summer.
O'Quinn said that Nelson spoke about things like tourism and what may be keeping some LGBTQ people from choosing to live in or visit Casper. She said that Nelson talked about how kids that are graduating from college and high school may be moving away because "they want to be in a place that has that progressive feel."
O'Quinn said that she thinks there are ways Casper can be more inclusive without losing the good characteristics the community already has.
"I believe there are ways to keep everything unique about Casper — you know, that old-fashioned, safe feel that we all just love that makes it just special," she said. "I think there are ways to move it forward and have it be a more progressive town that will see that tourism, that will make people want to stay here, and that is what is important to me."
O'Quinn said that as a graphic designer, a big part of her job is hearing criticism of potential design options she presents to clients and making adjustments until the best solution is found.
"I'm very good at taking criticism, I'm good at working with people and I'm good at listening," she said.
O'Quinn said that she doesn't keep up with the city council's agenda from week to week but that she reads a lot of headlines on social media news, paying attention to areas that interest her.
She said that things that are most meaningful to her relate to some of the inclusion work that the Casper LGBTQ Advisory Council is working on.
O'Quinn said she hesitated to apply to fill the vacant seat on the council because of her son.
"I am a single mother of an adorable five-year-old," she said. "Doing this job would mean that one night a week I would be away from him."
O'Quinn said she thought about how serving on council might mean she would have to miss her son's soccer game or that she wouldn't be able to comfort him if he isn't feeling well on a night she has council duties.
However, O'Quinn said that after considering these concerns, she decided to apply because it would be worth it to set an example for her son of her serving the community in this way.
O'Quinn said that she wasn't yet sure whether she would run for re-election in 2022 if appointed to the vacant Ward 1 seat. She said that she thought that would be a decision she could make after learning more what it is like to serve on council.
She said that being a city council member would be something "very new to me" and that she is willing to learn.
The full list of the nine candidates who were interviewed Tuesday for the vacant Ward 1 seat were as follows:
Dennis Rollins

Independent film and television producer

Works part time for FedEx
President of Stage III Community Board of Directors

Jacqueline Anderson

Former city council member

Kimberly Holloway

Former city council member from 2009-2013
Attorney at law
Volunteer at Poverty Resistance

Zarryn Hinchen

Founder of Artemisia Dining
Butcher at Brattis Meat Market
Former kitchen consultant at Wyoming Food for Thought Project

Wes Connell

Senior pastor at River of Life Church
Director of Cascade Coffee Shop
Owner of NeXus Design Group
Professional life coach

David Hulshizer
Shannon O'Quinn

Independent Contract Designer
Member of Casper LGBTQ Advisory Council

Jai-Ayla Quest

Program specialist for the Mass Violence and Atrocities Program at the Stanley Center for Peace and Security
Mother of three-year-old twins

John Minchow

Employer listed as Rocky Mountain Power – Dave Johnston Power Plant
The candidate interviews can be streamed via the City of Casper's YouTube channel: