CASPER, Wyo. — The Town of Evansville approved the first of three readings Monday of an ordinance looking to annex about 317 acres of county areas interspersed along the town's southern boundary, as well as small areas along the western boundary.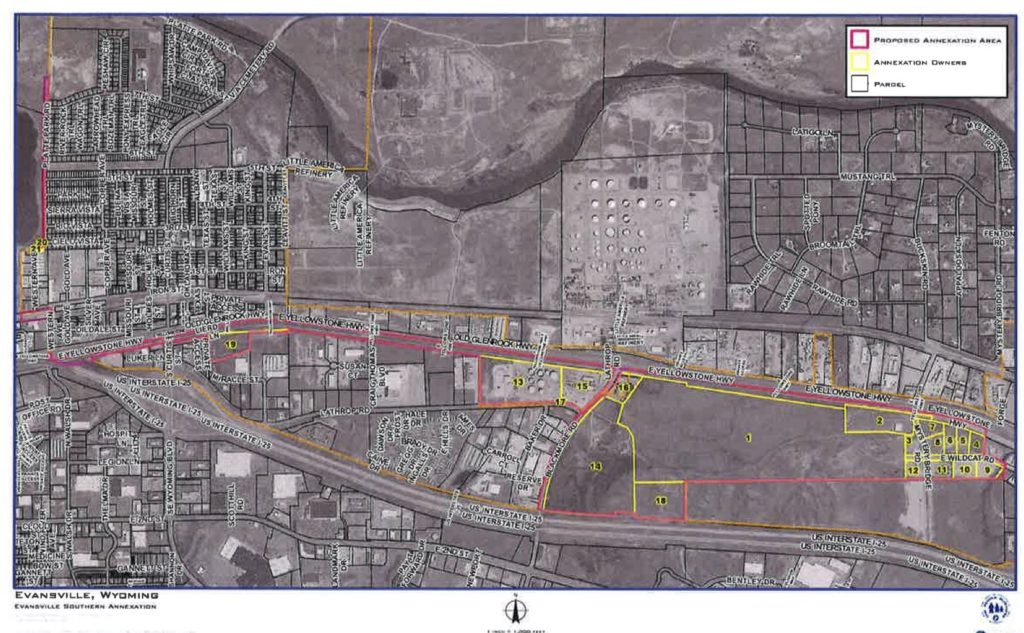 21 property owners would be affected, all but one of who was notified by last month in advance of Monday's scheduled public hearing before the first reading.
Bru Till, owner of Brutill Construction, was the only property owner who spoke at the hearing. He said he we was not notified, which Town Planner Scott Radden confirmed was because Till had moved to the location within the last six months, and the county assessor records Radden relied upon to contact owners are updated semi-annually.
Till said his concerns were primarily the increase in property taxes and the extent to which he'd be able to carry on his business in the area.
Earlier this year, Evansville created and adopted Urban Agricultural (UA) and Urban Agricultural Residential Zones (UR) into town ordinance in anticipation of the annexation to preserve the character and use of the areas to be annexed.
"The intent was really not to change the way anyone is doing business out there in any way, shape or form," Mayor Chad Edwards told Till on Monday.
Residents of the area would end up paying an additional 5 mills in property tax ($5 for every $1000 in assessed value), but Radden told the council that those residents would save money paying municipal rates (as opposed to "out-of-town" rates) for water, sewer, and garbage collection services.
Commercial rates for these services outside the town limits are about 150% of those within.
Edwards, Radden, and Police Chief Mike Thompson have all noted that creating a clean, continuous boundary for the town would also ease jurisdictional issues for the Evansville Police Department, which currently has to train officers "on what areas are county and which are Evansville," Radden said.