CASPER, Wyo. — Happy Friday, everybody! What do you think about the possibility that Casper movie theaters will serve beer? Do State of Wyoming employees deserve raises? Is Kemmerer the right place to build a new Natrium nuclear reactor?
We gathered reader comments in response to our coverage that touch on all those questions and more in this latest edition of Oil City Speaks!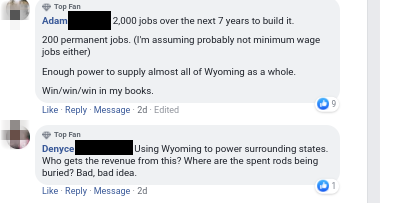 Across the planet, about 5.13 million people have died after contracting COVID-19 since the pandemic began, according to the World Health Organization. The CDC reports 764,473 COVID-19 deaths in the United States. In Wyoming, 1,347 residents have died after contracting COVID-19 during the pandemic, according to the Wyoming Department of Health.
How many people have died due to nuclear disasters? It is difficult to say with precision exactly how many long-term deaths associated with radiation exposure have occurred. The Chernobyl disaster, for example, 31 people died as a direct result of the accident and 29 firefighters died from acute radiation exposure in the short-term, according to Our World in Data. Estimates of long-term deaths from that estimate range anywhere from 4,000 to 600,000, according to Our World in Data.
In the Fukushima disaster, while 40-50 people experienced physical injury or radiation burns at the facility, Our World in Data states that there were zero direct deaths from the incident.
"In 2018, the Japanese government reported that one worker has since died from lung cancer as a result of exposure from the event," Our World in Data reported. "However, mortality from radiation exposure was not the only threat to human health: the official death toll was 573 people — who died as a result of evacuation procedures and stress-induced factors. This figure ranges between 1,000-1,600 deaths from evacuation (the evacuation of populations affected by the earthquake and tsunami at the time can make sole attribution to the nuclear disaster challenging)."
There have been 28 nuclear plant accidents across the globe since 1957, this Wikipedia article shows. That amounts to about 0.44 accidents per year during that time span. Not all of these resulted in deaths.
What do you think of Les's comment comparing COVID-19 deaths to nuclear-related deaths? Does the number of nuclear accidents that have occurred over the years seem low to you or does that fact that accidents have occurred at all seem to be a cause of concern for you? Do you think there is any basis to Les's perception that people opposed to nuclear also tend to be opposed to getting a COVID-19 vaccine? Do you think a relationship between views on nuclear and views on vaccine is interesting to ponder or do you think it is unnecessarily jamming two unrelated issues into one?
Do you think the new Natrium nuclear plant will be positive for Wyoming's economy or do you have safety concerns about those prospects? Do you think the plant will actually get constructed in seven years as project developers claim?
Were you please to see Kemmerer selected as the preferred site for the first Natrium reactor project or would you have rather seen Glenrock, Gillette or Rock Springs selected? Do you trust the claims of those developing the new sodium-cooled Natrium reactor? Will it really offer improvement over conventional water-cooled reactors?
Are these questions that you think the general public should be discussing? Are you planning to attend the Tuesday, December 7 presentation at Casper College focusing on the Natrium project? What questions would you like to hear discussed at that presentation? What are your thoughts on the possibility of getting more nuclear reactors after this one?
What do you think of the role families play in a community over multiple generations? Does your family have a long history in Wyoming or are you new to the area? Do you think about what you could do to extend your family's legacy or start a new chapter in your family's history? Do you think people think too much or too little about their ancestry?
Does it warm your heart when you see families embrace the community? When you think about education, do you try to imagine what students will do with their learning 10, 20, or 30 years down the line? What will Casper be like for the great-great-great-grandchildren of people living today?
While family is important to many people, not everyone still has family members to help take care of them. Let's look at some heartwarming comments that came in response to a story about Dr. Madelaine Stout working to help find people to adopt the graves of 1,260 soldiers in Natrona County that she uncovered through research: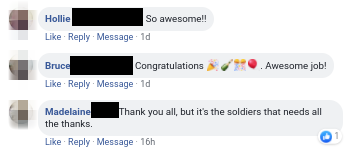 Stout was honored as a "Bright Spot in the Community" during the Casper City Council meeting on Tuesday for her work identifying the 1,260 soldiers' graves. Stout is working with the Civil Air Patrol to have all of the graves marked as belonging to soldiers. She also hopes to inspire people to volunteer to adopt the soldiers' graves if families of the soldiers are not able to care for them.
Do you feel inspired to know that someone dedicates significant time and energy for people outside of their own families? Stout was also encouraged to do the work by her own children. Do you think robust families have the tendency to start to reach out and treat others as if they are their own family members? Who do you consider family who may not be literally related to you?
One of the things the future people of Casper will have to enjoy may be a riverfront park and new boat ramp along the North Platter River. Here's a thought-provoking comment that came in response to a story about Casper receiving a $246,290.50 grant that will support development of the new riverfront park:
That project aims to create a riverfront park near First Street along the North Platte River. The plans for the park include a pathway, a boat ramp, an attached parking lot, lighting, park benches, picnic tables, landscaping and a welcome sign, according to city staff.
Will developing that park encourage other developments in the area? Are there some untapped business opportunities related to the North Platte River running through the community? Can you picture something like what Sharon is envisioning for the community? What would you add to her idea? When you drive around Casper, do ideas pop into your head about something cool that could happen in a specific location? Do you brainstorm with friends or family about what you think would make Casper more of a place you want to live? If so, what are some things you've discussed?
Visit Casper announced Wednesday that the following four winners were selected in the challenge:
C Bracket Horse Barn – $20,000
Old Town Family Fun – $10,000
Barbarian Coffee Roasters – $10,000
Alcova Resort – $10,000
Do you have any plans for Christmas yet or are you still busy preparing for Thanksgiving? Are there any places you like to visit during the holiday season? Are you happy to see local businesses getting a boost from the Visit Casper Business Challenge? Do you think this is a wise use of federal CARES Act dollars that the Visit Casper organization received?
Have you ever been to a theater in another community that allow people to purchase alcohol? How was that experience?
What do you think of the observation Elise makes about alcohol being available at bowling alleys? If you think allowing beer at theaters is problematic, what problems are you imagining? Do you think it will create disruptions or do you think most people will be responsible and the concerns people are expressing are exaggerated?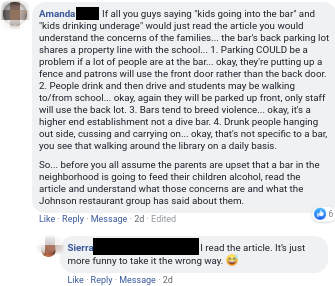 Amanda's comment encourages people to couch their understanding of the issue in the full context of the discussion that occurred during the Casper City Council meeting on Tuesday. Sierra's comment suggests that people may be aware of the context but choose to get involved in the conversation for the entertainment value of that.
What do you think of this? Do you reflect on how electronic communication technology has changed the way people get and talk about information? If you were around before the days when news was available online, how did you get your news? Did you talk to people about the news you read in newspapers? Were you aware of how others in the community felt about a news article in a newspaper?
Today, people can share their comments about news stories they see in a way that is visible to many others in their community. Do you see this as creating possibilities for new discussions about what is happening in a community? Does seeing everyone else's thoughts about a story spoil your chance to think through issues on your own?
When you see other people commenting online, do you keep in mind that you may be encountering some mix of people who are communicating what they seriously think and people who are chiming in out of a more playful spirit? Do you think the phenomenon of people "trolling" on the internet is a negative thing, do you see ways that trolls are enacting a sense of playfulness, or is it circumstantial? Do you think of yourself as someone who is good at detecting when those around you are being sarcastic or are otherwise joking around? Do you ever get the sense that a joke is happening that you aren't in on? Is it harder to tell how serious someone is being when they communicate online?How come?
In his budget message, Gordon says that "7,700 of Wyoming's 8,000 state employees are being paid below 2017 market rates." Gordon said in a press conference Monday that salaries for state employees are lagging behind not only those of other state governments, but also behind counties and municipalities. In his budget message, Gordon points to the example of the Wyoming Department of Corrections, where he says the state is "hemorrhaging money … because the folks it can hire and train are quickly snapped up by police departments and sheriffs' offices."
In addition to attempting to bring wages closer to market rates, Gordon's proposal seeks to address compression issues (the gap between supervisor pay and those they supervisor or the gap between pay for experienced employees and new employees). Gordon said his proposal also intends to "reimplement a merit-based approach to pay."
Even if the Wyoming Legislature agrees to provide the funding to bring state employee pay more in line with the market, Gordon said in his budget message that his request would not catch Wyoming up to current market rates: "It gets us a bit closer to what our peers were paying last year."
Gordon said that he sees this step as "absolutely necessary" given that inflation in Wyoming is high. He said Monday that inflation in Wyoming reached 7.7% in the last quarter, the highest rate since 2008.
Do you agree with the governor's points on why state employees should see raises? Or do you think funding that would go toward raises should be used for something else?
That's all from Oil City Speaks for now! Disagree with anything we said? Great! Feel free to get involved with discussion about what's happening in our community by commenting on stories posted to Oil City's Facebook page. Have a great day!
---
Why are we putting together this Oil City Speaks story?
Oil City News is all about offering coverage of the people, places and events that shape the community we love. We strive to provide informative stories for our readers and value dialogue about the Casper area community and the Cowboy State.
What makes for a valuable online discussion? It is no secret that readers are sometimes wary about the "dreaded" comments section (on stories posted to Oil City's Facebook page). While comments may seem frustrating at times, they can also allow people to voice their perspectives, add more information for readers to consider or give people a way to celebrate their community together.
That's why we're bringing you Oil City Speaks, a selection of noteworthy reader comments from our local coverage. We care that you care about your community and we want to take the time to recognize comments that stand out to us. We'll also offer some fact-checking on comments.
We're not here to police your comments or your views. Comment Guideline: We welcome comments expressing all points of views on our posts–positive and negative–but reserve the right to remove posts that contain inappropriate language, links to items for sale, hate speech, personal attacks, threats, or are off-topic.