CASPER, Wyo. — Happy Friday everyone! How are you enjoying these warm December temperatures? With the weekend approaching, it is time for a new edition of Oil City Speaks!
Do you understand the structure of how the City of Casper municipal government functions? What did you think of Casper City Council member Bruce Knell raising the specter of the "opportunity for collusion" during the council's straw poll vote to select a new mayor and vice mayor this week? What was your favorite part of the downtown Casper Christmas parade last weekend? Should the city allow open alcohol containers during parades? Is it possible to move away from a dependence on oil or will it continue to be an essential part of the economy for the foreseeable future?
We've gathered reader comments that came in response to some of our coverage this week that touch on all those questions and more.

Ahead of the council's vote on Tuesday, Knell complained about the "opportunity for collusion" among Casper leadership during brief meetings between the mayor, vice mayor and city manager ahead of the start of council meetings. Vice Mayor Ray Pacheco pushed back against Knell's comments, arguing that the leadership meetings are held for the sole purpose of ensuring that the city council meetings are run in an organized manner.
Pacheco also noted that the mayor and vice mayor do not have more formal power in Casper's system than other members of council. After both Pacheco and Mayor Steve Freel balked at Knell raising the specter of collusion among Casper leadership, Knell claimed that he had not brought the term into the discussion because he personally thinks there is anything nefarious going on, but rather because some of his constituents have concerns and he felt obligated to bring them up on their behalf. Here's an exchange that came in response to that aspect of the story: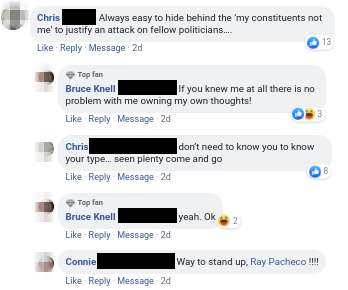 Knell complained on Tuesday about the ability for council members to be nominated by their fellow members for both the mayoral and vice mayoral positions. City Attorney John Henley said that it is allowable under the Robert's Rules of Order for people to be nominated for multiple positions.
How powerful are the positions of mayor and vice mayor in Casper? It may be worthwhile to think about the City of Casper, which operates under a "Council-Manager" style of government, in comparison with Cheyenne, which operates under a "Mayor-Council" system.
In Cheyenne, the mayor is elected by the voters and serves as the city's chief executive. There, the mayor has the authority to sign ordinances into law, appoint department directors and has authority in overseeing the day-to-day operations of the city, as BallotPedia explains. The mayor in Cheyenne also has the power to veto city council actions.
In Casper, the mayor has none of the above specific powers. Under the "Council-Manager" system of government, the city council as a whole shares oversight of general administration and policy and also has the authority collectively to set a budget. The city council also has the authority to appoint a city manager to carry out daily administration of the city.
The mayor and vice mayor in Casper are selected from among members of the city council by members of the city council. They have the responsibility to lead city council meetings and issue proclamations on behalf of the city, but have no more formal power than other council members. The mayor in Casper may have some symbolic power in that they may be asked to attend and speak at community events.
The city manager position in Casper plays a role in helping guide the agenda for city council meetings. While the city manager may have some agenda-setting power in addition to daily administrative power, they do not have a vote on proposed resolutions or ordinances that come before the council. The nine members of the city council each have an equal vote on resolutions and ordinances, and the mayor has no veto power.
Casper City Council member Kyle Gamroth described Casper's system in the following comment, adding that he personally prefers the "Council-Manager" style of municipal government over other styles:
What are your thoughts about the style of government in Casper? Would you prefer if Casper had a "Mayor-Council" system like Cheyenne or do you prefer the "Council-Manager" system in which the mayor does not have more power than other members of council?
Casper has been experimenting with allowing people to carry open alcohol containers in a designated downtown area on certain nights during the past two summers and the city council on Tuesday discussed some possible adjustments to the rules for next season. Vice Mayor Ray Pacheco suggested that the council consider starting the open container events earlier in the afternoon rather than starting at 5 p.m. and also suggested thinking about allowing people to have open containers at special events like downtown parades.
The police chief and other city staff are recommending some other changes, such as ending the open container nights at 9 p.m. rather than 10 p.m. Council member Kyle Gamroth said he'd like to hear more from downtown business owners about their thoughts regarding the open container events before making changes to the rules.
Did you attend any open container nights last summer? Did they seem safe to you? Did you notice any problems? What seemed to work and what could use some adjusting? Do you think it is a good idea to allow open containers during parades or do you see that as asking for trouble?
Did you go to the Christmas parade last weekend? What was you favorite aspect of it? Did it get you into the spirit of the season?
Are oil and gas inextricably tied to too many parts of the economy to ever be truly replaced by other sources or do you think it is possible these sources will be phased out over time? If it is possible to move dramatically away from a reliance on oil and gas, what will that timeline look like? How should that be achieved?
Wyoming's governor has been critical of the Biden administration's energy policies and said in response to the Department of the Interior's recent review of the federal oil and gas leasing program that he thinks there are ways to innovate that don't require new restrictions.
"We can do more to reduce CO2 emissions by innovating new technologies that improve our standard of living than regulating into oblivion," Gordon said. "Any potential modifications to the oil and gas leasing program identified by this review could have been brought forward without the illegal and devastating moratorium. As I have stated on multiple occasions to the Biden administration, the leasing moratorium does nothing to achieve their climate agenda."
Gordon has often called for an "all-the-above" energy strategy that sees a place for renewables alongside energy sources like coal and oil.
Do you prefer policies which allow for the oil and gas industries to operate as they have historically or do you think regulations are needed to help accelerate a move toward renewable energy sources?
Casper College Fire Science director Dale Anderson said Tuesday that he has "no idea" why the uptick in female students getting involved in the program has happened, but he's pleased to see it.
"They're taking charge; it's not like they're just sitting back," he said.
Good luck to all the fire science students as you work toward your certifications!
That's all from Oil City Speaks for now! Disagree with anything we said? Great! Feel free to get involved with discussion about what's happening in our community by commenting on stories posted to Oil City's Facebook page. Have a great day!
---
Why are we putting together this Oil City Speaks story?
Oil City News is all about offering coverage of the people, places and events that shape the community we love. We strive to provide informative stories for our readers and value dialogue about the Casper area community and the Cowboy State.
What makes for a valuable online discussion? It is no secret that readers are sometimes wary about the "dreaded" comments section (on stories posted to Oil City's Facebook page). While comments may seem frustrating at times, they can also allow people to voice their perspectives, add more information for readers to consider or give people a way to celebrate their community together.
That's why we're bringing you Oil City Speaks, a selection of noteworthy reader comments from our local coverage. We care that you care about your community and we want to take the time to recognize comments that stand out to us. We'll also offer some fact-checking on comments.
We're not here to police your comments or your views. Comment Guideline: We welcome comments expressing all points of views on our posts–positive and negative–but reserve the right to remove posts that contain inappropriate language, links to items for sale, hate speech, personal attacks, threats, or are off-topic.