CASPER, Wyo. — Chad Pollock wasn't legally old enough to drink when he became fascinated with a spirit he had never even tried.
"When I first found out about absinthe, it was in the art and literature realm," said Chad, who is the chief distiller and co-owner of Backwards Distilling Company.
"A lot of artists of the time, like Vincent van Gogh, Toulouse-Lautrec, Ernest Hemingway, Oscar Wilde, they all had spoken about absinthe," he said. "It had a mystique to it, and I got curious about it and started researching."
For his 21st birthday he was gifted a bottle of absinthe along with a bottle of bourbon.
Like most Americans who try absinthe for the first time, his first impressions weren't great, "but I really wanted to like it and after a little while I developed a taste for it and fell in love with it."
Chad started collecting absinthe from the remaining distillers around the world. He eventually took a trip to Belgium and visited a tasting room that served hundreds of varieties, both modern and vintage.
"It was amazing, like an adult playground," he said. When he came back to the States, he visited a bar that claimed to have the most absinthe in North America. They had six bottles.
"I already had all six, plus 12 others," he said. "I was irked."
This experience led Chad, along with his older sister Amber and their parents, to pursue opening their own distillery.
While absinthe was front and center in Chad's mind when Backwards opened in 2015, it would be six years of careful experimentation and research before he would be satisfied with his absinthe.
Absinthe is a complicated and unique spirit, says Chad, but that's not the only reason for its mystique and almost notorious reputation.
The spirit, which dates back centuries, became popular in France during the Baroque period. According to Pollock, wine makers didn't take kindly to that and set about demonizing the spirit, claiming it was toxic or would cause hallucinations and other ailments. The rumors took hold and the spirit was eventually banned in numerous countries.
"Some of those myths are still around today," said Chad. "So all the way around, it has the coolest kind of roller coaster of a history."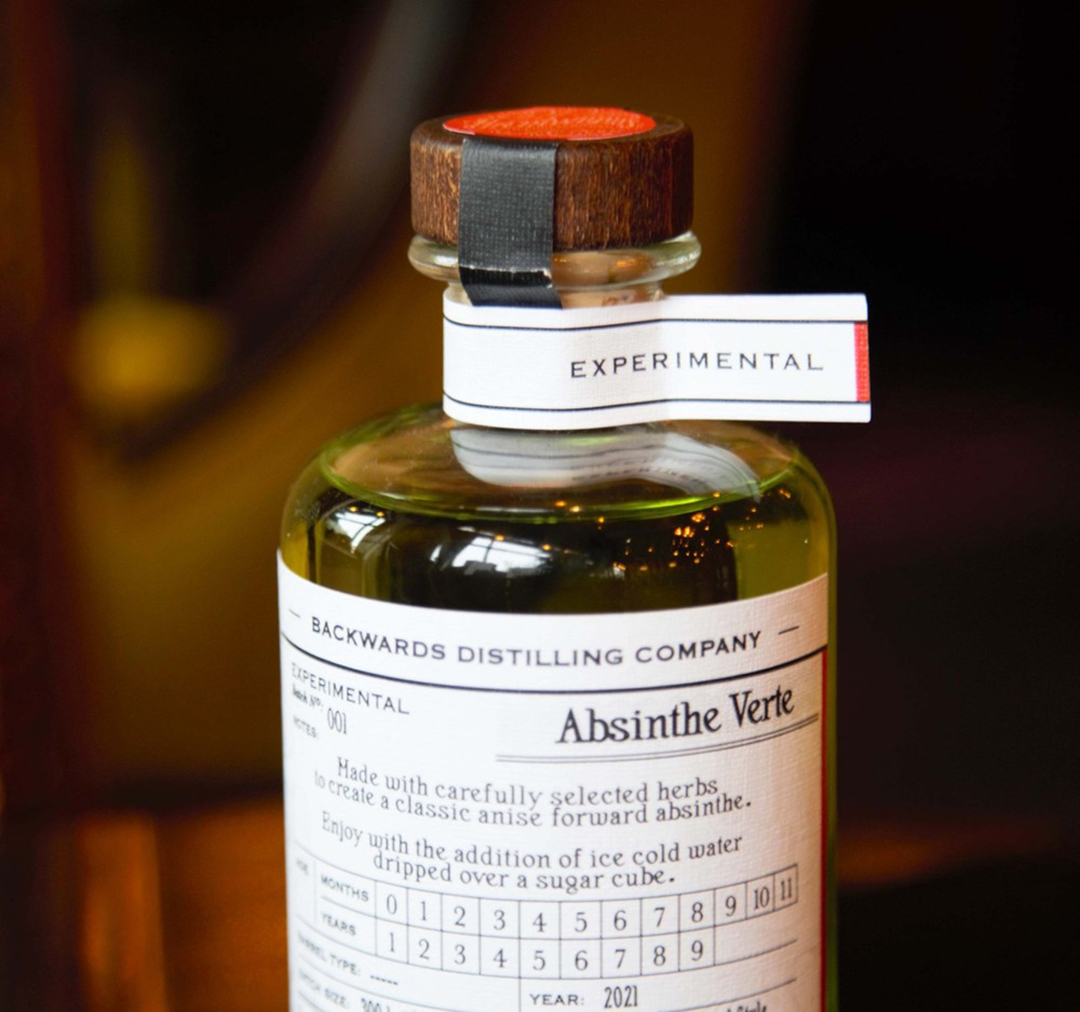 Absinthe is made from a neutral spirit and a host of botanicals, the main batch referred to as the "holy trinity" — wormwood, anise, and fennel. An ingredient in wormwood can potentially have hallucinogenic side effects, but never when it's distilled in absinthe.
Its flavor resembles black licorice, with other bitter botanical notes in the mix. It's also very alcohol-forward, coming in at 67 percent in Backwards's case. It can be served diluted in water, poured through a sugar cube on a strainer spoon, or used as a modifier in a cocktail. The rituals and equipment used in serving traditional absinthe is also part of the allure for fans, said Chad.
"It's one of the most technically difficult spirits to produce that I know of," said Chad. "It has a lot of nuance and a lot of very difficult stages in the process to make it right."
"I was tweaking it through dozens of recipes, toiling over it to get it exactly right and how I wanted it," he said. Dozens of herbs are used in the process, and selecting the highest quality with the most consistency was crucial.
Some absinthe makers heavily guard their process, but others are more generous and were keen to give Chad important insight.
Feedback from his contacts in the distilling industry on the finished product has been overwhelmingly positive. "I'm very happy with it personally," he said. He believes it is the first absinthe to be produced in Wyoming.
"I really want people to try it and hopefully fall in love with it like I did," said Chad.
Backwards will hold a launch party for their new absinthe on Thursday, January 20 starting at 4 p.m. at their distillery in Mills. Tickets and information are available here. Bottles will be sold at the Backwards Distillery downtown tasting room for $35, and will also be available at retail liquor stores.