CASPER, Wyo. — The Nicolaysen Art Museum hosted an opening reception for three new installations by Wyoming artists on Friday night. It was also the debut exhibition by members of the new Casper Artists' Collective. The galleries will be on display until September.
Green River resident Amber Marie's exhibition "Phases" is a combination of her well-practiced colored-pencil portraits and newer methods inspired by a new love. She told Oil City the gallery tells the story of real women rediscovering their joy and potential following periods of trauma and oppression.
"I want to show their strength," Marie said of the portraitures, which often include symbolic forms.
"To just be is a huge act as a woman," she says in her artist statement. "I want to present them as they are in any phase of their life."
Marie said she's always loved the methodical precision and tactile sensations of colored pencil, but after falling in love with a graffiti artist, Joseph Skimehorn, she's been compelled to experiment with the immediacy of spray paint on thrift store paintings.
The graffiti works somewhat represent eras of chaos in her subjects' lives, Hunt said, and the show itself will evolve as a graffiti piece is replaced with a portraiture each month.
She's currently president of the Wyoming Colored Pencil society, which she's hoping to grow into an official chapter of the Colored Pencil Society of America.
After years of doing large relief sculptures, retired fireman Anton Fox made his debut installation with "All the Right Angles," a collection of over 30 "hard-edge geometric abstract paintings."
"I try to keep them playful," Fox told Oil City, but added that he's very deliberate about designing the compositions before he begins. He's also particular about the color choice: If the combinations aren't right, or aren't "crisp" and "flat" enough, he'll start again.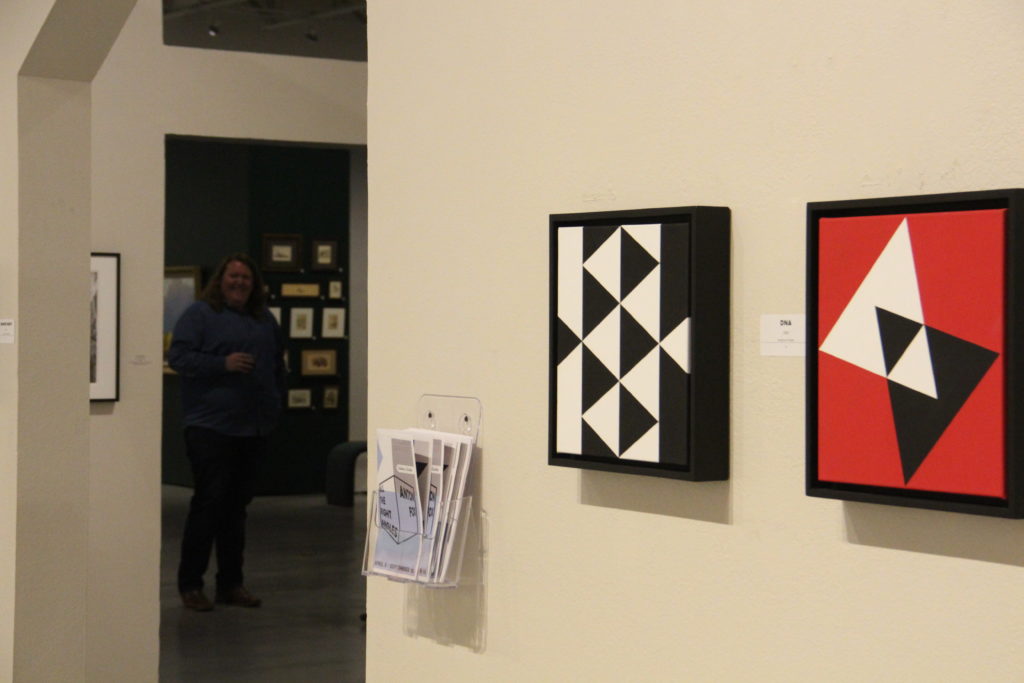 "I like the straight line; it has a beauty of its own that can show you from the complex to the very simple," Fox said in his artist statement. "For me, abstracting and condensing a painting to its line, color, shape, and space can give it both a sense of ambiguity with clarity at the same time."
The titles, including "Mouse Trap" and "Free Fall," are also playful afterthoughts. Fox said the paintings themselves aren't representations of anything literal.
Fox added the having his first gallery installation is inspiring him to think and produce bigger: "From now on, they're going to be twice as big, at least."
Retired Casper College Visual Arts instructor Linda Ryan's former students told Oil City that her installation, "Evolving Exploration," is well representative of the lessons she taught.
"She pushed me beyond what I thought I was capable of," said Casey Hanson, who took Ryan's 3D class as a photography major, saying it helped her explore all the possible dimensions of her subjects. "She's one of best professors that I've ever had."
A distinct, angular house form is revisited in a variety of media throughout Ryan's exhibit. This form may be cast in metal or textured with crushed up eggshells, shingles, spices, receipts, and other natural and domestic materials.
One piece consists of the house form as a wire cage filled with a years-long collection of sweet pea pods dipped in shellac. The piece also includes a collection of sticks found walking by the river.
"Where is our home?" Ryan asks. For each the "Small House Studies," with their evocations of the cosmic, domestic, and mundane, "maybe that's where it is."
Each of the small house studies is only $100, and proceeds go to Mimi's House, a nonprofit organization assisting homeless youth in Casper.
Ryan's installation also includes works made from a variety of objects, including windshield glass, stones, and hundreds of keys donated by the college's maintenance staff.
"I make art to find out what it's going to look like," Ryan said in an artist statement. "The process of discovery is what motivates me. My work reflects my love of the phenomenal world and all that it has to offer, both visually and tacitly. I love the physicality of materials, objects, and all that surrounds me, both natural and manufactured."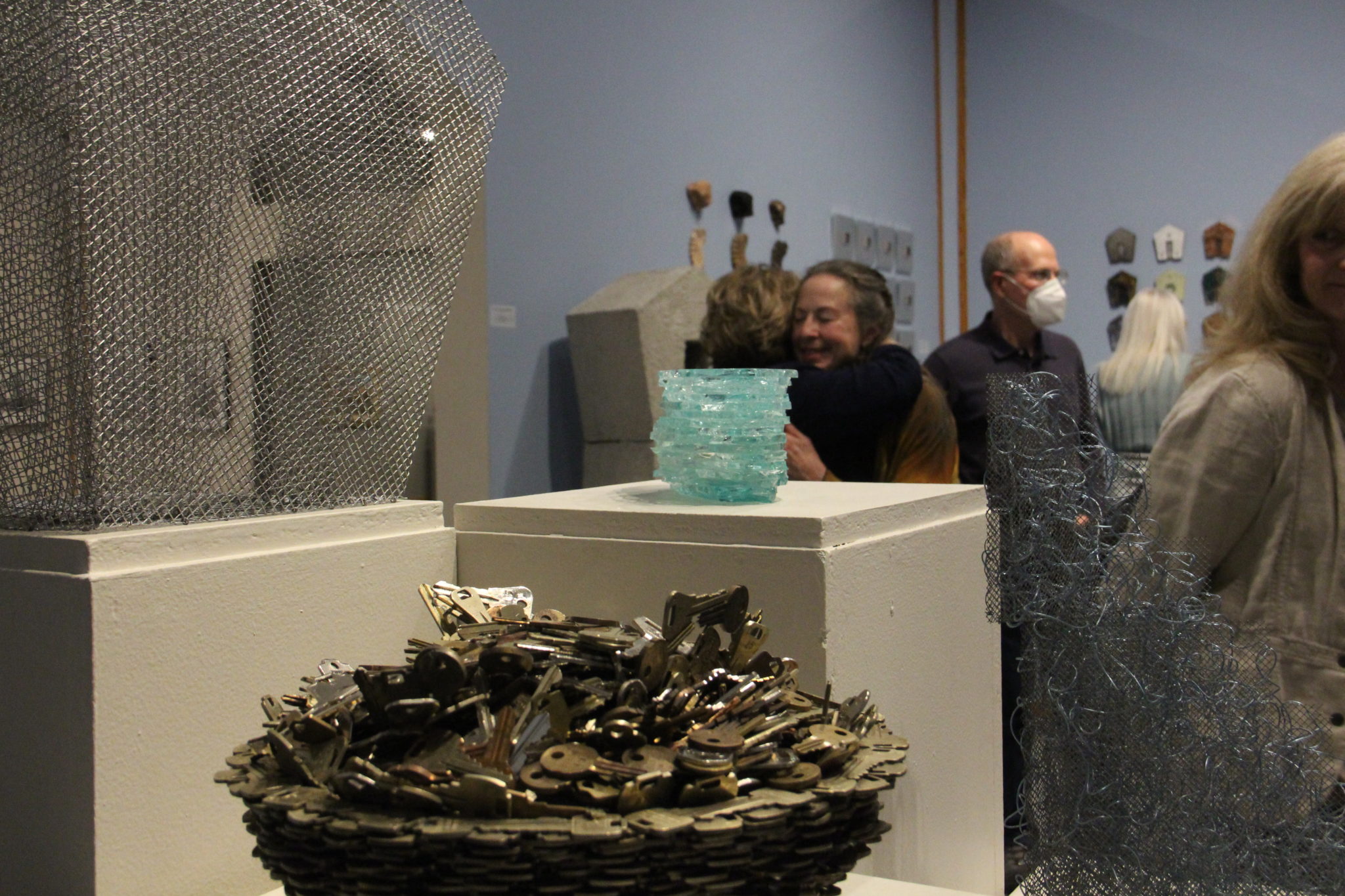 In all, the Casper Artists' Collective installation features over 40 pieces by 22 artists.
"The Collective aims to foster a community where visual arts play a central and significant role as a source of meaning, pleasure, connections, and value," The NIC said. "This exhibit celebrates creation with no boundaries and shows the diversity that the artists of Casper have to offer."