CASPER, Wyo —Telecommunications specialists at the Natrona County Public Safety Communications Center (PSCC) handled 169,426 phone calls (30,000 of them to 911 calls) 2021, according to the Casper Police Department. 90% of them were answered in under 10 seconds about five seconds faster than the national average.
"We call them the 'first' first responders," CPD Information Officer Rebekkah Ladd told Oil City Monday at the outset of National Public Safety Telecommunicators Week. The PSCC handles fire, police, ambulance, non-emergent, and even after-hours public works calls.
Ladd said its difficult to find people to fill the "very niche career field", which requires a unique combination of multitasking and technical skills, professionalism, and emotional capacity.
It's "an extraordinarily demanding, high stress job," said PSCC Director Lori Jackson, who first became a dispatcher in 1997 after getting a paralegal degree.
"These guys and girls hear things that the average person doesn't even know goes on," Jackson said.
They talk with people who may be dealing with a mental health crisis, have just discovered a loved one deceased, or may hiding and in danger. They do this while simultaneously relaying the emergency to the appropriate response agency, and stay on the phone until help arrives.
All PSCC dispatchers also have specific training to give instructions over the phone for performing CPR, delivering a baby, and helping a choking victim.
"Sometimes it's the difference between life and death," Jackson said.
Jackson said that people can also text 911 in Natrona County. "Next Generation" 911 capabilities will allow dispatchers (with the permission of callers who click on a link) to access certain video-equipped devices, and pick up clues from the caller's environment.
In addition to the chairbound 12-hour shifts and nearly constant decision-making that takes a toll on dispatchers, Jackson said, but the nature of the calls themselves.
Jackson's team is currently participating in a Certified Peer Support training with other emergency response professionals. The program emphasizes the critical role of networking with peers who can relate to the stresses of the job in ways that a traditional counselor might not.
Jackson said her and her team work to mitigate a jaded outlook as the result of their work; she herself admits she may have been overly vigilant as parent.
Though emergency telecommunication centers may seem like some faraway "big black box in the sky," Ladd said the dispatchers are all local people working out the NERD building off Landmark Drive in east Casper.
"They're your neighbors. They go to Natrona County School District. They've got kids, they go to your church. They go to the same stores as you."
Ladd said many dispatchers have stories of helping callers who turned out to to be their neighbors. One dispatch specialist pursued the job because of the profound impact the dispatcher had when they called during a traumatic event.
"It's not separate. It's all very close to home for us," Ladd said.
To recognize their efforts during this week of recognition, Ladd addressed a few misconceptions and concerns that affect emergency services overall. One is that people should not hang up if they accidentally dial 911.
"One of the policies that we have is we respond to 911 hang-ups. So even if you call us back and you say everything's fine, or if you don't call us back, we still have an obligation to respond to the coordinates of where you called to make sure you're okay."
"A lot of officers have stories about somebody who called and said, 'Oh no, everything's fine…' But the officer went anyway, and it ended up being a domestic violence victim or something like that."
Jackson said some callers become frustrated with the series of questions dispatchers ask during a medical emergency; unaware that they are simultaneously alerting the responding agency and relaying the potentially critical information.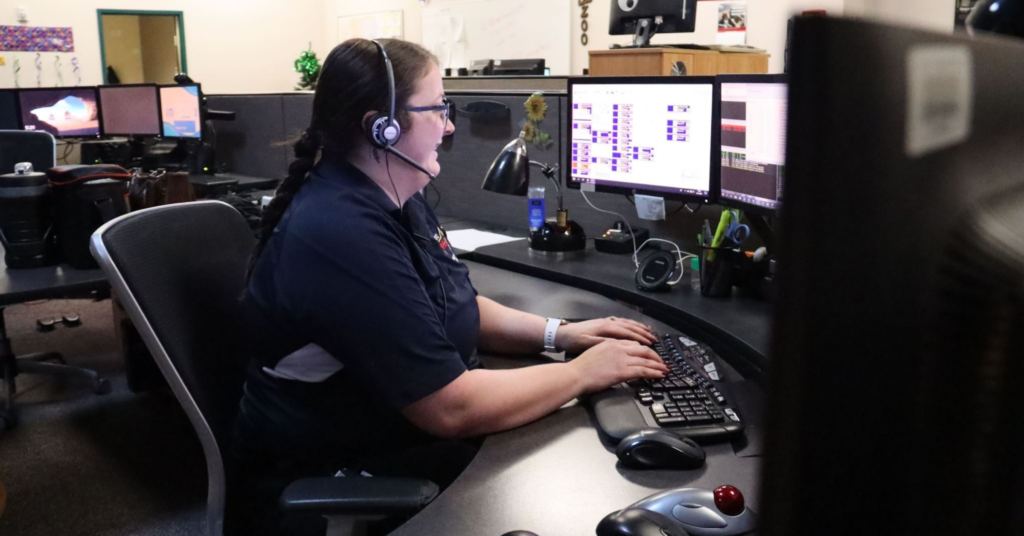 Because of the high call volume, Ladd urged patience to those calling with non-emergent situations who may need to be placed on hold.
"That is probably going to feel frustrating. But I think it's important that our community understand that there's only a handful of dispatchers working at any given time, and they all manage multiple phone lines all day long."
"They're not robots. They're humans and they're trying really hard to get the right information out there."