CASPER, Wyo. — During his presentation on Thursday morning, Scottsdale Mint founder and president Josh Phair held up a gold bar weighing one kilo, casually mentioning that it's worth "roughly 65,000 bucks," and passed it around the room.
"This is a kind of test to see if a community is trustworthy," he joked. "It needs to show back up."
Phair's address took place during Advance Casper's quarterly breakfast event at the Three Crowns Golf Course clubhouse, where Casper's business and political leaders gathered to hear his plans to convert the former Casper Star-Tribune building into the company's major facility.
Scottsdale Mint was founded in Arizona about 15 years ago as a manufacturer and distributer of silver and gold coins and bullion. The business evolved from Phair's work in commodities trading. "I just fell in love with the metals," he said.
"We do melting, machining, stamping, hydraulic presses … basically a lot of the things that happened here in Casper for energy, we do it, but with gold and silver."
Phair said Scottsdale Mint also contracts with roughly 20 foreign governments to manufacture some of their coin currency. The manufacturing side relies on state-of-the-art and highly specialized equipment sourced from Germany and the U.S., he said. Design work is also done in-house.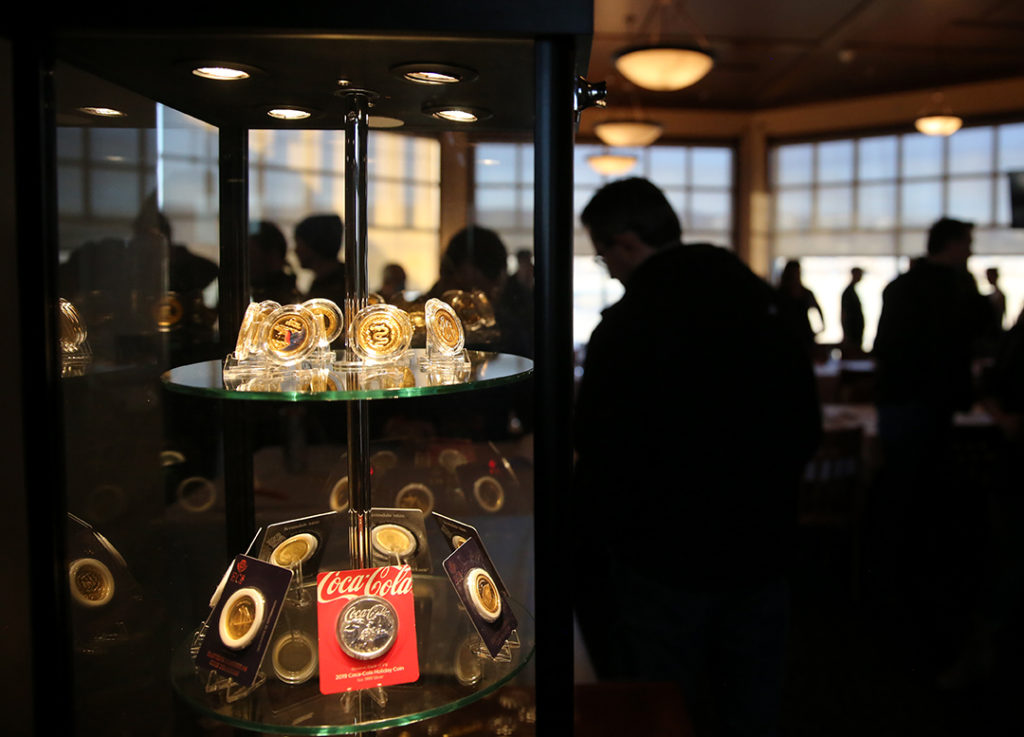 "We supply almost every bullion dealer in the world that carries gold or silver," he said. "Almost every single one of them has a product that we make. So whether it bears our name, or the name of someone else, we manufacture and then we ship it out."
Phair had been looking to expand his business manufacturing and distribution capability, and started a search for what he considered the best business and infrastructure environments. He worked with brokers in five states, including Texas, Florida, South Dakota, Arizona and Wyoming, the last of which he ultimately chose.
"Wyoming has a very friendly regulatory environment," he said. "Arizona is not bad, but it's shifting and has been frustrating."
The 47,036-square-foot former newspaper building, with its concrete construction and sturdy foundation, looked like a good match. Phair said they plan to add another 18,000 square feet over the next two years as they make Casper their primary location for manufacturing, design and distribution.
Another significant factor in his choice is crypto.
"In taxation of crypto here, Wyoming is second to none," said Phair during an interview after his presentation. "Wyoming is ahead of everything, so a lot of that would be completely gray in Arizona, not knowing what could happen in the future.
"Scottsdale Mint is where gold and silver are considered classic assets," he said. "Digital is the new world, so we look at ourselves going forward as new world and old world merged together."
The crypto business will be handled by a hedge fund called Stakewire Asset Management, he said. No crypto will be mined on site, but trading and management will be based in the new location.
The building, which was constructed in 1981, is undergoing a "frame-off restoration," he said. All of the HVAC and plumbing systems will be new, and the electricity supply is already being upgraded. A second story that includes a helipad is also planned.
Phair said the Scottsdale Mint facilities in Arizona are basically nondescript, but he hopes to make the Casper facility visually stand out.
He wouldn't say exactly how much money his company is spending on the building upgrades, but described the investment as "massive."
"It's going to be done in phases," he said. "It's a big undertaking both financially, and in time just to do it." Parts of the building should be operational later this year, he said.
The company eventually plans to have between 50 and 100 people employed in Casper, with some 20 to 30 transferring from the Arizona operations. Manufacturing will continue in Scottsdale, and the company will still have a presence there.
"A good chunk of [the jobs] initially will be on the manufacturing side," he said, "but there's the fulfillment side, and then there's customer service, sales support, and then the hedge fund with a big finance team." Graphic artists and designers could also be in the mix at some point.
Phair, his wife Julie, and their two young children are planning on living in Casper full time. The family just closed on a house this month, he said.
"We're making this our primary home."