Hey friends,
Have you looked at a calendar lately? I can't believe that April is already over! But guess what that means? That's right: the meme that everyone gets tired of but you can only use this time of year… "It's going to be May!" Enjoy the last couple days of April showers, because soon we should be seeing some flowers!

Check out what the Breeze blew in for today: See the story about the fundraiser for roses at the veterans cemetery, read about the trail runs, and check out the story on how you can help those who are food insecure! Don't miss the featured event: a concert happening this Sunday at Casper College.

Casper is expecting a high of 48°F with wind, clouds, and scattered showers throughout the day. That Breeze is coming from the west-northwest at 20–30 mph with gusts over 40 mph. 
Oh! Make sure you subscribe to get this bright and breezy newsletter sent right to your inbox. Click HERE.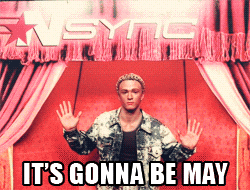 Daily Update
Fundraising for roses
The Casper Mountain Young Marines Youth Group and the U.S. Army Recruiting Station in Casper are teaming up to honor the veterans who are buried in the Oregon Trails Veterans Cemetery in Casper. Their goal is to lay 4,200 roses on the graves of the veterans buried in the cemetery. 
Community-friendly trail runs
"How many people do you know who ran over four miles tonight?" This was the prevailing mantra to any newcomers to the Casper Ultra and Trail Running Society's Tuesday Night Trail Run. it's time to explore the elaborate trail system that Casper has to offer. 
Help out the food insecure
A project initiated by First Lady Jennie Gordon is rallying home gardeners to help with Wyomingites suffering from food insecurity by encouraging local growers to help create sustainable solutions to hunger using locally grown food.
Breezy Feature: Concert time!
The 2022 Music of the Masters concert will celebrate the works of British composer Ralph Vaughn Williams on Sunday, May 1 at 3 p.m. with a pre-concert lecture at 2 p.m.
This year's concert will bring together the talents of the Casper College Chamber Singers and Collegiate Chorale as the Festival Choir, and the Casper College Chamber Orchestra as the Festival Orchestra. Joining these groups will be members of the Wyoming Choral Arts Ensemble.

The concert and pre-concert lecture are free and open to the public and will occur in Wheeler Concert Hall, located in the Music Building on the Casper College campus.
Breezy Job Listings
NEW! – Preschool Teacher
Casper College is looking for a Full-time Preschool Teacher that must be professionally prepared as a teacher of young children, with a minimum of three years' experience and an Associate Degree in early childhood, child development, or a relevant field with a demonstrated knowledge of developmentally appropriate practices, nutrition, health, CPR, and first aid.
Brand Director
An exciting new position at Upslope Media just opened up! We are looking for a full-time Brand Director who will craft the look, feel and voice of these new and existing platforms, ensuring that each of our brands reflects the distinct character of its mission and audiences. Ultimately, we want our brands to be recognized and valued for the positive impacts they provide within their own community.
Community Content Producer
We are looking for a new team member! Join the Oil City News team as a full-time Community Content Producer. We are currently seeking an enthusiastic Producer to help us create content and increase community engagement, sponsor retention and revenue opportunities for our owned media platforms.
Custodian
Casper College is looking for a full-time Custodian who is responsible for performing a variety of tasks in an effort to create and maintain a clean, sanitary and safe environment inside the fitness center and/or other designated building(s) and/or floor(s) of the given areas of responsibility. Inspects and performs all maintenance and repairs of custodial equipment.
Mental Health Technician
Wyoming Behavioral Institute is looking for a full-time Mental Health Technician that provides direct and indirect patient care on any hospital unit as assigned under the direction of a registered nurse or lead mental health Unit Coordinator. Provides for personal care, engagement and comfort in order to meet the needs of psychiatric patients.
Check out MORE job listings (and find out how you can have your job openings posted) on Oil City's job board here!
What to do in the Oil City? Community Calendar
See the latest Breezy events happening this week in our personally curated community calendar! This week, we've got a bunch of fun activities as well as ideas to keep you motivated throughout the week! Check out those events in our Breeze right here!
Oh! Make sure you subscribe to get this bright and breezy newsletter sent right to your inbox. Click HERE.
Enjoy the last few days of April!
Best from your Breezy gal,
Tayler