CASPER, Wyo. — Walking with Lyle Murtha is like putting on a pair of architect's goggles — the lenses can spot features on old buildings worth salvaging, can give background information about terracotta on a restored fire station or tell the story behind a design team's decision to turn an industrial cone crusher into a hand warmer at an outdoor ice rink.
Murtha, principal architect at Stateline No. 7, helped design David Street Station, ART 321, The Nolan, the Hotel Virginia Apartments, and the new Thyra Thomson State Office Building, to name some examples in downtown Casper and the Old Yellowstone District. With an eye for drawing new life out of old buildings, his projects include over 60 redevelopments around the region and more to come.
"Do you not see that building and see the potential?" Murtha said, pointing out an old brick building along Midwest Avenue during a stroll last Friday. "All you've got to do is remove that paint and put in some new windows and you're home free. You can't build new buildings with the kind of character these old buildings have."
Walking with Murtha: Downtown, Old Yellowstone District circuit
Setting out from Stateline No. 7's own building — T Square — Murtha talked about all things architecture on that Friday afternoon circuit around an area of Casper where it is almost impossible not to stumble across something he had a hand in creating.
Architectural design is a team process fueled by gathering perspectives from the people who will use a place, a process driven by finding a way to lay the tracks of a community's future along the traces of its past. That's a sense of the way Murtha described things as he pointed out subtle design elements at David Street Station, showed where new town homes will be built at The Nolan and talked about the new state office building's connections to the history of the historic Casper rail yard.
Here is a map showing the "Walking with Murtha" route:
The bones of old buildings enhanced
The building at the corner of Center Street and Collins Drive sat vacant for about eight years before Murtha purchased and redeveloped it into T Square a decade ago.
"I sort of fell into this niche of redeveloping existing old buildings everyone else overlooked just because I'm not sure there'd been a lot of it happening until I started doing it," he said, walking at a slow pace along Center Street into the heart of downtown. "A lot of people didn't know how to do this type of redevelopment. Now, they're kind of catching on."
Stateline No. 7 has redeveloped a host of old buildings in not only Casper but also places like Cheyenne, Sundance and Rapid City, South Dakota. Having worked on close to 65 such projects, Murtha's knowledge of how to enhance the features of old buildings is extensive.
"The state hired me about a year ago to put all of my experience into this little brochure to help other architects, to help other developers, contractors, realtors, all kinds of people just even understand the basics," Murtha said, noting that architectural schooling tends to equip architects with skills for designing brand-new constructions without necessarily cultivating their ability to transform existing buildings. "Some people look at an old building and they don't even know where to start."
One of the challenges in redevelopment compared with new construction is that some of the building materials for old buildings aren't always easy to find, Murtha said, glancing across the street at terracotta on the old Tripeny's building at 241 S. Center St.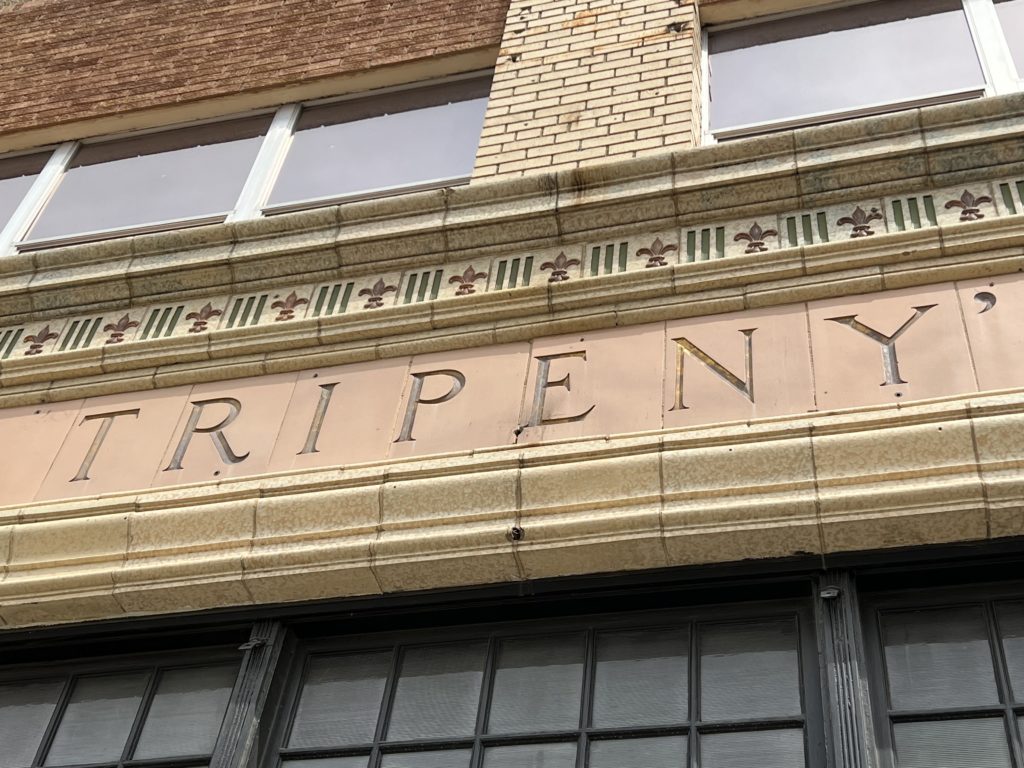 "There's really just a handful of companies that manufacture that anymore — you have to search them out," Murtha said.
The terracotta conundrum presented a puzzle during redevelopment of the old municipal garage next to the old Casper Fire Station No. 2 on David Street.
"We had to go all the way to the East Coast to find a company to replicate that beautiful terracotta because it had a bunch that was just damaged," Murtha said.
It isn't true that historic redevelopments have to break the bank, though certain materials can be expensive or hard to find.
"There are a lot of myths about it costing more," Murtha said. "Well, some parts of it cost more — like the terracotta I mentioned — but when you're remodeling a building, as long as it's structurally okay, you're starting out with four walls, a roof and a foundation at a minimum. You're already money ahead."
"Maybe there's some asbestos you have to deal with or you may have to gut it; [you might] see a little demo cost but you're not rebuilding those basic components. And you talk about sustainability — everyone wants to be sustainable these days. There's nothing more sustainable than keeping an old building."
David Street Station: Integrating a community's vision into a functional design
Murtha studied architecture at the University of Nebraska after growing up in a historic house in a small South Dakota town. Growing up around old buildings informs his interest in redevelopment and salvaging old materials for new uses, but when it comes time to design, the most valuable asset may be the perspectives of people that will actually use the space — particularly in a case like David Street Station.
"David Street was interesting because we did a community charrette," Murtha said. "That means we pulled in different people — stakeholders, community members [who we thought] would give us valuable input. We started there and just sort of asked for the community's input."
There were some ideas on the table such as incorporating a splash pad, ice rink and concert space into the design. The group invited to provide suggestions through the charrette process leaned "a little on the younger side because we knew the younger generation has to carry this forward."
"They have to be the ones that like this and use it and want it to succeed," Murtha said.
The charrette process looks a little different depending on the project, but always involves asking people to generate ideas to help the design team start sketching a plan.
"You go through this exercise really just generating ideas," Murtha explained. "What are we building? What does it need to be successful? How does it respond to the community? What is the community want? I think we hit a home run on this one. [David Street Station] has won a couple of design awards. It's been published in a world-circulating magazine."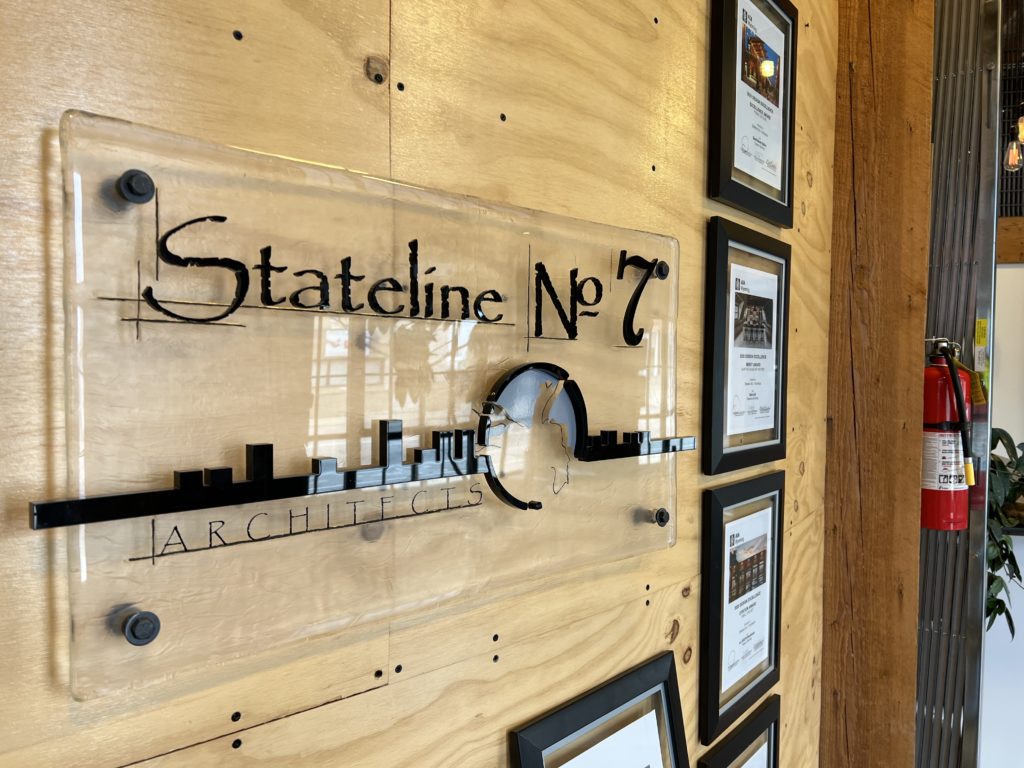 An unexpected crowd of kids arrives
Anyone who has visited both Rapid City's Main Street Square and David Street Station will likely notice some similarities. Stateline No. 7 had a member of the team that designed Main Street Square join the David Street Station design team to avoid repeating possible mistakes.
"They made a few mistakes that we learned from," Murtha said. "One of them was the ice rink. They did a portable ice rink. It takes a lot of man hours every fall to set it up and a couple weeks in the spring to tear back down. We're like, 'That sounds like a lot. You're asking volunteers to come in and do all that.' So here we said, 'Well, let's pay a little more and bury all that ice rink tubing in the concrete so we don't have to deal with that every winter.' The most we have to do here is put up the dashboards, which is fairly easy."
As Murtha was discussing this point at the corner of David and East Second Streets, a class of students walked up with the teacher (or perhaps coach) informing them: "This is David Street Station." The group, engaged in lively chatter, gathered to take pictures together, sipping on drinks, smiling and laughing. This kind of use of the station wasn't one architects were actively thinking about when designing the outdoor venue.
"Some things happen that we don't even anticipate," Murtha said. "People come here to take family pictures with the Christmas tree, couples come here to propose, high school pictures. None of us were even thinking about that. We were thinking more of the event-driven stuff: the farmer's markets, the concerts, the ice rink. We weren't thinking about just that casual class that comes in here to take a picture, apparently, and just hang out."
Industrial themes and subtle elements of design
One of the design elements that stands out at David Street Station is the rustic steel on the building and pillars throughout.
"That's Corten metal," Murtha said. "I have a little bit on my building [T Square], but [David Street Station] is one of the first big overall uses where I've used it everywhere across the façade. I think a lot of people gravitate toward that."
"It's just a metal product that the way they mix it and produce it creates a rust. You think rust is not normally good, but in this case it's developed in a way where the rust makes a coating that actually protects the metal long-term. It's a durable, maintenance-free material that lasts basically forever in a climate like this where we don't have a lot of humidity."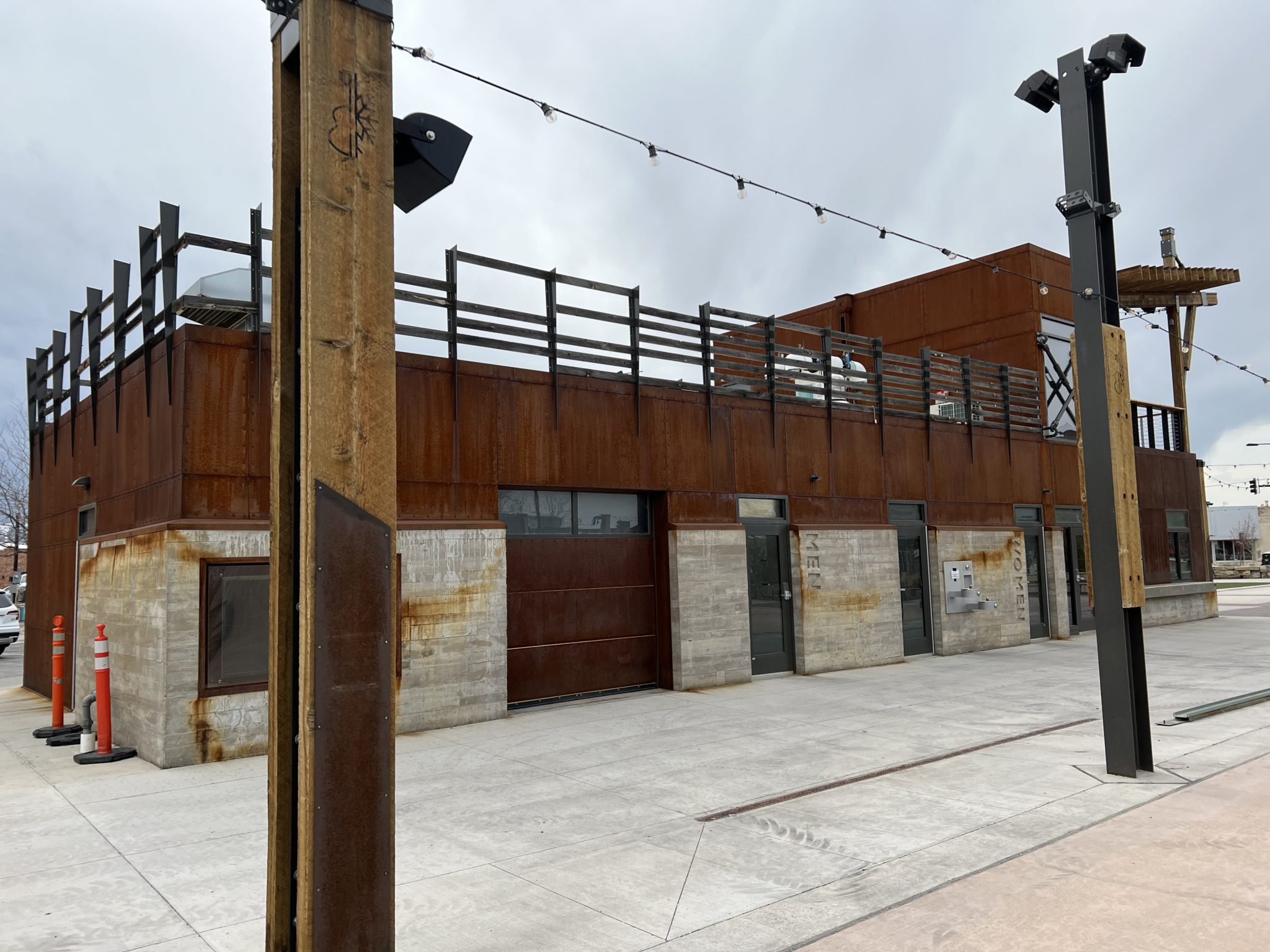 While people may see the materials, they might not think about what those materials are and where they come from.
"We're more industrial than we are anything else," Murtha said of Casper's economy and history. "These I-beams in here and exposed steel are very purposeful. People can relate to it, especially in Wyoming. There's a lot of little subtle things about the design that the average Joe probably would never get, and that's fine. They feel comfortable here."
The hand-warming fire at David Street Station is an example of salvaging an old material and giving it a new life.
"A lot of people don't realize that's just a cone crusher, a very industrial element that we salvaged," Murtha said. "I don't know that people even think about it. They just look at it and they go, 'That's really cool-looking. I'll warm my hands here, and what a unique shape. I feel like this belongs here.' But they don't even stop to think, 'Hey, that's a really industrial piece right there."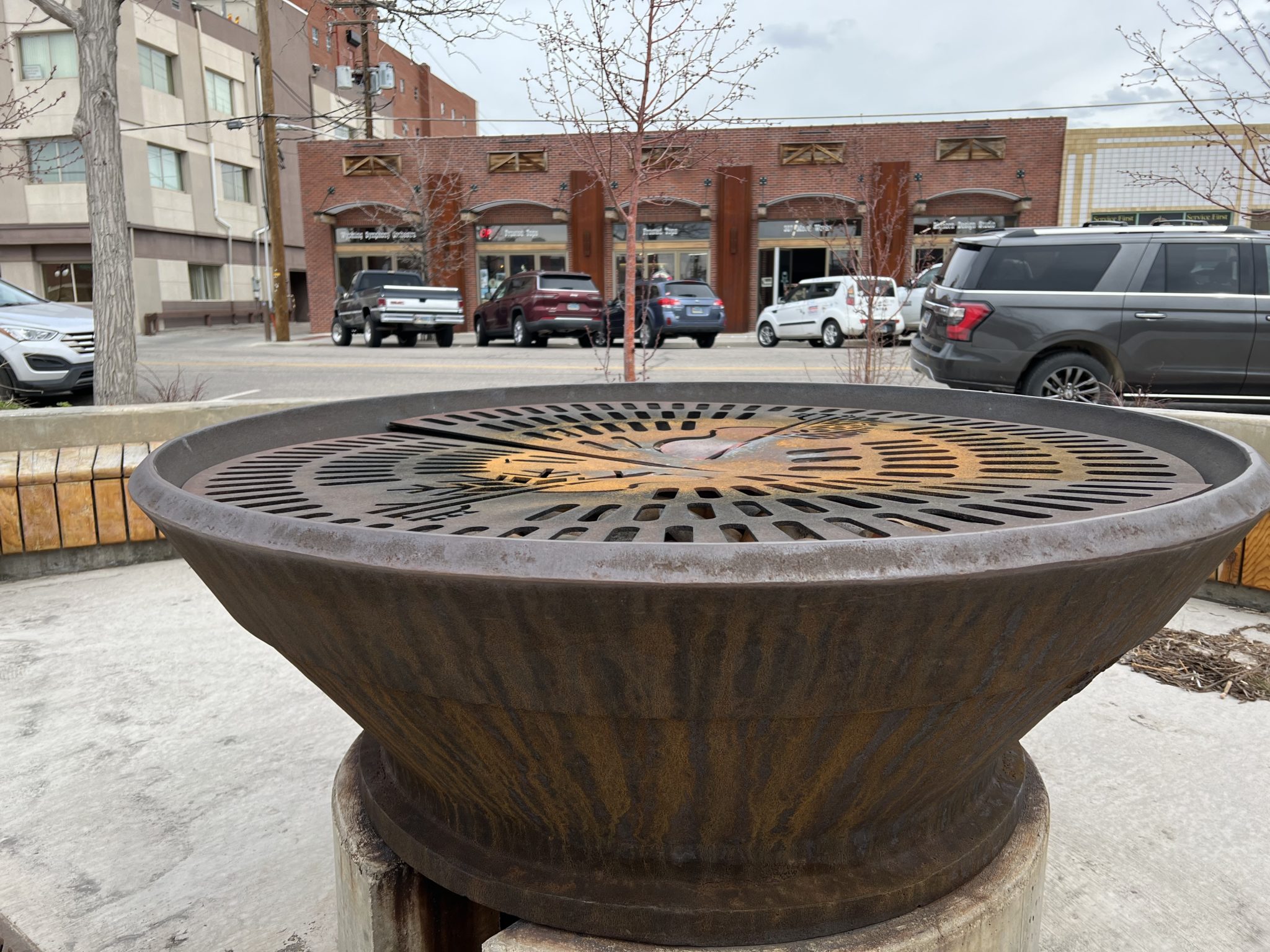 Resonance in repetition; first floors are for retail stores
Across the street from David Street Station sits another redeveloped property that Stateline No. 7 designed. The building houses Frosted Tops, 307 Metal Works, Bighorn Design Studio and the Wyoming Symphony Orchestra, and features some of the rusted steel and weathered wood visible at the station.
"That had been sitting empty for three years, formerly an office building, and I was like, 'Why are we doing offices on the ground floor of a busy street where you really want window shopping?" Murtha said. "You've got all this foot traffic from David Street Station and people are walking back and forth from events. This needs to be retail."
"I pitched that to the owner who's sitting there wondering what to do with his building and this is what we came up with."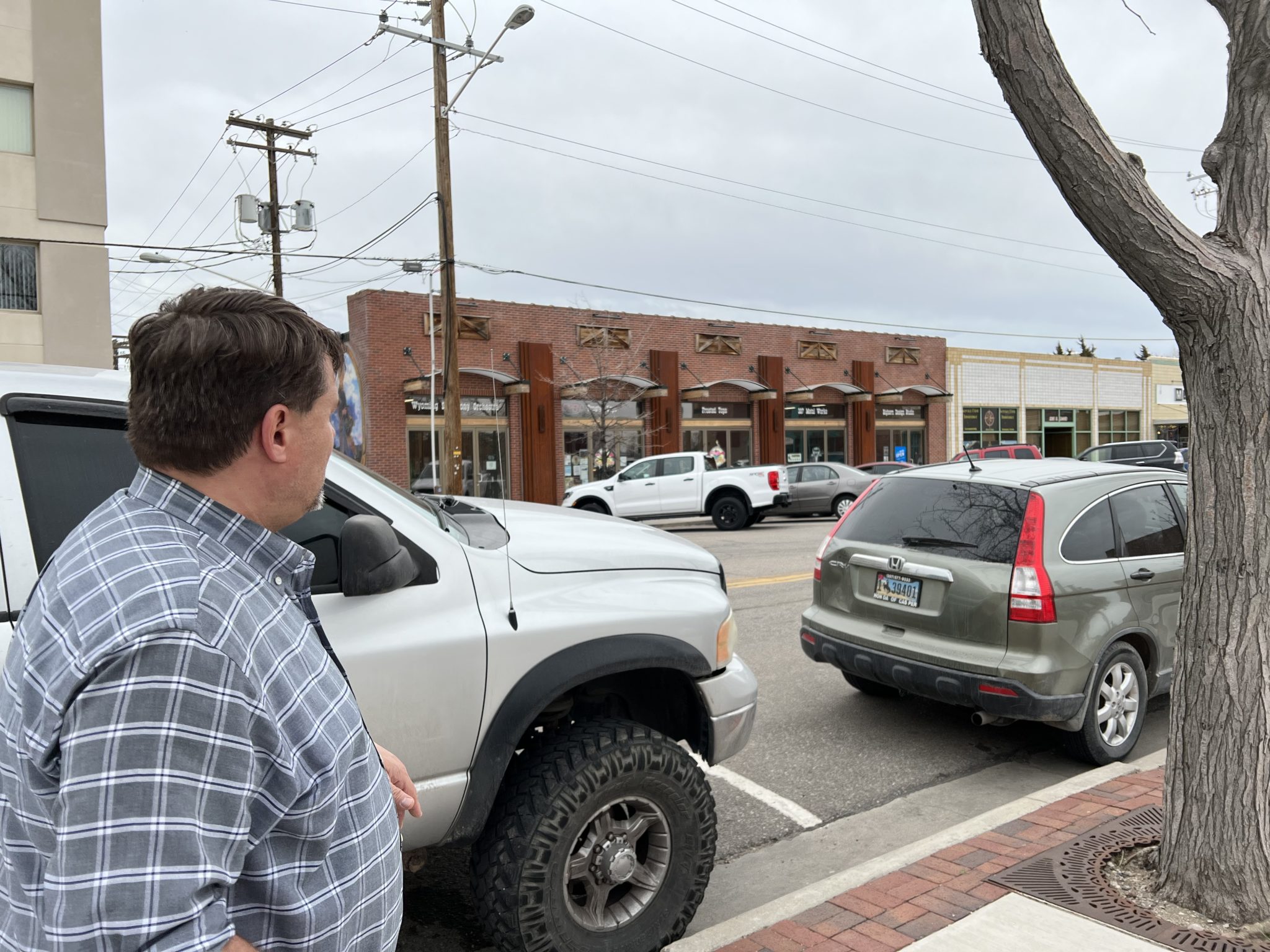 Peter Wold, the building's owner, had some reservations about spending a lot of money on redeveloping the building, according to Murtha.
"He was a little nervous, like, 'Am I going to spend a lot of money and then it's going to still sit empty?'" Murtha said, noting that the building has been full since the redevelopment was completed.
One of the subtler design elements at the retail space was a decision to place the weathered wood rectangles above the awnings to prevent that space from becoming cluttered with inconsistent signage.
"We wanted it a little bit decorative and to force the tenants to put their signage down low and in the window, where it's easy for people to come and go and take those vinyl letters off and on and in a controlled way," Murtha said. "You can notice they're all the same font. The owner just loved that."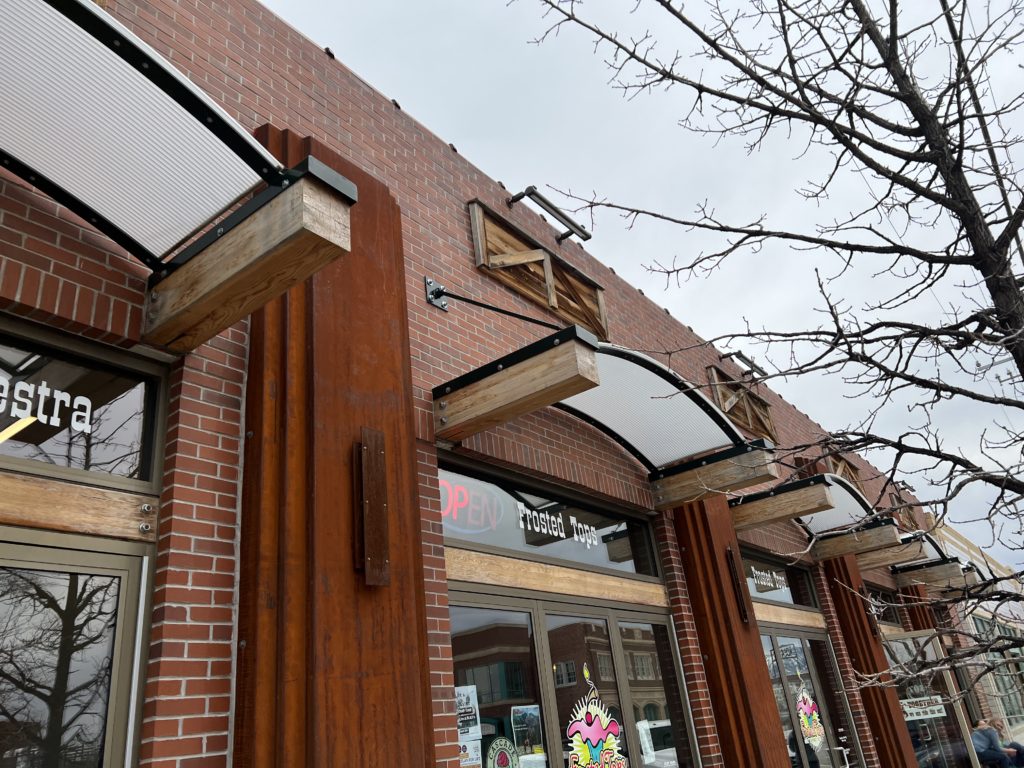 New life for an old fire station and municipal garage
Continuing up David Street toward Casper Mountain, Murtha talked about the terra cotta at the fire station and old municipal garage. He began studying the old buildings in the late 1990s. After he moved away for a short time, another architect took on the main remodel of the fire station "and got offices in here, which is a pretty cool use."
"Later, when Plains Furniture sold their building to the city, nobody really knew the municipal garage [was here]," Murtha said.
The terra cotta on the municipal garage had been damaged when a metal structure was installed to extend the building out, and the brick had been painted over. With Stateline's involvement, the historic character of the structure was restored.
"It was quite the thing to get this one back to looking normal again and tied in with the original building," Murtha said, adding that the redevelopment team also worked with the city to change zoning to bring the municipal garage and fire station back under unified ownership.
Redeveloping an old building doesn't necessarily mean restoring every element of the past. The carriage-style doors that were previously at the municipal garage are an example.
"This became parking for that building with the new owner," Murtha said. We needed that door to have a real use and so we didn't want to just plug it off. So we came up with this idea of putting some historic photos so people walking
by have something visually to look at."
Research goes into such decisions and Stateline dug into the state's archives and visited Casper College's Western History Center to select photographs to place in the panels.
The Nola: Ghost signs emerge at an old Chevrolet dealership
Historic photographs are also playing a role at ongoing redevelopment of the former Nolan Chevrolet dealership. After knocking off the façade added when the building was owned by Plains Furniture, the historic shape of the parapet is being restored.
"They had knocked that top part off," Murtha said, pointing to the top of the façade at the area of the building housing Black Tooth Brewing, where the restoration is already finished. "We were able to take the historical photos and reconstruct the top of that so it's put back exactly like it was."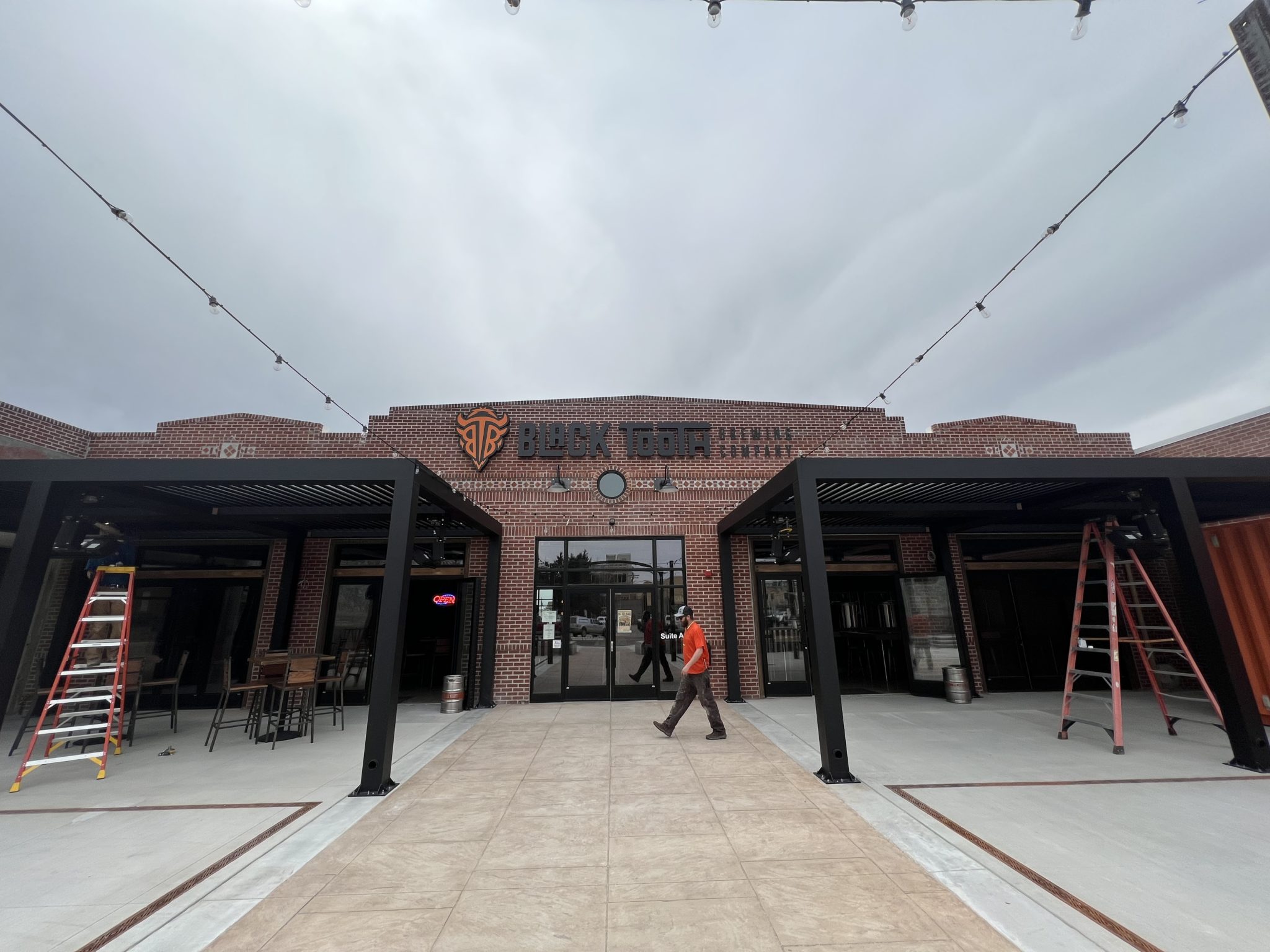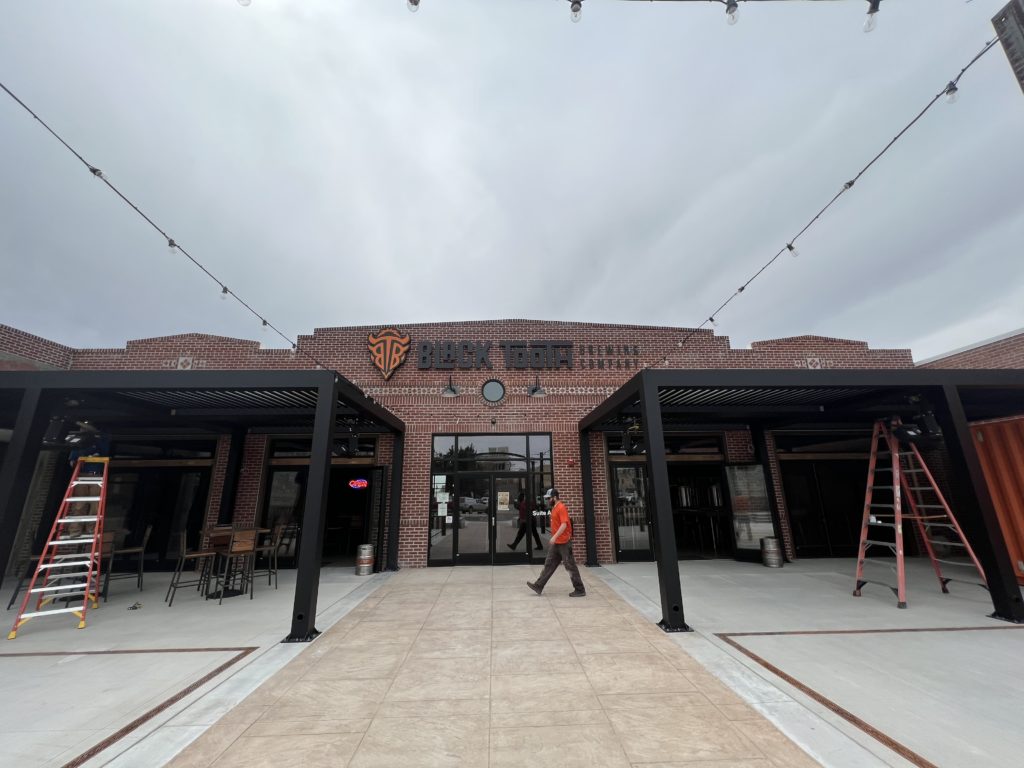 The Nolan project has also had its unexpected moments.
"We got a big surprise over here," Murtha said, pointing to a north-facing wall. "This was all painted over and we didn't know about these historic ghost signs. When we did the paint removal, all of a sudden, those came out and we were like, 'What do we do?'"
The emergence of the ghost signs has already led to some unique moments with classic cars seen parking underneath earlier this spring. Space for cars and food trucks to pull up in front of the brewery are among ways the design draws upon the historic character of the place.
"It used to be a car sales lot when it was the Nolan Chevrolet dealership," Murtha said. "We wanted a plaza, and you will see food trucks parked up in here and it'll get events happening on the little stage this summer. It'll be a pretty lively place and it'll go hand in hand with David Street Station."
Downtown living: Town homes at The Nolan
"This area is where we're going to start with the town homes," Murtha said, stopping at the corner of David Street and Midwest Avenue. "There'll be three town homes here facing David Street. They'll be three stories with a rooftop patio. We're gonna try to introduce downtown living on a bigger scale."
The project is beginning with the three town homes, but there are plans to expand that up to ten.
"We're going to start with the first three, see how they sell and make sure the concept is right," Murtha said, noting that there is a private charrette process that goes into designs for the residential units. "We think they are going to be pretty cool. First coin will be a little high but [these town homes can] start getting people down here, living here, getting some more excitement happening."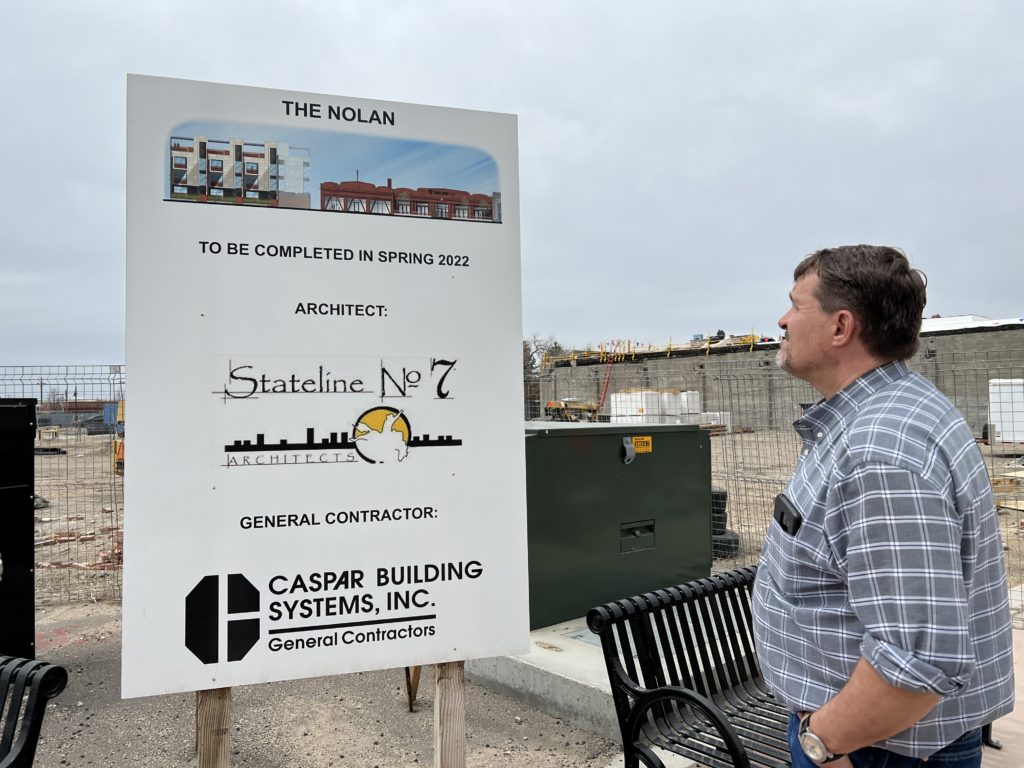 Potential hidden in plain sight
Moving along Midwest Avenue toward the state office building, Murtha said he thinks about places yet to be redeveloped that are brimming with potential, particularly in the Old Yellowstone District.
"Oh, I salivate," he said, adding that when he was younger he would often wonder why no one else saw potential in some of the district's buildings, such as one next to ART 321. "Do you not see that building and see the potential?"
Enhancing the character of an old building doesn't have to be a huge overhaul, according to Murtha.
"What I see is the character that's already there," he said. "Like, wow, you don't have to hide any of this. You don't have to cover it up to make it cool. The cool stuff is already there."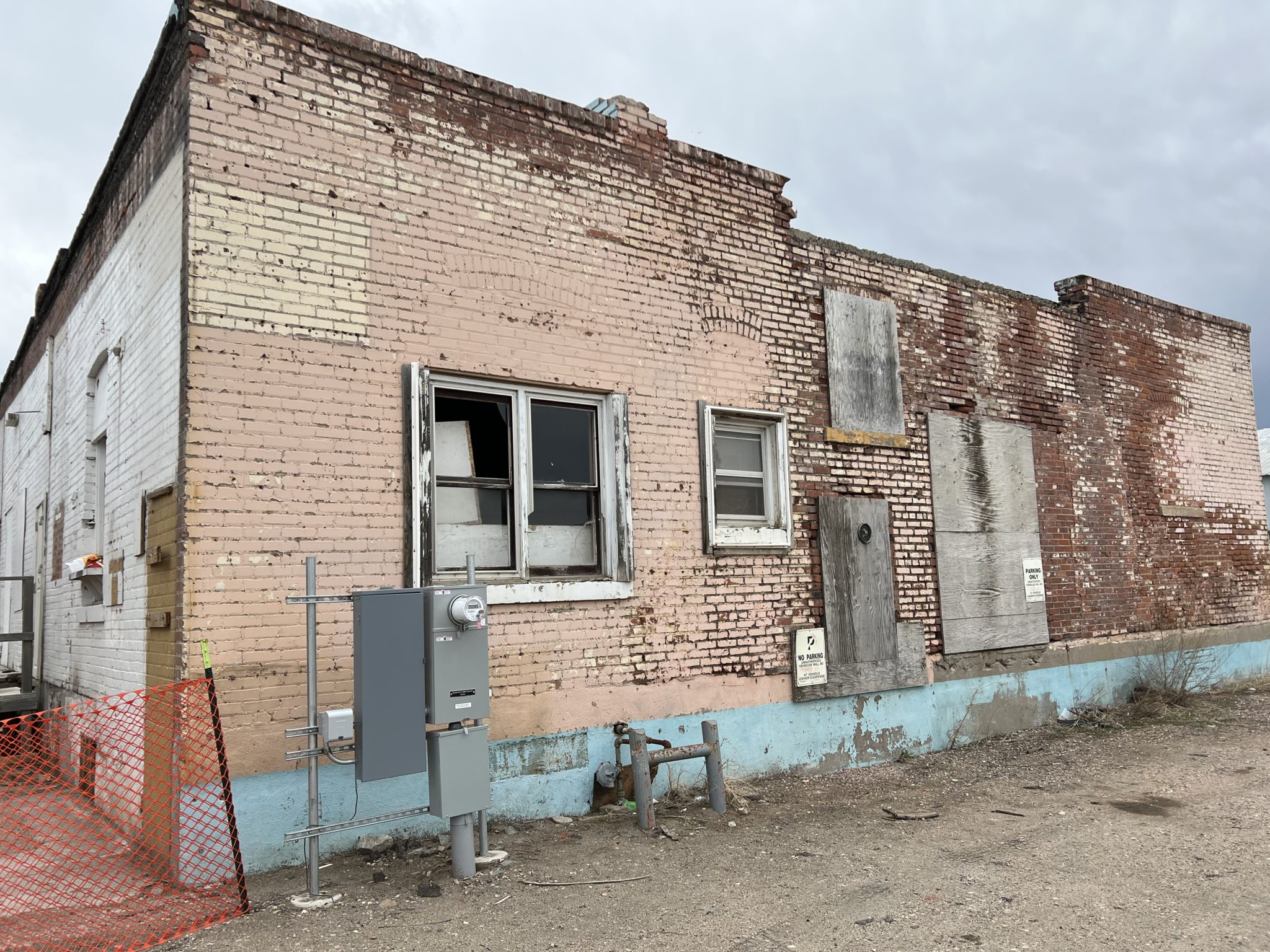 As redevelopments happen in an area, Murtha said there is a tendency for more projects to follow. He said that there are some property owners who don't want to invest in redeveloping a building because it is surrounded by other buildings in rough shape. However, taking some risks might be worth it if it sparks a wave of redevelopment.
"Somebody has got to be the first one in," Murtha said.
Connecting the new state building to historic rail yard
The design for the new state office building was initially intended for the site of the nearby Goodstein lot, but that changed due to the state's concerns about parking accessibility for its employees, according to Murtha.
"They were actually able to negotiate and get just over 11 acres here for the site," Murtha said. "It was just enough. We took the same building we had designed [for the Goodstein lot], rotated it and plunked it down."
Collins Drive used to be called Railroad Street, according to a sign along the Casper Rail Trail outside of the new state building. While rails, a roundhouse and turn table where train cars were switched out for maintenance, and much of the other physical evidence of the railroad are gone, Murtha showed how historic references are woven into the design of the new state building.
Some of the references to the railyard are direct, such as literal tracks and berms constructed on the grounds outdoors. Inside the building, Murtha showed some interior references that may be less obvious.
"This is an abstraction of the rail yard and the lines coming out of it and those little rectangular lights are meant to be the box cars," he said, pointing up inside of the lobby of the new building. "And this, of course, the roundhouse with the turntable. It's just an abstraction, but we were able to get regional fabricators to do all of this. Pepper Tank fabricated all the steel bent. An IT company out of Utah makes those yellow panels up there. Modern Electric was our electrician."
"So rather than buying some expensive chandelier that's made in New York or somewhere else, we had all local people doing this and then it means something to the site and to the people of Wyoming."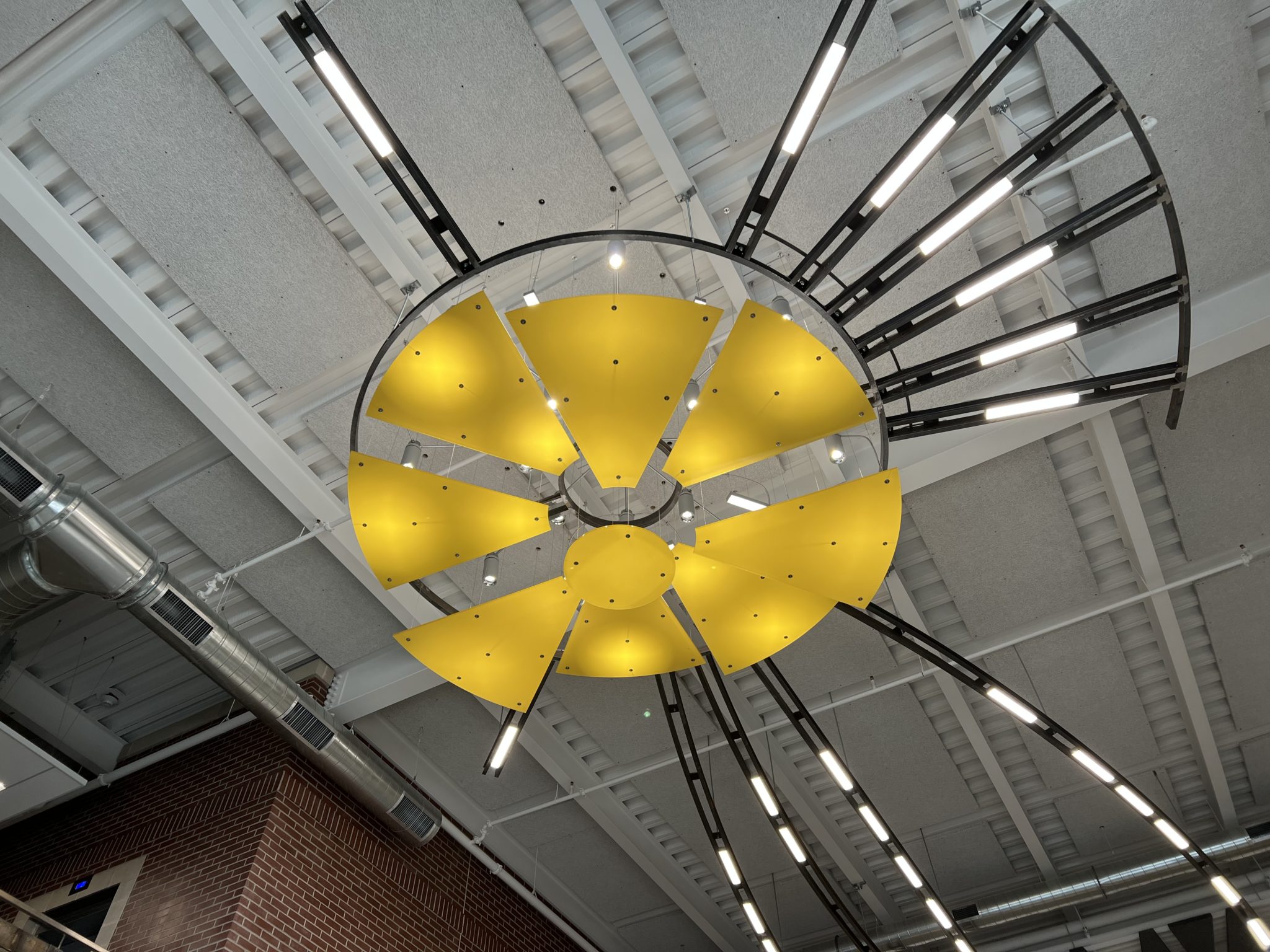 Casper has always been cool — but could still use a downtown grocery store
The large windows looking out of the new state office building offer views of Casper Mountain, the Old Yellowstone District and the downtown, a design feature intended to make the building a comfortable place for people to work. Walking out of the building and back toward his office along the Casper Rail Trail, Murtha paused before the signs along the trail explaining some history of the rail yard.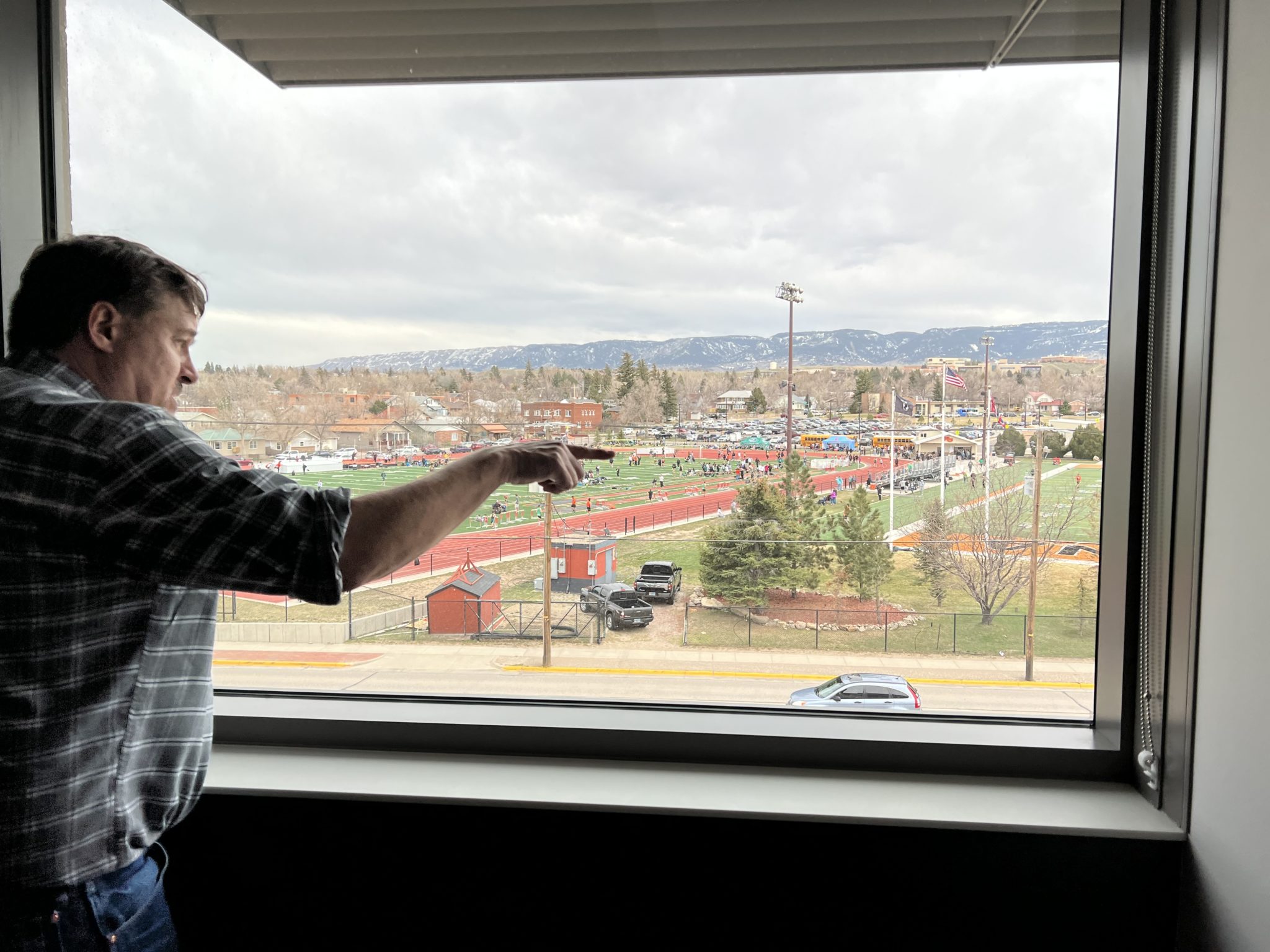 "Casper was cool," he said, looking at a photograph of Mr. C.A. Forbes standing on a platform at the old train depot in 1938. "It has always been cool."
"We tore down a lot of stuff for different reasons. Hopefully we can stop doing that with some of the buildings that we have left and start preserving them and putting them back to other uses again."
Walking back along the Casper Rail Trail, Murtha said he has hopes that the 350+ people working at the new state building along with the development of new town homes might attract at least one more development to the downtown or OYD — a grocery store.
He's got enough on his plate that he's not necessarily asking a developer to call him up to design that store. As busy as he is, he's more than willing to share the knowledge he has gained: "At the point I am in my career and life, if I see something obvious, I like to point it out and share my wealth if I can."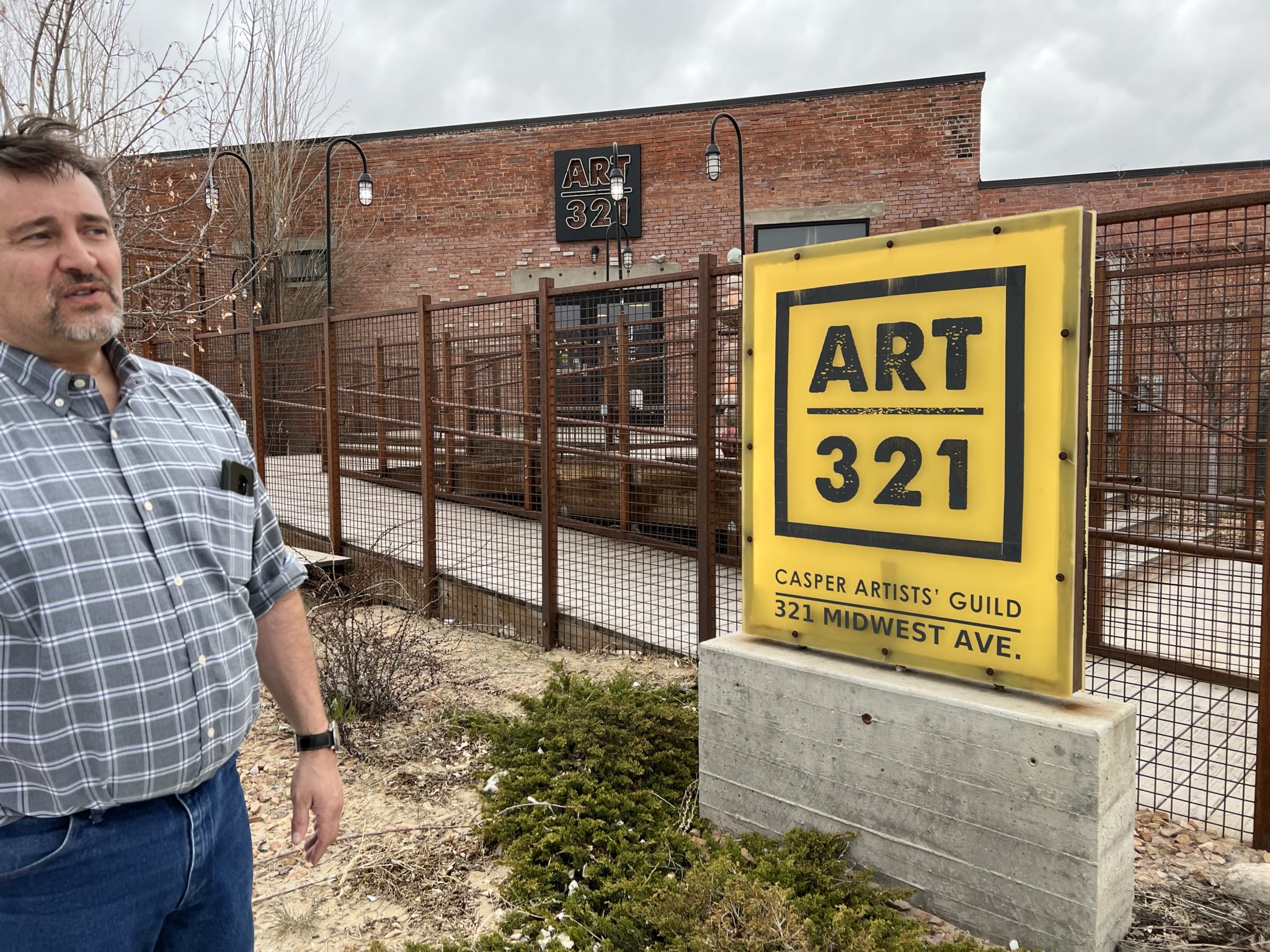 ---
Walking with Casper
Do you have a favorite walk around Casper? Is there an area of town where you have a memory or story you want to share? Is there somewhere in the community that doesn't get the attention you think it deserves? We want to hear from you.
Walking with Casper is a new series that invites people to recommend a place to walk with a reporter and share some conversation. We think there are many possibilities for the kinds of stories that might emerge — but only if people in the community are willing to share. If you are interested, please reach out to Brendan LaChance (brendan@oilcity.news) and suggest a place to walk.