CASPER, Wyo. — The YMCA of Natrona County is prepped for the grand opening of its new swimming pool facility Saturday, May 7, with free open swimming times, a super-sprint triathlon, and a swim clinic hosted by an Olympic gold medalist among the festivities.
The new facility includes a family pool, a six-lane lap pool, a hot tub, a community studio, a birthday party room, a drop-in childcare center, and more.
Activities the YMCA is planning for the grand opening include a swim clinic by Olympic Gold Medalist Ryan Berube, who helped the U.S. Men's Swimming Team win the 4×200-meter freestyle relay at the 1996 Olympic Games.
The grand opening will also feature Super Sprint TrYathlon competitions, two hours of free open swimming, a free fitness class, food trucks outside, and more. The schedule for the May 7 celebration is as follows:
7:30–10:30 a.m.: Super Sprint TrYathlon

The cost is $40 for individuals and $80 for teams; pre-registration is required.

10–11 a.m.: Swim clinic by Olympic Gold Medalist Ryan Berube

The clinic is free and open to ages 14 and up.
Space is limited and pre-registration is required.

Noon: Ribbon Cutting Ceremony
1–1:30 p.m.: Free Aqua Group Fitness Class
1:30–3:30 p.m.: Free open swim.

An inflatable obstacle course and free throw contest will take place in the Field House during the open swim.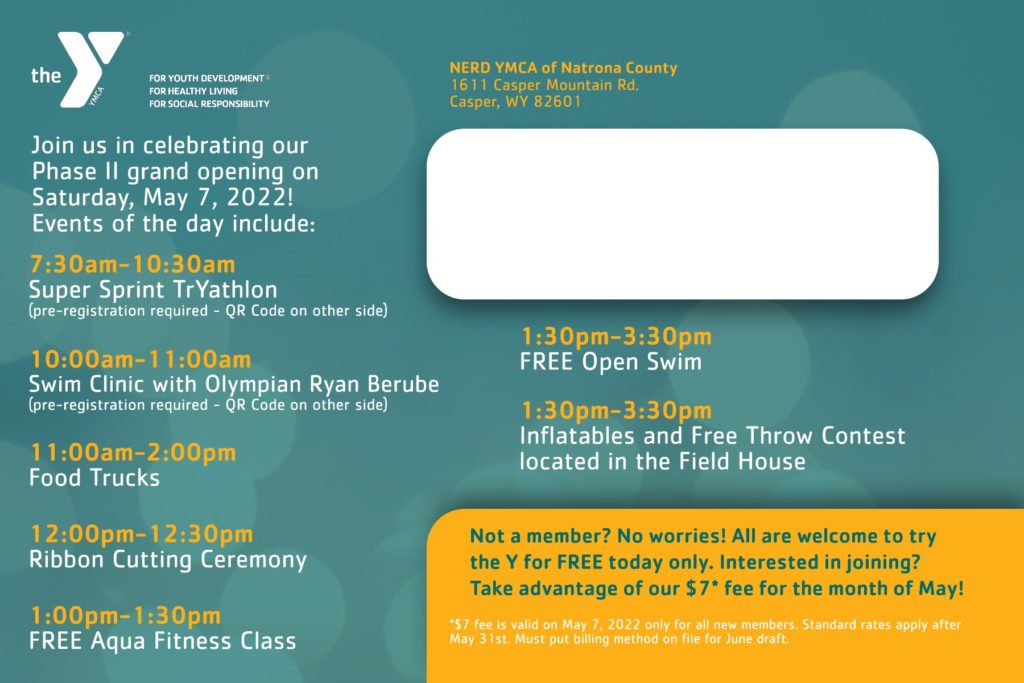 The YMCA will kick off four weeks of kids' swimming lessons at the facility during the week of May 16. Information and registration is available online, with nonmember registration opening Friday, April 29.