CASPER, Wyo. — Around 200 pro-choice supporters marched to the Healing Park at Conwell on Saturday as part of demonstrations nationwide protesting a Supreme Court draft decision that seems poised to overturn federal abortion protections.
Speakers at the rally included a state legislator, a Unitarian minister, and Circle of Hope's director Julie Burkhart. The reproductive health clinic she's opening in Casper this summer would become the only one in the state to offer abortions among its services.
But if Roe v. Wade is overturned, Wyoming's "trigger law" passed earlier this year would ban abortion in most cases almost immediately.
"It's an understatement to say that this is a tragedy," Burkhart said of the Supreme Court's opinion. "We seem poised to let the tyranny of the minority rule us."
A recent CNN poll showed 66% of Americans want Roe v. Wade left intact; broader support varies based on the circumstances and timing of an abortion.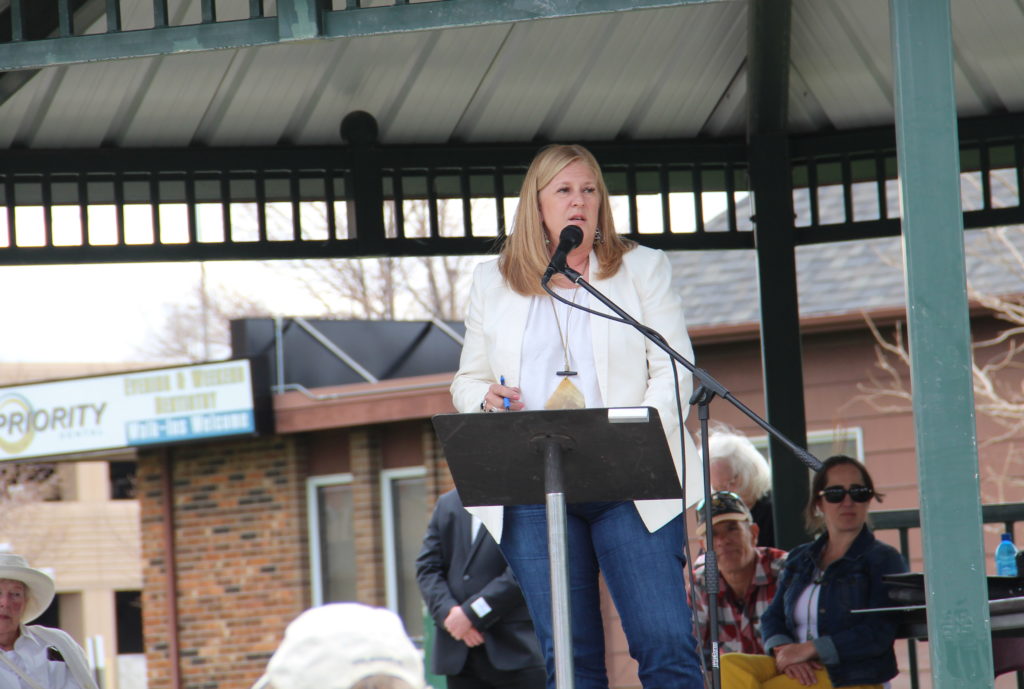 House District 58 Rep. Pat Sweeney, one of only two Natrona County legislators to vote against the "trigger bill," added that exceptions in cases of rape or incest were only added late in the process by Fremont County Sen. Cale Case. Sweeney said these exemptions will likely be under attack in the future, and past abortion bills that did not pass are likely to be revived.
The Wyoming GOP's party platform is explicit in stating that life begins from the moment of conception.
"How do you make a change in that? Precinct level," Sweeney said, encouraging supporters to run during the current open filing period.
"I can assure you there are some Republicans in the legislature that are listening to you, and we have similar beliefs, but the difference is, they are Republicans."
Pro-Choice Wyoming board member and retired teacher Holly Thompson emphasized the American College of Obstetricians and Gynecologists' position that abortion is an essential component of women's health care, and that restrictions can lead to negative health outcomes and compromise the patient–physician relationship.
She also facilitated a demonstration to familiarize ralliers with their legislators and how they voted.
"It's easy to say, 'I'll never have an abortion,'" Riata Little Walker told the crowd, "until you find yourself in an impossible situation, and then you're glad that you have choices."
Walker told the story of how she ended a wanted pregnancy a little over two years ago. As complications arose, she and her husband went to Denver for tests. "We were presented with options, and none of them was bringing our daughter home," she said.
Walker said she and other women who face terminating a pregnancy for medical reasons are reluctant to share their stories because of the stigma abortion carries, and that it is ultimately a profound personal decision.
"No one is more invested in that child's well being than them," Walker said of women in that situation. "And they are the only ones who can make those medical decisions."
From running clinics in other Midwestern states, Burkhart said her position is reinforced by the stories of former clients.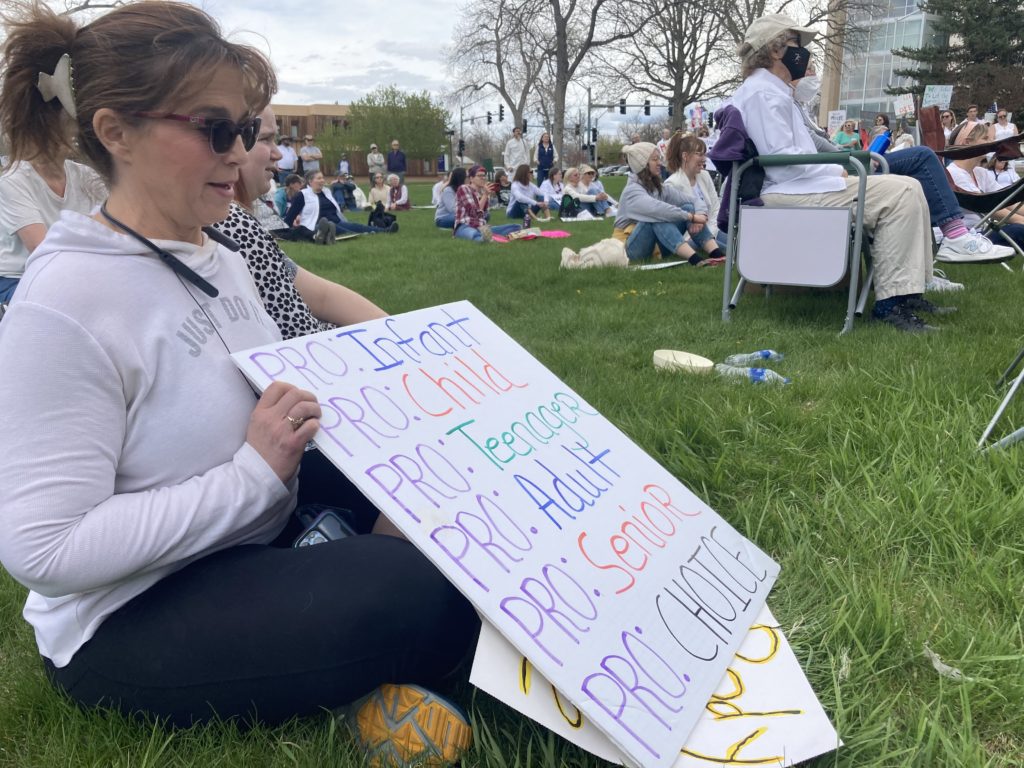 "It's the young girl who was molested by a family member and was able to return to the fifth grade," Burkhart said. "It's the person who's already a mom who's working or going to school, and just wants to be a better parent for her kids. It's the person who found out that their baby is not compatible with life, and they have to make that difficult decision."
Unitarian Universalist minister Rev. Leslie Kee called on supporters to "articulate a religious response to those who broadcast their religion as an exclusive claim to the moral high ground."
She said both men and women are imbued with an intuition of God's will that is expressed through their conscience, and that choosing to have an abortion can ultimately be an act of extreme faith. Kee spent several years as a minister at a women's correctional facility in Wyoming, and spoke with dozens of women about their reasons and experiences with abortion.
Natrona County GOP members Mike Pyatt and Dan Saborsky appeared in opposition. Saborsky drew some jeers by approaching Sweeney with a phone during Sweeney's talk, but the group mainly lingered at the edges.
"My view is life begins at conception," Saborsky told Oil City. "But as a society, we need to be in 100% agreement that once that heart is beating, that child is alive."
With the fate of Roe v. Wade and the Circle of Hope clinic plans in doubt, Burkhart said she's been angry and shocked, but also motivated.
"If we do lose Roe, rest assured, this is not the end," Burkhart said. "This is only a temporary moment in time. This is why it's more important than ever to establish the clinic right here in Casper."
Burkhart also spoke of her former boss, Dr. George Tiller, who was killed by an anti-abortion activist in 2009.
"[He] used to say, 'Abortion is not a medical, abortion is not a cerebral matter, abortion is a matter of the heart. For until you understand the heart of a woman … nothing about abortion makes sense at all.'"