CASPER, Wyo. — Walking is meditation, the pace not always slow, for artist Linda Ryan and her rescued dog Bella.
When we met up for a weekend walk at Ryan's favorite section of the riverside trail, she set out at surprising speed. Meanwhile, our conversation meandered slowly around what she loves about the asphalt path near the water treatment plant in Mills.
"This is my favorite little walk in Casper because I feel like it brings a little bit of wild," Ryan said, Bella trotting along at her side. "It's got trees and it's a little protected from the wind and I feel like I'm walking in a bit of a forest. You hear geese. Sometimes I see deer and ducks, of course, and those turkeys like the ones downtown."
Walking with Ryan: A North Platte River passageway in the shadows of cottonwood trees
The Casper area offers over 11 miles of riverside trail, but Ryan and Bella stick to the textures, shadows and seclusion of the half-mile stretch near the Mills Bridge Public Access Area.
"I walk her come rain or shine," Ryan told me.
She adopted Bella, her fifth rescued dog, four years ago, and the pair have walked together along the path at least 100 times, often completing a few laps back and forth. Here's a map of the route: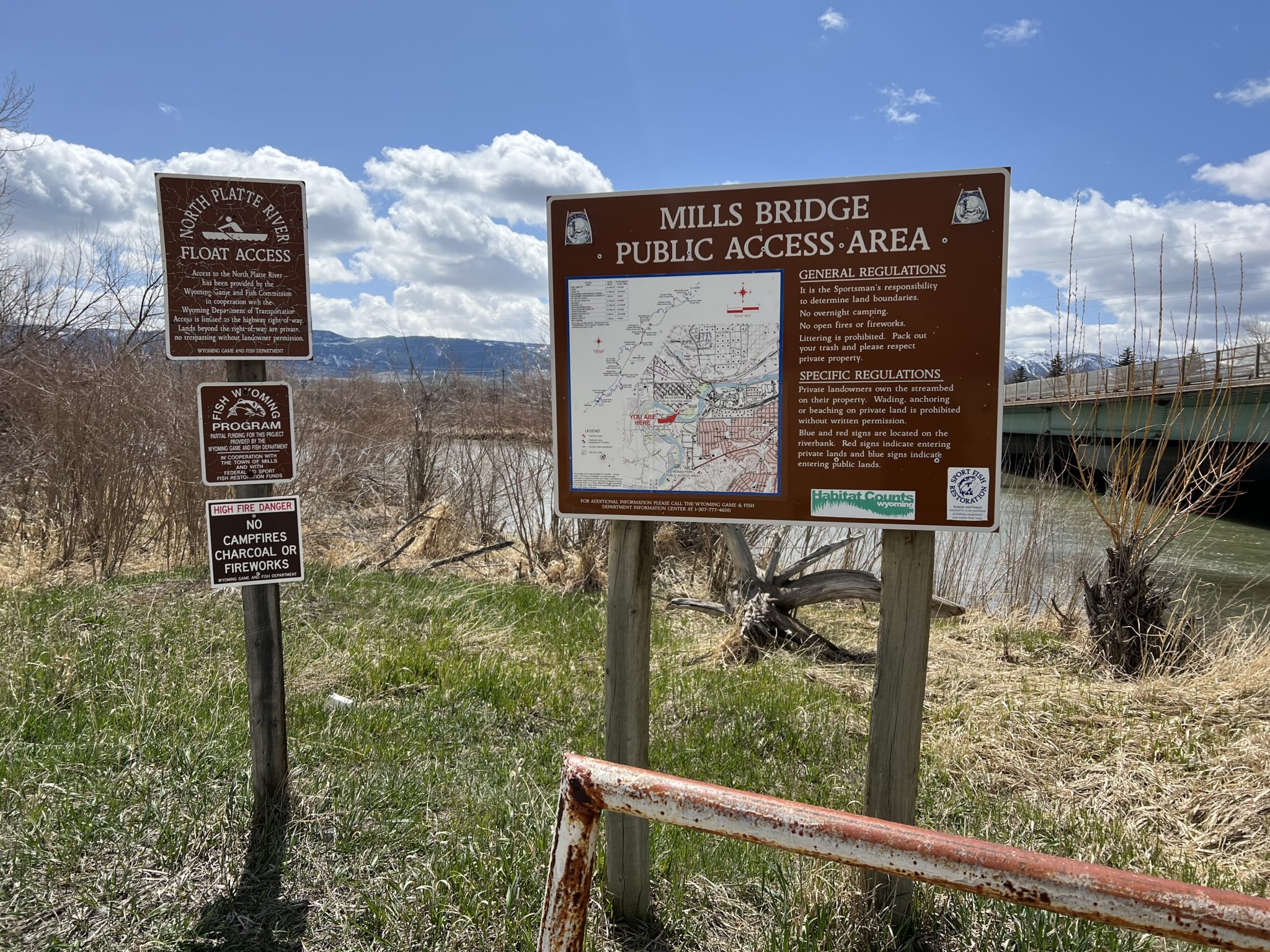 Hundreds of sticks evolve into art
Ryan has an exhibit, titled "Evolving Exploration," on display at the Nicolaysen Art Museum until July 2. Many of the art pieces feature passageways too small for a full-sized human to actually walk through, but traversing the path by the river gives a sense of what that might be like.
Her "Outside/Inside" installation in particular is like a compressed version of Ryan's favorite river walk — materials for the artwork itself were gathered along the trail.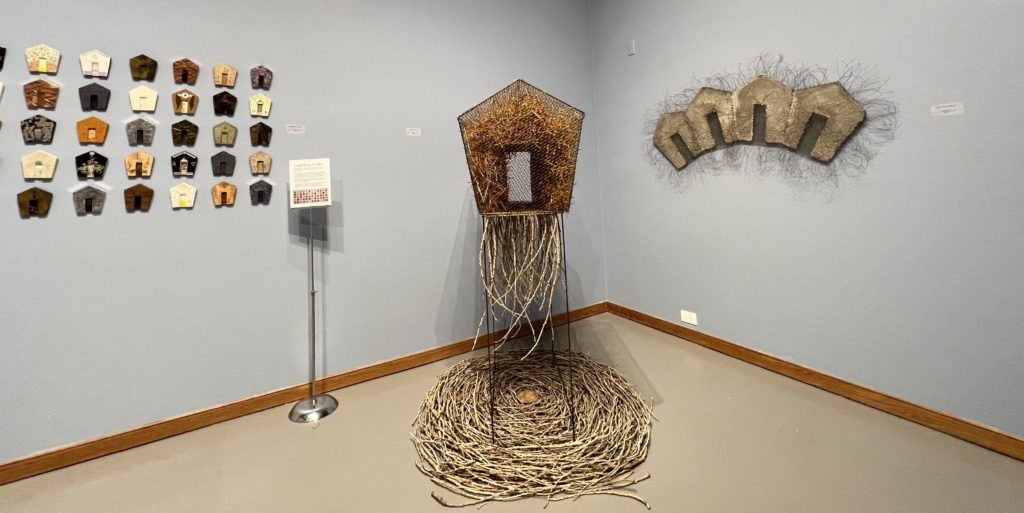 "In the fall, some of these trees just dump a lot of those little sticks," Ryan told me, pointing to cottonwood twigs and branches fallen along the path. "I started collecting bundles of those and then I took them to my studio. … I would sort them according to length and bundle them up and I had big containers full."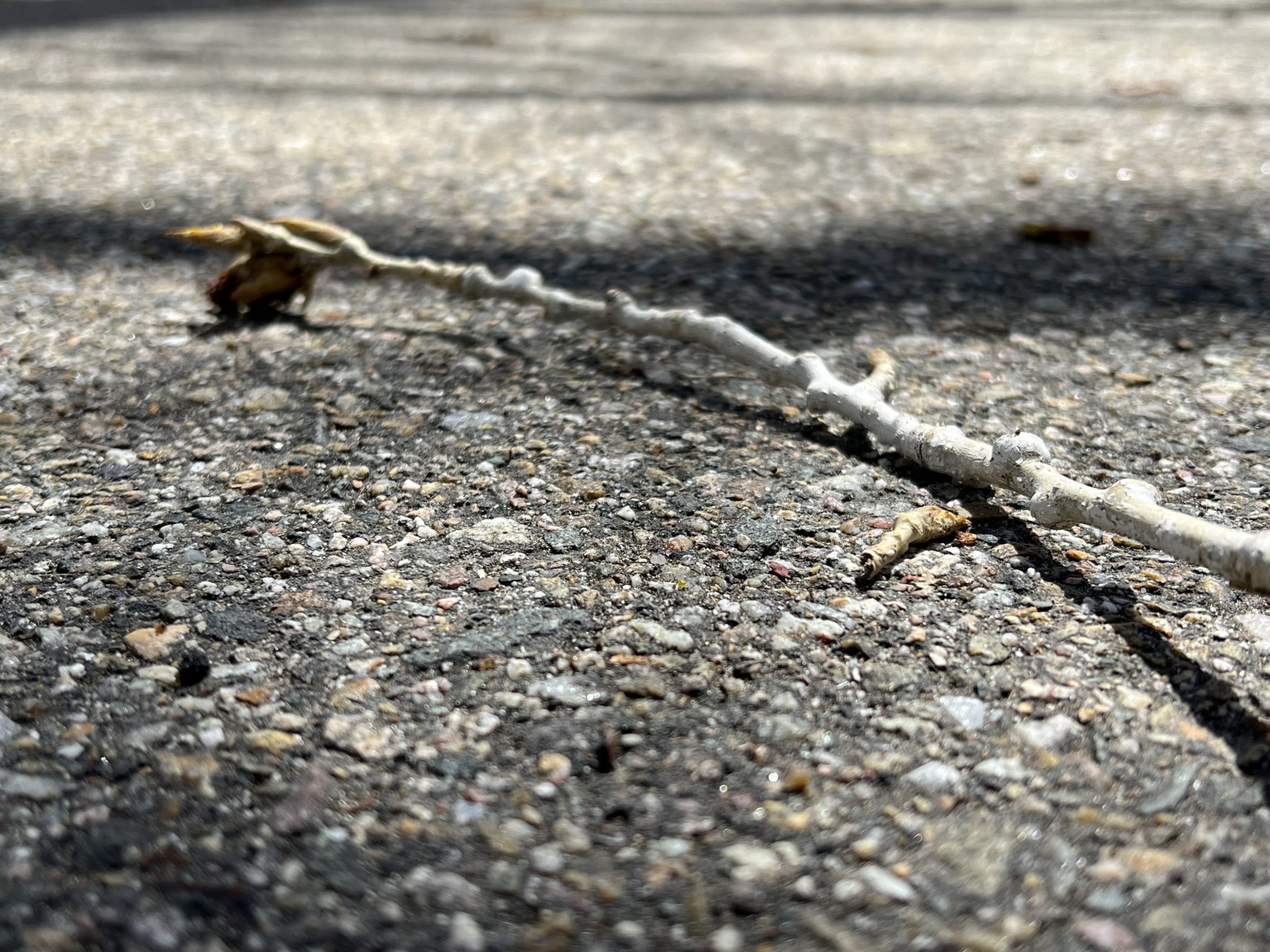 Those sticks became what resembles a carpet or a nest at the base of the "Outside/Inside" installation.
"All those hangy-downy sticks and then all of the sticks that make up that kind of rug are from this area," she said.
Texture, or why asphalt is better than concrete
"My work is all about surface and texture," Ryan said as we stepped through shadows along the trail.
In addition to gathering all the cottonwood sticks, Ryan told me she takes lots of photographs of textures, shadows and surfaces when walking with Bella. She stopped at one point to show me an example on her phone, pulling up a close-up photo of dense branches overhanging the trail.
The way the shadows fall and even a particular curve in the path appeal to Ryan's taste for texture and surface. When I asked what it is about texture that interests her, Ryan talked about how a surface can have a particular visual "feel," almost as if texture is a place where the eye and the hand blend together into a shared sense.
Another thing Ryan likes about the trail near the Mills water plant: It's made of asphalt.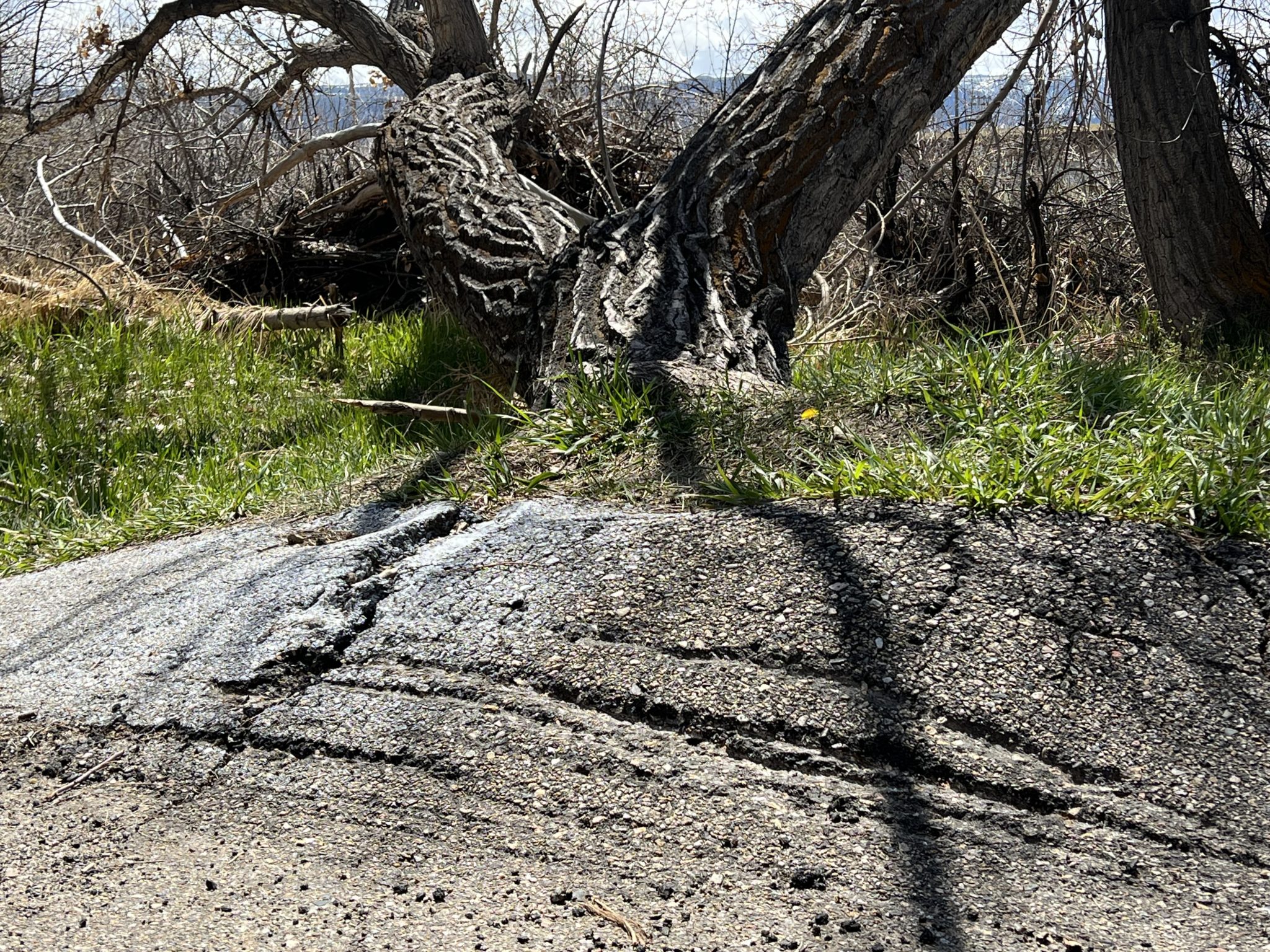 "You know how some of the trail is cement? I really dislike that," she said.
The abrasive quality of asphalt makes for better foot grip, particularly in winter, Ryan said before teaching me about some types of ice cleats.
"I'll walk this even when it's icy and snowy," she said. "I'll put on my Korkers. Do you know what Korkers are? A Korker is a higher-end Kahtoola. … The Korker is a much kinder thing because you can just step into it and dial it up and it's a form of cleat — extra traction, it goes over your shoe. You just step right into it, and I think a lot of the letter carriers wear Korkers."
The "B" word
Buddhism.
When Ryan is walking the riverside path, sometimes she listens to podcasts or audiobooks and sometimes she walks in silence. Sometimes she gathers cottonwood sticks or takes photos of textures and surfaces. Sometimes she brings a scraping stick to clean mud and dirt off of the asphalt trail.
"There's another thing that I'm just realizing," Ryan said as we approached the water treatment plant. "This is a form of walking meditation."
She sees her response to the materials and textures at the trail as a response to the phenomenal world, an important concept in Buddhism.
"I am a practicing Buddhist, and in the lineage that I'm aligned with, we do talk about the phenomenal world that we're directly experiencing," Ryan said.
Before starting back along the asphalt path, Ryan paused to admire the new baseball field and playground at the park near the water treatment plant.
"They're bringing it back to life is what they're doing," she said. "Really cool."
The pace of the walk slowed as we walked back into the shadows of the river passageway.
"It seems prettier now how you notice the path curving and so on," she said. "It's just actually being aware of here, now. Alive. Present. Also being aware of what changes over time — you know, seasonally. Like all of this is a field of dry, almost dead-looking, but it's gonna come alive pretty soon."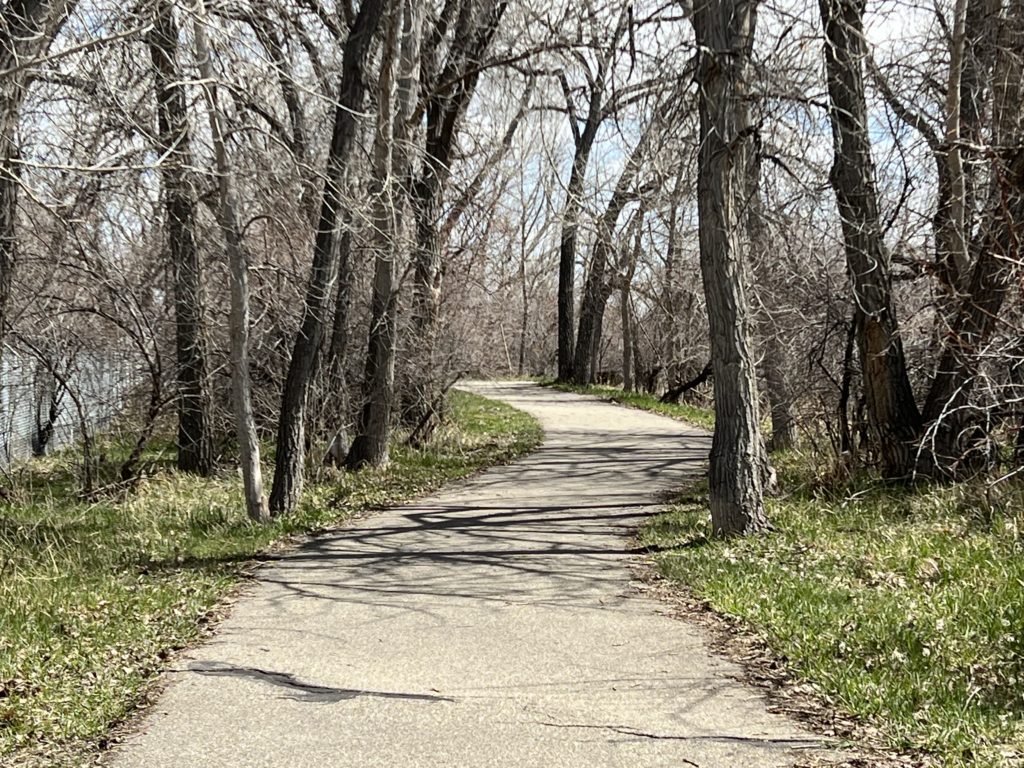 Ryan told me I didn't need to use the "B" word when putting this story together, but Buddhist themes are present both in her art and in the way she speaks. It is also at the heart of what she means by walking as meditation.
"In Buddhism, you don't have to be rich to offer something," Ryan said. "You can offer the beauty of this day to someone or dedicate the merit of this walk to whatever cause. Am I making sense?"
I told Ryan I thought I could understand what she was describing as a kind of heart practice, a description she said seemed fitting. Walking along the river path is a kind of informal walking meditation for her, though Ryan has also practiced a more structured form of walking meditation with some fellow practitioners in the area.
Sleeping outside and moving to Casper
Ryan spent some of her childhood growing up in Utah.
"All the kids in the neighborhood would pick a house to sleep outside under every night, so sleeping outside was a big deal for me," Ryan said as we turned around to begin another lap along the path. "When I first came to Casper, I came here with less than a hundred dollars in my pocket and it wasn't even mine."
"I was sleeping on the floor in a sleeping bag — well, not in a sleeping bag. Sleeping on futons on the floor for the first four years, I was here. That was before people had credit cards they just tapped into, so I lived very austerely. I would go up the mountain in the summertime. I had a VW bus with a sunroof and I'd go up there to sleep, and then I'd come back down. And if I wasn't on the mountain sleeping, then I would be sleeping in this porch area outside of my apartment where nobody could really see me."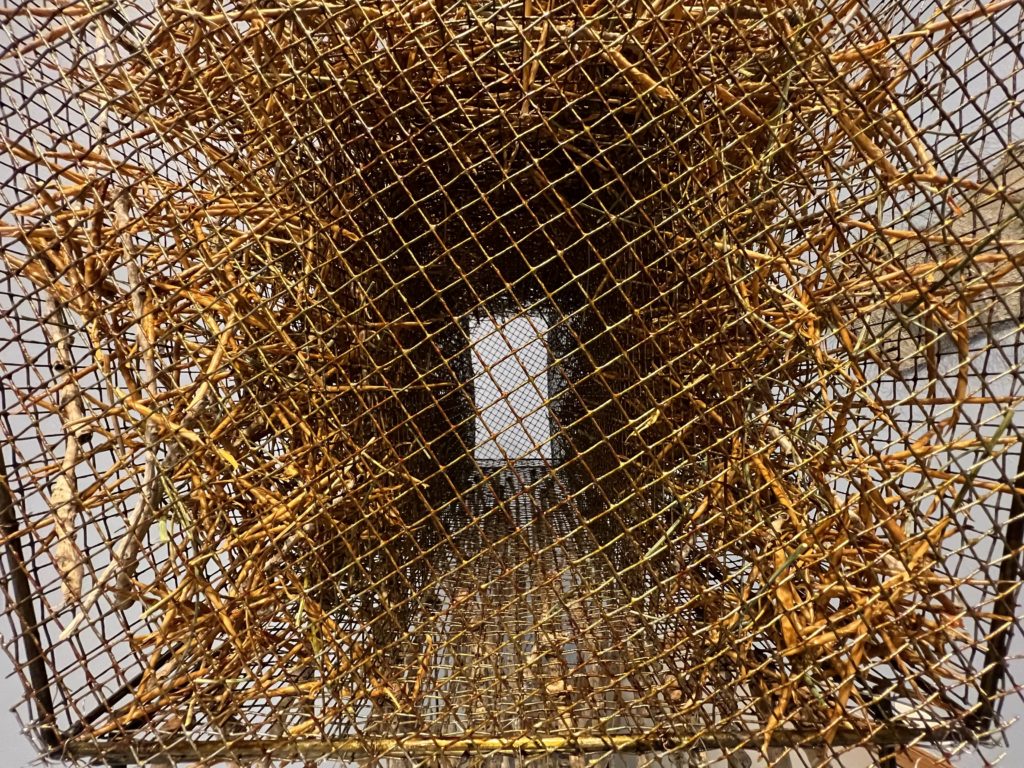 She liked sleeping outdoors so much that she would make it a goal to sleep outdoors until the first frost in the fall.
Ryan moved to Casper about 40 years ago to take a teaching job at Casper College. She'd spent time hitchhiking and exploring not only the United States but also Mexico and Canada before landing in Casper, and sees those experiences as valuable.
"I wish something people could have a better appreciation for is that you don't need lots of money," Ryan said. "I've always been very careful, but I never let a lack of money stop me from doing what I wanted to do."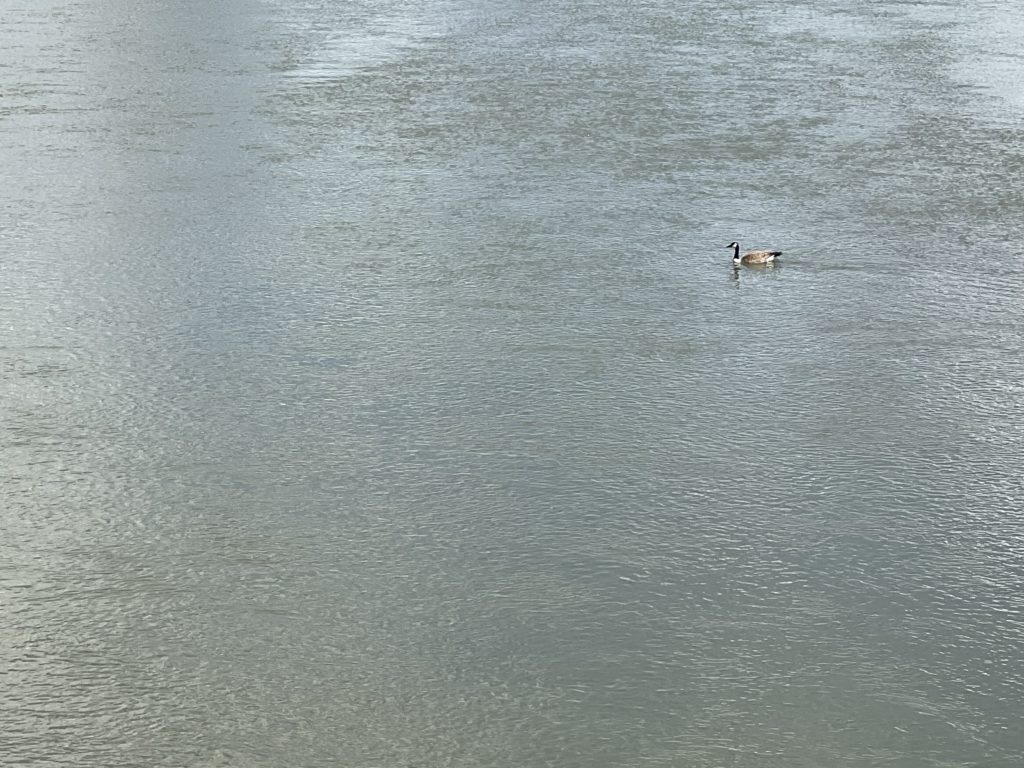 Students teach the teacher
"I don't have kids — chose not to have children — but, ironically, I parented so many young people through teaching," Ryan said.
She learned from working with students over the years.
"I'm 70 now and here's what I realized: It's the connections you make with other people — that's what you're here for," Ryan told me. "Kids teach you how to love and that we're here to basically help each other, empower each other."
Keep moving
Ryan is in an outdoor hiking group and loves the easy accessibility of Casper Mountain and other spots around the area, including the trails by the river.
"This is something so accessible that I can pop in the car and in about an hour or so with Bella do a quick one-mile track with her and feel like I got a hit of nature in my soul," she said of her favorite walk as we got closer to the end.
Ryan also sings with the Casper Civic Chorale and said that's an example of a good community opportunity available in town. However, she also feels the need to leave Casper sometimes and visit bigger cities, "to take in art and feed my cultural needs." Ryan thinks Casper could use a little more nightlife and thinks energy was picking up after the solar eclipse, though the pandemic put a squash on some of that.
During the walk, I told Ryan she could borrow a copy of a book by Chögyam Trungpa, a Tibetan Buddhist teacher, that I'd picked up at Wind City Books after I finish it. She said she was reading a book about embodied cognition and the importance of engaging not only the mind but also the body.
While walking can sometimes be meditation, it is always exercise.
"The older you get, the more important you realize movement is. Don't take it for granted," Ryan said, looking again at Bella. "She's my excuse to get out."
---
Walking with Casper
Do you have a favorite walk around Casper? Is there an area of town where you have a memory or story you want to share? Is there somewhere in the community that doesn't get the attention you think it deserves? We want to hear from you.
Walking with Casper is a new series that invites people to recommend a place to walk with a reporter and share some conversation. We think there are many possibilities for the kinds of stories that might emerge — but only if people in the community are willing to share. If you are interested, please reach out to Brendan LaChance (brendan@oilcity.news) and suggest a place to walk.