CASPER, Wyo. — Remote work is enabling people to relocate to more rural areas of the American West, and it didn't take long for one such family to begin exploring the remote beauty of Wyoming after making the move to Casper in November 2021.
Jeff and Rachel Stephan and their daughters have already hiked the Bridle Trail, heard the sound of ice cracking at Alcova Reservoir and have even discovered places like the Rimrock Historic and Recreational Area in the short time they've been in Casper. The couple has been enjoying some of the sights, sounds and smells of their new home.
"It has a very crisp smell when you wake up in the morning and the sunsets and the sunrises, holy goodness," Rachel said when I asked if there are any particular sensory experiences that stand out since moving to Casper. "When we go outside, you can see the red sky in the morning. Oh my gosh. I don't know that I've ever seen so blatant, just in your face, really pretty sunrises and sunsets. Yeah, it's beautiful."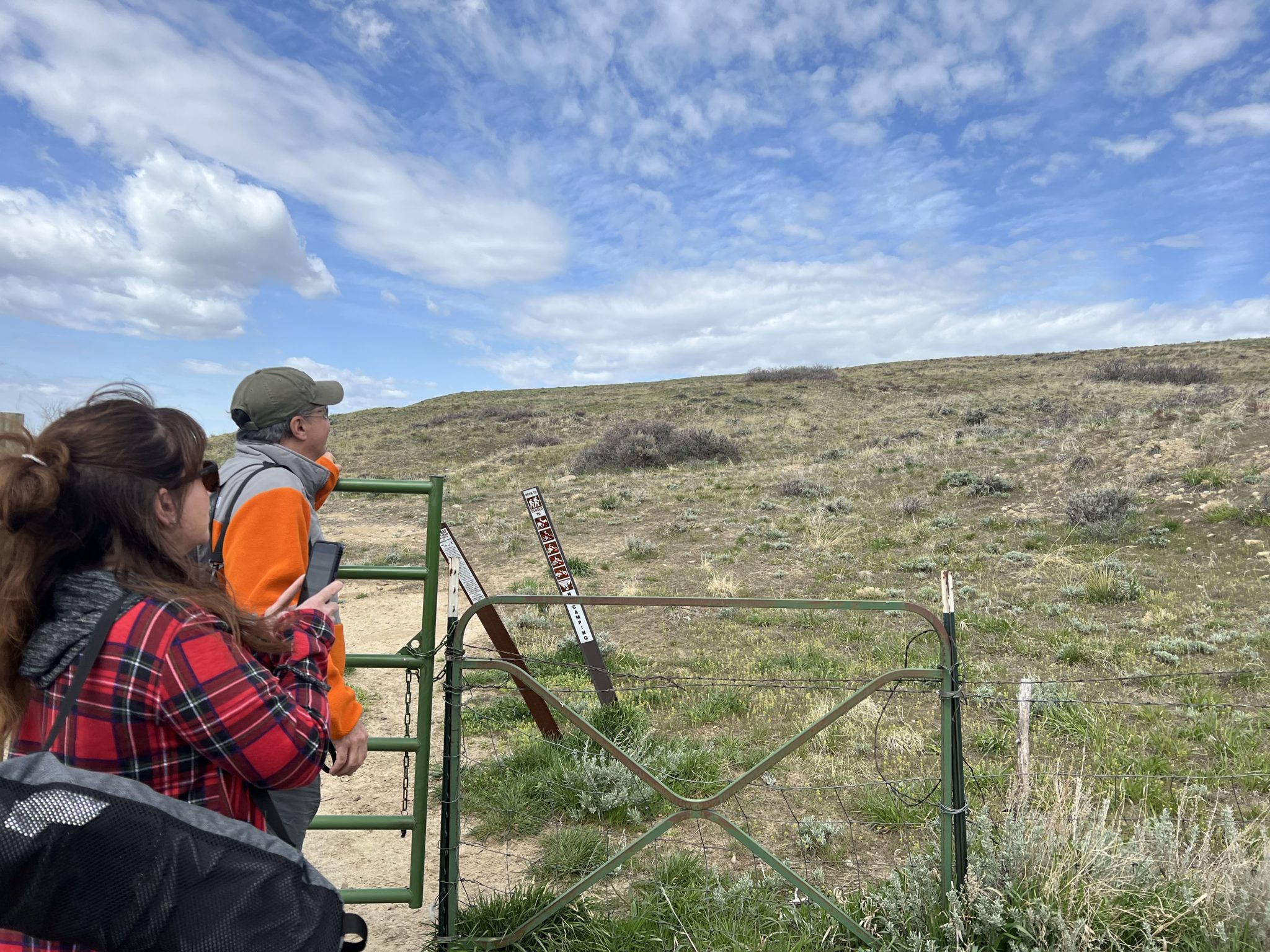 Walking with the Stephans: Rimrock, home to the site of the 1865 Battle of Red Buttes
When I initially reached out to the Stephans, it was to do a story on remote work and how that may be bringing new people to the area. After Tristen Schroeder, realtor with the Michael Houck Real Estate Team, helped me get in touch with the family, I thought it might be interesting to walk together and get a sense for what Casper is like through the eyes of new residents, and I asked them to recommend a place to explore.
I expected they might recommend we go to some of the more popular destinations in the area like the Bridle Trail or perhaps trails somewhere along the North Platte River. I was surprised when they instead recommended the Rimrock Historic and Recreational Area, an approximately 650-acre parcel that the Bureau of Land Management acquired in 2018, a place even some long-time residents don't know much about. Jeff discovered the area by visiting the BLM's Casper Region Office.
"This was, I guess, a private ranch; they sold most of the ranch off," Jeff said when we met up to explore the area. "They're currently in talks with different Indian tribes of what to do with this area because it's a battleground and you also have the Oregon Trail tracks right back over there, too."
The Rimrock area is home to the site of the 1865 Battle of Red Buttes. Jeff and the family's two dogs have been frequenting the spot due to its proximity to the Stephans' new home in Paradise Valley. Rimrock can be accessed by driving to the end of Trevett Lane in west Casper. Here's a map of the area from the BLM: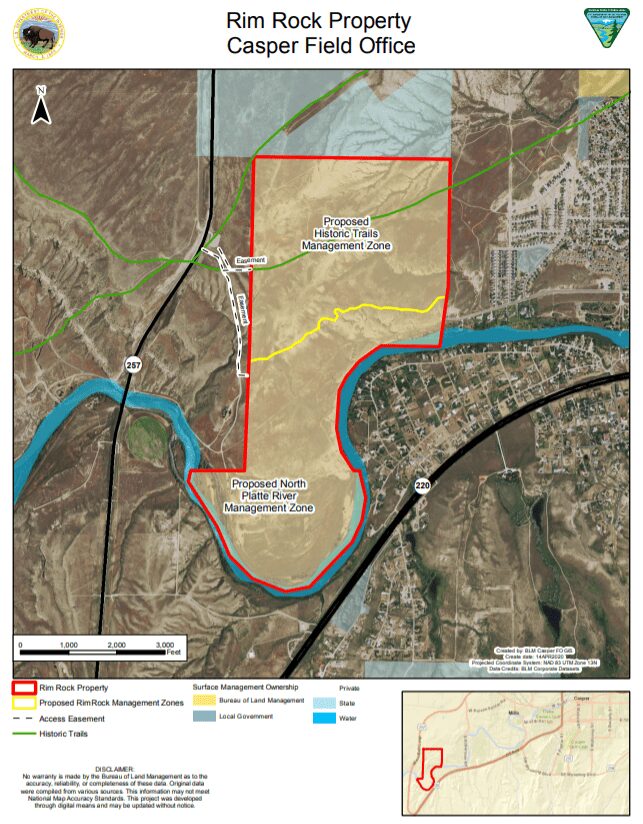 How three generations decided to make Casper their new home
The Stephan family lived in Santa Clarita, California for 21 years before moving to Casper last fall. The move was precipitated by the COVID-19 pandemic and some of the restrictions and changes it brought to their community that Jeff and Rachel didn't like.
"It really felt like you didn't have a lot of wiggle room to make choices on your own and you could not go anywhere without somebody judging what your thoughts were or your opinions about things," Rachel said as we sat on a hill at the Rimrock area overlooking Casper. "It just became a really very volatile place to live."
Rachel works as an administrator for a large charter school based in California, and as much of her work is done virtually, she approached her employer for permission to move somewhere else and work remotely. The family's move happened quickly after that.
"I think I asked in September and we put our house on the market October 14," Rachel said. "It sold on the 16th that week. We called Tristen literally the same week we put our house on the market. She helped us find a house here that we really love."
The Stephans looked at other places like Kansas, Tennessee and Montana before deciding Wyoming was the right fit for their family. Rachel's father is one reason the family considered Casper.
"My dad actually is a pilot; he used to fly out of Casper and Wyoming," she said. "He loves this area and as soon as he heard we were moving, they actually retired and moved here too. They moved in January."
Small, but not too small
Rachel grew up in Limon, Colorado, a town with fewer than 2,000 people, and met Jeff in Greeley when the two were in college. He'd grown up in Arlington, Virginia and cultivated a love for things like rock climbing and the outdoors when he came out west. When the couple decided it was time to move away from Santa Clarita, they knew they wanted good outdoor opportunities and a smaller community — but not too small.
"There are certainly benefits to growing up in a place where every single person knows who you are, but there's also a nice part of being in a place where people know you but they don't necessarily know everything," Rachel said.
Casper also offers more amenities and, importantly, more opportunities for their daughters than a smaller town can offer.
"Our daughter is very big into soccer," Jeff said. "That was, I think, our hardest part of the move really because Southern California girls' soccer is top and she's a top player."
Soccer's significance in their lives almost led the family to move to Kansas, but outdoor opportunities tipped the scales in Casper's favor. With their daughter joining a traveling team in Casper, tournaments are giving them the chance to explore more communities around the region.
"I try to find historical hotels," Rachel said. "Like this weekend, we're staying at the Mill Inn in Sheridan, which the history behind that seems really cool."
In Casper, the couple has been enjoying some of the local breweries, particularly Oil City Beer Co., where they got to hear the Casper Professional Firefighters Pipes and Drums perform on St. Patrick's Day.
"There's just a lot of really cool traditions that we're finding here," Rachel said. "Tristen actually invited us to run a 5K when we first got here. It was right in November when Thanksgiving was starting, so we ran that 5K Reindeer Race. It's just fun to get to know the traditions of the town and get to know the area. That's what we've been focusing on so far in the last six months."
The sound of ice cracking and a good name for a band
The Stephans are looking forward to doing some camping when the weather is right for it, and the family got a little preview when a friend of one of their daughters invited them out to a campfire at Alcova. There, the family encountered something they'd never experienced before.
"I'll give you a sound that was new to me when we went out to Alcova," Jeff said. "I've never heard ice before, never heard ice just like melting but pushing into each other. There was nobody else around and just hearing that in that vast space was so cool."
Another new set of sounds that stand out to Rachel is the little creaks from the wind blowing at their new home. Jeff, who knew something about Wyoming's strong winds from time spent climbing here during college, was a little worried about that before the move.
"The worst wind that I've ever experienced in my life was on Vedauwoo, where I had to leave gear," he said. "We had to bail, you know, I left like a $60 cam on top of this thing."
Jeff, who is a music educator hoping to find work at a school around Casper, discovered a name for a band after his experience at Vedauwoo.
"I went back to the dorms and looked up a word for wind madness, which is 'anemomania', and I thought that would be the coolest name for a band," he said. "But the wind that I've experienced so far since we've been out here since November was not as bad as what I felt out there."
Raising kids to be aware of their environment
Growing up in Virginia meant Jeff lived in a place where spring, summer, fall and winter had meaningful differences, something that wasn't quite the case in sunny California.
"It is just hot and then hotter," he said. "It lines up a human being to not really pay attention to their environment. There's no change when you have no seasons. With the winter out here, this has a reward. You pay attention to your environment. With that comes a healthy mindset that I really want my girls to have."
The Stephans' kids have gotten involved in archery, and Jeff is excited about opportunities like this that 4-H can offer his daughters. Education was another important factor when considering a move, both for their daughters and for the couple since both work in the field.
"We looked at different places that we felt like might be a little more supportive of teachers in general," Jeff said. "I'm very impressed with the schools out here. The facilities are off the hook out here. They're amazing — I would say better than most schools I saw when we were in California."
Welcoming neighbors
Jeff and Rachel have found people in Casper to be friendly and welcoming. Their new neighborhood in Paradise Valley actually feels like a neighborhood — something they didn't always feel was the case in Santa Clarita.
"It feels different here," Rachel said. "Like we went outside on Easter and our neighbors down the street were having a crawfish boil and they were like, 'Hey come on over.'"
There are more kids in the neighborhood and Jeff is glad that that offers some opportunity for their daughters to get outside and play.
"One of the things I loved about Arlington when I grew up was you'd go out in the morning and you didn't have to come back home until sunset," he said. "You'd play in the creek and all this other stuff. That was not happening in California at all. I mean not even close."
"When I was teaching in the classroom in California I would talk with kids how it was really important to get off of your Xboxes and get outside because there's so much to learn from risk and reward. You're not risking anything when you're on a computer game, right?"
Learning the history of the area
The Stephan family has visited the National Historic Trails Interpretive Center and plans to go back.
"That's an amazing, amazing place," Jeff said. "I mean, we spent hours there and I barely got through less than a fourth because I want to read everything."
The family senses an appreciation for history among the long-time residents they've met.
"People here really respect the history of the place," Jeff said. "Everybody knows it and not just on a surface layer. They know some deep facts about where they live. That's not the case where we came from at all. Certainly, there are people that do know their history out in California, but not in general."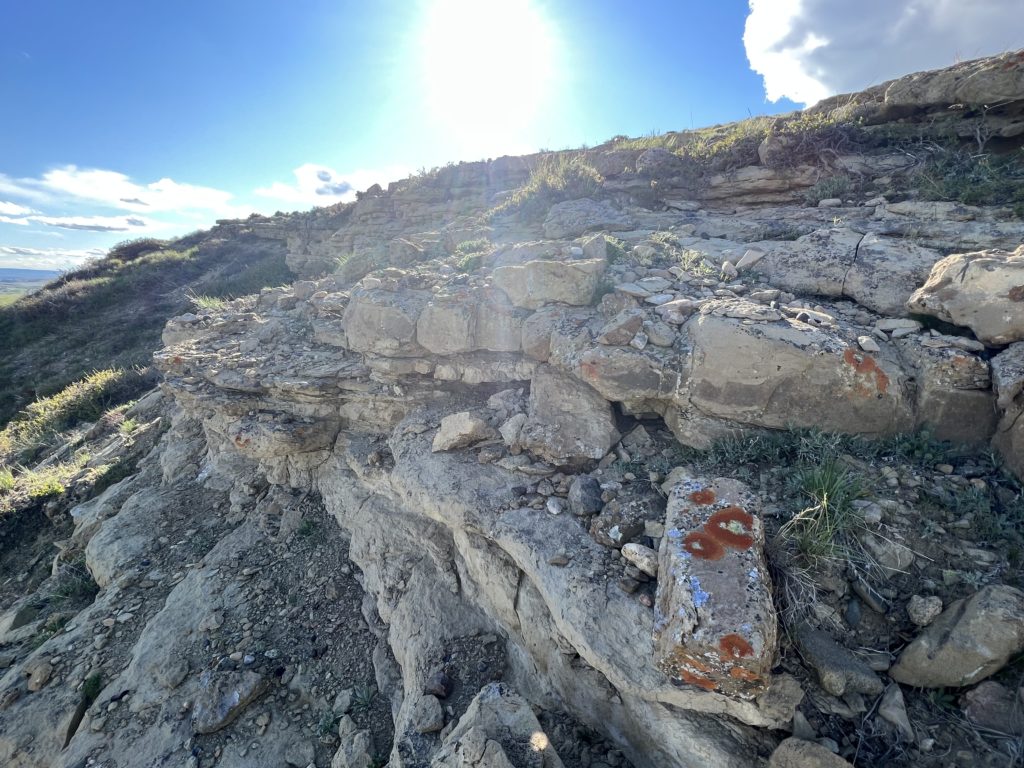 Seeing Casper Mountain on the horizon means you're almost home
Casper Mountain was one of the reasons the Stephan family moved to Casper and the sight of it on the horizon is already coming to signify a feeling of home.
"I didn't know what to expect when they were saying there's a mountain here, but just being able to see it and know that's kind of like our mountain," Rachel said. "You wake up in the morning and you see it and it's just, it's there and you can tell when the weather is coming in."
"And I love seeing the deer. When we drive into Paradise Valley you have deer at certain times of the day. And we've seen turkeys everywhere. So it's very very cool to see that the wildlife is integrated into the town."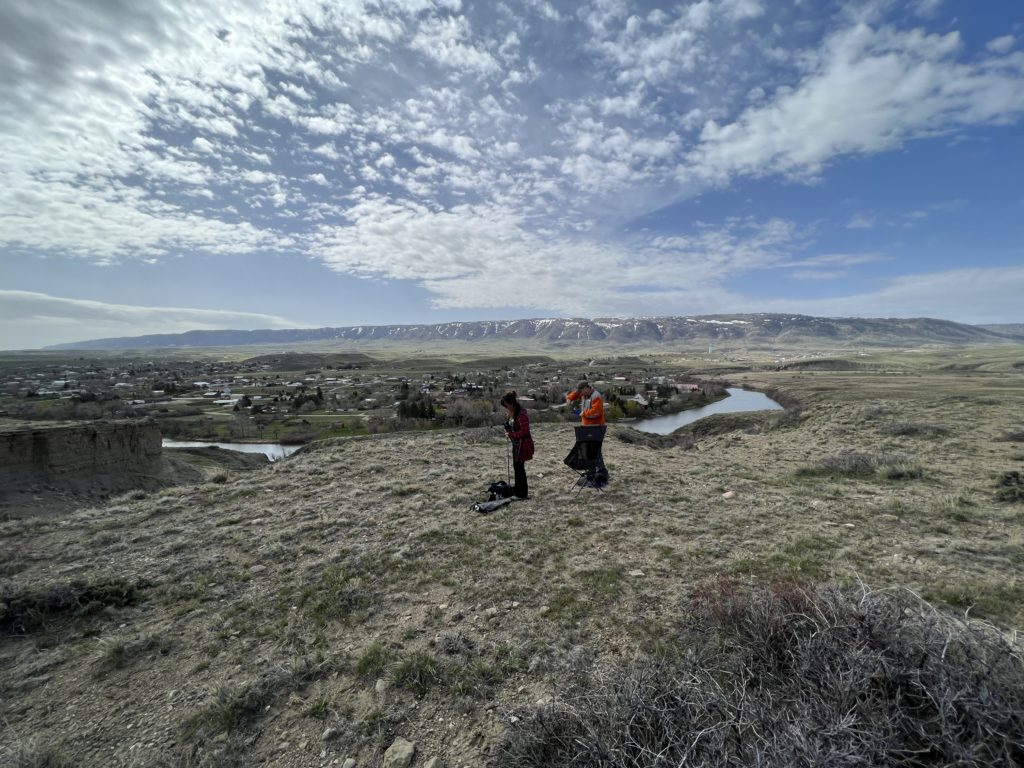 When their daughter was playing a soccer game, a pronghorn antelope darted across the field of play.
"I was trying to pull my phone out to get it but I did not get it in time," Rachel said. "I hope some parent got that on video because it was like this random antelope just went through all their soccer bags and all the girls were like, 'Oh, okay.' So I think that's that's a pretty cool feeling to be able to see that."
Casper is quickly becoming a place that has a feeling of home for the family.
"Just sitting up here on this hill and seeing that we've got this amazing mountain in front of us," Rachel said. "Every time we've driven back into Casper I can tell you that it feels like home, more than I would have thought. I was really worried about that when you move somewhere and you're so used to a place."
"I got the experience of going back to where we lived before in March and coming back here and I feel like this just feels good. It feels like a place that I want to live."
---
Walking with Casper
Did you enjoy this story? Check out some of our previous Walking with Casper articles:
Do you have a favorite walk around Casper? Is there an area of town where you have a memory or story you want to share? Is there somewhere in the community that doesn't get the attention you think it deserves? We want to hear from you.
Walking with Casper is a new series that invites people to recommend a place to walk with a reporter and share some conversation. We think there are many possibilities for the kinds of stories that might emerge — but only if people in the community are willing to share. If you are interested, please reach out to Brendan LaChance (brendan@oilcity.news) and suggest a place to walk.