CASPER, Wyo. — Eight-year-old Zayne Rodriguez paused thoughtfully when asked about a favorite memory of his dad.
"When he saved my life," he said.
Zayne remembers the hard crash on his scooter, and he also remembers his father, Daniel, jumping off the porch and scooping Zayne into his arms.
"That's a nice memory," said Zayne's mom, Stephanie.
Zayne's sister, Laila, 11, drew a picture of her dad featuring his dark eyes and hair, traits she's quick to point out that she shares.
Daniel died by suicide in February, and his family has been dealing with what was previously unimaginable loss and sadness.
"I tell them, it's OK to be sad and OK to cry, but don't let it keep you down … your dad wouldn't want that," Stephanie said.
To help process the loss, Stephanie enrolled them this week in the Central Wyoming Hospice and Transitions' Kids Grief Camp at the Reach 4A Star Riding Academy west of Casper.
The three-day camp allows kids ages 6 through 16 work through their emotions using group and horse therapy. Another camp is scheduled for next week.
Todd von Gunten, Central Wyoming Hospice's grief care coordinator, said kids all process grief differently, depending on their developmental stages and personalities.
"They don't understand death the way that we understand death as an adult," he said. "We want to find ways to help them express what they're going through emotionally, physically, spiritually, or how they make sense of something that just might not make sense as a kid."
Kids draw images and use storytelling to honor loved ones, and connect with horses to help regain confidence and trust.
"[Horse] riding itself is a way to gain confidence," said von Gunten, adding that grief with children and adults is a complicated, years-long process that is never merely a "straight line."
"If they learn the means of expression, and know what expression works well for them, then they have that to fall back on and won't get stuck along the way."
There are some 15 children to a session, all experiencing their own situations. Some have lost parents, others uncles, aunts or grandparents, or maybe friends.
"The individual relationship with you and the person who died is so unique, and that's what makes grief care so difficult and so challenging, is that we have to pay attention to what each relationship is," he said.
Karol Santisteban is an occupational therapist by training who started the equine therapy program at the riding academy in conjunction with hospice.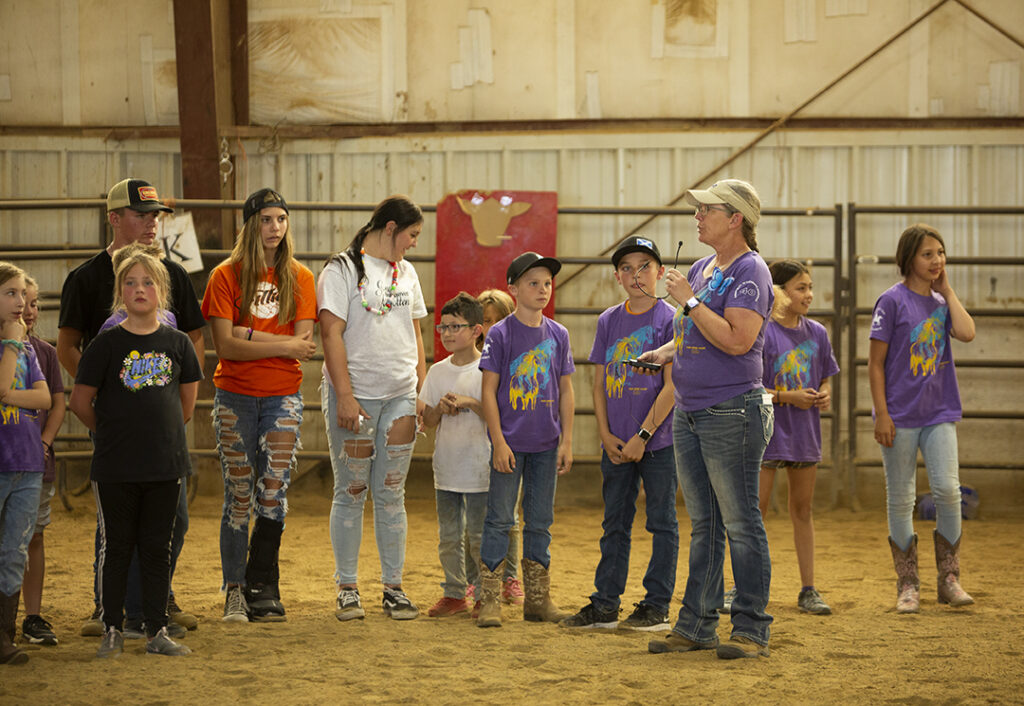 "So this is a very [occupational therapy]–based kind of camp," she said. "It's not doing therapy, we're just providing an opportunity for them to engage in something where there are several kids who are struggling with the same kinds of things.
"They try different things, and also meet other kids and know that they're not alone in this, they're not on an island."
Mariah Butler, 16, attended the camp with her brother and cousin. Last September, she and her family lost her uncle, Casper Police officer Lt. Danny Dundas, to suicide.
During the camp, they made necklaces with police thin blue line trinkets, among other symbols of his life.
"It was actually my mom's idea," she said. "But it really has helped me with learning new techniques on how to be safe and look at my surroundings."
She's still learning to live without her uncle, who she called "funny" and "a prankster."
"It's really hard not seeing him at family gatherings, because we did everything together," she said.
Children are encouraged to continue to tell stories about their loved ones long after camp is finished. This is one way that helps to keep their memories alive.
On the camp's final day, children painted a "brand" representing their lost loved ones onto the academy's gentle horses. Relatives arrived by 3 p.m. to see the art and hear their stories.
One girl's uncle loved to camp, represented by tents. One boy's relative used raw eggs to make "the most disgusting" healthy smoothies. Another's dad was represented by the Scottish flag.
And Laila's dad had her eyes.