UPDATE: JUUL can continue to sell its electronic cigarettes, at least for now, after a federal appeals court on Friday temporarily blocked a government ban, the Associated Press reported minutes after the following story was published.
CASPER, Wyo. — Though businesses are required to remove all JUUL e-cigarette products from their shelves following Thursday's Food and Drug Administration ban, workers don't anticipate seeing much fallout.
"It's one of our least-sold products," an employee at the South McKinley Street Kum & Go told Oil City. The store has a large amount of JUUL backstock, which will likely be repossessed by the company eventually.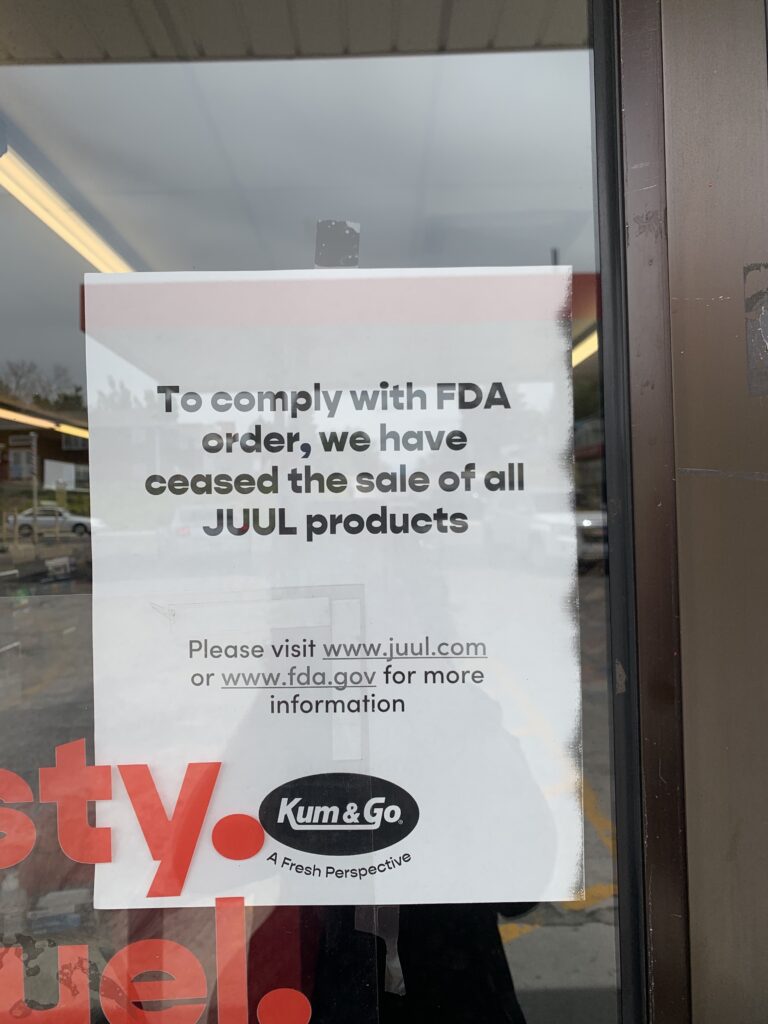 Workers at other businesses, like Shell Gas Station and Smith's Fuel Center, said they haven't carried JUUL's products in a long time and therefore won't see much pushback.
Conoco Gas station carried the products up until the ban, but hasn't had complaints either. "I haven't even had a single person even try and buy one for, like, months now," said an employee at the Poplar Street location.
Two specialty vape shops in Casper said they never carried JUUL's products, largely due to principle. 
"It was big tobacco," said a staff member at Straight Line Vapors, explaining that the shop didn't support such business. Altria Group Inc., which produces Marlboro cigarettes, bought a 35% stake in the company in 2021, when the company was valued at $38 billion.
Coleman, a manager at Black Market Vape and Smoke, cited similar reasons, in addition to JUUL's pricey model and concerns about their ingredients.
The company's use of pre-made pods, when compared to other vapor companies' refillable devices, was relatively expensive. "Pre-made pods, you know, are like $15," Coleman said. "It's just crazy, for each little pod, just for what you get."
The store mostly sells devices with coils, which can be filled using bottles of vape juice.
Black Market may see some effect if the FDA continues this action, particularly with disposable vape devices like Eevee and EscoBar. "We've got a lot of disposables and stuff," Coleman said. "I know there might be some disposable companies that might be taking some hits, I'm not sure."
He added that he's seen many companies reformulating their products knowing the decision was coming.
"TFN is what it's called," he said. "It's tobacco-free nicotine."
While JUUL and other products used nicotine salts derived from leaves of the tobacco plant, TFN is made with a different process, which forgoes the plant altogether.
Pending further research, it's thought by many that TFN may be slightly safer, as tobacco itself contains many different carcinogens.
"Obviously, if you put any smoke in your lungs it's going to be detrimental," Coleman said. "That's to your own risk."
The FDA's decision to ban JUUL's products came Thursday, June 23; the administration issued marketing denial orders to JUUL, banning the company from selling or distributing any of its products currently marketed in the U.S. Additionally, JUUL products currently on the U.S. market must be removed, at risk of enforcement action.
The FDA cited "insufficient evidence" provided by JUUL that their products would "be appropriate for the protection of public health." Their release also spoke of "insufficient and conflicting data — including regarding genotoxicity and potentially harmful chemicals leaching from the company's proprietary e-liquid pods," stating that these issues had not been adequately addressed, and prevented the FDA from conducting a full-risk assessment.
As for personal use, the FDA can't and won't restrict individual consumers — action will not be taken against people who possess or use the products.
JUUL on Friday asked a federal court to block a government order to stop selling its electronic cigarettes, the Associated Press reported.