CASPER, Wyo. — About 20 years ago, a historic plot of farmland just outside of Casper caught the eyes of Cathy and Randy Becker. They bought it, along with its historic outbuildings, and built a home there where they raised their three daughters.
Last year, they became empty nesters after the youngest moved off to school. That's when Cathy decided it was time to take the family land into a new direction.
"People have always commented on how peaceful they feel here, and I've always regarded it as just a really special place," she said. "I decided to dig my heels in and quit working for other people, and just pour my heart and soul into this place."
"The Bloomery is kind of the culmination of my life," said Cathy. "I've always wanted to create events that would bring people out and just enjoy the place. It's old and historically cool."
What the Bloomery has become is a small flower farm and an events space set in an idyllic location on Zero Road between Casper and the Natrona County International Airport.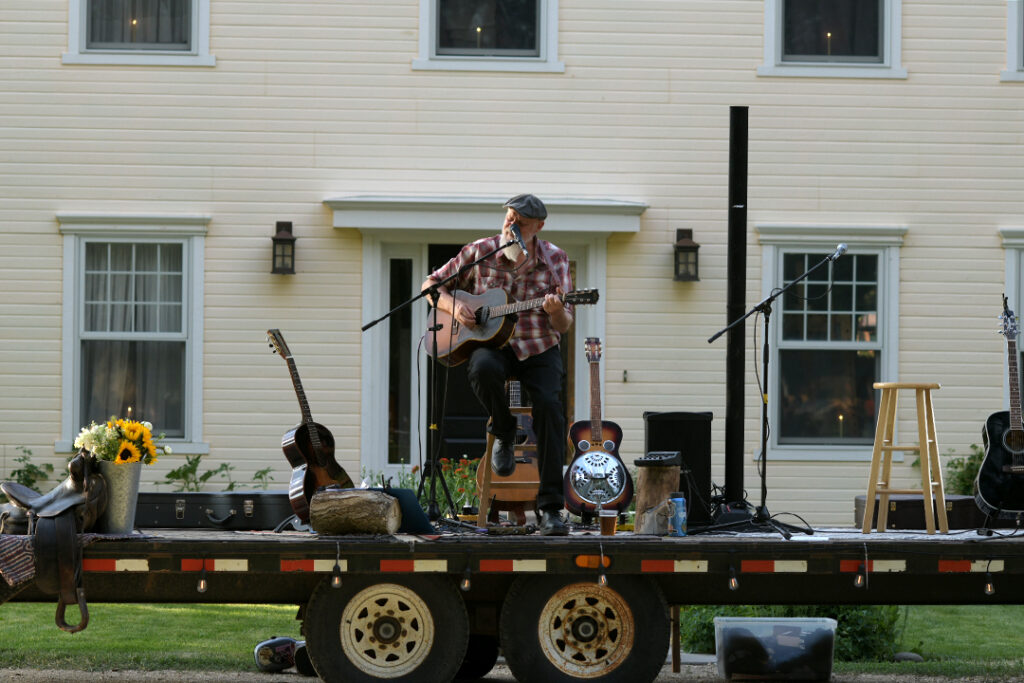 Cathy, who has been heavily involved in Casper arts organizations for years, believes it is important to cultivate live Wyoming talent with attractive, reliable venues.
"We have so many amazing artists in this state," she said.
The Bloomery's Summer Concert Series kicked off this year with just a handful of scheduled performances. Two are scheduled for the remainder of the season. The atmosphere is relaxed and open, with a flatbed truck covered in lights serving as a stage and the wide-open Wyoming skies as the backdrop.
"It's been incredibly well received and relaxing and fun for everybody, including me."
The property consists of some 100 acres of land, with a number of historic buildings on site. It was homesteaded in the early 1900s as a sheep farm, Cathy said. A vintage service station was moved from town years ago and serves as the entrance, and an original bunkhouse from the homesteading era still stands.
The Beckers custom-built their home on the property by using authentic vintage home blueprints for reference, which makes it blend almost seamlessly into the land.
"I feel like you can see the decades in this property," she said.
In addition to events, Cathy grows dozens of varieties of flowers on the land, which she sells in town. "I've always been a flower gardener, not a vegetable gardener," she said. "I'm starting that slowly, but I've had a lot of people already contacting me about weddings and so many other things."
Besides music and flowers, Cathy envisions the space as a destination for day-long artist workshops and short company retreats.
The next concert is scheduled for Saturday, Aug. 20, with Kent Neubert performing his "Cattle Prairie Era" songs on guitar.
The season's final show is Saturday, Sept. 10, featuring Gabriel the Bull, who is described as a "rare sort of epic musician and storyteller" with a voice that blends soul and hard rock, with Spanish guitar influences. The concert will raise money for the Wyoming Mustang Institute.
The concerts routinely feature food trucks and other options, and during the Sept. 10 show, Backwards Distilling will be on hand to mix cocktails featuring whiskeys from some of Wyoming's local distillers.
---
The Bloomery is located at 12260 Zero Road toward the Natrona County International Airport. More information on the space and events can be found at their website, on their Facebook page, or by emailing cathryn@bloomeryfarm.com.