CASPER, Wyo. — In early August, a Casper photographer uploaded a photo he captured of wild horses in Wyoming this summer. Within a week, thousands of people from around the world had seen it.
What is it about wild horses that leads people from across the planet to seek out such photographs Chad Hanson shares on his Flickr photostream?
"People in Europe really like wild horse photos," Hanson said during lunch at the Steamboat Deli on Aug. 11. "I think it's funny — we could go see wild horses almost any time and most of us never do. But people a world away can't stop thinking about that sort of stuff. They dream about it. They save for a decade to get enough money to come over here and have a look at what we've got in our backyard."
Hanson explores the human desire for beauty and the sense of wonder that wild horses can elicit in his new book "In a Land of Awe: Finding Reverence in the Search for Wild Horses."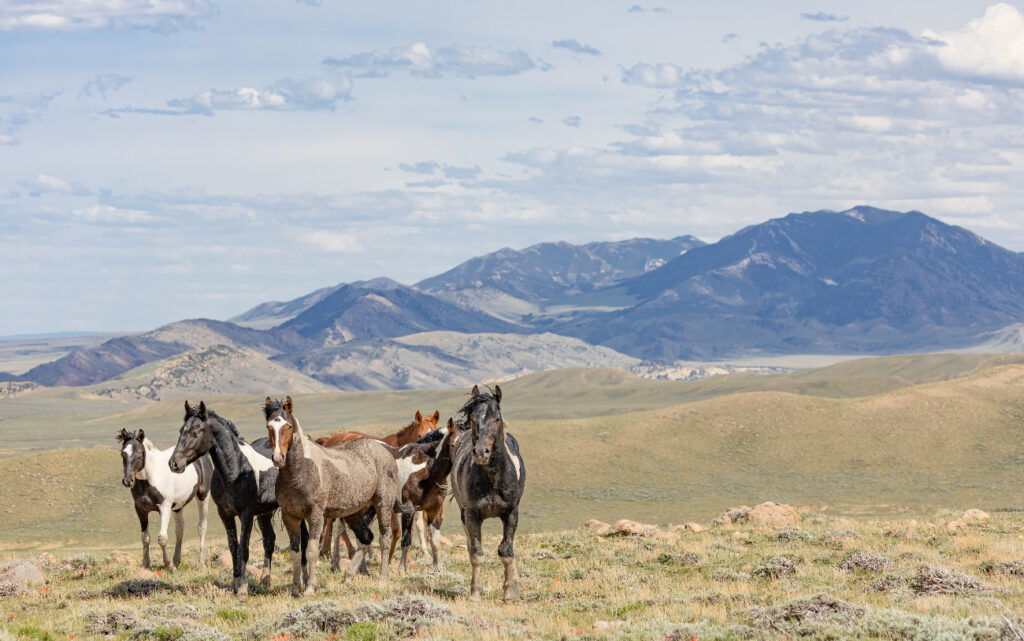 "I think you can learn a lot by watching horses," Hanson said. "They live in these really incredible families. One of the things that I think surprises people when they start watching wild horses is the affection that they show toward one another. There are hundreds of thousands of acres that they could run on — and they love to run — but they stand shoulder to shoulder.
"When you're looking for animals, that's one of the reasons you can tell the difference between a group of horses and cattle. Cattle spread out; horses are nose to nose. There's a whole language of touch that they have and so watching them makes you think about families and relationships between these animals."
Hanson teaches sociology and religion classes at Casper College. Just as wild horses inform some of his lessons, knowledge of the world's wisdom traditions and new research into human psychology and society wind their way into his new book about Wyoming's wild horse people.
"A lot of the Plains tribes used to describe wild mustang herds as 'the horse people' to suggest that they're people like us," Hanson said.
Like people, wild horses are curious and will often come check out human observers who are patient enough to wait out on the prairie for horses to arrive, Hanson said. Wild horse behavior can also have a profound impact on emotions humans experience while watching them. Hanson said he's had a number of "peak experiences" or experiences of "flow state" while out in Wyoming's wilderness watching wild horses.
"You know when you're really locked in the moment?" Hanson said as he talked about how wild horses can put people in an altered state of mind. "One of the reasons this works with wild horses is because they're bigger than we are. They weigh a thousand pounds. They can run around 30 miles an hour. Sometimes they fight and it's like dust, teeth — you can't think about anything else."
"Normally, our brains are thinking about something that somebody said to us this morning or what I've got to do by dinnertime. All of that melts away. And that's, I think, what's so therapeutic about it."
A lot of psychologists and sociologists have been researching the benefits offered by time spent outdoors and in the presence of animals, Hanson said.
"There's a whole line of research on equine therapy," he added. "In fact, here in town, we have an organization called Reach 4A Star Riding Academy you might be familiar with. They have all kinds of clients, anywhere from kids with autism to people struggling with PTSD and things like that.
"They serve a whole range of clients, but the evidence is really strong that time spent with horses is actually therapeutic."
The new research may be adding evidence to something that human wisdom traditions have long known about how attuning to nature and experiencing states of awe can be good for people.
"All of the wisdom traditions at one level or another try to get people to live in the moment," Hanson said. "For Buddhists, it's meditation. Christians, they would probably use the word 'contemplation' or 'contemplative practices' or something like that.
"Looking at horses — it's kind of like that. I would say every time that I go out and find and encounter a group of wild horses, it always puts you in that state of flow, if you want to call it like that."
Even if people aren't successful when they go out searching for wild horses, the search itself puts them in nature. Hanson suggested that that has its own benefits, recommending a book called "The Awakened Brain: The New Science of Spirituality and Our Quest for an Inspired Life" by Lisa Miller.
"The questing mind is partly why people fly fish," Hanson said, recalling one of his other favorite activities. "It's that moment of tension when you're searching with all your senses to try for that next whatever-it-is."
In terms of wild horse watching, Hanson and his wife explore many areas of the state, but they frequent herd management areas near Jeffrey City. If people are looking for somewhere convenient to go out and look for wild horses near Casper, he recommends Green Mountain.
"Green Mountain is accessible and it has good signs all the way up to what they call Wild Horse Point," Hanson said. "It's close to home. There are signs the whole way to the top and in high summer like this, you can find horses in the meadows right at the top of the mountain. There's a good gravel road right all the way to the top. You can make a nice circle tour.
"Even if you don't see horses, when you get to the top the views are so incredible. It's totally worth it."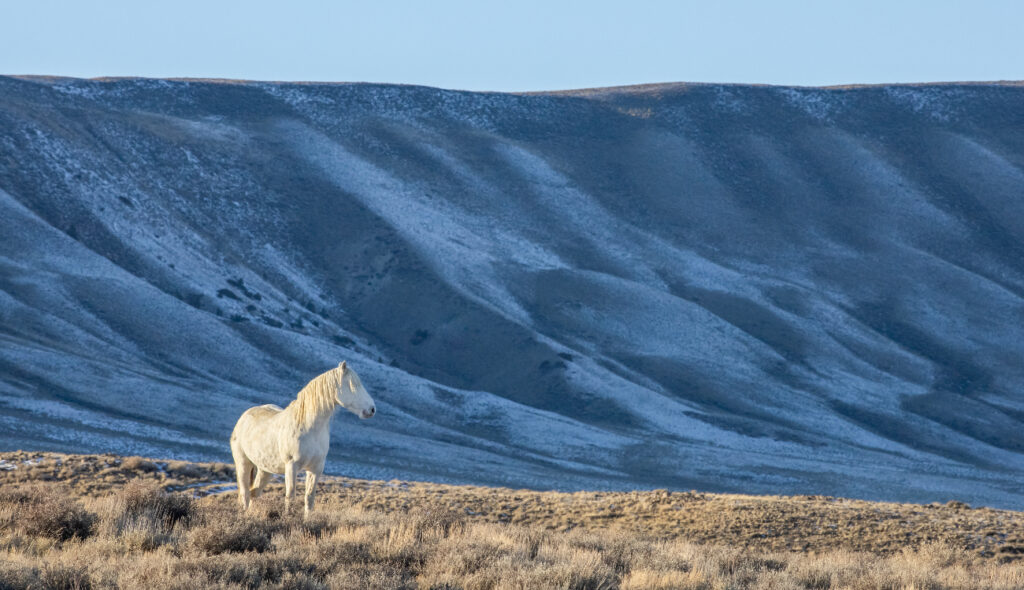 Hanson takes students in an Osher Lifelong Learning Institute class he teaches out to see wild horses. In addition, he introduces students to some research done on wild horses in the Pryor Range near the Wyoming–Montana border.
"Wild horses have not been studied a lot," Hanson noted.
While horses are often studied as domestic animals in college agriculture departments, biology departments tend to focus on animals that are fish or game species and wild horses tend to get overlooked, Hanson said.
"We tend not to think of them as wild animals," he said. "Most people know horses from growing up with a pony or something like that. There's a new science growing up around wild equine behavior and things like that, but it's in its infancy."
The study in the Pryor Mountains was able to reveal some of the family dynamics among wild horses, Hanson said. Students in his OLLI class learn about this family structure in a chapter from the book "The Horse" by Wendy Williams, Hanson said.
"It's almost like a soap opera," he said. "Usually it's a stallion, a harem of mares — anywhere from one to 10 — and then there are foals."
"There's, you know, cheating that goes on — a wild horse mare might have a stallion that they really prefer to mate with so they'll step out for a couple days and then come back to their old family," Hanson said, referring to an example of what was documented in the study in the Pryor Range. "That stuff totally goes on."
Hanson didn't always have an interest in wild horses. He and his wife moved to Casper in 2001 from Wisconsin. While he frequently got outdoors for fly fishing, Hanson said it took a long time before wild horses came across his radar.
"I lived here for a decade before I even knew that we had wild horses," he said.
People may have seen wild horses in Wyoming and not even known it.
"Have you driven, for example, down to Rawlins?" he asked. "When you hit Muddy Gap, when you head south you might have even seen horses on the right-hand side of the road. Those are wild. That first 10 years I lived here I actually probably did see wild horses, but I didn't know what they were."
Hanson's interest in photography deepened his interest in wild horses once he realized they were in Wyoming.
"I figured out that it's almost hard to take a bad picture of a horse," he said. "One of my favorite authors has got a quote to the effect that he used to think Ferraris were impressive — and then he took a close look at a horse, this wonder of genetics."
Hanson has also been a bird watcher, but said that this doesn't compare with what watching wild horses is like.
"I don't care what bird it is, if you've got your binoculars on a bird and a band of wild horses runs by, you know where the binoculars are going to go," Hanson said. "Birds are very cool, but there's just very few things on this planet that can compete with a band of wild horses for just raw scenery, energy — just the aesthetics of it."
Wyoming communities might want to consider tapping more into the appeal wild horse watching has for people, Hanson suggested.
"We've actually documented bird watching is a big contributor to the Wyoming economy," he said. "People come here to look for birds and stay overnight."
Nevada does a better job making people aware of the wild horses that live in that state, Hanson said.
"Nevada's ahead of the curve," he said. "There's a lot of commercial organizations that take people on wild horse photo safaris, wild horse excursions, things like that."
The way wild horses live in Nevada is also something Hanson thinks about when it comes to management.
"In some parts of Nevada and Arizona, there's a really natural predator–prey relationship that takes place," he said, noting that mountain lions will hunt wild horses. "Wild horse populations are controlled, cats are sustained and it works."
In some parts of Wyoming, mountain lion predation plays an important role in acting as a control for wild horse populations, Hanson said. However, there are some areas of Wyoming where mountain lions don't exist in numbers sufficient to naturally keep wild horse populations in check, he said.
Hanson and his wife run a nonprofit known as the Wyoming Mustang Institute. When humans need to step in and manage wild horse populations, Hanson said he and his wife advocate for the use of an anti-fertility serum called PZP that can be administered to wild horse mares in the field to prevent them from having foals for two years.
"As far as we know, it is reversible," Hanson said. "So mares can be darted multiple times and then if a really bad winter wipes out half a herd or something, the BLM can let a few years go where the mares are left undarted, have foals for a couple of springs and then manage the herd by that means.
"In our minds, that's the affordable, humane way to manage wild horse populations. But in cases where the BLM hasn't taken those steps, then what happens is the herds get bigger than they wanted them to and then they find themselves in a pinch where the best thing they can think to do is to round them up with a helicopter and then store them in long-term holding."
Adoption should be part of the management picture, Hanson said. However, horses have not historically been adopted at high enough rates for that to be a solution on its own.
"Adoption is a nice option for horses that have them and have been rounded up, but historically there hasn't been enough adoption to find homes for all the horses that they're rounding up," he said. "So it has made for a situation where there's tens of thousands of horses basically standing in feedlots.
"Some of them are finding homes in sanctuaries where they actually have room to roam and they have lives not too different than they had on the range. But everybody — it doesn't really matter what side of the issue you're on — everybody agrees that we've got too many horses [in long-term holding facilities]."
Hanson's book is more about the exploration of the importance of awe and encouraging people to get out and experience nature.
"I think my main purpose for the book was to let people know what an inspiration it can be to spend time with wild horses," he said. "That's the overriding scene."
Hanson's book "In a Land of Awe" is available for pre-order online, but will officially be released on Tuesday, Sept. 13. In Casper, it will be available at both Wind City Books and at the Casper College bookstore.
A celebration for the release of "In a Land of Awe" will be hosted starting at 6 p.m. Saturday, Sept. 10 at The Bloomery, 12260 W. Zero Road. The event will also serve as a fundraiser for the Wyoming Mustang Institute and will feature a concert by Buffalo, Wyoming-based musician and storyteller Gabriel the Bull.
Hanson will sign books during the event at The Bloomery. He'll likely hold another book signing at Wind City Books sometime around Thanksgiving.