CASPER, Wyo. — Muralist Koda Witsken is used to interruptions while she works.
While working on the Casper Mural Project's latest mural Friday afternoon, numerous passersby stopped to ask questions. One toddler earned a fist-bump. A couple of times, voices from across the street could be heard hollering, 'It's beautiful!'"
None of the distractions are a problem for Witsken; rather, they're part of the reason she's doing what she does.
"I don't think people expect it," she said during a break on Friday. "When they see this huge pop of color, it just opens your eyes a bit."
Witsken is from Indiana and is still based there. She graduated from Duke and Purdue Universities with degrees in history and business. However, it's her lifelong love of art that moved her into this line of work.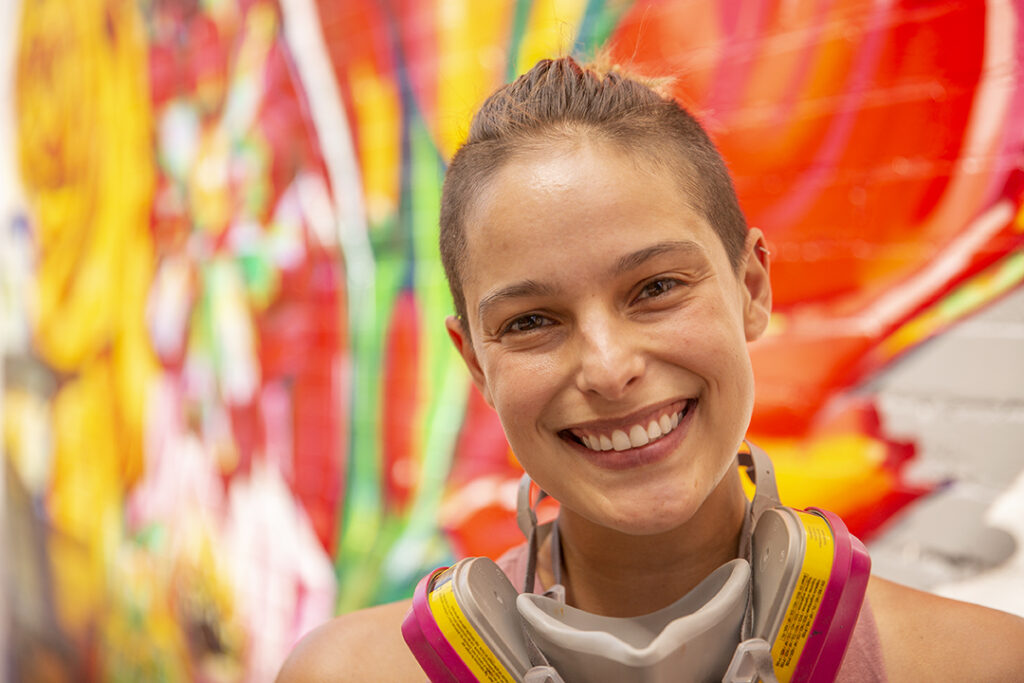 "I was in the tourism industry and surrounded by a lot of art, but I wasn't making it like I did growing up," she said. Now she travels and creates large murals for clients with her business, Hue Murals. She was recently commissioned by the Casper Mural Project to create their fourth downtown Casper mural, which celebrates Wyoming women, and features a Shoshone tribe member from Casper as the main focus.
Witsken arrived in Casper early last week to start work on the project, which will live on an alley-facing wall between the Cadillac Cowgirl and the Rialto Barber Shop on Center Street.
Witsken says she transitioned from creating with brushes to spray paints by learning the technique from other artists and friends.
The benefits are numerous, she says.
"It's much faster, and spray paint technology has evolved so much in the last decade."
These aren't cans from Home Depot. They're specialty items with more than 100 colors and a lifespan of some 25 years without fading.
"There are just some colors you can't get without spray paint medium, like really, really bright reds, yellows and neon colors," she said. "I can move my arms and get really organic, fun lines, so it's a lot of fun for me and it looks great on a wall."
Some of the tricks include using different spray caps, subtly shifting or tilting the can, and using pieces of cardboard to create crisp lines when needed. She can adjust and modify the colors of the paint by carefully mixing them on the wall, a tricky process that is perfected through hours of practice.
She works about five hours a day, hydrating often to avoid cramped hands. The artwork was mapped out earlier with markers using a grid system.
Witsken was chosen out of numerous candidates by the Casper Mural Project, along with the Eastern Shoshone Cultural Center, to pay tribute to Wyoming women. Casper resident and Shoshone tribe member Jackie Washakie served as the inspiration for the mural.
Beth Andress, treasurer of the Casper Mural Project, says Witsken's bold and bright ideas are what ultimately attracted the board to choose her for this project.
"She has those vibrant colors that just pull you in," said Andress, "as well as the integration of a local woman."
"One of our goals of the Casper Mural Project is to tell the stories that haven't been told from underrepresented groups," she said. The art features a modern woman representing the Shoshone people, which also resonated with the project's board.
Witsken is thrilled as an artist to see how murals have become more mainstream and popular as of late. "I think in the '90s there was a big plastic and vinyl sign wave — everything was banners," she said. "Now people are getting back to the hand-painting, for environmental reasons and because it's just more human."
A dedication event is scheduled for Tuesday, Aug. 30, from 9 a.m. to 11 a.m. at 147 S. Center St., along with an artist and subject meet at Scarlow's nearby. Click here for more information.