CASPER, Wyo. — Amanda Paad describes her youngest daughter, Opal, as initially shy, but also energetic, fun-loving and stubborn.
"She's got a temper on her," she said. But that's not a bad thing.
"She needs that fire to get through what she's going through right now."
It's been nearly a year since Opal, who turns 4 next month, was diagnosed with acute lymphoblastic leukemia, a cancer in the blood and bone marrow that mostly strikes children. It was a diagnosis that came almost out of nowhere.
"She became very pale very suddenly, and she started complaining about an earache while we were out at lunch one day," said Amanda. The next day she visited Opal's doctor, who immediately ordered blood work that soon brought back troubling news.
"The next thing we know, we're in the emergency room for an extremely low hemoglobin, and a few hours later we were on a Life Flight [air ambulance] to Colorado."
Amanda's mind was filled with dread and worry. "The most terrifying thought was, 'What's gonna happen to her?'"
Treatment started almost immediately after her diagnosis. Weeks of travel and grueling chemotherapy sessions followed, with regular medications and check-ups in between. Amanda's husband, Michael Johnson, and their 5-year-old daughter, Amethyst, sometimes joined in the frequent trips to Denver, and other times Amanda was accompanied by a friend or her mother.
Opal responded very well to the treatments, and is now in what's called a maintenance phase. "So we're driving out to Denver once a month for the next two years for things like a port flush and occasional chemo, and she's taking medications at home," said Amanda.
Opal, whose energy and personality had slowly been sapped by the cancer, is once again bouncing off furniture, playing with relatives, arguing with mama, and belly-laughing while binge watching episodes of "Bluey."
"We haven't had any major hiccups, thank goodness, and she's really been sailing through this incredibly well. I'm very, very grateful."
Things are going well enough that plans for Opal's 4th birthday are rapidly taking shape, and there's real reason to celebrate considering everything the little girl and her family have lived through this year.
Opal has recently become enamored — maybe even obsessed — with big trucks. That gave Amanda an idea.
"I was batting it around a bit and thought I'd make a [social media] post and get some feelers out."
She went to a local Facebook group called Casper Classifieds and asked if people with trucks might be interested in a drive-by outdoor birthday celebration for Opal. Within days, her humble post received well over 1,000 interactions and nearly 300 comments.
"My truck ain't big but [it's] loud, will that be ok?" said one comment. "I know dad's truck isn't huge, but maybe the beast could make an appearance for a little girl!" said another, tagging a relative.
Others offered words of encouragement. "Amazing job mama!" said a woman named Heather. "Our son has been through this journey and we salute y'all for going through it too! He is now almost 5 years cancer free!"
"I was not expecting it to blow up the way it did," Amanda said. "All kinds of people have been reaching out and wanting to get involved in this."
It's big enough that the Town of Mills has offered to help facilitate by reaching out to the Wyoming Department of Transportation for permission to augment traffic on part of Wyoming Boulevard. The exact location and logistics are still being worked out, said Amanda, but it'll likely be directly across from the Mills Town Hall, with the family sitting along the riverbank.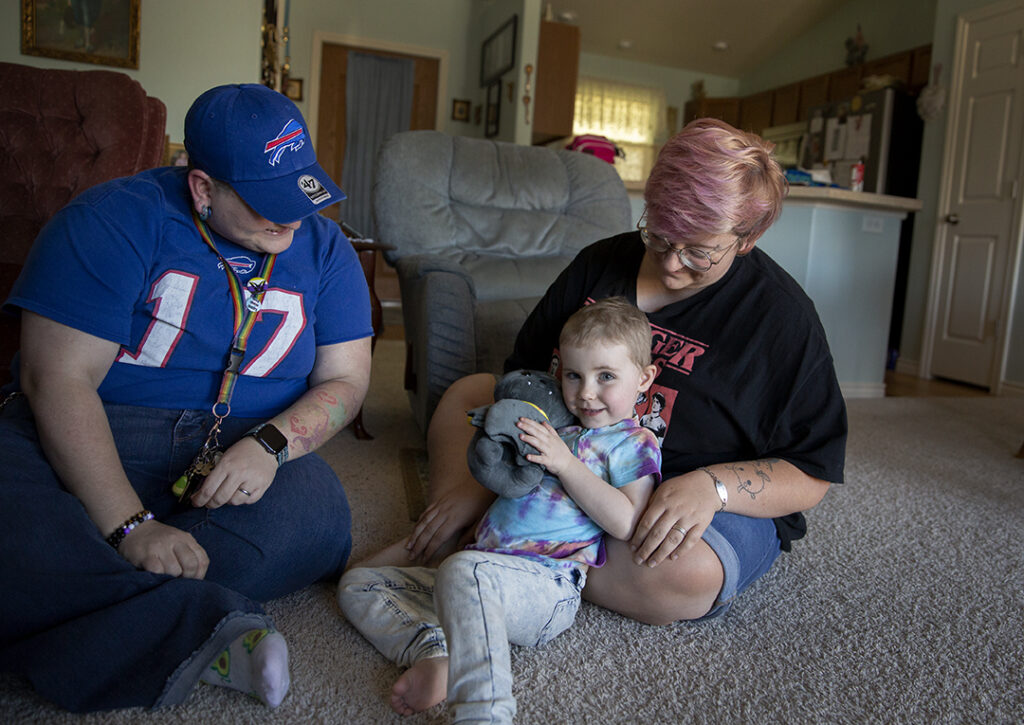 Amanda wants to make this bigger than a celebration for Opal: She also wants people to know about this disease.
"We're going to wear bright orange shirts for leukemia childhood cancer awareness, and we're hoping to spread more awareness of her situation and childhood cancers," she said. "It's more common than you'd think, and I never thought I'd be one of the 47 families in the United States that are diagnosed daily."
Amanda is a stay-at-home mom while her husband works, but insurance doesn't cover all of the treatment and travel costs. They've been assisted by Medicaid along with the Jason's Friends Foundation. "They've been a humongous support throughout this whole thing; we'd be drowning without them."
Opal still has a lot of fighting to do when it comes to cancer, and Amanda says the community's support has not gone unnoticed.
"It really lifted us up, and it helps us not feel so alone in this," she said. "Having all these people that we barely know or don't even know want to make her day special, it brought us to happy tears for sure."
---
A Facebook event page has been established for Opal's Big Truck Birthday parade, which will take place on Sunday, Oct. 23, 2022, at 2 p.m. on Wyoming Boulevard in Mills. The page will be updated with specifics as they become available.