CASPER, Wyo. — The Nicolaysen Art Museum is welcoming six new exhibits and will be holding an opening reception from 5:30 to 7:30 p.m. Friday, Oct. 7 for people to come check out the diverse range of art.
With everything from haunting charcoal depictions of hunting guts to bright paintings from the realm of dreams, Michaela Whitlow, associate curator and collections manager for the NIC, is particularly excited about this opening. The new exhibits include:
"Visceral," by Shelby Shadwell
"Mixed Feelings," by Jesse Bell
"From the Pit," by Jesse Sanchez

"Reflections of a Life Well Lived,"

a new exhibit featuring work by Jim Gaither from the NIC's permanent collection
"New to the NIC," a new exhibit featuring recent acquisitions at the NIC
"Picked by the NIC," selections from the museum's permanent collection made by NIC staff
"This is one of our most unique collections of exhibits that we've ever had because we've got Shelby's pieces that are a little bit darker and thought-provoking versus Jesse's stuff, which is really bright," Whitlow said on Thursday while putting some final touches on the sign for Bell's exhibit.
Shadwell teaches art at the University of Wyoming, and the new "Visceral" exhibit at the NIC displays his skill with charcoal.
"This is all his large-scale charcoals," Whitlow said. "A lot of it is actually gut piles from hunting — you don't necessarily see that when you first look at them, and then you start looking closer."
One of Whitlow's personal favorite pieces among all the work across the new exhibits is one of Shadwell's pieces with bugs crawling in a shape that resembles a pair of lungs.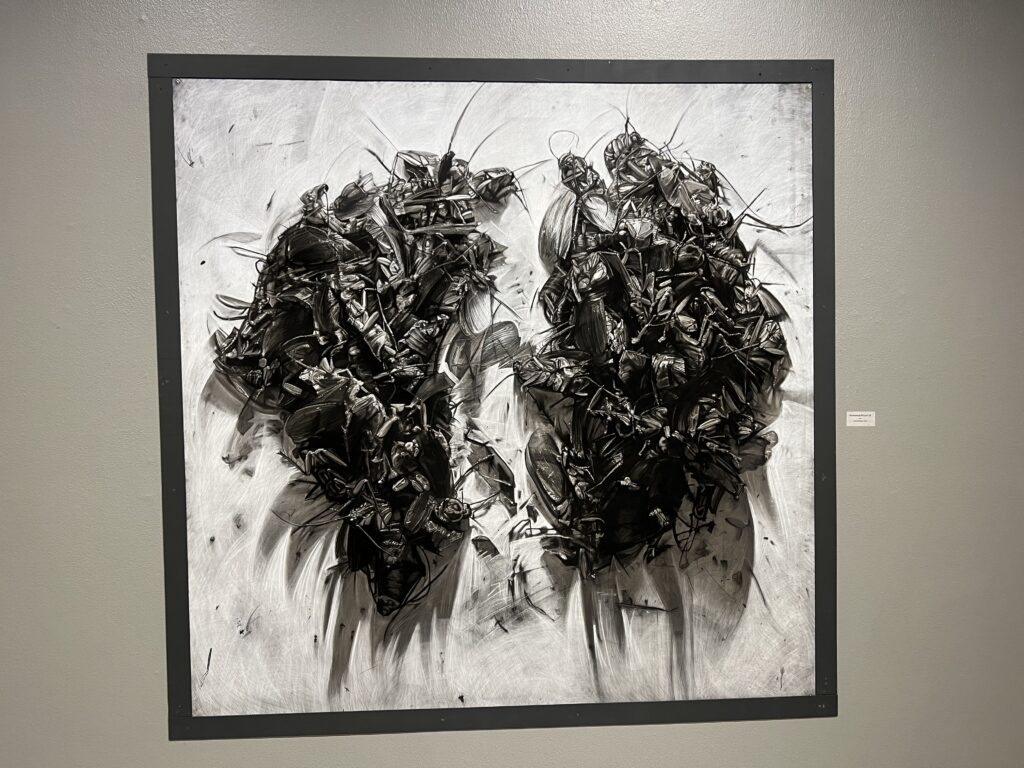 Another interesting aspect of Shadwell's work is that some of the pieces were created using charcoal that has pollen in it, Whitlow noted.
"This is one of the hardest shows I've ever had to curate because charcoal is so touchy," Whitlow added. "Like you can look at it and there's going to be charcoal spread everywhere."
Transitioning out of the gallery where Shadwell's large, dark charcoal pieces are featured, viewers will come into the gallery hosting brighter colors that are part of Bell's "Mixed Feelings."
Bell works at the Wyoming Behavioral Institute and leads painting with some of her clients, Whitlow said. Another of Whitlow's favorites on display at the NIC is Bell's "Pathfinder Sunset." If that piece gets purchased, 100% of the proceeds will go to support Central Wyoming Hospice & Transitions.
"I love Jesse's stuff," Whitlow said. "I'm actually hiring her to paint something for like a baby's nursery because I just love her work so much."
Bell has selected songs to go along with some of her work, such as Kate Bush's song "How to Be Invisible" to accompany a mixed-media piece called "Vanity." The NIC is offering some MP3 players to listen to the songs, but Whitlow noted that people could also listen using their own devices and headphones.
"This is one of the first times that we've ever done an interactive exhibit like this, so I'm very excited," Whitlow added.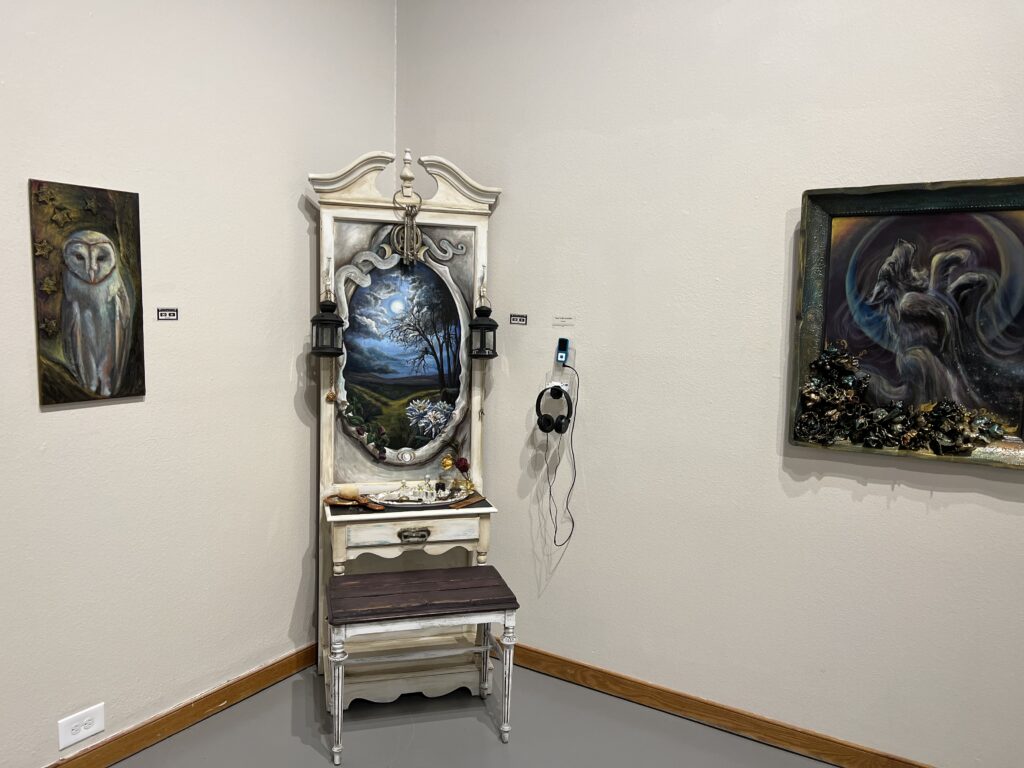 On the museum's second floor are pieces from Sanchez's "From the Pit" exhibit.
"He actually used to work here so it was kind of cool to bring him back," Whitlow said. "He used to be our preparator."
The "Reflections of a Life Well Lived" exhibit is a kind of memorial show featuring some of Gaither's work.
"He used to teach at the college and he's done a lot of local stuff, so that's a big show for us," Whitlow said. "All the pieces that are in there are actually pieces that he painted specifically for his family, so it's a very unique peek into stuff that we don't really get to see."
The "New to the NIC" exhibit includes pieces the museum obtained this year for its permanent collection.
"We very rarely get to show all of them all at once," Whitlow said. "So it was really cool to kind of show a lot of what our donors have sent us and things that we've purchased over the year."
The "Picked by the NIC" exhibit is unique in that it is the first time museum staff that aren't part of the curation team have gotten to select pieces for display, Whitlow said.
"That was like super exciting for them," she added. "You can definitely tell who's on the curation team versus who isn't. The bigger pieces are definitely not from the curation team because they were much harder to hang up."
Curation team staff also picked some of the pieces, and Whitlow selected an untitled piece by Don Wiest showing an autumn landscape scene.
"I just moved back from Florida — I'm from Casper but I just moved back — so this is my first autumn in like six years," Whitlow said. "This was actually hanging in my office and then I was like, 'Okay, well, I think I'm just going to put that one out there because it just screams fall and everything that I'm so excited about for this year."
She also selected an antique gold clock by an unknown artist.
"Of course, I had to pick the super sparkly golden clock because it reminded me of Cogsworth from 'Beauty and the Beast' and this is something that we would never [otherwise] be able to put in an exhibition because it's so ornate and just different than anything that we do here," Whitlow said.
The new exhibits at the NIC will be on display through the end of December. There will be snacks and drinks available at Friday's opening reception at the NIC, 400 E. Collins Drive in Casper.