CASPER, Wyo. — The smell of barbecue and sound of rock music filled the air Saturday afternoon as hundreds of people turned out for the annual Smoke & Soul Fest barbecue competition benefiting the Brain Injury Advocates of Wyoming.
"The turnout is amazing," executive director Brandy Teague said. "We had double or triple the number of people as we had last year, and we raised right around $10,000 for the organization."
Now in its sixth year, the event helps raise money to support a wide array of programs offered by the Brain Injury Advocates, including a loan closet and a program that helps those with brain injuries find employment.
"There are a number of things that we do that lots of people in the public don't know about," Teague said.
The cook-off was broken into two tiers: those competing in the sanctioned Kansas City Barbecue Society competition, and the Backyard Barbecue competition for more casual cookers. Teague said there were 29 teams in the KCBS competition and five in the Backyard Barbecue competition, though she noted that it was just the first year for the latter's inclusion.
Kelvin Calloway, competing with a local team of HF Sinclair employees, took part in the KCBS for the first time and said it was more rigorous than he expected.
"There's all sorts of strict rules you've got to follow," he said with a chuckle. "We thought it would be a day at the park where we just chill and let everyone eat, but it was pretty intense."
Nevertheless, he said he plans on competing again next year.
"It's a ton of fun, and it's for a great cause," he said. "We'll be back."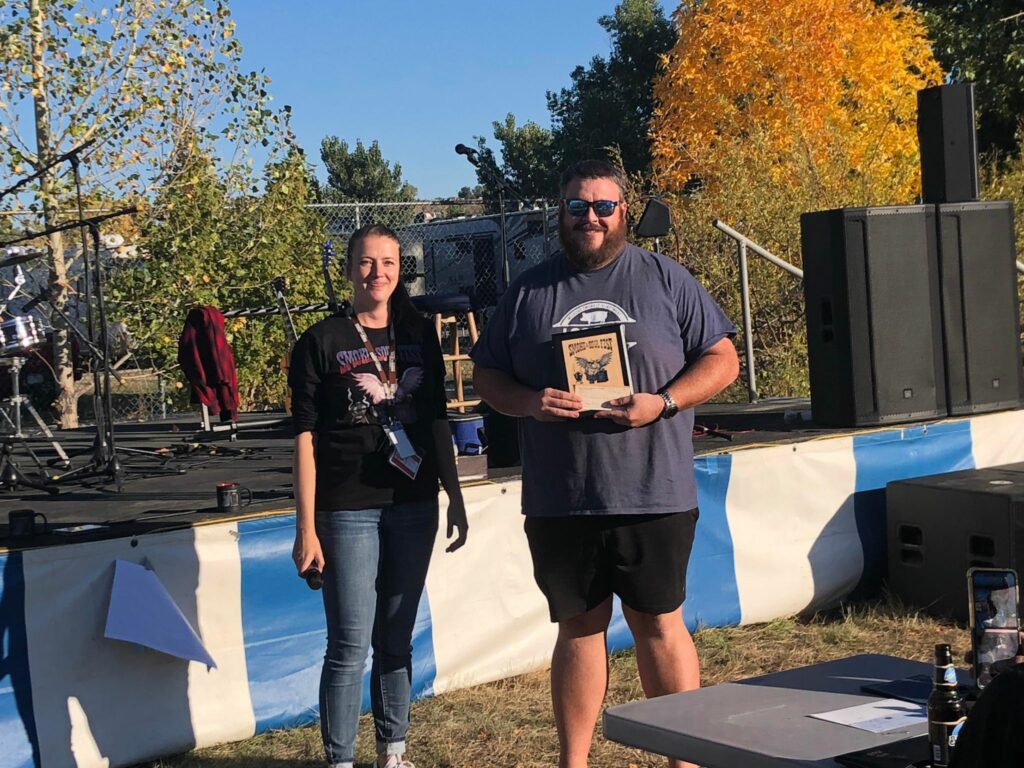 Though Calloway and his compatriots were from Casper, several of the more experienced teams traveled from much further away. Among them was Proud Souls Barbecue, from Denver.
"We were here for the original one in 2017 and keep coming back because this is one of our favorite competitions of the years," said Proud Souls Barbecue's Tony Roberts. "I love the fact that the public gets involved; as you can see there's lots of people tasting food, having fun [and] listening to good music. And it all goes for a great cause, the Brain Injury Advocates, and we're big proponents of that."
It wasn't just competitors who showed up for the Smoke & Soul Fest, either. Several local vendors took part in the festivities, selling food products and other items. Among them was Levi Harper of Grease Monkey BBQ, a local business that provides unique and hard-to-find sauces, seasonings and rubs.
"We just opened seven months ago, but I've known about this event for a long time because I'm such a big barbecue enthusiast," Harper said. "When we opened up, I knew we had to take part this year."
The day kicked off just past noon, with a long line of people waiting to get in from the outset. At the day's end, Teague handed out awards for the best chicken, ribs, brisket and pork, as well as awards for the attendees' favorite overall team and the overall champion as selected by the panel of KCBS judges.
Taking home the KCBS grand prize was Bushmaster BBQ, marking the second year in a row the team won the grand championship.
"We've been running pretty hard this year and won this contest last year, so to come back and do it again is a great feeling," said Bushmaster BBQ cook Chris Webb. "For me, the secret to good barbecue is just to be non-offensive. Whether you like sweet, you like spicy or you like savory — whatever the case may be — I want you to be able to enjoy my barbecue. And that's basically my approach."
Winning the People's Choice Award was Casper-based team Wyo Smokeshow, which has done well in years past but never won the top spot for the people's choice.
"It's very cool to get people's choice because that means that everybody who isn't the Kansas City Barbeque Society really liked what you did," said Dave Elmer of Wyo Smokeshow.
And while the trophy, bragging rights and cash prizes are nice, Elmer said the best part of barbecue competitions is the camaraderie formed with the other teams.
"Everybody here is friends, and if you don't know someone when you show up, they'll be your friend by the time it's over," he said.