CASPER, Wyo. — For nearly half a century, Marvin Robinson has worked on airplanes at the Casper-Natrona County International Airport, in that time demonstrating an aptitude for mechanics that put him in rarified company. On Saturday, he was recognized for his excellence with the prestigious Charles Taylor Award — the highest honor the Federal Aviation Administration can give to an airplane mechanic.
Originally from Riverton, Robinson didn't always know what he wanted to do after graduating high school. However, on one fateful day, he saw a listing for aviation mechanic training in a catalogue of courses at Spokane Community College, and the rest was history.
"It was just on a whim," Robinson said. "I was probably supposed to be an architect; I had a cousin who'd become an architect and was very successful, but being an aviation mechanic caught my eye."
After finishing his training and becoming certified as an airplane mechanic, Robinson quickly learned that he not only liked working on planes, but had a knack for it. There wasn't any part of a plane that Robinson couldn't fix, though he said he always felt his specialty was working on engines.
"Marvin did a lot of work on my planes in the early days, and one thing that's amazing about Marvin is that I don't think he's just a master mechanic; I think he's a master magician," longtime pilot Dallas Chopping said. "He'd have plenty of time to chat and always seemed very relaxed, but then you'd turn around and just like that, the work was done. Everyone else could be panicking and trying to get things done, but not Marvin. You just snap your fingers and the work gets done well."
"Marvin is the picture of competency and reliability," added pilot John Campbell.
As an airplane mechanic, Robinson took jobs all over the country, including his first job in California.
However, not very long into his career as an airplane mechanic, Robinson was drafted into the U.S. Air Force in the midst of the Vietnam War. That took him to Hawaii, where he used his acumen with airplanes to aid the military.
After serving in the Air Force for four years, he returned to his job in California, where he worked for a time before deciding he wanted to return home to Wyoming. He briefly returned to his hometown, working with Riverton Aviation, before taking a job with Casper Air Service and later True Drilling Company.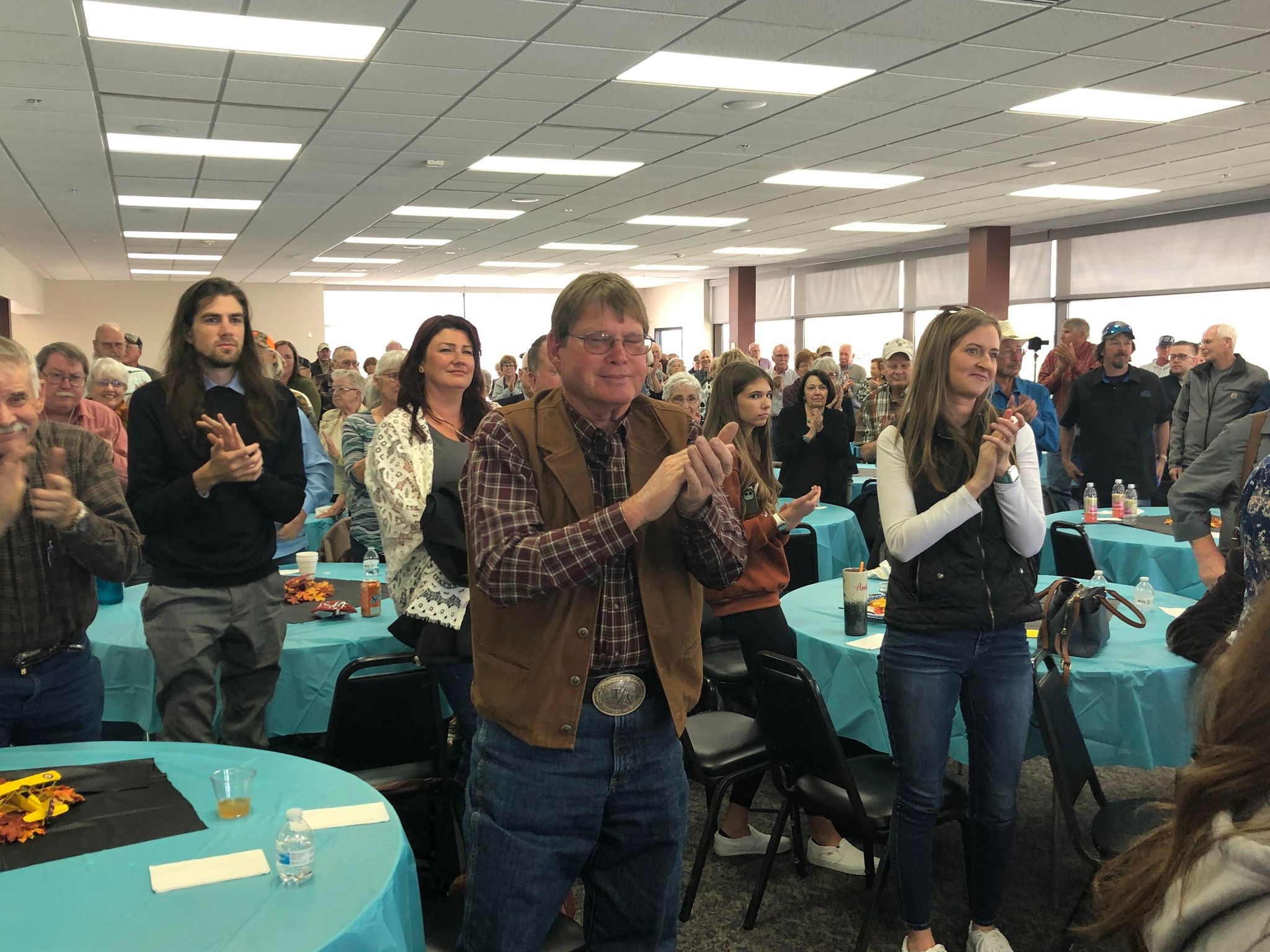 Ever since taking the job with Casper Air Service, Robinson has called the Casper-Natrona County International Airport home, and he continues to work there to this day.
"We are so proud of him," said Hank True of True Drilling.
Through it all, Robinson wowed his peers with his intimate knowledge of all manner of aircraft.
"He's one of the brightest mechanics you'll meet," FAA operations inspector Chris Lang said. "He's also a pilot himself, so he knows his way around an airplane more than most and really knows more than he lets on."
Because of his standard of excellence for over 50 years, Lang said he more than earned the honor of the Charles Taylor Award.
"It's a very prestigious recognition," he said. "I can't tell you how many we give out each year, but it isn't very many at all."
On Saturday, more than 200 people showed up at the local airport to celebrate Robinson's achievement with him and his family.
"It feels really nice," Robinson said with a smile. "I'm not much one for the spotlight, so this is kind of overwhelming. But it means an awful lot to me and I'm very thankful for everyone who came out."