CASPER, Wyo. — Community stakeholders and museum board members were formally introduced to two shortlist candidates for executive director of the Nicolaysen Art Museum on Wednesday evening.
Both candidates shared their experiences managing the budgets of art museums, curating exhibitions, and reflecting on the practical value of art in communities.
Bay Area native Anthony Pinata was a project manager for the Oakland Museum of Art for four years before leaving to pursue his own projects, including working with sculptor Brian Wall and doing two artists residencies in Wyoming, where he said he felt at home.
Pine Bluffs native Hailey Perry has a Masters in arts administration and was recently the interim associate director of visitors services at the Museum of the Rockies in Bozeman. She was previously executive director of the Chamber of Commerce Ennis, Montana.
The former director, Andy Couch, left to pursue doctoral work earlier this fall. Current board member Andrew Schneider credits Couch with ushering the museum through the financial turmoil of the COVID-19 pandemic, and also for articulating a pursuit of community engagement and programming "of, by, and for all audiences."
"We believe that art is what makes us human," Schneider said Wednesday. "We believe that contemporary art inspires important discussion about ourselves and the world in which we all live."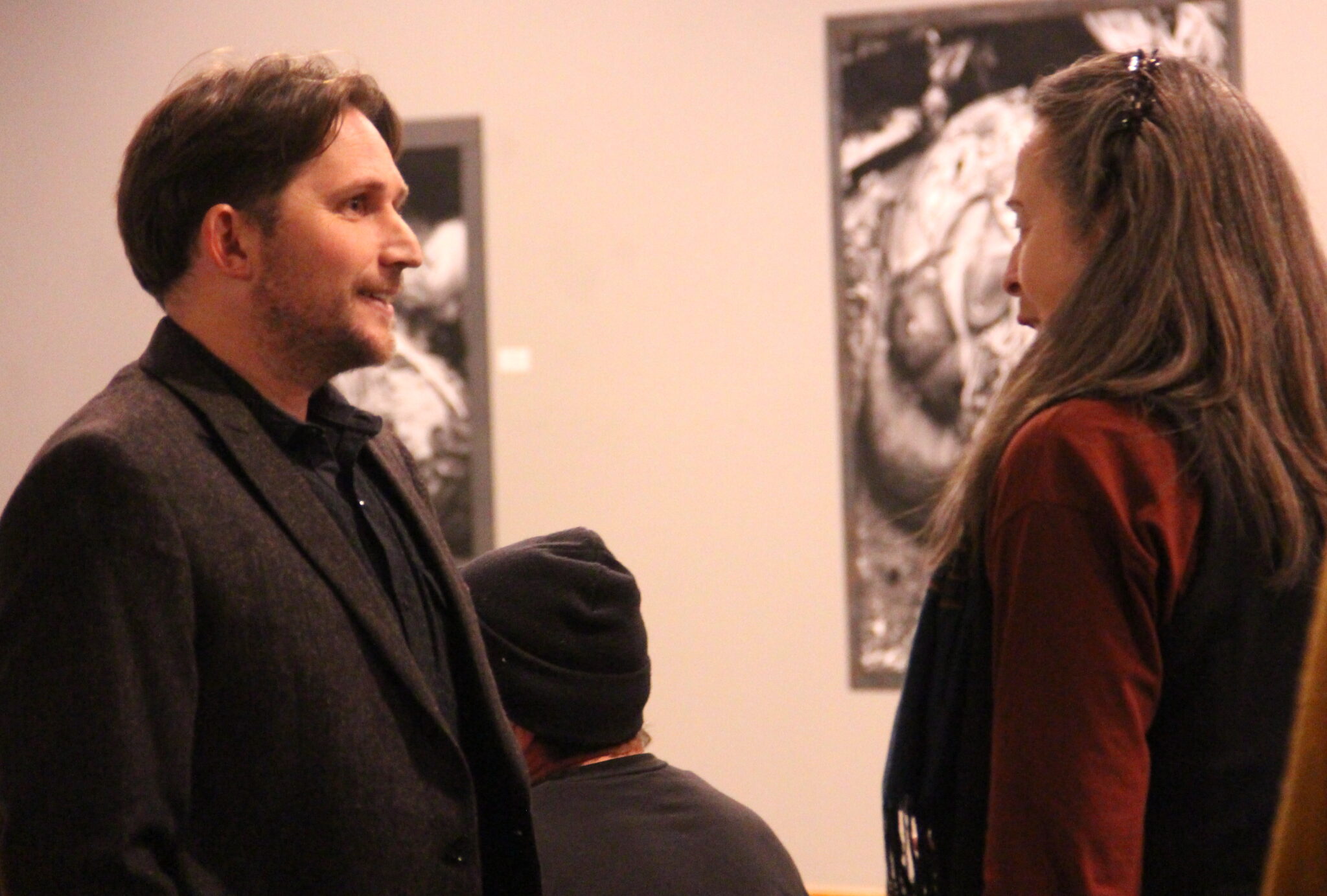 Both candidates demonstrated an understanding of that mission and experience in furthering it in their past positions, Schneider told Oil City News on Friday.
Perry discussed her experience at university connecting athletes with autistic students on an exhibit, and said she would like to see more programs that facilitate the interactions of otherwise disparate groups.
She also spoke about the role of art and wellness, citing work with occupational therapists and people in addiction recovery programs in producing galleries that addressed mental health.
"It's something I'm really proud of and something that I'll always remember," Perry said. "And it's a lot of work."
Pinata said he'd partnered with a Bay Area society to work with artists struggling with autism and other mental and physical disabilities. The exhibition featured their work alongside traditional artists without such obstacles. 
"The point of the exhibit was you couldn't tell the difference," Pinata said.
Pinata added that his brother was a prolific artist who had thrived in arts centers but took his own life at the age of 21.
"It was one of the few places where he felt comfortable and at home, and I certainly would welcome providing that to any community and anyone who is struggling," Pinata said. "Art can help, but it is a very complicated issue."
The candidates also shared tales of managing budgets and adapting to setbacks.
Perry said she was in charge of half of the Museum of the Rockies' roughly $7 million budget, and that the museum had already exceeded the admissions revenue goal for the year. During the pandemic, she said she also worked on securing grants for a digital learning lab and renovation of the Native American History Hall.
"One of my first experiences was having no money at all," Pinata said of this time at the Richmond Art Center.
One exhibit had required painting vast areas of gallery walls, and Pinata said he found a professional contract painter among the museum's volunteer rolls who finished a majority of the job in one day.
"You don't know who's sitting at home who's willing to chip in," he said.
Pinata said that, just months after hiring him, some administrators at the Berkley Arts Center were resigned to selling out due to a budgetary shortfall. Pinata said he and others avoided this by engaging a pro-bono lawyer and city council members to secure favorable rent and launching enough fundraisers to engage donors.
"You need everyone you can get," Pinata said.
The Nicolaysen's staff says the executive director search comes at a "critical juncture" in the museum's history as it looks to remain sustainable and serve the community beyond just hosting galleries.
"Though the NIC has survived the pandemic, it has done so with a reduction in staff, and it doesn't have the luxury to survive on donorship alone in the long-term," Schneider said Friday.
The NIC's board is asking the same questions of the candidates that it is asking of itself and the community.
"If the community wants to have that space, we need them to tell us what they want us to do with it," Schneider said. "I'd like it to tell a story that's relevant to our entire community."