CASPER, Wyo. — Boone Donley has always been taller than average.
From a distance, Boone, who'll turn 13 in April, could pass for a full-grown teen, but a closer look reveals a cherubic face and the playful nature of a kid.
Boone's a mix of contradictions. He's donned up in western wear and would look right at home on any Wyoming ranch. He's also got an encyclopedic knowledge of all things Star Wars, along with a storage container filled with just about every character from that sprawling sci-fi universe.
He helped his grandpa build a backyard fence, and he's way into competitive fencing — the jousting kind. He loves classic television; the more black and white, the better.
A couple of years back when he still attended public school, the kids were encouraged to dress up for a "King for a Day" theme.
"I came out of my room dressed as Davy Crockett, 'King of the Wild Frontier,'" said Boone.
"I said, 'Welp, can't argue with that,'" recalls his mom, Lauren.
To most people, Boone's outgoing and unique personality can only be described as delightful. Unfortunately, being this unique can become catnip for bullies.
Boone attended Paradise Valley Elementary, and things were fine up until second grade. By then, he was notably taller than the rest.
"There were two kids who figured out they could push the biggest kid on the playground around," recalls Boone. "Because I didn't want to get in trouble and fight back, it went through my whole year like that."
"It was a solid year of him getting picked on and essentially beat up on the playground," said Lauren, who only became aware of the situation's severity when she noticed bruising on Boone's body.
"It went on so long without us knowing about it or how bad it was," she said.
"He took it through the whole year and was told by his teacher, 'It's not my problem, I don't want to hear about it.'"
Lauren and Boone say their concerns weren't taken seriously by school staff and administrators that year, but they say things improved dramatically the following school year after a new administrator took over. Oil City News reached out to the Natrona County School District for comment, but did not hear back by publication time.
"What we've found is a lot of kids who bully, that's the only time they feel like they have any power," she said. "A lot of them don't necessarily have a great home life or they're getting bullied or knocked around at home, so they come to school and that's where they find they have some power."
Feeling like there's nowhere to go for help can lead to terrible consequences, and Lauren remembers all too well the times as a kid that she felt desperate in school.
"That's the thing we hear in every single instance of these kids who commit suicide as a result of bullying," she said. "The suicide rate for 8- to 12-year-olds in this country is horrendous."
"In every single instance, the people involved say 'We knew what was happening but we didn't know it was this bad.'"
"So we decided to take a really negative experience and turn it into something positive," Lauren said.
The two sat down to brainstorm, and eventually came up with "Buck Off Bullying," which started by simply printing a bunch of small stickers with a rodeo cowboy and the simple phrase.
"We thought we'd hand them out at [College National Finals Rodeo] because rodeo is such a big part of Wyoming."
Even though rodeo has a reputation of machismo, Lauren said the community immediately took to the campaign and supported their idea.
"We had to order more stickers," she said. Rodeo athletes and competitors took time to talk with the family and share their own experiences of being bullied.
Boone also decided to counterbalance the bullying by doing acts of kindness, such as toy drives during Christmas and gathering care packages for first responders.
"We had a neighbor come over to our house last winter, and she had just moved in and said, 'I just wanted to tell you thank you for shoveling our driveway,'" Lauren said, "and I didn't know he had been shoveling the neighbors' driveways."
Last week, Boone was honored by Frigo Cheese by winning one of their "Build a Bright Future" contests. Because of his anti-bulling campaign, he was awarded $10,000.
"Donley was selected for his inspiring efforts to end bullying through his anti-bullying initiative," the Frigo Cheese press release said. "He has sent 'Encouragement Kits' to kids in 38 states and nine countries to help them feel connected and empowered. He also takes an active role in the local Casper community by distributing military care packages and leading local toy and coat drives."
The oversized photo-op check he was given still sits in his grandparents' living room. Boone, along with his younger siblings Will, 8, and Callahan, 6, all homeschool there now. Lauren's parents, Kim and Pam McCluskey, participate in lessons.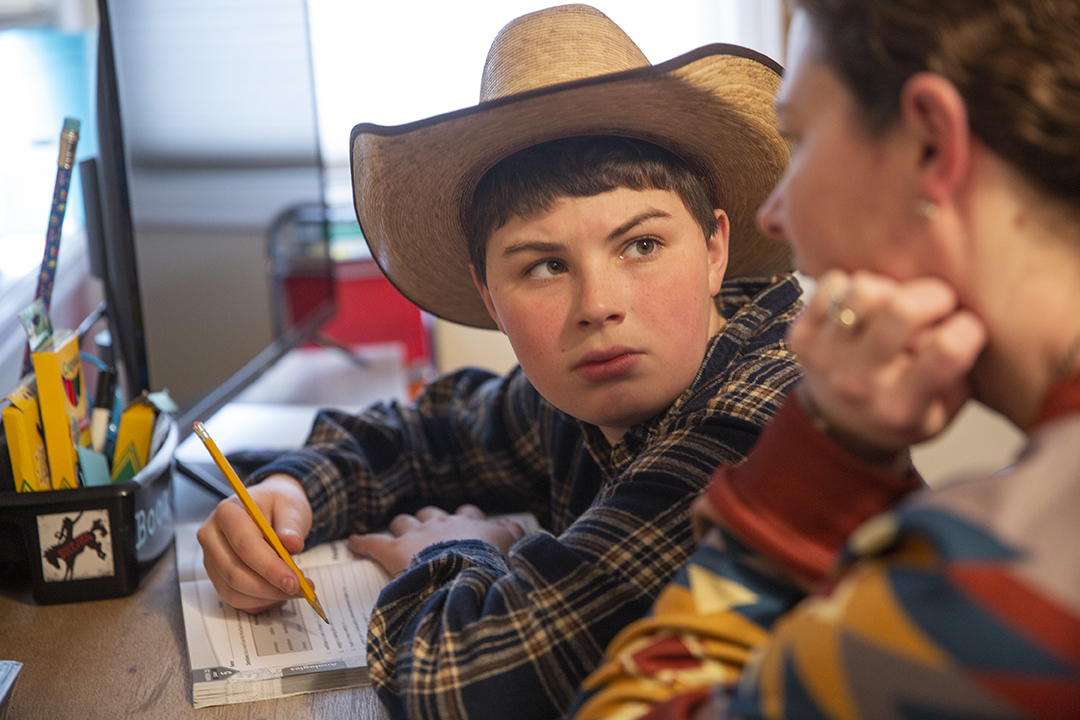 Lauren said it was COVID that turned her to homeschooling. With some people in the family at higher risk for serious COVID-related issues, they decided to stay home. Additionally, remote learning wasn't Boone's thing.
"I can't do technology like kids today," Boone said. "All my friends are like 'Minecraft this' and 'Fortnight that,' and I'm like, 'What?'"
"It's been a lot healthier and safer environment for him," Lauren said. Boone still interacts with plenty of kids, participating in almost everything 4-H–related and becoming more involved in fencing classes. The family regularly visits museums and the library.
Lauren is happy to have Boone skip the middle school experience, which she describes as a "toxic environment."
"My friends have middle schoolers, and they're constantly worried," she said. "I don't have to worry about that."
They haven't decided what to do for high school, where kids have more opportunities to find their people and participate in more activities. In the meantime, they're focused on staying emotionally healthy and growing the Buck Off Bullying campaign.
They've federally trademarked the brand, Lauren said, and are exploring opportunities for grants and going about registering as a nonprofit. For now, they rely on email and Instagram for extending their message.
"We've had the opportunity to digitally meet some really amazing kids around his age," she said.
Lauren tears up while talking about some of the messages she's received. One, an African American child, said he's been told to kill himself and regularly gets sent racial epithets. There's another about whom Lauren said, "he's gonna be the first Puerto Rican president of this country."
"We've gotten to meet some really amazing kids, and we've gotten to deal with some truly heartbreaking stuff," she said.
"We had a girl reach out to us on Instagram who said, 'If something doesn't change, I'm gonna kill myself,' and we were able to point her in the direction of some resources to help her out. We check in with her every so often, just to be that ear.
"If nothing else never came of this, knowing that girl didn't kill herself because we were able to help her out, that would be enough."
---