CASPER, Wyo. – It's been nearly a month since workers at the Metro Animal Shelter lost their break room.
Metro was barely able to find space for the dozens of dogs and cats rescued from an extreme hoarding situation, but it's the eight exotic birds that forced them to convert the staff break and meeting room into an impromptu bird sanctuary.
If all goes as planned, Metro should get their break room back after the birds are transported to the Gabriel Foundation bird rescue organization in Colorado.
Article continues below...
Community members were quick to offer to help when the news broke, according to Metro's director Tory Walsh.
"The best of our community came out," said Walsh. "We had lots of people people coming out to adopt, but we also had other people come and ask 'what can I do.'" Metro received volunteers and donations of food and supplies to help care for the animals while the case initially made its way through the system.
Finding homes for cuddly cats and dogs is one thing. It's quite a different challenge for four macaws, a cockatoo, an African gray, a cockatiel, and an Amazon parrot.
"We're not bird experts at the police department, so it was important to get advice from experts who handle exotic birds on a daily basis," said Casper Police Department's public information officer Rebekah Ladd.
Ladd said they worked to find an organization that is reputable and also has a proven record for adoption paths.
"These birds are from the Casper community and we wanted them to have an opportunity to come back to the Casper community," said Ladd, who says the foundation will give Casper residents priority on adoptions when the birds are determined to be rehabilitated and fit.
Over the past few weeks, Casper bird expert Tehya Huseas of Birdie Bayou has been tending to the birds. She admits to have become attached to some of them.
"They are highly intelligent animals," said Huseas, "and they are highly emotional animals."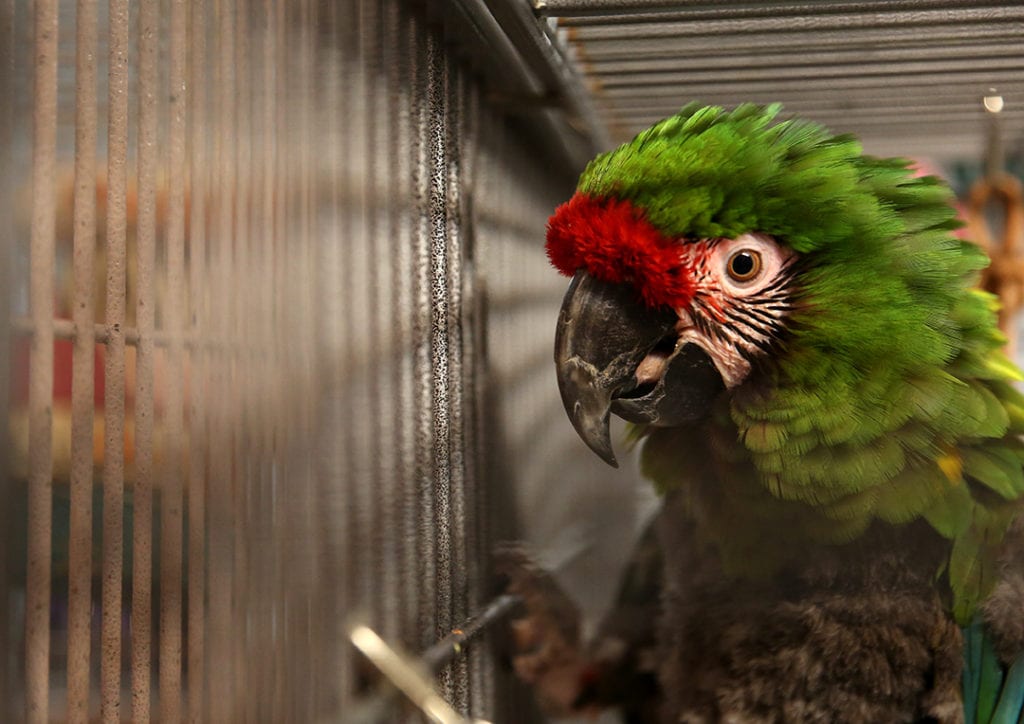 "We liken them to small children…they form strong emotional bonds and learn quickly," said Huseas. They are also expensive to maintain, she says, which makes finding dedicated owners something of a challenge.
"It's worth it," she says. "The emotional attachment they give you, the rewards they give you, it's more than worth it."
She says the eight birds show no signs of aggression and seem emotionally stable. "They are birds that have not given up on humans."
On Monday morning, members of the Gabriel Foundation arrived at Metro to transport the birds.
However, as the foundation members prepared to move the birds, it was discovered that some of the health certificates required to move groups of animals across state lines weren't in order.
Ladd said the department hoped to have those in place sometime today.
Then, hopefully, Metro staffers can have their break room back.
Casper residents interested in adopting the birds can apply at The Gabriel Foundation's website.
Update: Police say the paperwork was sorted out, and Gabriel Foundation volunteers were able to leave with the birds by 2 p.m.