CASPER, Wyo. — The Casper Civic Chorale is rehearsing in person again as the COVID-19 pandemic subsides and members are feeling the rejuvenating energies of spring as they prepare for an upcoming "Songs of Hope" performance under a new director.
"I'm just thrilled that we're able to sing again," Joan Davies, president of the chorale's board of directors, said last Wednesday. "It's like a new beginning, actually."
The Casper Civic Chorale is open to anyone who enjoys singing, and 45-plus people are set to perform in the chorale's 3 p.m. Saturday, April 30 "Songs of Hope" performance at Our Savior's Lutheran Church at 318 E. Sixth St. in Casper. Tickets are $12 and are available at Hill Music, at the door or online.
The chorale is seeing new members join as longtime members return. Some of those long-term members include Steve and Libby Kurtz.
"Libby sang in the first concert in 1972," Steve Kurtz said Thursday. "She has sung most years since then. I started in 1978."
Sticking with the chorale for so long has led to the formation of some lifelong friendships for the couple and is an important part of their social life in the community, second only to church, Steve Kurtz said.
"Singing is good for your health and good for your brain," he added, noting he looked into research on the topic over many years of helping the chorale apply for grant funding. "It takes a lot of effort to sing. You can't be sad when you are singing unless the music is sad."
New to chorale, not singing
Sarah Teague recently joined the Casper Civic Chorale and sees her participation as a form of self-care. She sang during high school under Director Marcia Patten and in college under Dr. Patrick Patten. She also sang in Marcia Patten's all-women's choir Alla Breve until around 2011.
As life got busy and her children's activities took precedent, Teague said singing fell by the wayside until she realized she needed it as an outlet and saw a post from Davies saying the Casper Civic Chorale was getting back together in person again after pausing due to the pandemic.
"One night a week I can go relax and enjoy myself and sing," Teague said, adding she looks forward to rehearsals.
Getting back into singing is "just like getting back into the gym," she added. Her voice initially felt out of shape and as a high soprano, she found some difficulty hitting higher notes. However, the practice is paying off, and Teague said she could feel her voice "re-maturing" about halfway into rehearsals for the chorale's upcoming "Songs of Hope" performance.
New director to lead
That performance will be the chorale's second under new director Dave Branson after the group sang three pieces during the Festival Choir & Orchestra holiday concert organized by Carolyn Deuel, the director of ARTCORE. Branson stepped into the director role in 2020 after joining the Casper Civic Chorale in 2013.
Before coming to Casper, he was a fine arts administrator in the Washoe County School District in Reno, Nevada from 2006 to 2013. He works as a clinician and consultant in music education and serves as outreach coordinator for the Big Brothers, Big Sisters of Wyoming. He has formerly served as president of the Music Educators National Conference's Western Division. He was also nominated for the National Association for Music Education president-elect in 2016.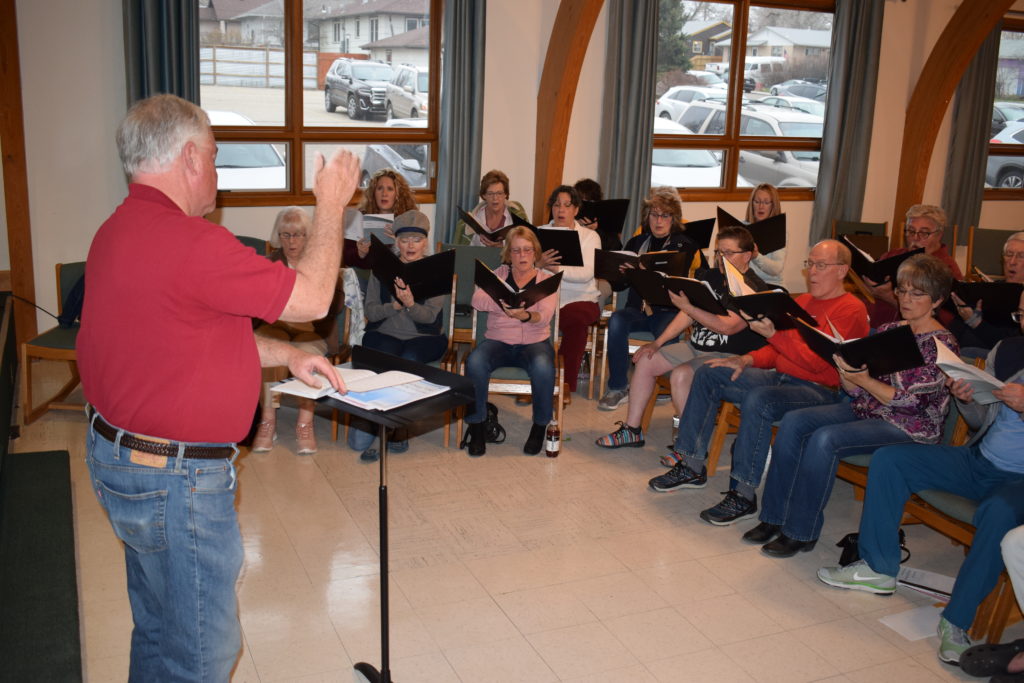 Branson said last Wednesday that the chorale performed with facemasks during the holiday concert, so the "Songs of Hope" concert will be its first mask-free performance under his direction.
The spring concert will celebrate the joy of life and hope, and Branson said the group has also been contemplating some global problems, with the concert happening around the time of Earth Day. The performance will be partially dedicated to refugees from Ukraine.
The concert will explore "all the different types of love that are out there, from human beings to animals," Branson said.
One of the songs the chorale will perform is called "A Hymn for Peace," a composition Alistair Coleman based on an old English poem that Branson said resonates with the times.
"It is a prayer for the stoppage of war, greed and that kind of thing," Branson said. "The beauty of the lyrics and the poem fits what is currently going on [in the world]."
Another song the chorale will sing is "Earth Song" by Frank Ticheli, a piece Branson says is about the fragility of the planet.
"The music that we are singing is really beautiful and really loving and really tender," he said.
Another example is a piece called "Bend," based around the concept of a tree having the resilience to bend in the wind without breaking.
"It talks about [how] in life, tough things come along in nature," Branson said. "You have to bend because you don't want to break."
A member of the choir will read the poetry associated with each of the four pieces the chorale will perform on Saturday.
Branson said that the chorale is seeing some good turnout, with 47–50 people participating — "a really good number" after the pandemic pause.
"We were dark for a year and a half," he said.
Davies said Branson's leadership is helping bring the chorale back together.
"Dave is doing an amazing job," she said. "Rehearsals are not just fun, but focused."
Fresh faces at rehearsals
She said the group is seeing some fresh faces and this is energizing to the chorale, particularly with spring in the air.
"Spring is a newness, a rebuilding," Davies said. "It is a rebirth of where we were. We've been underground, in the dirt, in the dark and then all this newness, the brightness of the songs. We also have a new accompanist adding that sunshine that we need."
Davies said some people are showing up to rehearsals early and members are forming new friendships and rejuvenating old ones.
"Getting that camaraderie back has definitely been fun," Teague said.
She'd like to see some more younger people around her age consider joining and wants people to know that "there are performing arts and the arts are alive and well in Casper after high school, after college. There are still things to do after you graduate."
The songs Branson selected for the "Songs of Hope" performance appeal to Teague.
"I would say 'Bend' is definitely one of my favorite pieces," she said. "The words are beautiful. It is definitely a song of hope and peace."
Steve Kurtz said that he s also enjoying the music for the upcoming concert and thinks the chorale is coming together in terms of musicality.
"We're sounding really good," he said.
Upcoming anniversary
After Saturday's performance, the chorale will turn toward preparations for 50th anniversary celebrations in the fall. Rehearsals for that concert won't begin until the fall, and people interested in joining the Casper Civic Chorale are welcome regardless of singing experience.
"The group is really important to the community," Branson said. "The singers are so excited to come back. We'll have more coming back in the fall and I think our numbers will continue to go up. People are having just a great time."
Davies shares these feelings of hope.
"This is just a ray of hope and sunshine that we're back again, that we are blooming in the spring of our newness," she said. "We're moving forward. I am so excited for the chorale. We're always open to making our garden bigger. There is always room for more people."