CASPER, Wyo – The red brick building on the corner of First and Market Streets is a quiet place these days.
The building is currently home to several recently built luxury apartments, with the Mustard Seed Home Garden & Gift shop occupying the lower floor.
It's come a long way from its hard drinking, gambling and eventually flophouse days. Even further since its owners tried to burn the thing down.
The Virginia Hotel started life around 1910 as a businessman's hotel near the railroad. Eventually a number of larger central hotels would spring up a couple of blocks southeast during the booming 1920s.
It's a tough building built at the edge of one of Casper's toughest areas – the notorious Sandbar District.
In 1976, the Casper Star-Tribune wrote its "walls are 16 inches thick at ground level, with a triple layer of red brick facing…stout pillars and beams support the three floors above ground level at David Street, the footings are solid reinforced concrete nine feet thick."
By 1976 the building had spent decades as a flophouse, with the bar bringing in most of the income. At the time it was undergoing a complete rehab, having been saved from the wrecking ball fate that met its fancier hotel neighbors up the street.
The old hotel floors were converted into office space, and the corner Virginia Bar had become restaurant named Wyoming Coffee Co., which was ahead of its time serving fine coffee prepared with freshly-roasted beans in an era when Tasters Choice instant coffee was preferred by American palates.
The article describes interesting leftover features from the old bar, such as recessed lights, an inverted dome and polished original maple floors.
This was all in contrast to the hotel and bar's recent history. The bar was described as "colorful" and "raunchy" where patrons were often unruly and not-so-legal blackjack tables and slot machines lined the walls.
It wasn't just he bar patrons who were unruly.
In 1957 the building's then-owner Glenn M. Howell was charged with "felonious assault with the intent to commit murder in the stabbing of Thomas H. Pomfrey" in the bar.
"Pomfrey stated that he was slashed twice in the throat by Howell and stabbed once in the left buttock," according to a Casper Morning Star report.
Howell was eventually fined $1,000 and given a suspended sentence of one year after the charges were dropped to aggravated assault, according to a May 28, 1958 article, which also said the victim tried to drop charges when Howell settled out of court.
Howell already had battle scars from earlier encounters by this time, having been shot by rooming house owner Henry Higgins during a fight at the Night and Day Cafe in 1947.
Ten years later the hotel's then owner Mari Ann Marshall was charged with attempting to burn the building down.
The clothes Howell wore to his hearing a decade earlier is lost to history. However, local reporters described Marshal as a "petite auburn-haired Casper businesswoman" and wearing a "turquoise-colored outfit" when she pleaded guilty in District Court on Oct. 2, 1967 for attempted arson.
The article says another charge of arson was dropped in exchange for her guilty plea.
Marshall came to Casper from Nebraska and bought the Virginia Hotel from Howell in 1962. She later hiked the insurance from $32,000 to $200,000 before police say she attempted to burn down the building by hiring someone to place open containers of flammable liquids in a downstairs room, "and two skillets filled with matches on a burning stove," according to the article. Holes were also cut through the floors to help the fire spread.
She asked a friend to take her to a hill above town to "watch the fire and explosion of the downtown hotel," where they stayed parked until daylight before the reality of their failed scheme settled in.
Another man, J.C. Bell, was arrested in conjunction with the plot.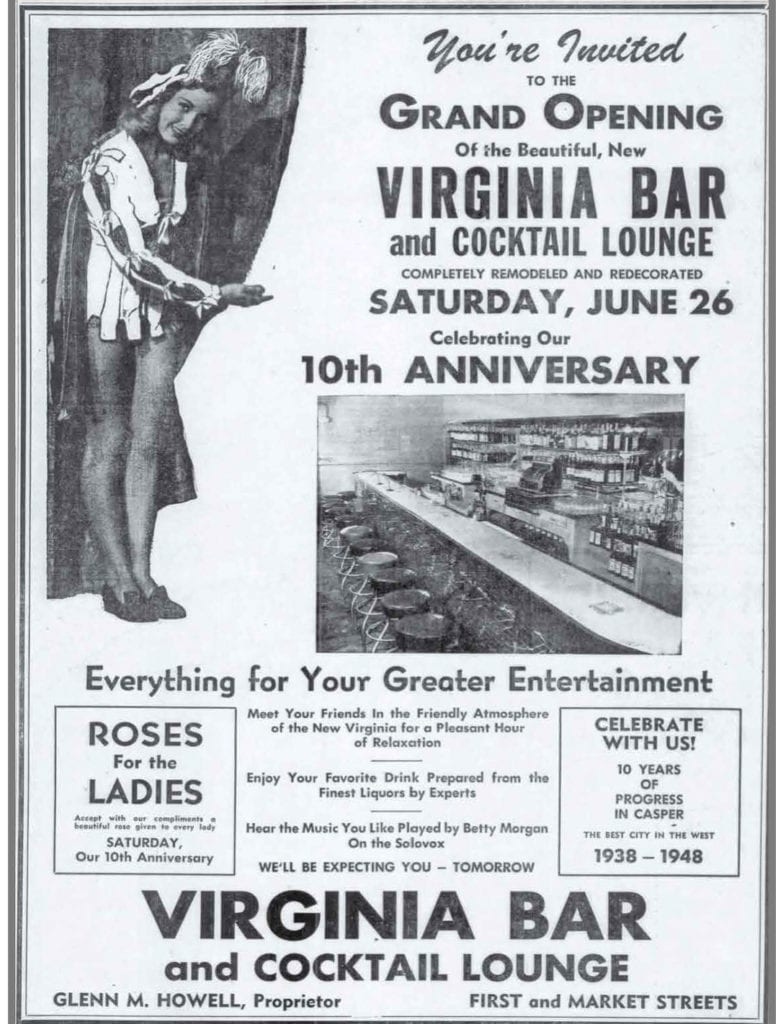 Glenn Howell died at age 64 in 1973 from "natural causes" at his Casper home, according to an obituary.
The building was being used as an annex for county government offices until 2014, when new owners gutted and remodeled it into apartments and a business space.
The remaining architectural details from the old bar described in 1976 are long gone, but the sturdy building with an amazing history lives on.