CASPER, Wyo. — Cielo Prince and Joe Shepperson started Dr. Chronics Concentrates & Vapes to provide one thing: round-the-clock, customized access to vape products and hemp concentrates.
"Any day, any time, any holiday, whenever it is, we want to be somebody you can go to," said Prince. "Say you're out at the bar, you're at a party, anything after 10 o'clock. We were like, 'Okay, let's hit the niche crowd and we'll do delivery.'"
With the COVID-19 pandemic causing many businesses to shorten their hours, 24/7 service can be a rare and valued commodity, especially in less urban areas. The deal is sweetened with access to specialty products like disposable vapes and legal hemp concentrates.
"I have been an entrepreneur for the last five years; I've built art businesses, collectible businesses, a bunch of different stuff, but nothing was local to town," said Prince. "Everything was more of a worldwide thing. So I wanted to make something local that could possibly stand out. And that's what we came up with."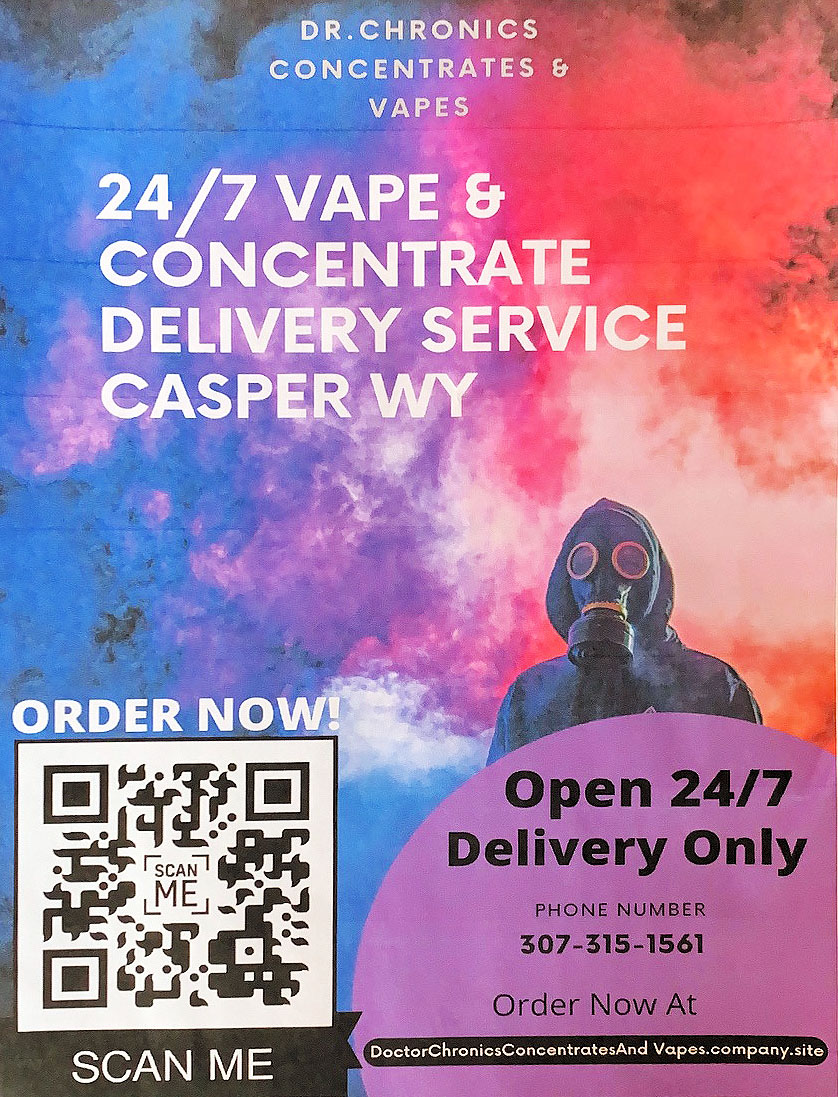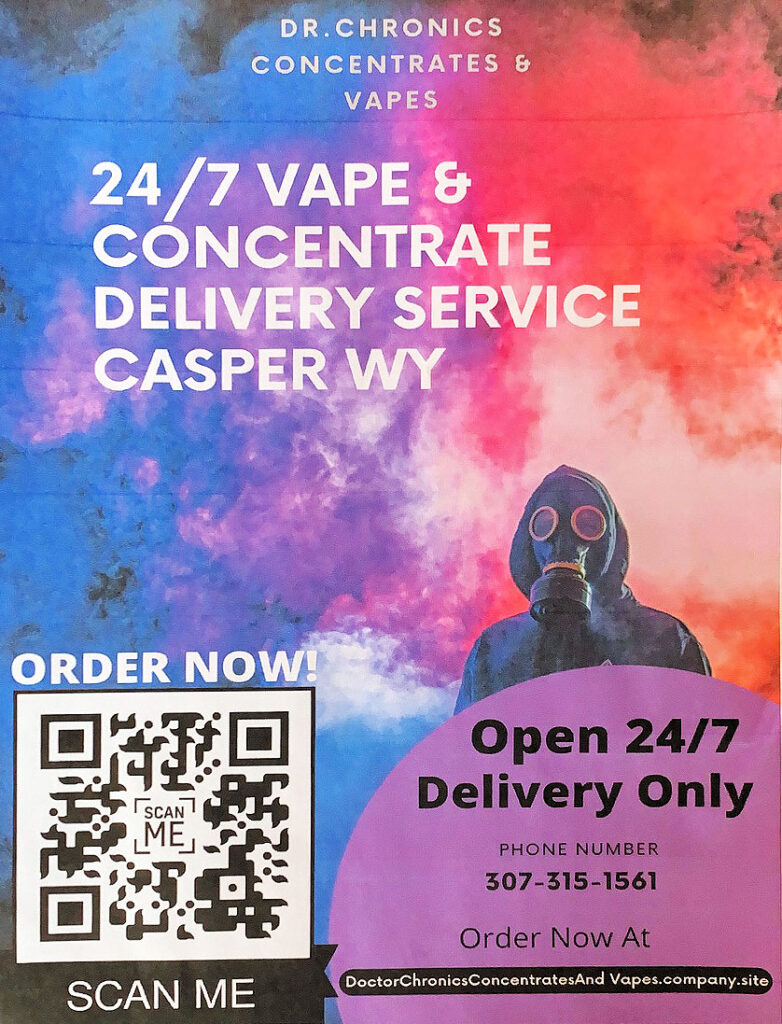 In Casper, many fans of vaping and legal THC can't purchase specific products once specialty stores close, which is usually around 10 p.m. Some gas stations are open 24/7 and sell vape products, but they might not offer the selection a specialty business would.
"It's cool because after 10 o'clock, when you look at vape shops, it's just us," said Prince.
Right now, the two owners are the business's only employees. They both work normal "day jobs," then take opposite 12-hour shifts delivering for and managing Dr. Chronics.
Starting any business, especially one that delivers, is quite the process, but Prince said they experienced unique challenges selling 21+ products. "[It takes] a bunch of different things to sell hemp products and vape products," Prince said. "PETA approvals, and the hemp programs through card issuers, stuff like that. … It's not an easy business to get into."
Though Dr. Chronics has had its business license since April (4/20, to be exact), they've only been "fully functional" for a month or so, with a functioning website and approval through Google. After several obstacles finding a developer to create their site, Prince ended up teaching himself how to build it.
Additionally, they've seen challenges trying to market. Because of legal limitations on advertising nicotine and THC products, Prince and Shepperson had to get creative to spread the word. It came down to "pretty much word of mouth," according to Prince, their base starting with friends and family and growing exponentially as customers recommended the business. The owners estimate having between 15 and 20 regular customers, having sold 100–200 individual products.
With no physical storefront — though they hope to pursue one in the future — the co-owners are able to focus on that base's satisfaction. "Only doing delivery and stuff keeps our overhead very low," said Prince. "It's just a well-working business model so far."
Having been habitual smokers for a long time, Prince and Shepperson are also passionate about the quality of products they offer. One has many options when selecting a vape or hemp concentrate product, and they were challenged with selecting brands they considered reputable and jumping through all the necessary hoops to carry them.
"Something that was really cool was that we were able to secure a deal with the number-one Delta 8 brand in the world," Prince said, referring to Exhale Wellness. "We had to sign an exclusive agreement with them that we can only sell their products. But as for people with the highest-grade stuff, the tastiest stuff and the most powerful stuff, that was the company. We're approved for 10 to 20 different companies to get stuff through, but they are our main distributor just because of quality."
The co-owners are looking toward growth for the store, which will likely start with a physical shop. They'd need somewhere with 24-hour access, and they are looking in and around Sunrise Plaza for rental space.
Eventually, they'll want to employ more people to run the business so they can establish it in some other places and formats. "We see this as something that's more going to be a brand that we can grow into different places, different things, rather than just Casper-exclusive," explained Prince.